Rupert Murdoch's News Corp Is Under Investigation For Computer Hacking And Corporate Theft
August 19. 2011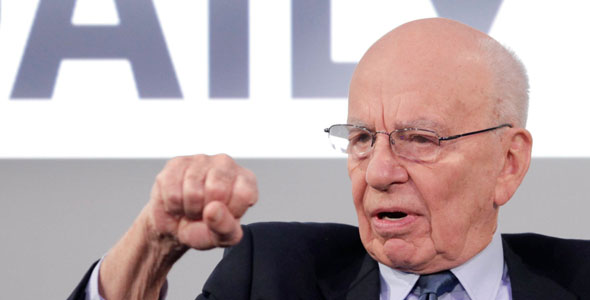 Rupert Murdoch
Rupert Murdoch's News International/News Corp, is under criminal investigation by the Metropolitan Police, for not just "phone hacking" but computer hacking as well, in a case titled "Operation Tuleta." It has been discovered that a number of people have been hacked by News International/News Corp, via computer intrusion, which also encompassed illegally prying into emails as well.
This week, several publications have written in detail of a software trojan, News International/News Corp, used to illegally access the computers of politicians, celebrities and victims of crime. A member of Parliament was hacked in 2006 and a private photo he had taken with his mistress, was illegally copied via hacking and published in Murdoch's newspapers as a scoop regarding the extramarital affair. This conduct was completely illegal, as hacking is a crime. This month, attorneys are now publicly stating they have famous clients, who were hacked by News International/News Corp as well.
Article Background: In 2005, the complaint I filed with the Metropolitan Police regarding News International/News Corp, formally accused them of illegal wiretapping and computer hacking. Six months later in 2006, two News/International/News Corp employees were arrested for illegal wiretapping and phone hacking.
My unpublished articles I'd written for my websites, were being hacked and copied from my computers and emails, then published in News International papers as scoops and exclusives. Items I privately discussed over the phone with musically and politically connected people, were also used in later published News International articles VERBATIM as they had been spoken over the phone days prior. Preexisting, unpublished, Library of Congress copyrighted music and films I authored that were stored on my computers, were illegally copied and later used by Rupert Murdoch's Fox and 20th Century Fox (News Corp), among others, for profit.
STORY SOURCE
Computer Hacking May Be News Corp.'s 'Next Scandal,' Watson Says‎
RELATED ARTICLES
Renewed Outrage In Britain Over Rupert Murdoch's News Corp Phone Hacking Mom Of Murdered Missing Girl
Fox News Has A Secret Phone Hacking Department In The Building Says Former Employee
Prominent Editor Accuses News Corp Of Stalking And Bullying People
Senator Demands FBI Investigate Rupert Murdoch For Hacking Rival & Stealing Their Copyrights
News Corp Employees State James Murdoch Lied In Parliament About The Phone Hacking Scandal
Rupert Murdoch Illegally Accessed The Medical Records Of The Prime Minister's Sick Child
The Head Of The Wall Street Journal Resigns Due To Rupert Murdoch Phone Hacking Scandal
Privacy Invader Rebekah Brooks Resigns From Rupert Murdoch's News Company
Rupert Murdoch Executive Admitted To Bribing The Metropolitan Police (Video)
News Corp And Insider Trading In The Phone Hacking Scandal
Australian Prime Minister Slams Rupert Murdoch And News Corp
Delusional Rupert Murdoch Thinks The Public Adores Him
Rupert Murdoch Finally Admits His Company's Phone Hacking And Wiretapping Crimes
The FBI Corruptly Granted "Sovereign Immunity" In The Aisha v. FBI Case
Madonna's Connection To Phone Hacking And Wiretapping Scandal