Beyonce Poses Next To Mariah Carey And It Shows Up Her Age
December 13. 2016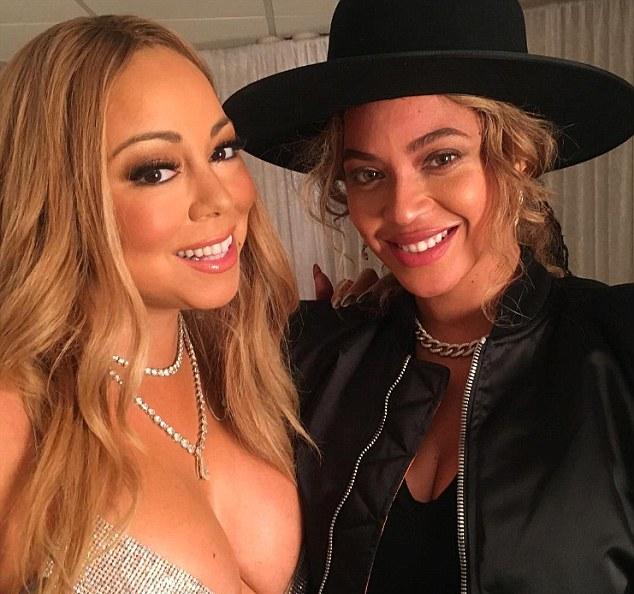 Mariah Carey and Beyonce Knowles
Reports indicate singer Beyonce has been lying to the public for years about her age. Years ago the website Media Take Out posted a print out from the Texas Department of Health, regarding birth statistics for 1974 and it listed Houston native, Beyonce Knowles, as having been born that year to Tina Knowles and Matthew Knowles. That means Beyonce is actually 42-years-old, not 35.
The website Intelius, which has been known to be quite accurate, also listed Beyonce as being born in 1974. However, Beyonce's lying, thieving dad, complained to the site and threatened suit, resulting in the data was deleted. Mathew Knowles also threatened Media Take Out about their story, but they refused to budge, as the printout from the U.S. government stated Knowles was born in 1974.
Knowles later claimed they have been lying about Beyonce's age, but would not give an accurate figure regarding how many years they shaved off. Knowles former classmates also revealed for her to have gone to school with them, she removed approximately 7-years from her true age. The Judiciary Report is of the belief Knowles is 42-years-old.
This past weekend Beyonce attended a concert by singer Mariah Carey, who in her prime in the 1990s, could sing circles around Knowles. However, Carey won't rest her damaged vocal cords and they continue to deteriorate. But that's another story and I'm sounding like a broken record at this point regarding Carey's voice (LOL).
Beyonce, who is allegedly 35, posed for a photo with 46-year-old Carey and it was posted on Instagram. Carey looked youthful in the photo, but Beyonce did not. Carey looked younger than Beyonce in the photo. This is baffling, as Beyonce claims to be 11-years younger than Carey. Beyonce looked like a well-weathered, witchly woman in the photo. A 35-year-old is not supposed to look like that. I guess living with an evil, cheating camel of a husband, Jay Z (Shawn "Joe Camel" Carter) and plotting to rob people on a weekly basis is taking its toll.
STORY SOURCE
Star power! Beyonce takes rare selfie with Mariah Carey as she visits singer at holiday concert
Published: 01:00 EST, 12 December 2016 | Updated: 08:14 EST, 12 December 2016 - She rarely ever posts to social media. But Beyonce took a surprise selfie on Sunday night - and with none other than fellow super star Mariah Carey. The chart-topper, 35, paid Mariah, 46, a visit to her concert at the Beacon Theatre in New York City when she took an epic snap with the star of the night...
Open Post: Beyonce is aging badly
Monday, December 12, 2016 - Pop singer Beyonce stopped backstage to visit with songbird Mariah Carey at her NYC concert on December 11. Carey posted this photo on Instagram.com along with the caption: "I love you @beyonce thank you sooooo much for coming out tonight!" Some of Carey's followers noted how much younger the 46-year-old singer looked than Beyonce, who is a decade younger that Carey. "Beyonce looks like Mimi's mother!" noted one sharp-eyed Instagranm.com user...
RELATED ARTICLES
Obama Administration Wastes Huge Sums Of American Taxpayer Money Breaking The Law In America, Britain And Jamaica On Behalf Of Madonna's Kabbalah Center In Committing Egregious Human Rights Abuses
Madonna, Jay Z, Beyonce, Rihanna, Rita Ora And Jessie J Sued Over Copyright Infringement, Invasion Of Privacy, Commissioned Criminal Harassment And Assault Via The Kabbalah Center
Beyonce Steals Again Illegally Using Copyrighted Footage For Her Deceitful New Video 'Formation' While Ripping Off A Model's Pictures And Is Slammed By The National Sheriffs' Association
Serial Copyright Thieves Beyonce And Jay Z Sued For Stealing 'Drunk In Love' And Even Including A Clip Of The Original Artist's Voice On The Track
Beyonce Steals Again This Time Ripping Off Short Film For HBO Lemonade Special Resulting In Copyright Infringement Lawsuit
Secret Video Shows Angelina Jolie Talking About Joining The Illuminati And Making Satanic Animal Sacrifices (Video)
Beyonce Steals Again But This Time From Sam Cooke, En Vogue And A European Artist
Beyonce Slammed For Taking Credit For A Company's Athletic Line She Did Not Create
Beyonce Following In Her Father Mathew Knowles' Footsteps With Substance Abuse
Beyonce Slammed By Rapper For Stealing Images From His Album 'Lemonade'
Prince's Estate Sues Jay Z And Madonna's Tidal For Copyright Infringement
Wikileaks: Hillary Clinton Campaign Team Are Devil Worshippers (Video)