Demi Moore Treats Ashton Kutcher Like A Child
October 11. 2010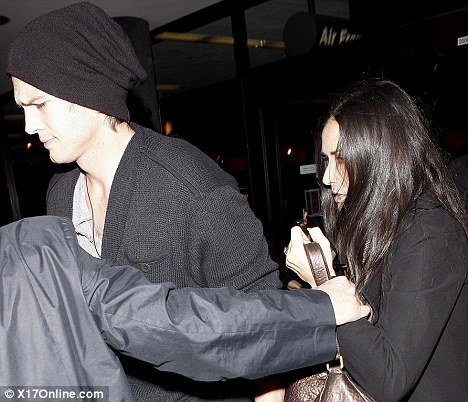 Ashton Kutcher and Demi Moore
Adulterous Hollywood actor, Ashton Kutcher, is being treated like a child by his wife of 5-years, Demi Moore. It is Kutcher's first marriage and Moore's third. She has three children and he has none at this time, but she is treating him like her fourth child. Could it be the 15-year age gap, with bisexual Kutcher being 32 and Moore 47. Granted, it is hard to take a man seriously, who stars in a show called "Punk'd" and acts like one off camera.
Either way, it has not helped the Kabbalah members' marriage, as he has yearned to be around women his own age, constantly cheating on her with younger females. Their reps tried to spin the story, as that of being the two have an open marriage and are swingers, which is unethical and sexually dangerous for one's health.
However, the severe strain on Moore' s face reveals the betrayal. When your young, touchy feely husband has more in common with his female step-kids, your daughters, than you, you've got a problem.
RELATED ARTICLES
Ashton Kutcher And Demi Moore Look Defeated
Ashton Kutcher's Mistress: He And Demi Moore Have An Open Marriage
Ashton Kutcher Not Serious About Marriage To Demi Moore
Demi Moore Is So Desperate To Keep Younger Ashton Kutcher She Tolerates Cheating
Ashton Kutcher And Co. Not Influential On Twitter
Kabbalah Hackers Erase Ashton Kutcher Adultery Story
Ashton Kutcher Should Not Have Married Demi Moore
Ashton Kutcher's Text Messages Betray Wife Demi Moore
Ashton Kutcher Cheated On Demi Moore With Two Women