Princess Michael Of Kent Causes Outrage In Wearing Racist Slave Broach To Queen's Lunch Held To Meet Prince Harry's Black Fiancée Meghan Markle
December 27. 2017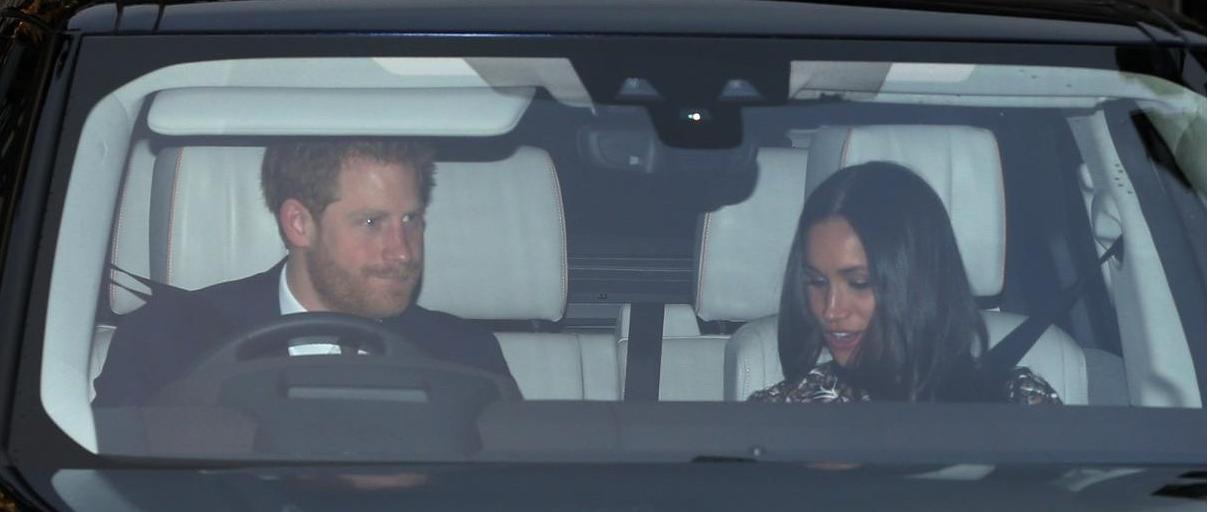 Prince Harry and Meghan Markle
Before I begin this article, I would like to state I love Britain. I have nothing against the British people. I love the British people. It's the royal family and the BBC I find intolerable and racist [Madonna's Criminal Conduct At The BBC In Britain Has Nasty Racist Slavery Connotations To It (Anthony Joshua, Daniel Kaluuya)].
On December 21, 2017, Princess Michael Of Kent, the wife of Prince Michael of Kent, who is Queen Elisabeth of Britain's first cousin, wore a disgusting "blackamoor" slave broach to a lunch held by the monarch to meet black actress, Meghan Markle, a mixed race woman scheduled to marry Prince Harry in May 2018. Markle's mother is black and her father Jewish.
The British public was outraged at Princess Michael Of Kent wearing the racist broach. And make no mistake, she knew exactly what she was doing, as she has a very disgraceful history of racist behavior. Princess Michael Of Kent was racially bullying Markle, whom she despises for being black and a "commoner."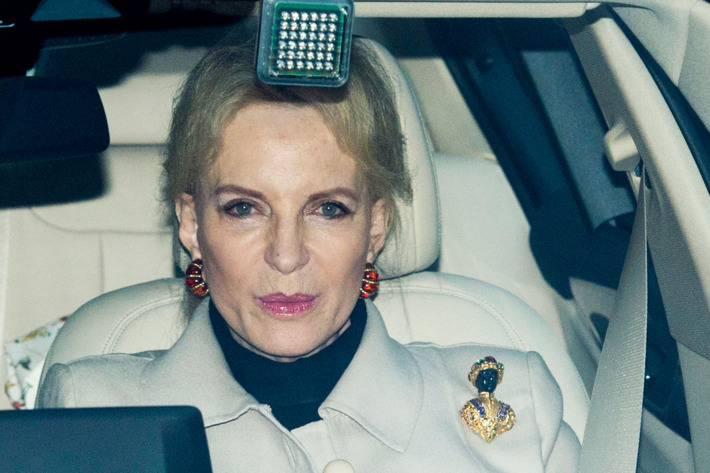 Princess Michael of Kent wearing offensive, insulting, racist "blackamoor" broach
The Daily Mail reported, "Anger in Britain as it's revealed Princess Michael of Kent wore controversial 'blackamoor' brooch to Queen's Christmas lunch with questions if it's a racist snipe towards Meghan Markle, who is mixed race." It is a well-known fact that Blackamoor is a racist, derisive term for black people.
Princess Michael and the royal family have a long history of ugly racism. This incident should come as no surprise to those who know the history of the royal family. In fact, 3-weeks before the incident occurred, I stated on Twitter that Markle's decision to marry into a racist family with Nazi roots is a terrible idea: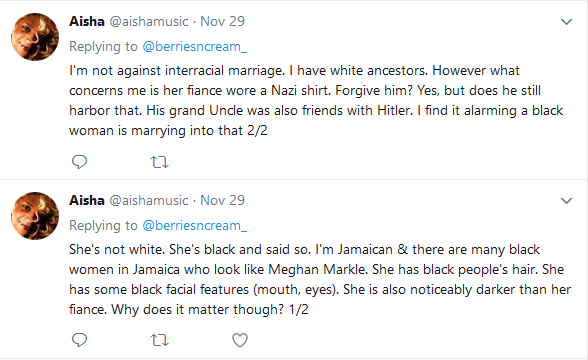 My tweets about the racism in the royal family posted on Twitter on November 29, 2017, 3-weeks before the current racial scandal concerning Princess Michael of Kent and Meghan Markle. Sadly, Princess Michael proved me right about the ongoing racism in the royal family. Markle, who is part black and Jewish, is in for a world of trouble marrying into a family rooted in Nazism.
I am of the belief the scheduled marriage between scandal plagued Prince Harry and his fiancée Meghan Markle is a publicity stunt by a royal family desperate to remain the British monarchy, in an age of diversity (many do not even believe Prince Harry is a royal, as they state "commoner" James Hewitt is his real father, not Prince Charles, therefore he is not truly inline for the throne). Britain's diversity is poorly contrasted by the royal family's many racist scandals and screw-ups, which have shown them to be racists living in luxury off British taxpayer money.
The current royal family is not the true British monarchy. They married into the British monarchy and in a genealogical line of succession that has repeatedly been questioned and labeled invalid. A British documentary that aired on Channel 4 revealed the real heir and king was British born Michael Abney-Hastings, the Fourth Earl of Loudon, who died in Australia in 2012.
The current royal family were originally called Saxe-Coburg. However, in 1917, due to anti-German sentiment in Britain during World War I, the Saxe-Coburg family took the last name of Windsor, the namesake being the historic British town and castle. The current royal family are from Germany and their roots are in Nazism. Modern day Germany has become a diverse, inclusive place that has worked diligently to rid itself of its Nazi past under Hitler. They are to be commended for these positive changes. Germany is a strong, industrious and intelligent nation of hard workers.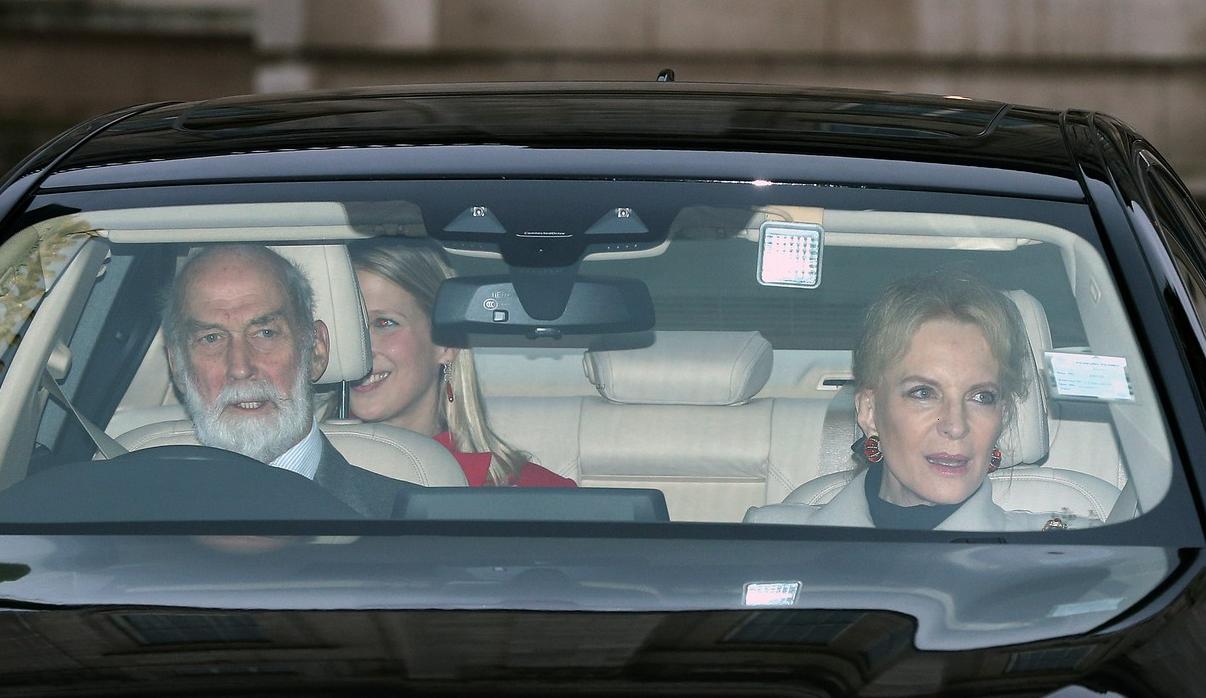 Prince Michael of Kent, Princess Michael of Kent and their daughter Gabriella Windsor
Sadly, the royal family have not forsaken racist attitudes. The royal family is racist and offensively so. Here is the history of it all, right up to Prince Harry's questionable, racist behavior. King Edward and his mistress Wallis Simpson were proudly photographed with white supremacist Adolf Hitler. There exists video of Queen Elisabeth as a child doing the Nazi salute. Princess Michael Of Kent's father was a major in Hitler's SS Nazi army.
The Guardian newspaper in London revealed the late Queen Mum infamously issued ethnic slurs for non-Anglo Saxons in stating Italians are "Dagos" and "Wops" (thugs). The Queen Mum slammed Britain's allies in the European Union by stating, "It will never work, you know...it will never work with all those Hunds, wops and dagos."
The Guardian newspaper revealed that television presenter Edward Stourton, who heard the slurs, referred to the Queen Mum as "a ghastly old bigot" and "I thought that what she had said was nasty and ugly." Sir Roy Colin Strong stated the Queen Mum referred to black people in Africa as "blackamoors" in stating "beware of the blackamoors" which as stated above is a known slur for black slaves and blacks in general.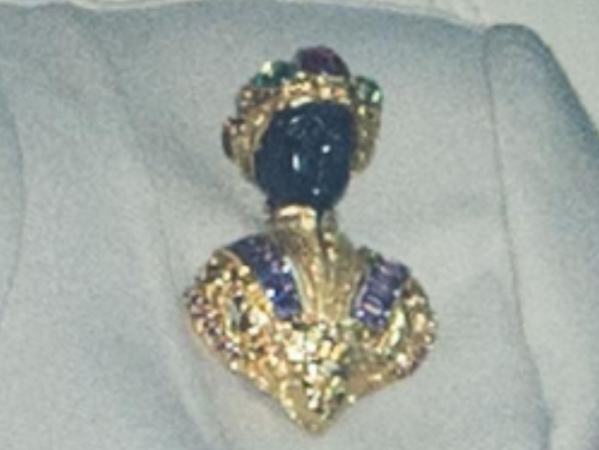 A close-up of Princess Michael's racist "blackamoor" broach
As stated above, the first time I read Prince Harry was dating a black woman I thought it was a publicity stunt with the goal of cleaning up his image, as he'd gotten into trouble for referring to Pakistanis by the slur "Paki" and "Raghead." In a separate incident Prince Harry was excoriated by the public for wearing a Nazi shirt with a swastika on it, to a private party in England. This was in recent times (2005). Princess Michael publicly applauded Harry's offensive behavior, stating it wouldn't have been such a big deal in the press if he had worn the Nazi "hammer and sickle" rather than swastika.
The Queen's husband, who ironically is an immigrant, Prince Philip, slurred a black child referring to him as "a cute darkie." The Queen's official purse carrier, Prince Philip, also publicly referred to Asians as "slitty eyed" which is highly offensive. His conduct is not cute or funny, it is patently offensive, infuriating and ill-mannered.
Prince Philip also stated all Caribbean people descend from pirates. As a Caribbean and one of African, British, European and Latin descent, I'd rather descend from a white English pirate than a white supremacist with a snatched title, dear immigrant Philip. While there may full well be a pirate in my line (It's a possibility but I don't know of one - all Caribbeans do not descend from pirates).
My main English ancestor we do know about was an accountant with money, who moved his family to the islands because of the warm weather and economic prospects. He wasn't a pirate. He built a famous town in Jamaica. He was also a catechist in the church.
Furthermore, it is an established historical fact that the pirates in the Caribbean paid financial tribute to the crown and country in Britain. Huge sums of money from the slavetrade and subsequent sugarcane crops in Jamaica, also went to the crown and British coffers (treasury). Many buildings in Britain were built with money from the slavetrade in Jamaica. So, the next time the royal family decides to throw racial slurs around, they need to remember that. My ancestors being tortured and worked to death for free in acts of slavery, helped to pay for the crowns and tiaras on your family's heads. It should count as blood diamonds. The same slavetrade the BBC offensively thinks is still going on.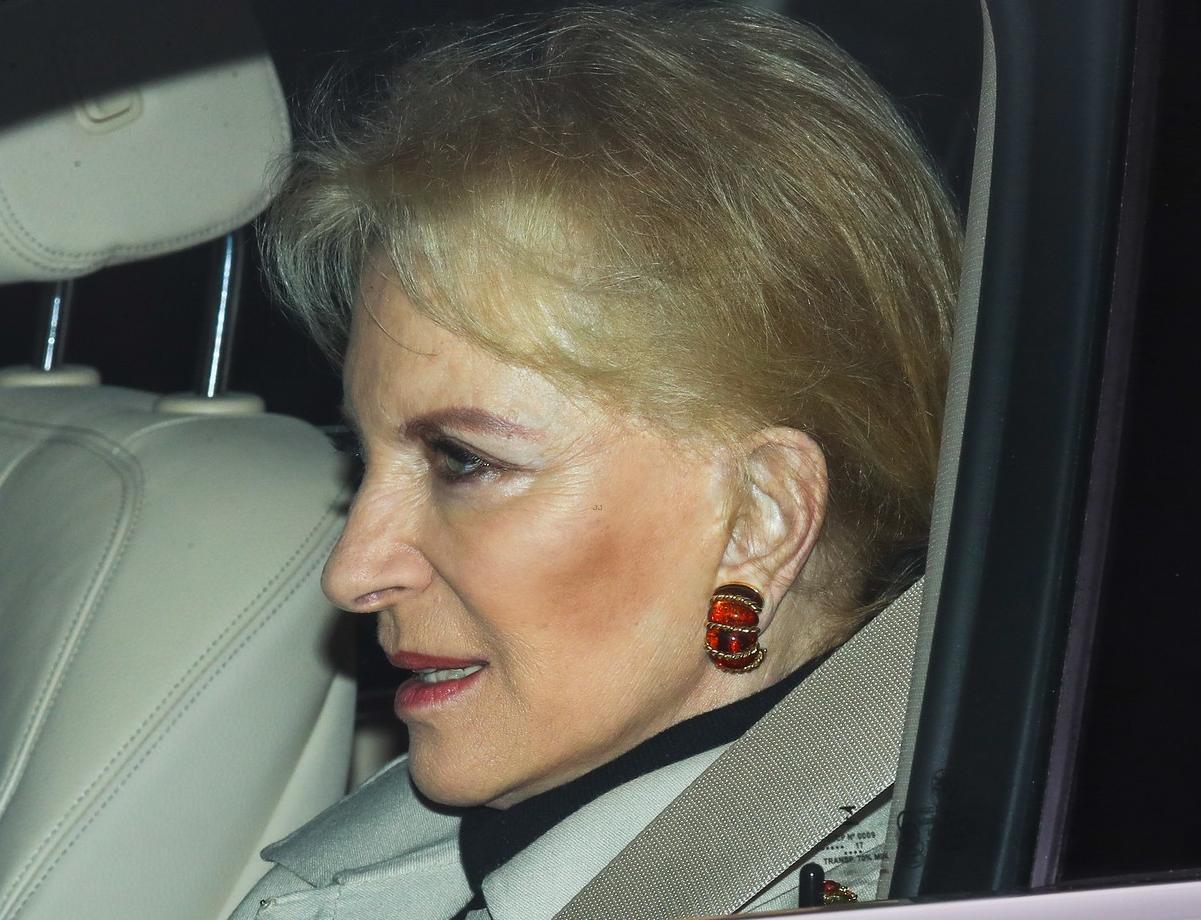 Princess Michael of Kent with an offended look on her face as she goes into the luncheon for Meghan Markle
Princess Michael stated of an unofficial baboon study, which she outrageously tied to racial minorities, "I always knew that when people who aren't like us claim that hereditary rank is not part of human nature, they must be wrong. Now you've given me evolutionary proof!"
In 2004, Princess Michael of Kent, rudely barked at a group of African-American diners in a New York restaurant stating, "Get back to the colonies." Princess Michael, an entitled, unaccomplished woman living lavishly off the British taxpayers, was out of line. She was slammed by the global press over the unkind incident. Publications dubbed her "princess pushy" "pushy princess" and trailer trash."
Princess Michael's racist conduct was disgraceful. She was unable to contain her seething hatred for black people, whom she feels are so beneath her, they should not have been dining in the same room. It's the same racist contempt that surfaced at the luncheon for Markle.
Royalty are supposed to bring goodwill, manners and class to events and occasions, yet we are constantly seeing arrogance, seething racism, bigoted insults and ill-mannered behavior from the royal family. Why is that. Another irony is Prince Philip and Princess Michael, who are two immigrants to Britain, keep verbally attacking immigrants of color.
According to the Independent UK newspaper, the royal family's salary and upkeep money now stands at £82,200,000 per year. You mean to tell me for £82,200,000 per year you can't behave. What are the British people getting in exchange for that money, other than massive sex scandals, racial slurs and ensuing bad publicity. The royal family are not even the top tourist attraction in Britain. Premier League football is the top attraction, grossing in excess of £5 billion per year.
Some state the Queen gives to the British people via the Crown Estate, which is a collect of property all over Britain, rented to individuals and businesses. However, the assets in the Crown Estate comes from a number of land parcels and homes her ancestors confiscated from "commoners" in unjust acts.
Being a royal is not the most difficult job in the world. The royals are not neurosurgeons performing crucial brain surgery. They are not doctors working to help the sick. They are not nurses tending to sick patients. They are not engineers birthing technology to propel missions into space. They are not charity workers bringing food, medicine and building supplies to impoverished people who will starve, be exposed to the elements and die without the help. Let's keep it real. The royal family waves at people for a living. There are people who work in stores in Britain who do that and without the racial slurs and for far less money.
The royal family have so elevated themselves above the public in Britain. Based on their behavior and speech they obviously think they are better than the British population. The royal family are not serving the British people. The British people are serving the royal family.
The British taxpayers pay the royal family so much money annually, allow them to live in lavish state palaces (owned by the British people), wait on them hand and foot, give them preferential treatment and accolades they have not earned. The royal family are expected to set a good example and function as a tourist attraction, albeit a spit expelling one, yet they are routinely mired in some form of scandal, often based in racial offenses.
The royal family needs to humble themselves. They are not better than the British "commoners" as the disdainful term goes. The British people don't deserve that. Neither does the commonwealth. I think it is highly inappropriate that a family with racist, Nazi leanings be on the nations of the commonwealth, largely comprised of people of color.
Australia has stated that after the death of the Queen they will remove the royal family's name from their nation. Islands in the commonwealth such as Jamaica and Bahamas are mulling over removing the royal family's name from the respective nations as well. Due to repeated racist overtures, I do not feel good about having the royal family's name over the commonwealth.
It is not in our best interests as blacks, Latinos, Indians and Asians to have a racist, insulting, Nazi rooted family, whose loyalty is not with us, represent us in any manner or have a say in our futures. The royal family have racially insulted us one time too many. They have treated us shamefully. They are not our friends.
STORY SOURCE
Princess Pushy's controversial past: How she 'told black diners to go back to the colonies', was 'shocked' to discover her father was a Nazi SS officer and accused the British of being racist
She was accused of racially abusing black diners in New York in row over noise
Her father, Baron Gunther von Reibnitz, was a high-ranking SS officer
He joined the Nazi party in 1930 - three years before Hitler was chancellor
In 2013 she complained about the rent she was paying at Kensington Palace
The Queen was forced to increase £69 a week rent in line with market values
Published: 14:56 EST, 22 December 2017 | Updated: 21:04 EST, 22 December 2017 - Princess Michael's decision to wear the blackamoor brooch is not the first time she has been embroiled in controversy after allegedly telling black diners to 'go back to the colonies' and claiming not to know her father was an SS officer. In 2004 she was branded a racist by a group in a New York restaurant after a row erupted over the noise she claimed they were making.
The royal was accused of slamming her hand down on the group's table, telling them: 'You need to quiet down.' Restaurant boss Silvano Marchetto offered to move Princess Michael and her party to another room. Before switching tables the royal is alleged to have said 'you need to go back to the colonies'.
The princess was reportedly challenged at the time and was said to have replied: 'I did not say "back to the colonies", I said you "should remember the colonies". 'Back in the days of the colonies there were rules that were very good.' She is alleged to have continued: 'You think about it. Just think about it.'
One of the group, Wall Street banker Merv Matheson, who said: 'She has a problem and that problem is racism. She needs help.' AJ Callaway was also caught up in the alleged row and was surprised to find out she was a member of the Royal family. 'I thought she was just a crazy woman. I still think she's a crazy woman,' he said at the time...
RELATED ARTICLES
Wikileaks Releases Hacked U.S. Federal Government Documents Showing The CIA And FBI Are Spying On People In Their Homes Via Hacking Smart TVs And Backdoors In Computer And Phone Operating System Confirming Previous Judiciary Report Site Claims
Obama Administration Wastes Huge Sums Of American Taxpayer Money Breaking The Law In America, Britain And Jamaica On Behalf Of Madonna's Kabbalah Center In Committing Egregious Human Rights Abuses
Madonna, Jay Z, Beyonce, Rihanna, Rita Ora And Jessie J Sued Over Copyright Infringement, Invasion Of Privacy, Commissioned Criminal Harassment And Assault Via The Kabbalah Center
Kevin Spacey Groped The Penis Of A Member Of The Norwegian Royal Family And Sexually Assaulted 20 Men At The Old Vic Theatre In London
Madonna's Criminal Conduct At The BBC In Britain Has Nasty Racist Slavery Connotations To It (Anthony Joshua, Daniel Kaluuya)
Madonna's Kabbalah Cult Is A Threat To British National Security (Harvey Weinstein, Rupert Murdoch, Kevin Spacey)
Rupert Murdoch Has Been Running Sky And The BBC In Criminal Violation Of British Law
Rupert Murdoch Hacked British Spy's Computer And Is Forced To Pay Financial Damages