Madonna Has Sexually Harassed And Groped People Without Permission Much Like Harvey Weinstein
October 16. 20917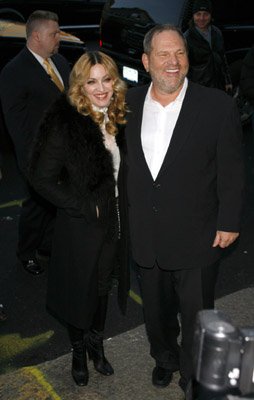 Madonna and fellow Kabbalah cult member Harvey Weinstein have engaged in financial fraud and sexual misconduct in the Kabbalah cult. They have relied on criminal bribery of government officials to keep them out of prison
Hollywood movie producer Harvey Weinstein is currently under fire for sexually harassing, sexually assaulting and raping people in Hollywood and Britain. Weinstein tried to ply a then 17-year-old actress, Kate Beckinsale, with liquor and sexually propositioned her in London, which is an illegal thing for an American citizen to do. Weinstein's fellow Kabbalah cult member Madonna has done similar things in sexually harassing and groping men, women and underage teens, without their consent. Underage teens can't grant consent.
Madonna was in a sexual situation with her former manager's 16-year-old male cousin. There was also an incident regarding Madonna committing sexual assault in ripping off the top off a 17-year-old girl she brought on stage from the audience at a concert, exposing the minor's breast. Madonna has also commissioned acts of sexual assault, which will be written about on this site in a future article and in great detail.
Some of the members of the Kabbalah Center, especially the older famous ones, and their non-famous rabbi Yehuda Berg, who drugged, threatened to kill and sexually assaulted a student, are sexual predators (Madonna included). They are driven by perversion and all sorts of madness. They wallow in evil, as they are self-admitted devil worshippers, who go around harming innocent people. They are sick perverts, who are a danger to society.
RELATED ARTICLES
Social Networking Calls For A Boycott Of Donna Karan Clothes Over Her Defending Sexual Predator Harvey Weinstein In Stating Women Dress In A Manner That Asks For Sexual Assault
New York District Attorney Cyrus Vance Looked The Other Way To Harvey Weinstein's Crimes In 2015 Due To Pressure From The FBI And Obama White House And A Bribe
Lindsay Lohan Defends Fellow Kabbalah Member Harvey Weinstein Over Raping And Sexually Assaulting Actresses As His Wife Changes Her Mind And Leaves Him
Crooked Judge Illegally Presided Over And Threw Out Kesha Rape Case Against Dr. Luke Due To Blaring Conflict Of Interest Via Husband Working For Sony Music
Hollywood Executives Like Harvey Weinstein Who Cross The Line Into Sexual Harassment And Rape In The Workplace Inflict A World Of Harm On Their Victims
Harvey Weinstein Is No Different From Appalling Industry Men Like Jay Z And LA Reid Who Sexually Harass Women While Threatening Their Careers
R Kelly Victim Breaks Confidentiality Agreement To Talk About His Pedophilic Behavior When He Raped Her As A 15-Year-Old Virgin (Video)
Barack Obama, Michelle Obama And Hillary Clinton Slammed For Their 'No Comment' On Harvey Weinstein Finally Issues Statements
Actor Terry Crews States He Was Sexually Assaulted By A Hollywood Executive Who Grabbed His Penis
Harvey Weinstein's Fall From Grace As Sexual Harassment And Charity Fraud Claims Surface
T-Boz Of TLC Says She Is Not Surprised LA Reid Is In Trouble For Sexual Harassment
Harvey Weinstein Labeled A Rapist Confirming Previous Site Claims
Lou Pearlman - For Some Much Is Never Enough