August 4. 2011
This week, New York magazine editor, Frank Rich, made an appearance on the Joy Behar Show, to denounce Rupert Murdoch's News International/News Corp, due to his bad experiences with the company's employees stalking and bullying people perceived to be personal or business enemies.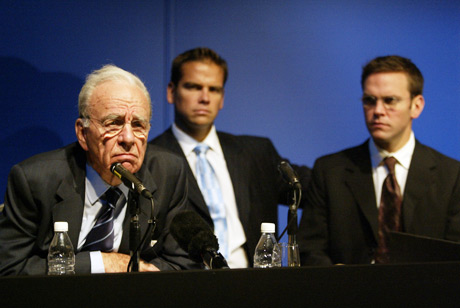 Rupert Murdoch and his sons Lachlan Murdoch and James Murdoch, who along with their sister, Elisabeth Murdoch, are News Corp employees
"Stalking" is another point/complaint I formally made made about them in 2005 to the police. Please realize, psychiatrists publicly classify stalking as a mental disorder that is unacceptable, inappropriate and most of all, illegal. Yet, News Corp and the people in that set, see it as a way of life. It is repulsive and offensive when one is so openly confronted by such abrasive, in-your-face criminality.
Frank Rich
There's something very wrong there, as there is a strange disconnect from reality, present in the aforementioned individuals' minds, for them to be brazenly commissioning and engaging in such unlawful and unethical behavior, via stalking and criminal invasion of privacy (phone hacking, computer hacking and wiretapping). It defies every societal norm, but they are trying to pass off these crimes as no big deal.
RELATED ARTICLES
Renewed Outrage In Britain Over Rupert Murdoch's News Corp Phone Hacking Mom Of Murdered Missing Girl
Fox News Has A Secret Phone Hacking Department In The Building Says Former Employee
Senator Demands FBI Investigate Rupert Murdoch For Hacking Rival & Stealing Their Copyrights
News Corp Employees State James Murdoch Lied In Parliament About The Phone Hacking Scandal
News Corp And Insider Trading In The Phone Hacking Scandal
Australian Prime Minister Slams Rupert Murdoch And News Corp
A Second News Corp Whistleblower Died
Rupert Murdoch Illegally Accessed The Medical Records Of The Prime Minister's Sick Child
Delusional Rupert Murdoch Thinks The Public Adores Him
Rupert Murdoch Executive Admitted To Bribing The Metropolitan Police (Video)
The Head Of The Wall Street Journal Resigns Due To Rupert Murdoch Phone Hacking Scandal
Privacy Invader Rebekah Brooks Resigns From Rupert Murdoch's News Company
The FBI To Investigate Rupert Murdoch's News Corp
Report: Rupert Murdoch To Relaunch News Of The World As The Sun On Sunday
Rupert Murdoch's News Corp In Trouble As More Employees Are Arrested And News Of The World Closes
Rebekah Brooks Played Sex Games In The Office With Rupert Murdoch
Rupert Murdoch Finally Admits His Company's Phone Hacking And Wiretapping Crimes
The FBI Corruptly Granted "Sovereign Immunity" In The Aisha v. FBI Case
Madonna's Connection To Phone Hacking And Wiretapping Scandal