Rupert Murdoch Is A Liar And A Coward To Let His Employees Take The Fall For Him
July 20. 2011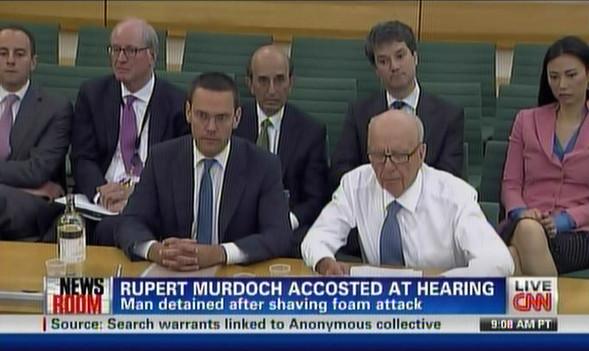 James Murdoch (left) and Rupert Murdoch (right)
During yesterday's hearing into Rupert Murdoch and News International/News Corp, in the British Parliament, the corrupt CEO arrogantly denied all responsibility for his company's heinous conduct, while pouting like a 80-year-old baby made to publicly give an account for his crimes.
When asked if he feels any responsibility over the criminal conduct emanating from his company, Murdoch arrogantly snapped "no" with an impudent look on his face. He has absolutely no remorse for what has happened.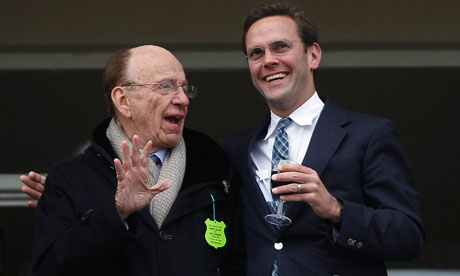 Rupert Murdoch and son James Murdoch, intent on living the so-called good life, at any criminal expense
It became evident quite fast that Murdoch thought the hearing was beneath him and was miffed anyone dared question his criminality. Murdoch came off loony during the hearing, interrupting others' statements with odd and off the cuff comments, displaying a rollercoaster of uneven emotions that made him appear bipolar.
One minute Murdoch was smiling, the next he erupted in anger, in a pattern that kept repeating itself during the hearing. Murdoch is not all there. He and his strange, shifty son, James Murdoch, repeatedly lied under oath, even changing their statements to form contradictory claims, when confronted with the truth regarding their lies.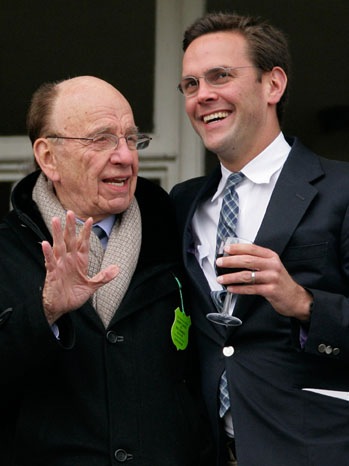 News Corp were shown to be a company with excessive sums of money laying around in petty cash, undoubtedly used for bribes. James Murdoch, signed massive, record breaking settlement checks in attempts at buying the silence of victims/potential witnesses, to avoid criminal charges, yet pretended in the hearing he did not know what he was signing. They truly insulted the public's intelligence. Show of hands, how many of you would sign million dollar checks and not know what it is for? No one.
In 2007, when Rupert Murdoch and his company lied about the phone hacking scandal enveloping News International/News Corp, they told the government of Britain and the world, it was only one rogue reporter involved in the criminal misconduct. Yet, here we have in it 2011, nearly a dozen of Murdoch's employees, reporters and private investigators included, have been arrested on the charge of phone hacking.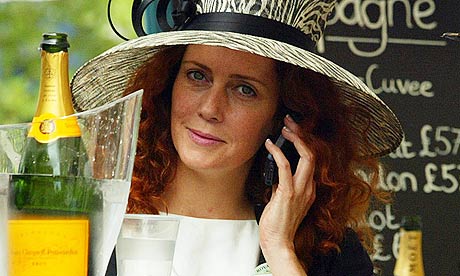 Rebekah Brooks enjoyed the so-called good life with the Murdochs and has been well compensated for criminal activity at News International/News Corp with a $5,000,000 golden parachute
According to prominent press reports, the British government is investigating Murdoch and company, for trying to bribe police officers just three weeks ago (once again) into burying the criminal case against them. How shameful.
The aforementioned, chronic criminal conduct should serve as a lesson to world governments. Let Murdoch and company get away with this massive criminality today and under his family's leadership, expect worst conduct from them tomorrow, as they will lie to your faces and go right back to business as usual, with the temptation to outdo their past evil deeds winning out, having gotten away with the unthinkable twice.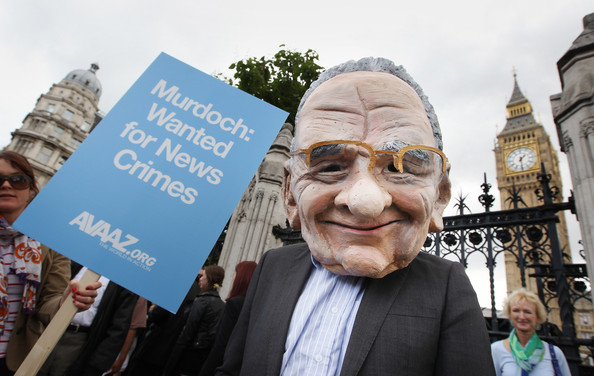 Protests outside Parliament as the Murdoch's testified
The reason News Corp keeps getting into more serious trouble, in hearing after hearing and scandal after scandal, is the simple and unavoidable fact, the rot and repugnance starts at the top of the company, then works its way down. These abhorrent plots and criminal schemes come directly from the Murdochs, who have their employees carry them out, in exchange for added financial compensation.
Until the Murdoch's are excised from News Corp, expect worst to come that will shock the public. The Murdochs have bought up others' respectable companies and brought them into such shame and disrepute it will never be forgotten.
RELATED ARTICLES
The Head Of The Wall Street Journal Resigns Due To Rupert Murdoch Phone Hacking Scandal
Privacy Invader Rebekah Brooks Resigns From Rupert Murdoch's News Company
Delusional Rupert Murdoch Thinks The Public Adores Him
The FBI To Investigate Rupert Murdoch's News Corp
Rupert Murdoch Executive Admitted To Bribing The Metropolitan Police (Video)
Rupert Murdoch Illegally Accessed The Medical Records Of The Prime Minister's Sick Child
Report: Rupert Murdoch To Relaunch News Of The World As The Sun On Sunday
Rupert Murdoch's News Corp In Trouble As More Employees Are Arrested And News Of The World Closes
Rebekah Brooks Played Sex Games In The Office With Rupert Murdoch
Rupert Murdoch Finally Admits His Company's Phone Hacking And Wiretapping Crimes
The FBI Corruptly Granted "Sovereign Immunity" In The Aisha v. FBI Case
Madonna's Connection To Phone Hacking And Wiretapping Scandal
Rupert Murdoch Compromised National Security With Illegal Phone Hacking And Wiretapping
Rupert Murdoch Has Proven He Cannot Be Trusted
Has Rupert Murdoch Ever Spied On A World Government For Another
Report: Rupert Murdoch Blackmailed The British Prime Minister
Mr. Murdoch, Your Viagra Prescription Is Ready
Phone Hacking And Wiretapping Scandal Runs Way Deeper Than They Are Admitting