Rupert Murdoch News Corp Journalist Found Dead
The Public Wonders If Old Gangster Rupert Was Involved
July 18. 2011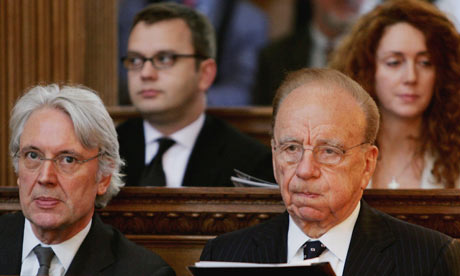 Rupert Murdoch (front right) with three of his former employees, Les Hinton who resigned last week (left), Andy Coulson who was arrested this month (back left) and Rebekah Brooks (back right) who was arrested this past Sunday
Scandal ridden CEO, Rupert Murdoch, is at the center of conspiracy theories tonight, as one of his journalists, Sean Hoare, who was the first employee from the News Corp, to blow the whistle on him in a September 7, 2010 article, was found dead in his Watford, England home this evening. Police were called to Hoare's home in northwest London, in an incident they have described as, "Unexplained, but not suspicious."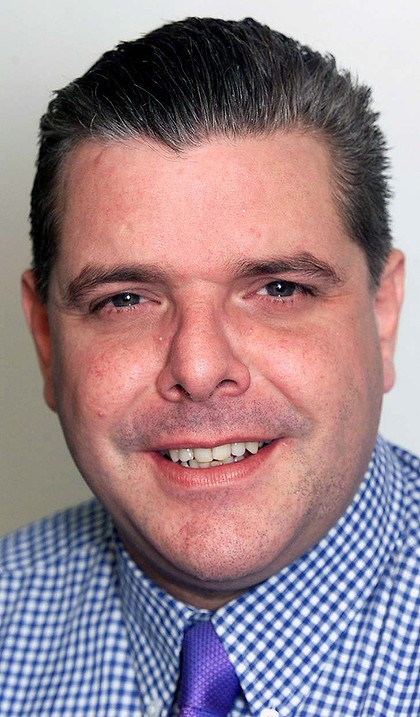 Sean Hoare
Hoare told the Watford Observer newspaper in 2010, that former News International/News Corp employee, Andy Coulson, 43, who was arrested arrested this month, encouraged him to illegally hack and wiretap people's phones for stories to publish. Hoare's 2010 interview, as a former employee of News International/News Corp, confirmed the written claims I made to the Met Police YEARS PRIOR in 2005 (formal complaint).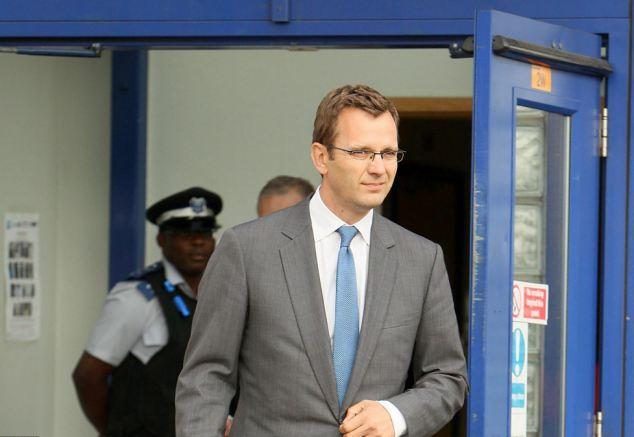 Andy Coulson
As much as Murdoch tries to deny the scandal, he is a man that foolishly went into the U.S. Congress over a year ago, spouting off items from illegally hacked email and text messages, during an open hearing. Murdoch knew, commissioned, orchestrated and personally profited from the illegal phone hacking and he should go to prison for it, as should his grown children, who are involved in the scandal.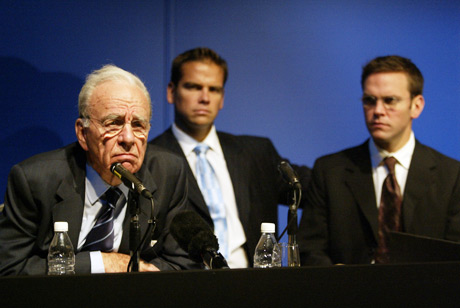 Rupert Murdoch and his sons Lachlan and James Murdoch
Murdoch and his son James, who is also deeply involved in the criminal misconduct, are scheduled to appear in the British Parliament tomorrow, for intense questioning. regarding the disgraceful scandal that has swept the world. People are genuinely appalled and have protested Murdoch in Britain and America, over his illegal, unconscionable newsgathering methods they want gone, as it is a criminal violation of privacy, in the name of profits.
STORY SOURCE
Former WO reporter Sean Hoare claims ex-News of the World editor Andy Coulson told him to hack phones
Sean Hoare knew how destructive the News of the World could be
RELATED ARTICLES
The Head Of The Wall Street Journal Resigns Due To Rupert Murdoch Phone Hacking Scandal
Privacy Invader Rebekah Brooks Resigns From Rupert Murdoch's News Company
Delusional Rupert Murdoch Thinks The Public Adores Him
The FBI To Investigate Rupert Murdoch's News Corp
Rupert Murdoch Executive Admitted To Bribing The Metropolitan Police (Video)
Rupert Murdoch Illegally Accessed The Medical Records Of The Prime Minister's Sick Child
Report: Rupert Murdoch To Relaunch News Of The World As The Sun On Sunday
Rupert Murdoch's News Corp In Trouble As More Employees Are Arrested And News Of The World Closes
Rebekah Brooks Played Sex Games In The Office With Rupert Murdoch
Rupert Murdoch Finally Admits His Company's Phone Hacking And Wiretapping Crimes
The FBI Corruptly Granted "Sovereign Immunity" In The Aisha v. FBI Case
Madonna's Connection To Phone Hacking And Wiretapping Scandal
Rupert Murdoch Compromised National Security With Illegal Phone Hacking And Wiretapping
Rupert Murdoch Has Proven He Cannot Be Trusted
Has Rupert Murdoch Ever Spied On A World Government For Another
Report: Rupert Murdoch Blackmailed The British Prime Minister
Mr. Murdoch, Your Viagra Prescription Is Ready
Phone Hacking And Wiretapping Scandal Runs Way Deeper Than They Are Admitting