Rupert Murdoch's Smug Mug Hit With A Pie During Parliamentary Hearing
July 19. 2011
Rupert Murdoch and his son, James Murdoch, were summons to the British Parliament today, to testify about their criminal misconduct, via the family's company News International/News Corp, illegally wiretapping and hacking 9,000 phone lines in Britain.
During the contentious hearing, which I will write about shortly, a British man named Jonnie Marbles, real name Jonathan May-Bowles (any relation to Duchess Camilla Parker Bowles Windsor) pie'd Murdoch right in his smug mug.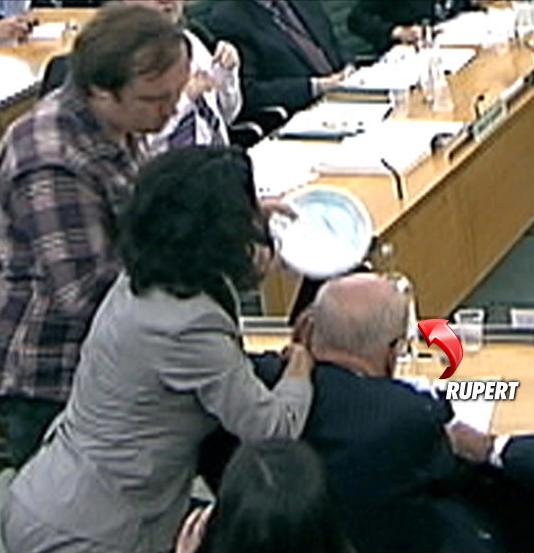 Rupert Murdoch getting a pie to the face (Photo Credit: TMZ)
In watching the display, the British blood in me was outraged - no, not that Murdoch got hit with the foam - I was incensed that the cameraman had the camera at the wrong angle, providing only a back shot and not a front close up of Murdoch getting pie'd in the face. My ancestors fought in British wars and served their nation for centuries...only for the cameraman to ruin this moment of Murdoch schadenfreude for me! I demand a reshoot (grin)!
Seriously, I was watching the incident in a hotel restaurant and the television was muted. I thought to myself, did I see that correctly, did somebody just jump Murdoch or did he keel over from the stress? Christmas has come early (still grinning).
RELATED ARTICLES
The Head Of The Wall Street Journal Resigns Due To Rupert Murdoch Phone Hacking Scandal
Privacy Invader Rebekah Brooks Resigns From Rupert Murdoch's News Company
Delusional Rupert Murdoch Thinks The Public Adores Him
The FBI To Investigate Rupert Murdoch's News Corp
Rupert Murdoch Executive Admitted To Bribing The Metropolitan Police (Video)
Rupert Murdoch Illegally Accessed The Medical Records Of The Prime Minister's Sick Child
Report: Rupert Murdoch To Relaunch News Of The World As The Sun On Sunday
Rupert Murdoch's News Corp In Trouble As More Employees Are Arrested And News Of The World Closes
Rebekah Brooks Played Sex Games In The Office With Rupert Murdoch
Rupert Murdoch Finally Admits His Company's Phone Hacking And Wiretapping Crimes
The FBI Corruptly Granted "Sovereign Immunity" In The Aisha v. FBI Case
Madonna's Connection To Phone Hacking And Wiretapping Scandal
Rupert Murdoch Compromised National Security With Illegal Phone Hacking And Wiretapping
Rupert Murdoch Has Proven He Cannot Be Trusted
Has Rupert Murdoch Ever Spied On A World Government For Another
Report: Rupert Murdoch Blackmailed The British Prime Minister
Mr. Murdoch, Your Viagra Prescription Is Ready
Phone Hacking And Wiretapping Scandal Runs Way Deeper Than They Are Admitting