Coroner Tells TMZ Actor Paul Walker Burned To Death After Car Crash
December 4. 2013
The TMZ website is stating the Los Angeles coroner's office informed them "Fast And Furious" actor Paul Walker, burned to death after the initial car crash that claimed his life last week at the age of 40. TMZ stated Walker died of "trauma" and "burn injuries" but the driver of the Porsche GT, Roger Rodas, did not.
The question is how can they tell, as Walker and Rodas were both burned beyond recognition, requiring dental records for a positive ID, after the car burst into flames and exploded. How burned was the skin and internal organs that someone came to the conclusion the passenger burned to death, but the driver did not. It's like trying to guess the cause of death after a cremation, as the car was a raging inferno for several minutes before firefighters arrived and put out the blaze.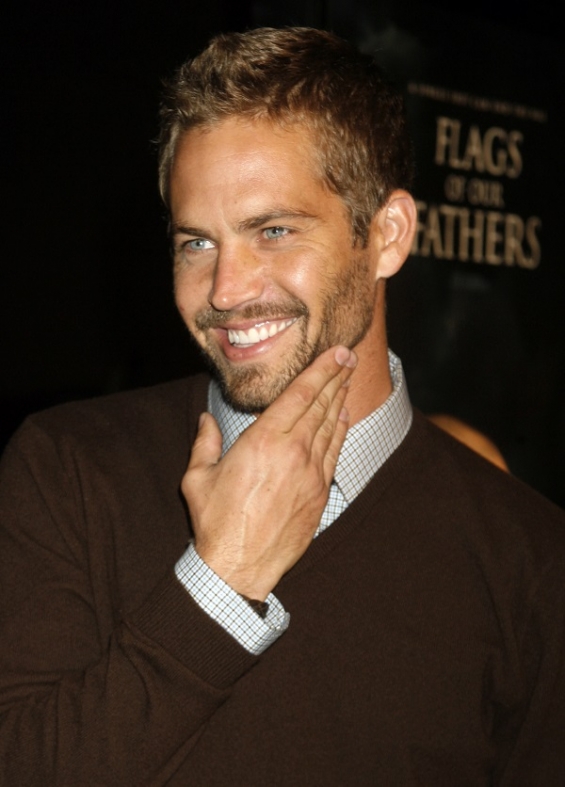 Paul Walker
Video surveillance tapes shot from a distance reveals debris and a thick black plume of smoke rising in the air at the crash site. Shortly after, it is stated an explosion occurred, where the smoke becomes even thicker and darker. The car may have been on fire then exploded.
Without video proof, how do they know Walker didn't die on impact, as the car was speeding, going in excess of 100 miles per hour, then crashed into a light pole and tree. There is talk of a video tape where Walker is allegedly seen flailing before the car explodes. However, how do they know it was not an involuntary reflex that sometimes occurs right after death. It's a terrible thing to tell his family that he burned alive for a time before dying in an explosion, especially with no concrete proof (video tape showing the crash, then explosion).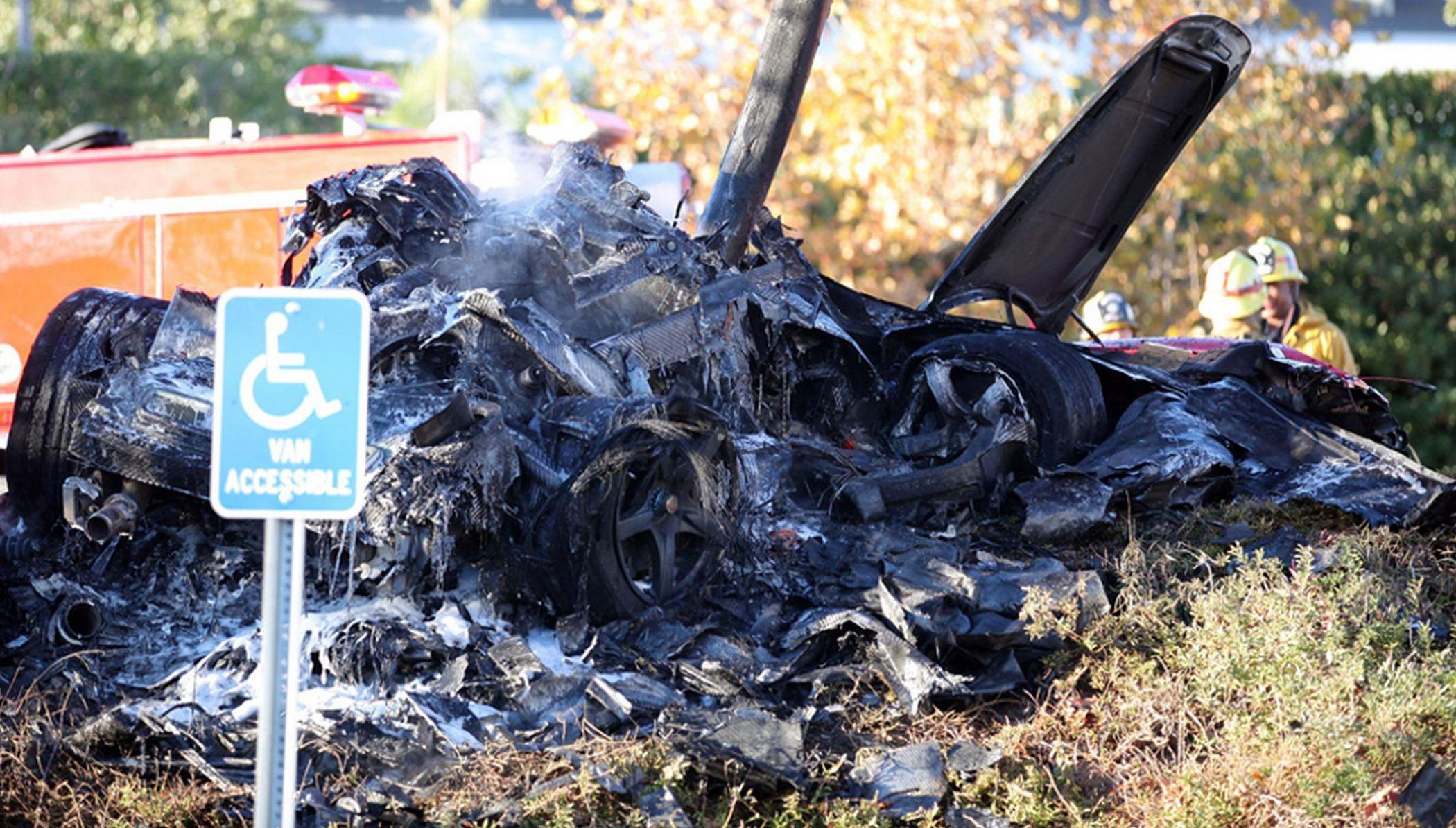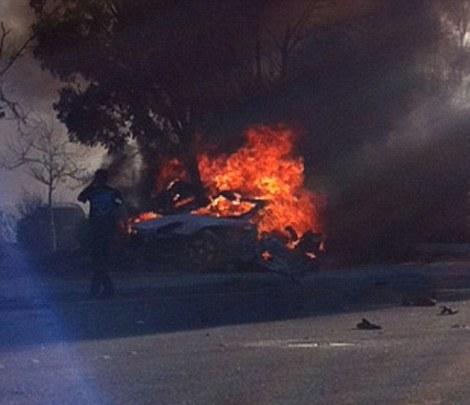 Photos of the car accident
Unless there exists clear cut video proof regarding the tragic accident (not a video obscured by buildings) to speculate and hypothesize in this manner, supposing something so gruesome, isn't fair to Walker's grieving family and friends. It's downright cruel.
STORY SOURCE
Paul Walker Burning Porsche Video May Show Escape Attempt
12/4/2013 6:08 PM PST BY TMZ STAFF - A close examination of the video showing the Paul Walker's Porsche engulfed in flames reveals a shadowy image appearing to flail. There is now a swirl of speculation that the image, seen roughly 23 seconds into the clip, is Paul attempting to escape the death trap.
Law enforcement sources who participated in the investigation tell TMZ ... there is strong evidence that Paul and Roger Rodas never got out of their seats, but when pressed they would not conclusively say that Paul didn't attempt an escape.
Our sources say ... investigators are confident Roger absolutely didn't move -- but they would not definitely say that about Paul. One source says it appears both men were trapped in their seats and therefore did not attempt an escape, but the key word is "appears."
We're told law enforcement is looking at the video now. We broke the story ... the L.A. County Coroner's Office says Paul died from both trauma from the crash AND burn injuries, which insinuates the actor survived the initial impact and the fire was partially responsible for his death.
http://www.tmz.com/2013/12/04/paul-walker-burning-porsche-video-escape-attempt/
Paul Walker Crash Cause Of Death Revealed Trauma and Burn Injuries
12/4/2013 12:20 PM PST BY TMZ STAFF - Paul Walker died from the combined effects of traumatic and thermal injuries sustained from the Nov. 30 car crash ... this according to the L.A. County Coroner's Office. Translation -- Paul did not die from the impact of the crash alone. He burned to death after the Porsche GT crashed into a tree and a pole and exploded into flames.
The man who was driving the Porsche GT, Roger Rodas, died from multiple traumatic injuries suffered upon impact. Burning was not listed as a factor in his death. The coroner says toxicology results for both men will be available in 6 to 8 weeks. The Medical Examiner says both deaths have been ruled as an accident. Sources in the coroner's office tell us ... both men were positively ID'd by using dental records.
Walker and Rodas were killed Saturday in Santa Clarita, CA when the Porsche GT they were in veered off the road, slammed into a pole and exploded in flames. The cause of that crash is still under investigation. Paul was 40. Rodas was 38.
---
Floyd Mayweather Slams Women Who Are After His Money As Fiancée Shantel Jackson Unfollows Him On Twitter
December 4. 2013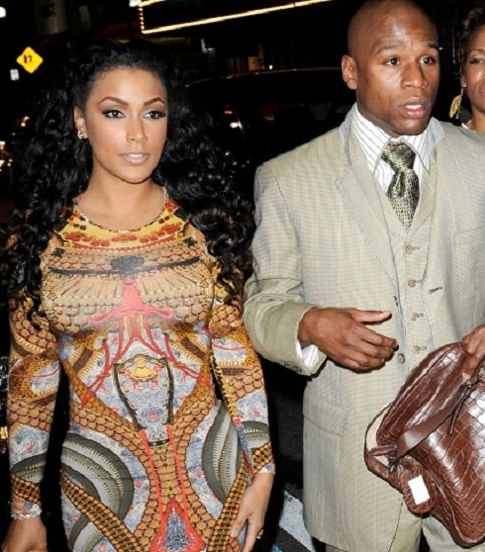 Shantel Jackson and Floyd Mayweather
There's trouble on the Money Team. Championship boxer, Floyd Mayweather, posted an item on Instragram and Twitter, opining why marriages fail, stating the more time you spend with someone the more you see their flaws. Well, no one's perfect and neither are marriages. We all have flaws. However, if you love someone, you make it work via compromise, sacrifice and understanding. The site would be remiss if it did not note, cheating is the number one factor that creates damage in marriages.
Mayweather stated, "You might think you love someone until you see the way they act when they're out of money, under pressure or hungry." Mayweather was stabbed in the back by stripper Queen Princess Love, who used him for his money and fame, then betrayed him by sleeping with Money Team member rapper Ray J. It was also alleged she had his home she was staying in for free burglarized of over $100,000 in jewelry and cash.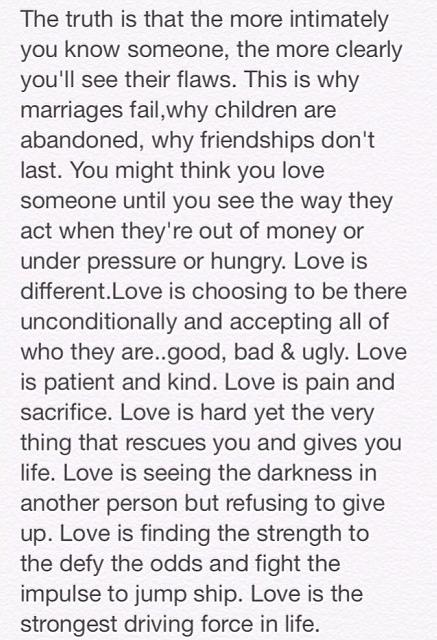 Mayweeather's post on Twitter and Instagram
It was also discovered Mayweather's fiancée, Shantel Jackson, had her name legally changed to Shantel Mayweather and they aren't even married yet according to report (that's obsessive). The two are reportedly having problems again, as Jackson has unfollowed Mayweather on Twitter.
Mayweather is attracting the wrong type of women for a few reason. Number one, he flashes his cash too much, which also attracts male and female thieves, con artists, blackmailers, extortionists and ponzi schemers. For example, Mayweather posted a $40,000,000 check online, the purse for winning his fight against Canelo Alvarez. Additionally, Mayweather goes to the strip club with stacks of cash totaling $100,000 to toss at strippers (which is where he found Queen Princess Love). Doing these things, of course he's going to attract the money hungry women, who want to use him for all they can get.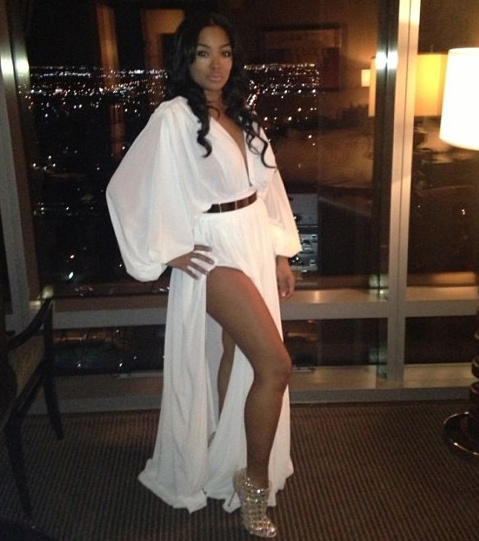 Queen Princess Love
Sincere women with something going for themselves will find those ostentatious displays of wealth a deterrent and think a man doing this is just going to try to buy her. Sincere women want to be seen and treated as equals, not property to be bought.
I don't wish this on Mayweather, but if he ever goes broke due to his massive spending sprees (and it has happened to other athletes), none of these money hungry women fawning all over him will be there for him. They're there for the money and fame. All the public sees is Mayweather buying expensive gifts for his girlfriends and it is attracting women who want his money, not him.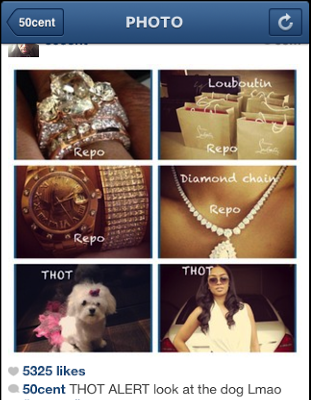 Queen Princess Love with all the gifts Mayweather bought her, as she stabbed him in the back with Ray J
A woman who really loves you will be happy just being with you. That means you don't have to constantly take her shopping for designer clothes, jewelry and cars, dining at the finest restaurants, partying in the VIP section of clubs, flights to expensive locales. She'd be happy just curling up with you on the sofa and watching a DVD. When a woman is truly in love she'll be happy just being around you and can't get enough of you.
Yes, it's fun to go out and enjoy yourself with your significant other, but when you're spending all the money in the relationship, the other person is constantly making demands and you're basically buying them via giving gifts to keep them happy and treating you nicely, you're being used. The minute the money is gone they will be too.
STORY SOURCE
Did Floyd Mayweather Hack Miss Jackson?
Saturday, November 30, 2013 - Earlier this week rumors swirled that Floyd Mayweather and Shantel Jackson had secretly eloped after Shantel changed her Instagram name to Mrs. Mayweather [click here if you missed that].
Shantel sets the record straight... After followers began to congratulate Shantel on taking the next step with Floyd, she informed them that she didn't change the name on Instagram and that she's not in control of her account because she's currently being hacked. She also stopped following Floyd on Twitter.
http://www.rhymeswithsnitch.com
---
Dwyane Wade's Wife Attempts To Void Their Divorce In Desperate Attempt To Get Him Back
December 3. 2013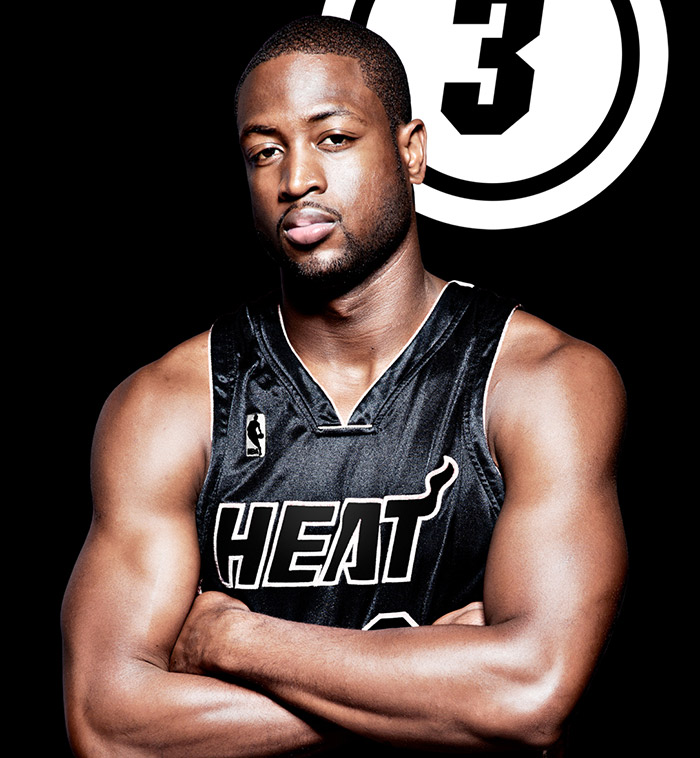 Dwyane Wade: she did what?!
Dwyane Wade's ex-wife, Siohvaughn Wade's semi-court victory, regarding a judge declining to have her mentally evaluated, has emboldened her to fire her 13th lawyer and move to have her divorce to the Miami Heat basketball star voided. It testifies to Siohvaughn's deteriorated mental state, which the site warned of regarding the judge declining to have her mentally evaluated.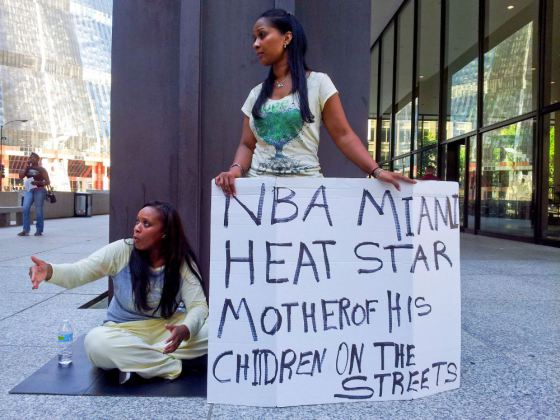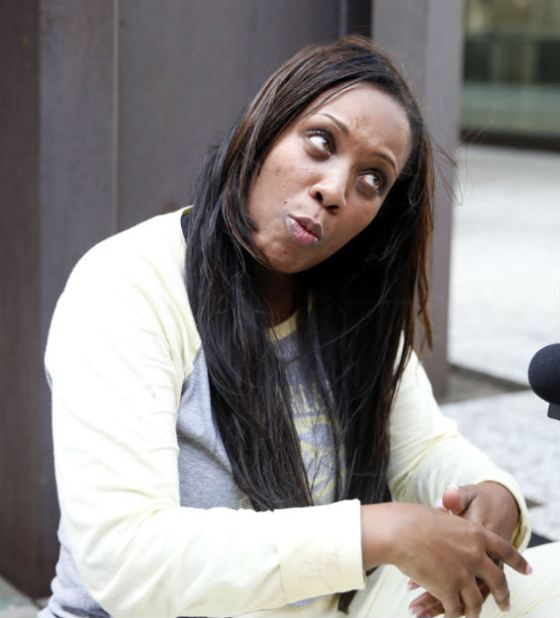 Siohvaughn Wade pretending to be homeless on a side walk in Chicago, Illinois, blaming it on Dwyane, who was giving her alimony payments the whole time
The current legal maneuver is one-sided, as Dwyane has expressed no intention of reuniting with Siohvaughn. The divorce was done, signed and settlement issued. To attempt to put those wheels in reverse, is a desperate ploy to get her husband back and it will be interpreted as antagonistic.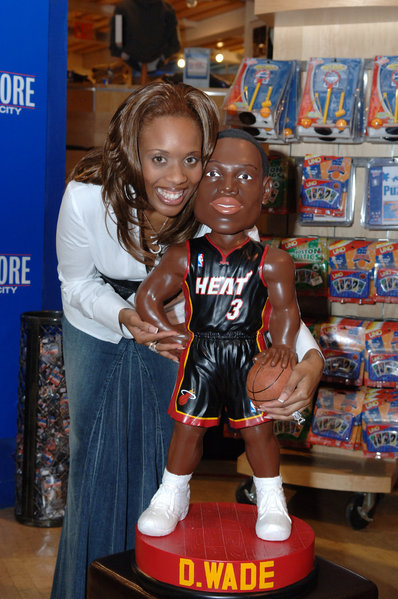 This is what Siohvaughn is left with but she wants the real Dwyane Wade back
These legal maneuvers are not endearing Siohvaughn to Dwyane, who is exasperated, as it is causing him emotional distress and stress. It's understandable that she wants him back, but the divorce was already made final. It's time for Siohvaughn to let Dwyane go and move on with her life. He has moved on and so should she.
RELATED ARTICLES
Court Rejects Dwyane Wade Motion For His Ex-Wife To Face Mental Evaluation
Court Order Places Dywane Wade's Ex-Wife In Danger Of Permanently Losing Custody Of Her Children Due To Homeless Stunt
Ex-Wife Of Miami Heat Star Dwyane Wade Lays On Sidewalk Stating She Is Homeless Because Of Him But...
Dywane Wade's Ex-Wife Does Video Interview Making Shocking Claims (Video)
---
Did Don King Orchestrate Mike Tyson's Demise Years Ago
It Sure Looks That Way
December 3. 2013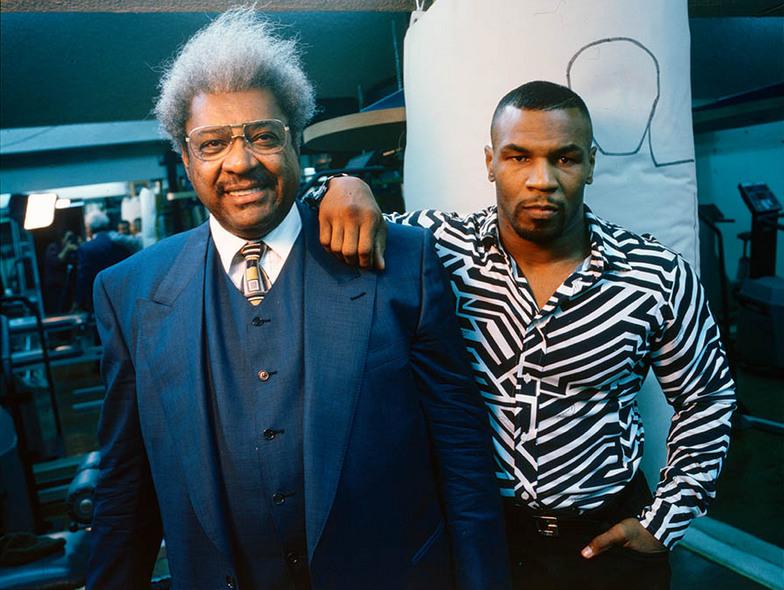 Don King and Mike Tyson
Many stories have swirled for years that boxing promoter Don King allegedly orchestrated Mike Tyson's demise in the 1980s and early 1990s, to pillage his multi-million dollar fortune. Tyson never received a proper accounting of his money. No matter who you are, you must take control of your finances, sign your own checks and avoid transferring power of attorney to others. You must stay on top of your finances and regularly review your contracts, accounts, checks and spending (bills, credit cards, debit cards, checks issued and received ect).
When Tyson was a teenager,from a broken home, with a mother who was a prostitute turning their abode into a brothel, it profoundly affected him. As a teen he was adopted by boxing trainer Cus D'Amato, who became a father figure to him. D'Amato was a good influence on Tyson, who taught him discipline and dedication. However, after D'Amato died, Tyson fell in with people like Don King, who severely exploited, manipulated and controlled him for their own ends.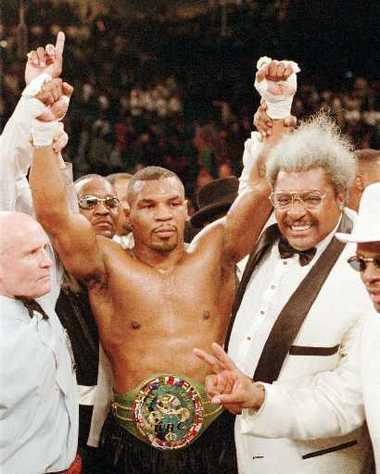 Mike Tyson and Don King
At that point in time, Tyson no longer had proper financial guidance or honest friends willing to tell him the truth about those around him and what they were truly up to in his life and it cost him plenty. It was alleged, Tyson, much like rapper Tupac, was set up for rape and sent to prison.
In Tupac's case, club-goers witnessed as a woman voluntarily performed oral sex on him in the night club. Though I do not agree with such public displays, as sex is something that should occur behind closed doors, not in front of everyone, for a woman to publicly do that and then cry rape and sexual assault is fraud.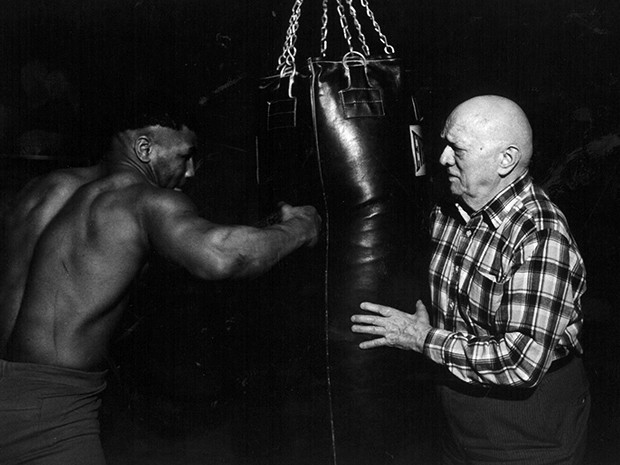 Mike Tyson and adoptive father Cus D'Amato
In Tyson's case, a beauty contestant, Desiree Washington, went to his hotel room after midnight, then stated he raped her. I was never convinced Tyson raped Washington, who had previously made this accusation regarding another male. Who goes to a man's hotel room after midnight if it's not for sex. No one is that naive.
The next morning she went to the beauty contest smiling, laughing and dancing like she was on cloud nine, all filmed on camera as apart of the pageant. Rape victims generally don't behave in that manner, as they are usually too distraught. Rape is a cruel thing, so is lying that you were.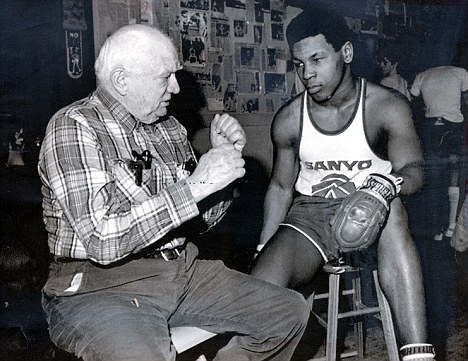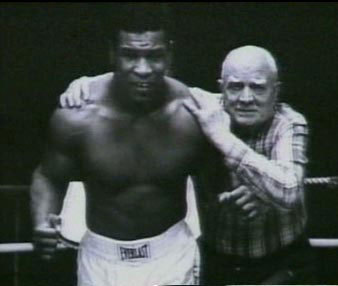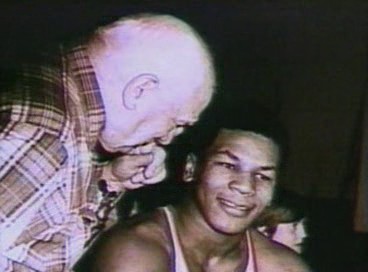 Mike Tyson and Cus D'Amato
Tyson's also developed issues with substance abuse and alcoholism, as a way to tune out his problems, but it made them worse. Tyson is now a recovering addict. People struggling with substance abuse must take it one day at a time and remember every day one is sober is a victory.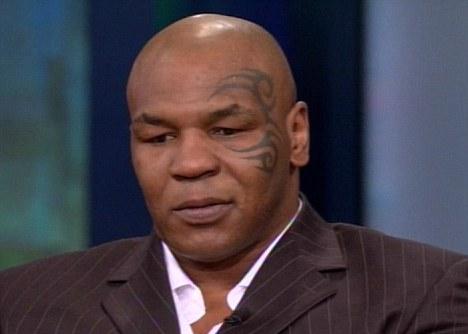 Mike Tyson
Tyson's struggles illustrates what the wrong people and negative environments can bring about in one's life. It could bring about anyone's demise. Always try to surround yourself with good, positive people, who bring you up, not down. People who would be your friend or love even if you weren't famous and or didn't give them a dime. People who will kindly tell you the truth, even when you don't want to hear it. Those are real people.
Real isn't having a big, flashy entourage of people who won't pay their own way. Real is having friends or a love you can call whether things are good or bad with you and they will try to help you with their love, time and efforts, without asking for anything in return. You should also be that type of friend to others.
RELATED ARTICLES
One Of Floyd Mayweather's Girlfriends Inappropriately Posts His Private Messages Out Of Spite
Blogs Accuse Floyd Mayweather's Girlfriend Of Stealing 8 Rolex Watches And $10,000 From One Of His Mansions
Floyd Mayweather Slams One Of His Girlfriends As 'Garbage'
---
TLC's Chilli Slams Music Video Director During Interview On VH-1's 'Soulplayer'
December 3. 2013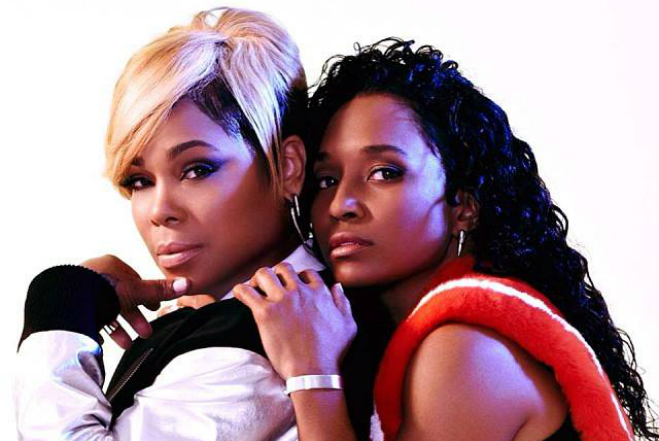 TLC
During an interview with the VH-1 show "Soulplayer" TLC's Rozanda "Chilli" Thomas slammed popular 1990s video director Hype Williams for becoming frustrated with her, during the making of their expensive music "No Scrubs" from the multi-platinum "Fan Mail" CD.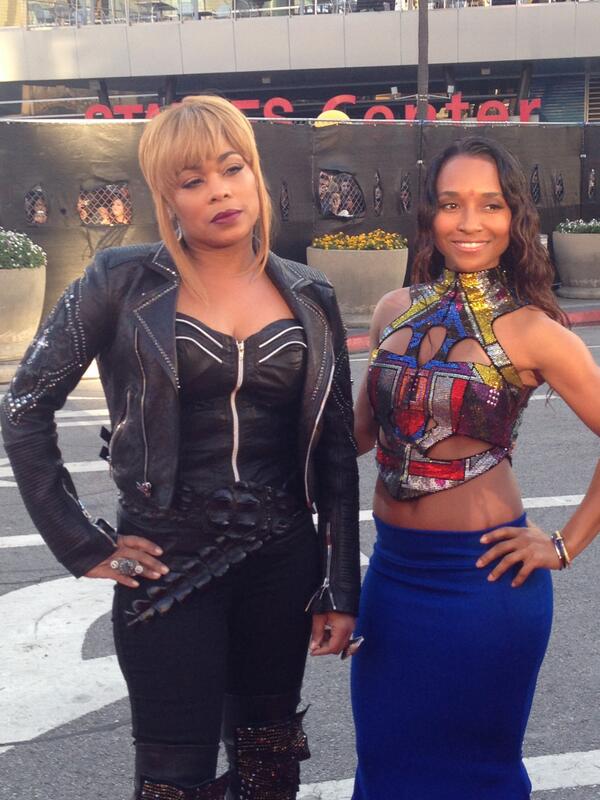 T-Boz and Chilli
Chilli, who went punk during the video, afraid of the swing the director Hype Williams placed her on for the shoot, complained about him on the show. Chilli stated she "was so pissed" when she saw the first cut of the "Scrubs" music video, as she was barely in it, after Williams allegedly had many of her shots edited out (expressions of fear were probably on her face and didn't look right on camera).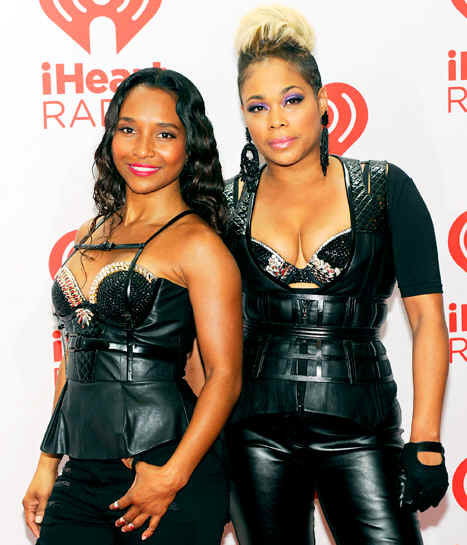 The selective editing prompted Chilli to state, "I guess I'm not in the group." It's not the first time she's said this. Group founder and former manager, Pebbles, stated the late Lisa "Left Eye" Lopes and fellow band member Tionne "T-Boz" Watkins wanted Chilli out of the group for her amorous conduct with producer Dallas Austin (not to mention her affair with former Laface CEO, L.A. Reid, Pebbles' then husband). Chilli keeps saying she was kicked out of or not in the group, due to others, but clearly something was going on with her behavior to provoke these reactions.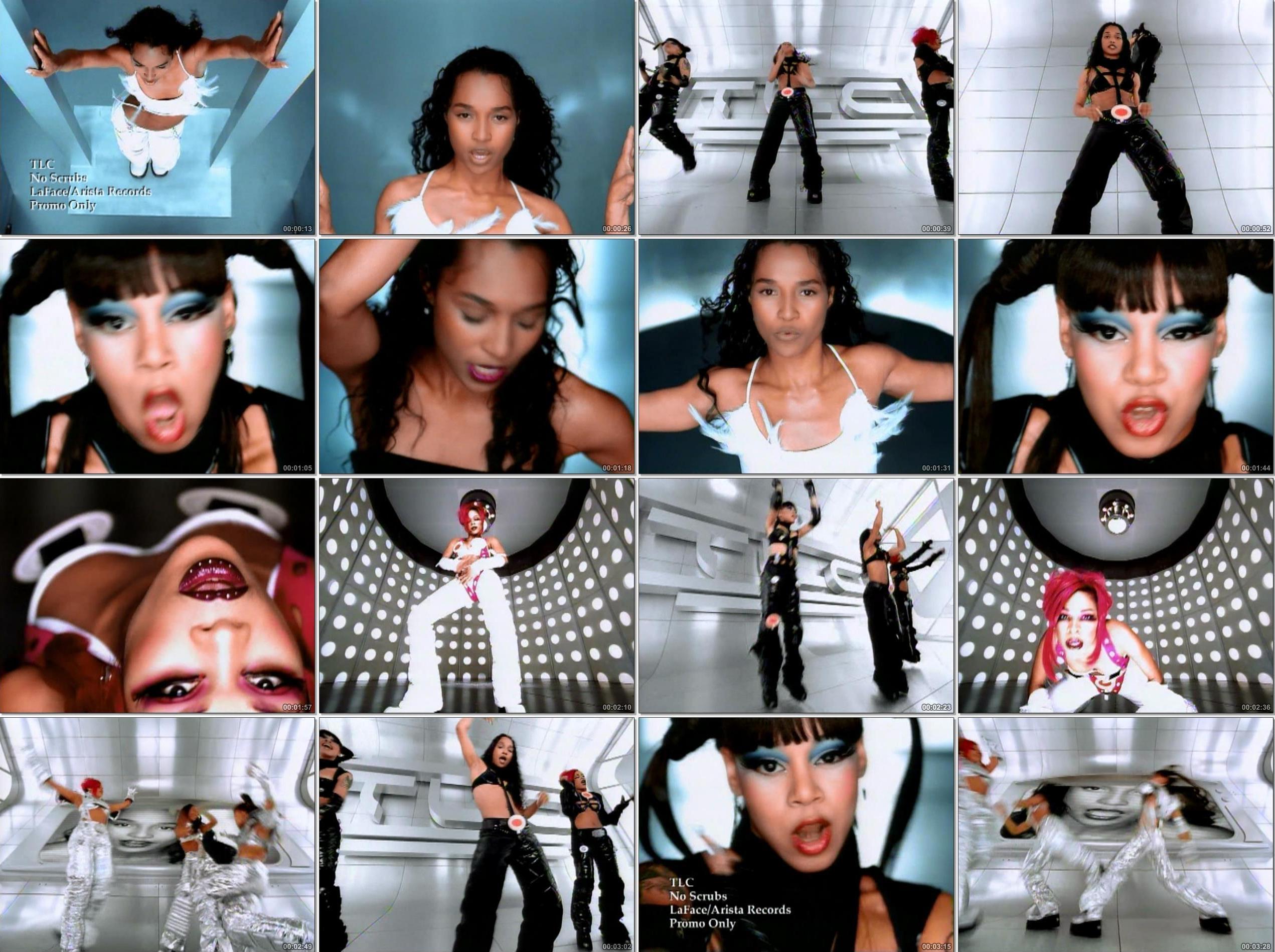 TLC "Scrubs" video
Side Bar: for years comedians and writers have joked that TLC's video for "Scrubs" was a big rip off of the late Michael Jackson's "Scream" video. Comedians used to joke, "Did Michael Jackson give TLC permission to shoot on his old video set."
RELATED ARTICLES
Pebbles Does Interviews With Wendy Williams And Huffington Post Spilling Information On What Happened With TLC
Pebbles Daughter Ashley Reid Slams TLC's Chilli For Having Sex With Her Stepdad L.A. Reid
Singer Slammed In The TLC Biopic 'CrazySexyCool' Is Outed As Beyonce
TLC's T-Boz Slams Former Female Associates Pebbles And Crystal Jones As Scorned Heifers
TLC Biopic 'CrazySexyCool' Exposed As Grossly Inaccurate By People Instrumental To Their Careers
The TV Movie "CrazySexyCool: The TLC Story" Left Out A Lot Of Things...
TLC Take To The Wendy Williams Show To Slam Their Former Manager Pebbles (Video)
The TV Movie 'CrazySexyCool: The TLC Story' Could Be The Subject Of A Defamation Lawsuit
---
Fast And Furious Star Paul Walker Dies In Fiery Car Crash But TMZ Posted The Story Two Days Before It Happened
December 2. 2013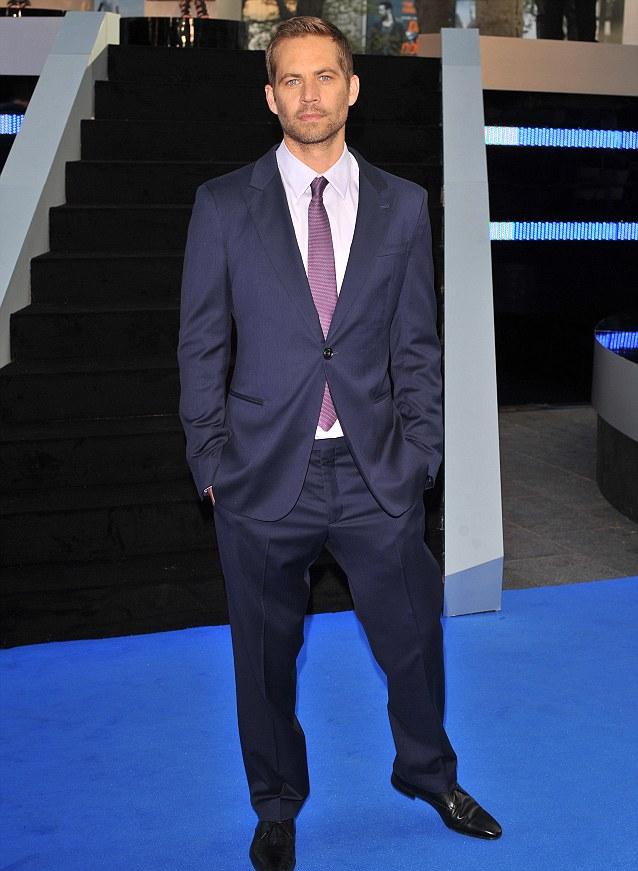 Paul Walker
Stunningly handsome "Fast And Furious" star Paul Walker has died in a tragic, fiery car crash. The good looking actor has been a staple in the "Fast And Furious" film franchise since its inception in 2001. Walker was a passenger in the Porsche Carrera GT of friend and financial advisor, Roger Rodas, a former race car driver.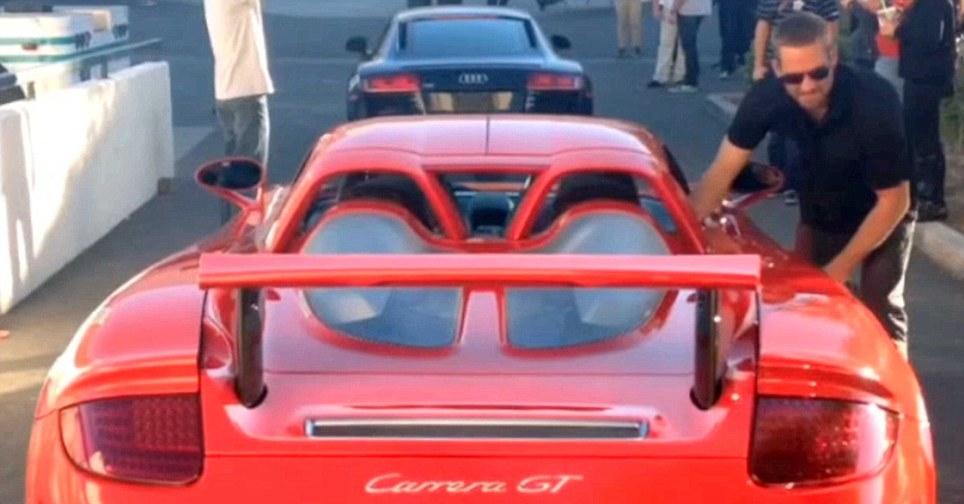 Last known picture of Paul Walker, taken on November 30, 2013, shortly before he died minutes later.
The two were attending a fundraising event hosted by Walker's non-profit charity organization Reach Out Worldwide. Rodas, who was behind the wheel, took Walker for a joyride in his Porsche. The car careened out of control and crashed into a light pole and tree, presumably killing them instantly. Authorities have confirmed speed was a factor in the crash. Figure eight and donut patterns were observed on the road at the site of the crash.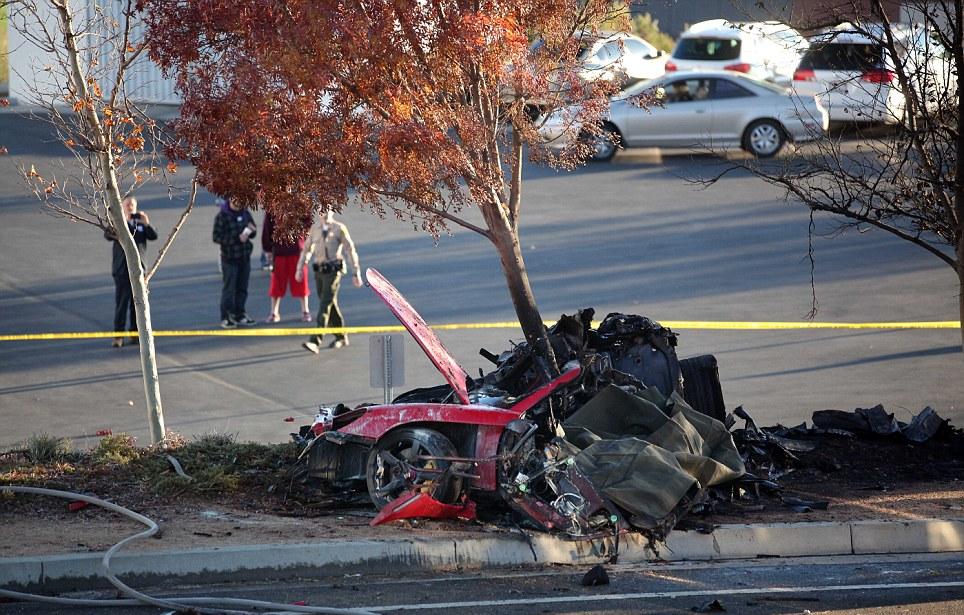 The crumpled Porsche Paul Walker and friend Roger Rodas went for a drive in, crashing into a tree.
From start to finish the impact phase of the accident was a fireball. A motorist in another vehicle, who saw the car wrapped around a tree, after having knocked over a light pole due to the crash, stated to other drivers, "Drive away. It's going to blow up." A female motorist in another vehicle called 911 emergency services and stated as a loud bang is heard, "The car is in half. Yes there is someone in there."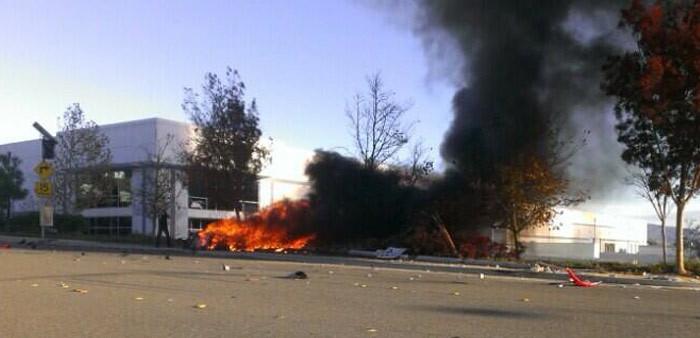 The car on fire after the accident
Jim Thorp, a man who had met Walker earlier at the event stated, "A man and his wife. They saw it happen. They have it on video tape. They thought it was a film being made. They didn't know it was Paul or Roger. They had no clue. They just saw a very nice car get in an accident and then blow-up."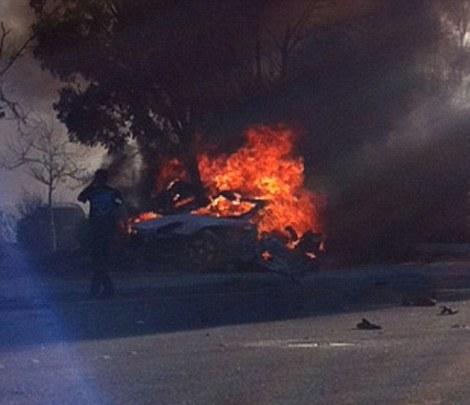 Another photo of the car on fire after the accident as onlookers summon help
There are reports Rodas' 8-year-old son bravely, but sadly unsuccessfully tried to rescue his father from the mangled car. Onlookers tried to out the blaze with fire extinguishers, but were unable to do so. When firefighters arrived they were able to put out the blaze. However, Walker and Rodas were pronounced dead on the scene. Their bodies were burned beyond recognition, requiring the coroner's office to request dental records of the two men to make a positive identification.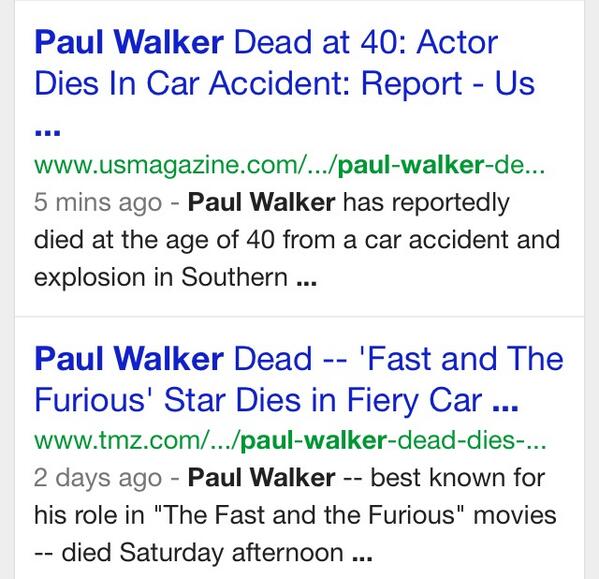 A screen grab that began making its way around Twitter on November 30, 2013. It contains a snapshot of TMZ's article links on November 30, 2013,the day Paul Walker died in a car crash. Look at the bottom article link and summary, it says "2 days ago" meaning it was published two days prior to November 30, 2013, the date of the deadly car accident that claimed Walker's life. TMZ has some explaining to do. TMZ has since deleted it from their site.
Ironically, TMZ's archives contained an article about Walker's death two days before it happened, which led to many publicly asking what is going on. One of two things happened. In the past, TMZ has engaged in article backdating to claim scoops and may have backdated it too far.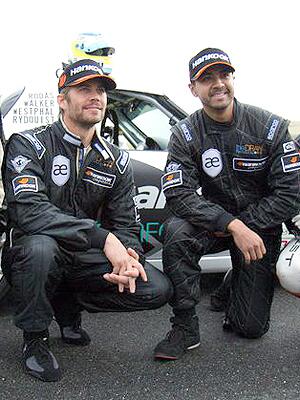 Paul Walker and Roger Rodas
TMZ is on their own software blogging system, not apart of a major blogging platform such as Blogger or Wordpress. The Judiciary Report's blog is on Blogger's system and the blogging service sets the same time and date for every blog it hosts, accompanied by the time zone. TMZ is free to set anytime they wish, as its their own software and platform.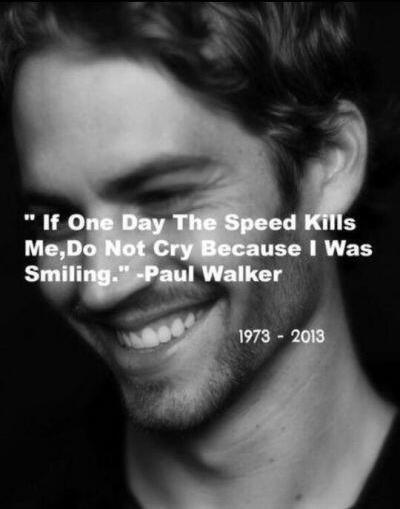 A sad quote Paul Walker once issued, which ironically now sums up his death due to traveling in a speeding car
I've seen TMZ backdate articles. For example, one reads the main page of TMZ in the morning and by noon, newer articles appear, but with earlier time stamps that the ones you read in the morning, all in an effort to claim they were first in breaking a scoop. It is unnecessary, as TMZ has legitimately broken a number of stories.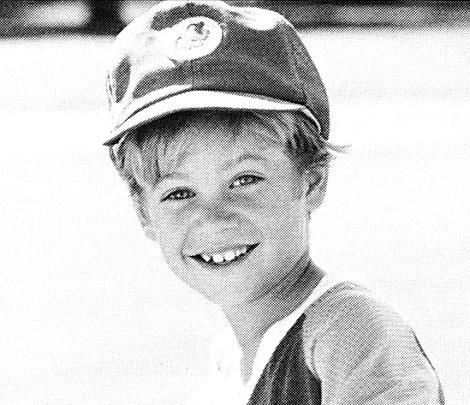 Paul Walker as a child
Solely due to TMZ posting a story about Walker's death two days before it happened, another theory floating around online is the Hollywood "Illuminati" (Kabbalah) was involved in Walker's death (Virginia Rapper Shoots His Best Friend In The Head As An Illuminati Sacrifice In Order To Be Famous In Hollywood). As the Judiciary Report has stated in past columns well before Walker died, TMZ is apart of the Hollywood "Illuminati" whose members have been dying left, right and center under tragic and mysterious circumstances indicating foul play (Michael Jackson, Whitney Houston, Tupac, Notorious BIG, Keith Carradine, among others).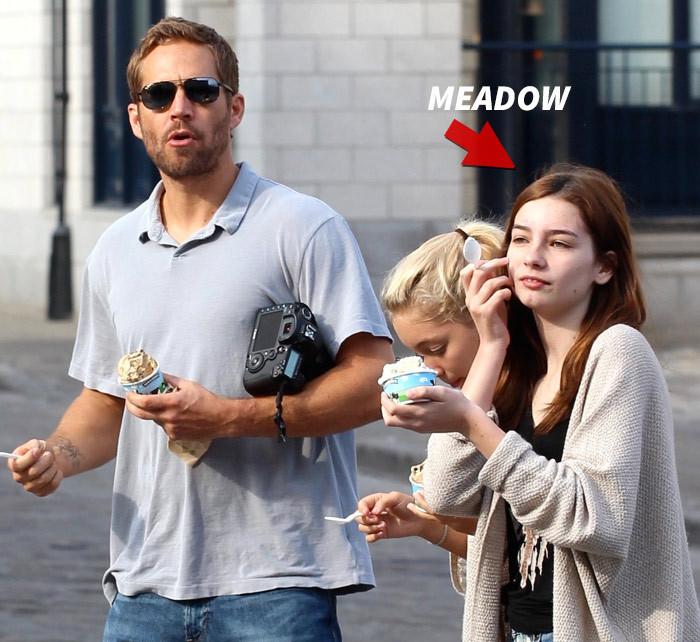 Walker is survived by his 15-year old daughter Meadow Rain Walker, from a relationship with Rebecca McBrain
Over a decade ago, "2 Fast 2 Furious" was filmed near my former house in Miami. It was a pleasant surprise to leave home for the day only to see Walker behind the wheel of a car driving by, while being directed and filmed by director John Singleton. Walker looked amazing in the scene. This is how I will remember him. The Judiciary Report sends its condolences to the families and friends of both men.
RELATED ARTICLES
'Tony Soprano' Actor James Gandolfini Found Dead In Italy
Virginia Rapper Shoots His Best Friend In The Head As An Illuminati Sacrifice In Order To Be Famous In Hollywood
---
Ok, Who Knocked Up Evelyn Lozada And Why Aren't They Coming Forward
December 2. 2013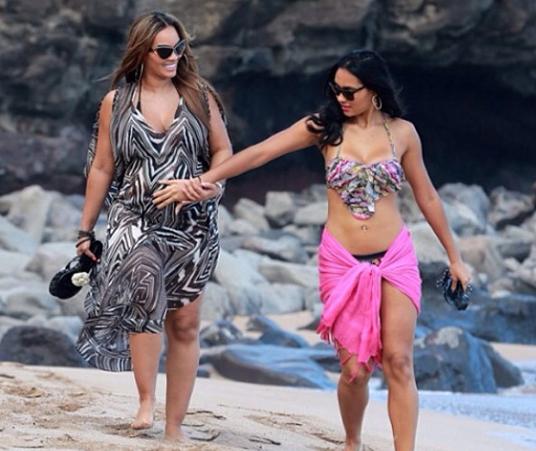 Evelyn Lozada and her 19-year-old daughter Shanice
"Basketball Wives" reality star Evelyn Lozada, who had her marriage to former NFL star Chad "Ochocinco" Johnson annulled less than a year after they wed in 2012, is six months pregnant...and it's not his baby. You know, Johnson is somewhere in Miami having a nervous breakdown, as he's been begging her to come back to him all year.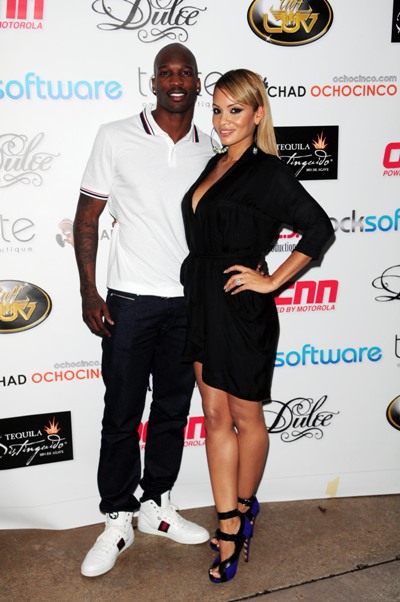 Chad " Ochocinco" Johnson and Evelyn Lozada
The two were involved in a domestic violence incident, where Lozada discovered Johnson was cheating on her a few weeks into their marriage. She told him she does not want to have a baby with him anymore and he snapped. This led to Johnson headbutting her, leaving Lozada with a gash in her forehead and two black eyes.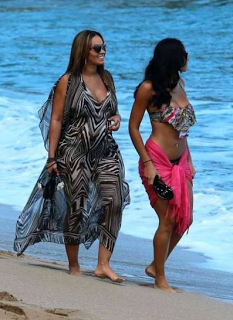 Internet blogs are suggesting multi-millionaire MLB baseball player Carl Crawford, 33, is the dad of Lozada's unborn baby. However, this has not been confirmed. Either way, no one is reporting Johnson got Lozada pregnant.
RELATED ARTICLE
Basketball Wives Star Evelyn Lozada Slammed By Chad OchoCinco Johnson As A Cheater But After What I Saw Today...
---
The Girl Sharkeisha Brutally Beat Up In Video Speaks To News Station About The Fight And Police (Video)
November 30. 2013
News station interview with girl beaten up by Sharkeisha
Shamichael Manuel, the 17-year-old beating victim of 16-year-old Sharkeisha, has spoken to news station KHOU 11 in Houston, Texas about the fight that has gone viral. Shamichael says her friend Skarkeisha attacked her over a boy, brutally punching her in the face and kicking her in the head.
Shamichael's mother, Olevia Henderson, has reported the incident to the girls' high school, who've stated they can do nothing about the fight, as it did not occur on school property. However, police are investigating the assault and may bring charges against Sharkeisha, a young woman who is filled with rage.
Video of Sharkeisha beating girl
Some of Sharkeisha's anger may be due to her unusual name which has unquestionably been the butt of jokes for years, as the moment the video was released, people began making wise cracks about it. Sharkeisha needs help, because one day that rage could erupt and kill someone or lead to someone killing her. Let those ways go.
RELATED ARTICLE
Sharkeisha Unleashes A Vicious Beating (Video)
---
Michael Jackson's Estate States Conrad Murray Violated Doctor Patient Confidentiality In Discussing Michael Jackson's Medical Problems Confirming This Site's Claims
November 29. 2013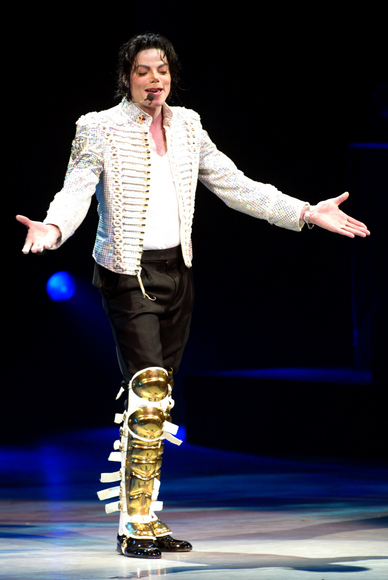 Michael Jackson
In the November 26, 2013 article "Michael Jackson's Doctor: I Held Michael Jackson's Penis Every Night" the Judiciary Report stated, "Urinating is a normal bodily function and many people become incontinent as they get older, but Murray violated patient privacy and confidentiality in telling the world all these things about Jackson. Too much information. We really didn't need to know all this."
Two days later, November 28, 2013 (yesterday), TMZ broke a story that Michael Jackson's estate has now sent a "cease and desist" letter to Conrad Murray accusing him of violating doctor-patient "confidentiality." The estate is threatening to sue Murray if he doesn't stop with the revelations. Living or deceased, doctors are not allowed by law to disclose items about their patients' medical records (conditions).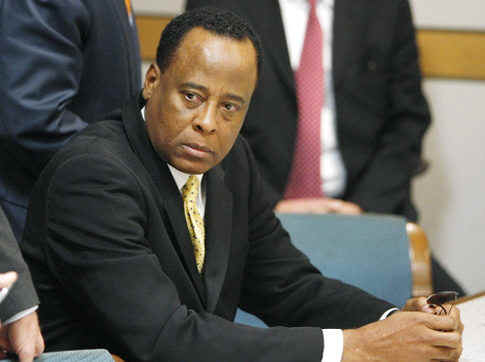 Conrad Murray
Yesterday, Jackson's estate also informed TMZ that they are sending letters to the medical boards Murray seeks to have his license reinstated with. Weeks ago on October 26, 2013 the Judiciary Report warned Murray is not reformed and should not get his medical licenses back (Michael Jackson's Doctor Applies To Get License Back But Should It Be Reinstated). His subsequent conduct bolster's the Judiciary Report's previous assessment of him, which the site still retains.
The Judiciary Report told the public he was going to do these things before he did it. The Judiciary Report began warning about him the day before he was released. Jackson's lawyers should have been on him the moment they heard he was getting out of jail, serving him legal warnings while incarcerated.
STORY SOURCE
Michael Jackson Estate Rips Conrad Murray Over Penis-Holding Claims You're a Shameful Coward
11/28/2013 10:00 AM PST BY TMZ STAFF - The Michael Jackson Estate has had just about enough of Dr. Conrad Murray running his mouth -- talking about things like how he used to hold MJ's penis every night -- and now it's demanding he shut up once and for all ... or face a lawsuit.
MJ Estate lawyer Howard Weitzman fired off a cease and desist letter to Murray earlier this week, writing, "Your recent comments to the media about Mr. Jackson's medical treatment and ultimate death shamefully violate the physician-patient privilege under California law."
He calls Murray a COWARD for attempting to use the media to defend himself ... instead of testifying in court during his manslaughter trial. If Murray keeps talking, Weitzman says the Estate will file suit -- and will subsequently inform any medical board with which Murray attempts to obtain his medical license that he violates the doctor-patient privilege willy-nilly.
As we reported, Murray has been blabbing his big mouth all over the place ... telling reporters all sorts of sordid details about MJ, like how the singer couldn't hold in his pee while he was sleeping ... and how he held MJ's penis every night.
---
Lil Mama Set To Replace Left Eye In TLC
November 29. 2013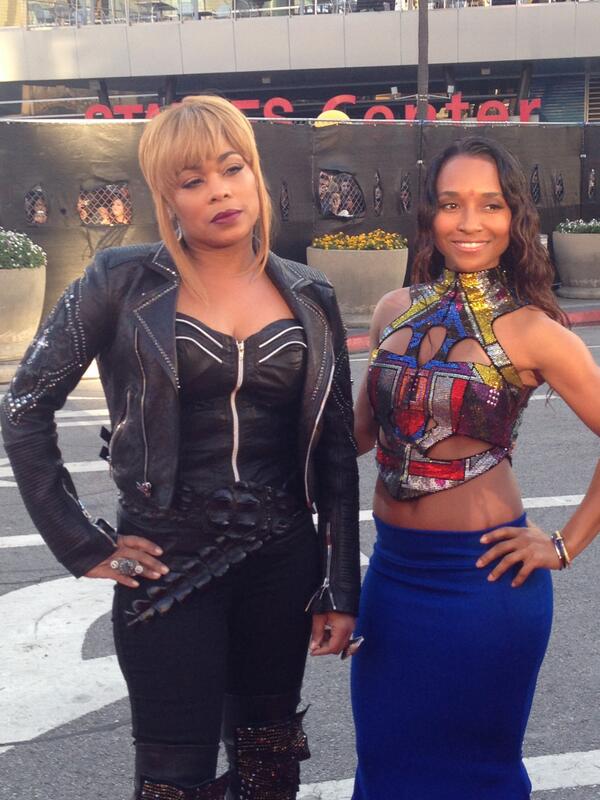 TLC's Tionne "T-Boz" Watkins and Rozanda "Chilli" Thomas
Rapper Lil Mama, who played the late Lisa "Left Eye" Lopes in the TLC biopic "CrazySexyCool: The TLC Story" is set to replace her in the music group as well. Surviving members of TLC, Tionne "T-Boz" Watkins and Rozanda "Chilli" Thomas have been easing Lil Mama into Left Eye's spot trying to get the public used to the idea of her in the group.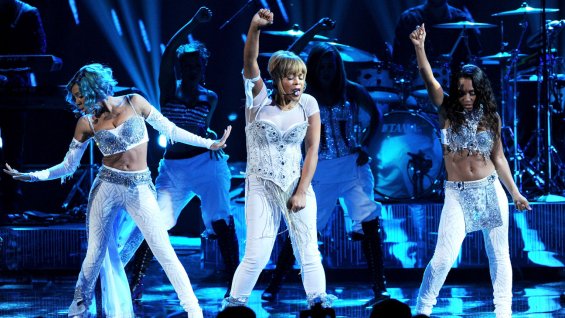 TLC with Lil Mama (left)
This week Chilli spoke of having Lil Mama appear on TLC's forthcoming songs and making more appearances with them, hoping to generate new interest in the bad, whose last album flopped after Lopes' death. They can expect serious opposition from fans and some members of Lopes' family.
RELATED ARTICLES
Pebbles Does Interviews With Wendy Williams And Huffington Post Spilling Information On What Happened With TLC
Pebbles Daughter Ashley Reid Slams TLC's Chilli For Having Sex With Her Stepdad L.A. Reid
Singer Slammed In The TLC Biopic 'CrazySexyCool' Is Outed As Beyonce
TLC's T-Boz Slams Former Female Associates Pebbles And Crystal Jones As Scorned Heifers
TLC Biopic 'CrazySexyCool' Exposed As Grossly Inaccurate By People Instrumental To Their Careers
The TV Movie "CrazySexyCool: The TLC Story" Left Out A Lot Of Things...
TLC Take To The Wendy Williams Show To Slam Their Former Manager Pebbles (Video)
The TV Movie 'CrazySexyCool: The TLC Story' Could Be The Subject Of A Defamation Lawsuit
---
Karrueche Tran Sticking With Chris Brown As Rihanna Jealously Looks On
November 28. 2013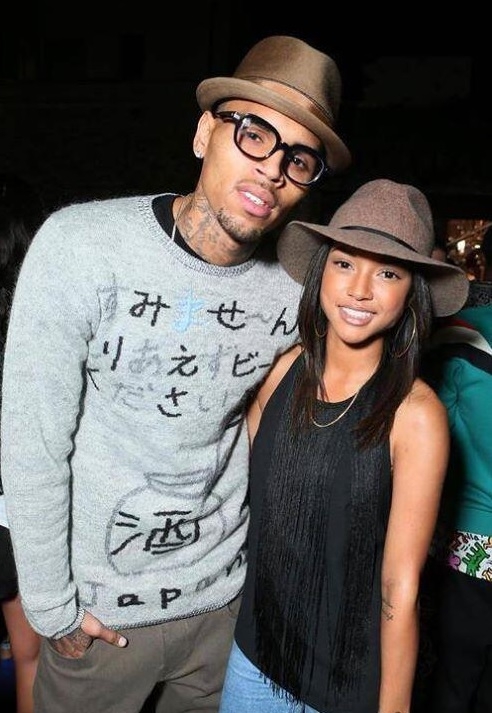 Chris Brown and Karrueche Tran
Karrueche Tran, the girlfriend of singer Chris Brown, who is on probation and in rehab for a stint scheduled to last 3-months, is sticking with him and will help take care of the singer's business and ventures while he is away. Brown, who is reportedly cut off from the outside world, via no internet and mobile phone, has left model and budding designer Tran in charge of some of his business affairs.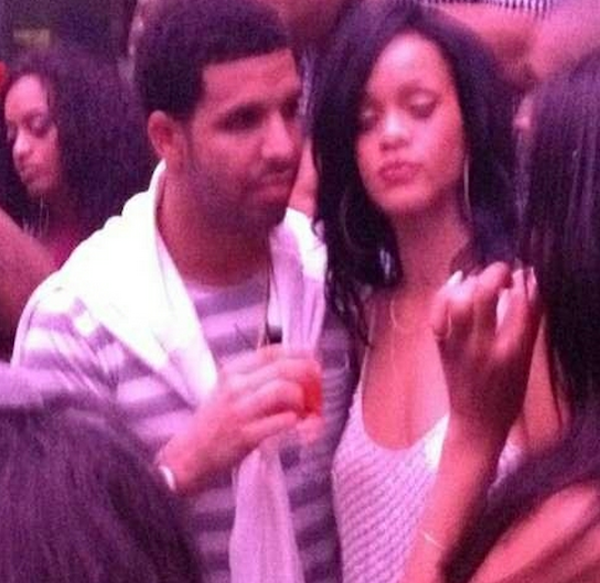 Drake and Rihanna
Tran will also liaise with people on the singer's behalf. Brown has big plans for 2014 regarding his career. However a pending assault case that smacks of fraud, awaits on January 8, 2014, via a court hearing in Washington, DC. Brown's lawyer, Mark Geragos was able to obtain a continuance in the case to allow the singer to stay in rehab uninterrupted.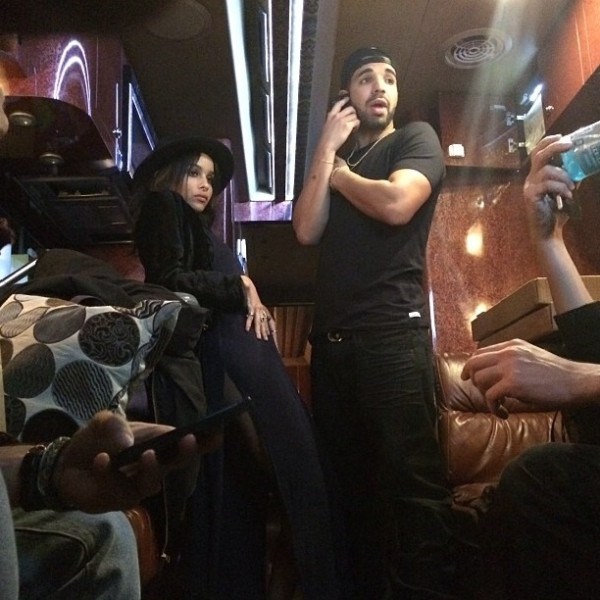 Zoe Kravtiz and Drake
Rihanna continues to monitor developments regarding Chris Brown and still asks about him in the industry. She has been unable to supplant Tran in his life and lashed out online as a result, issuing insults, taunts and complaints. Rihanna has also been pursuing rapper Drake more than ever, as he and Brown were archenemies. Rihanna has been trailing Drake at his concerts, while he professes his love for actress/singer Zoe Kravitz.
---
Will Phaedra Parks Allow Kenya Moore To Destroy Her Marriage As Her Husband Takes His Ring Off
Are They Headed For Divorce Court
November 28. 2013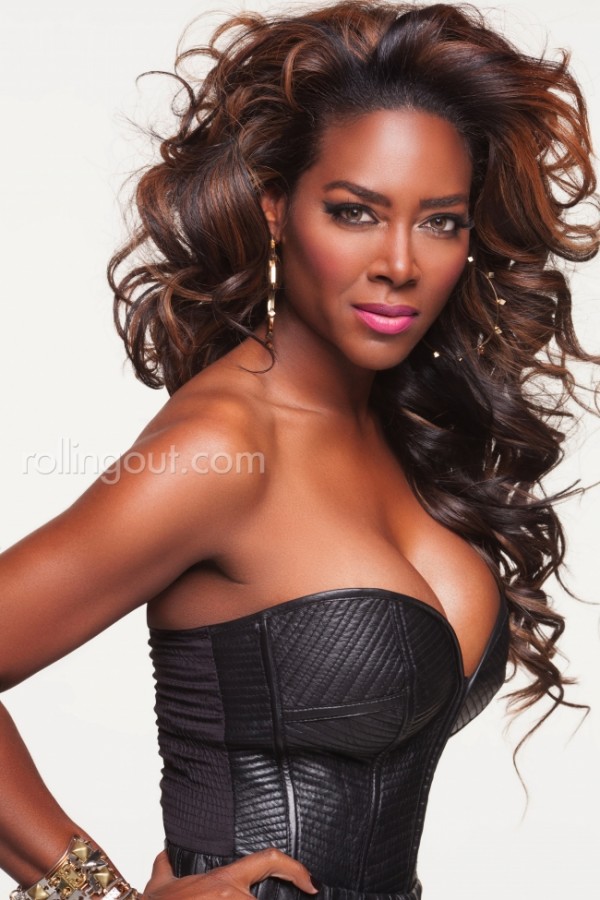 Kenya Moore
Recently, Apollo Nida, the husband of "Real Housewives Of Atlanta" star Phaedra Parks, attended a party without his wedding ring on. It added fuel to the fire that the couple's marriage is on the rocks, after former Miss USA, Kenya Moore, repeatedly propositioned Apollo offering him oral sex, then full on sex.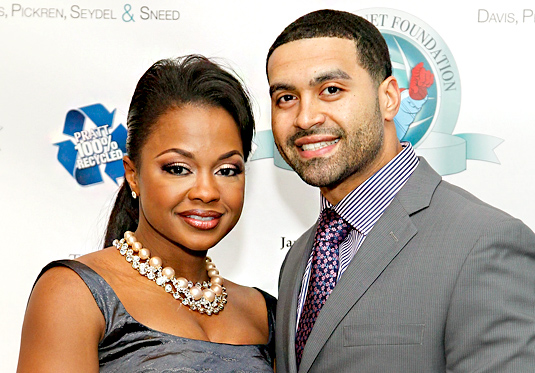 Phaedra Parks and Apollo Nida
Apollo says he rejected Kenya's advances, some of which occurred in a hotel lobby in Los Angeles, when he was away from home in Atlanta, but his wife was angry nonetheless, as he responded to text messages from Moore, albeit with generic answers. Nida and Parks have two adorable sons and a comfortable life together. If allowed, Moore is going to ruin that and make them miss what they had if they do not protect it now.
RELATED ARTICLES
Kenya Moore Goes To Court And Overturns Eviction From Mansion
Real Housewives Of Atlanta's Kenya Moore Fires Back Countersuing Landlord
Real Housewives Of Atlanta Star Kenya Moore Hit With Eviction Notice On Atlanta Mansion
---
Boycott Aventura Mall For Racial Profiling And Negligence
October 31. 2013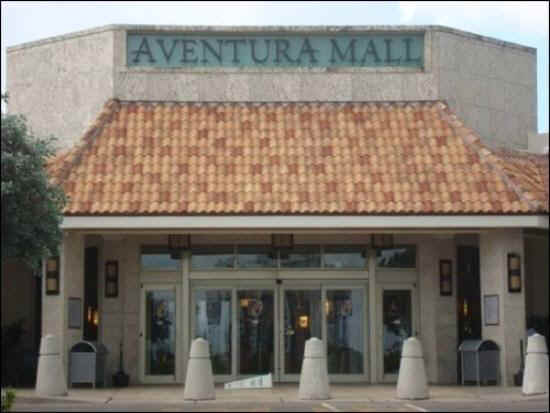 Aventura Mall
I am calling for a boycott of Aventura Mall in Miami. The mall is not properly maintained leading to shoppers being seriously injured and now according to television news broadcasts, the mall is being targeted by a roving set of pick pockets stealing wallets. Worst of all, I was racially profiled at Aventura Mall over the summer, after I covered an item regarding the mall on the Judiciary Report (Bad Lawyer Alert: Sarah Steinbaum Of The Jacoby And Meyers Law Firm (Broadspire And Turnberry Associates) and Bad Lawyer Alert: Sarah Steinbaum Of The Jacoby And Meyers Law Firm (Broadspire And Turnberry Associates) - PART 2 and Mafia Threat Issued In Aventura Mall Case).
Shortly after I published the aforementioned articles online, during a visit to Aventura Mall, a visibly armed, gun toting, surly security guard sat next to me and menacingly stared directly at me for several minutes, whilst violating my private space. I have to ask, since when do security guards sit on the job and snarl at a shopper.
It was patently offensive, inappropriate and out of line. This was a nasty thing to do to someone, who has literally spent thousands of dollars at Aventura Mall. I got tired of the guard sitting so close to me and nastily staring at me, so to break the tension I took out my laptop to do some work and when I opened the Judiciary Report site the guard saw it, quickly got up and hurried away.
I reported the incident to Aventura Mall's lawyer Scott Schomber in an email dated August 27, 2013. I spoke with Mr. Schomber days after and he stated regarding the incident, "This is not something I advise clients to do." Well they did and the incident is on surveillance tapes. I also have witnesses who saw the whole thing happen.
It was harassment and I am not standing for it in any measure. As such, I am asking you, my readers, both domestic and international to boycott Aventura Mall. There are other malls in Miami and South Florida you can visit such as the sprawling Sawgrass Mills mall, upscale and exclusive Bal Harbor Shops, the charming mall The Falls and family friendly Dadeland Mall.
The stores in Aventura Mall need to be careful regarding its owners Turnberry Associates, owned by the Soffer family. The mall is not being maintained properly leading to serious injuries to shoppers. Turnberry's executive staff is also engaging in imprudent conduct that will not contribute to positive sales for tenants. Turnberry Associates has breached fiduciary trust regarding rental contracts with tenants in the mall, via the aforementioned conduct and are a liability to their businesses. More on this story in a future Judiciary Report article...
RELATED ARTICLES
(Bad Lawyer Alert: Sarah Steinbaum Of The Jacoby And Meyers Law Firm (Broadspire And Turnberry Associates)
Bad Lawyer Alert: Sarah Steinbaum Of The Jacoby And Meyers Law Firm (Broadspire And Turnberry Associates) - PART 2
Mafia Threat Issued In Aventura Mall Case
---
PERMALINKS
Boycott Aventura Mall For Racial Profiling And Negligence
NSA Workers Admit To Reading The Emails And Listening To The Calls Of Americans In Violation Of The Law
Judge Rules The NSA Illegally Spied On Americans Confirming The Site's Previous Claims (Video)
NSA Admits Employees Illegally Spied On Love Interests And Significant Others Confirming Site's Previous Claims
New Scandal Erupts Regarding The FBI And Justice Department Monitoring Calls Of AP Reporters Confirming Previous Site Claims
IRS Says Sorry For Targeting Conservatives As Obama Denies All Knowledge Of Misconduct
President Obama Fires The Head Of The IRS For Targeting Conservatives (Video)
News Report: The IRS Targeted Christians
FBI Agent Arrested For Accepting A $200,000 Bribe To Derail A Criminal Case The FBI Was Supposed To Be Investigating
Another FBI Agent Caught Taking Bribes To Derail Serious Cases (Video)
HBO's New Pornographic Gay Show 'Looking' Is Depraved, Debauched And Unoriginal
Bad Lawyer Alert: Sarah Steinbaum Of The Jacoby And Meyers Law Firm (Broadspire And Turnberry Associates)
Bad Lawyer Alert: Sarah Steinbaum Of The Jacoby And Meyers Law Firm (Broadspire And Turnberry Associates) - PART 2
Mafia Threat Issued In Aventura Mall Case