Whitney Houston's Only Child Bobbi Kristina Brown Has Passed Away At Age 22
July 27. 2015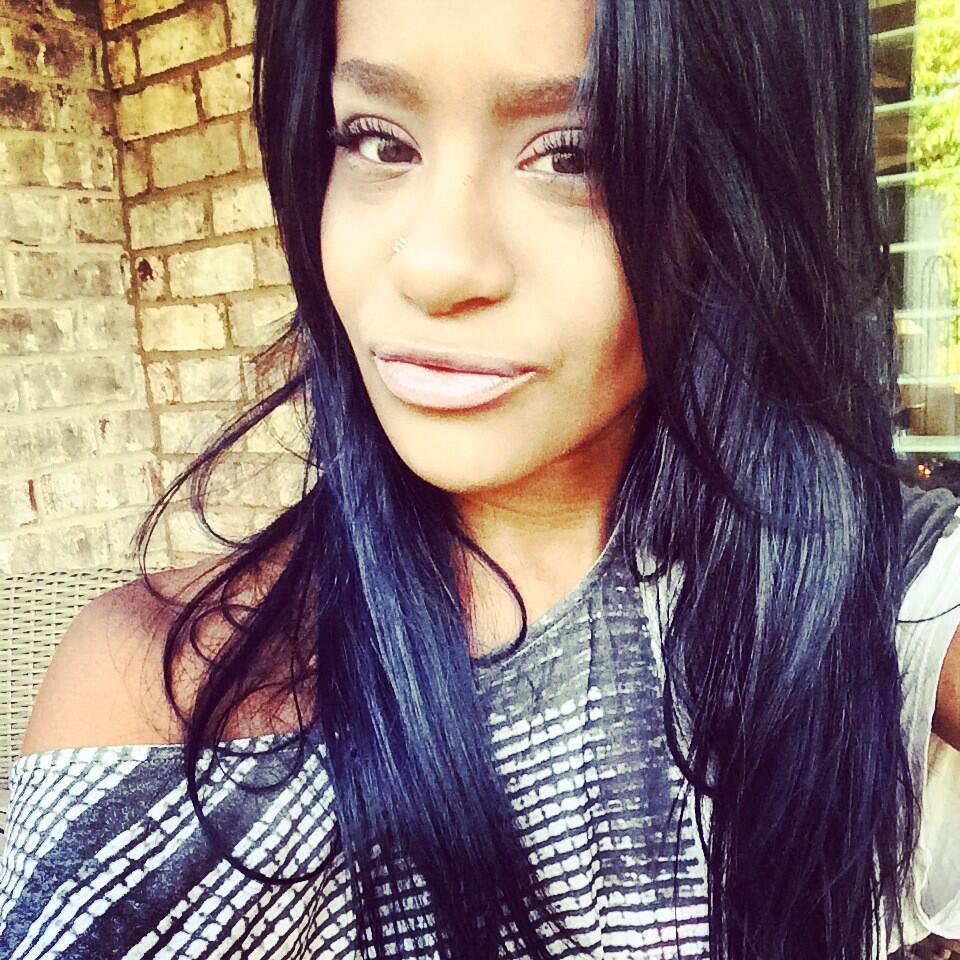 Bobbi Kristina Brown
The Judiciary Report was the first to break many stories regarding 22-year-old Bobbi Kristina Brown, the only daughter of music legend, Whitney Houston (Bobbi Kristina Brown On Life Support Due To Overdose Confirming Previous Site Statements From 2012). The site hoped for the best, but the signs were there for years that things would not end well for her, much like the the site predicted regarding her mother (Whitney Houston Is The Latest Hollywood Star To Die Under Tragic Circumstances). The site now sadly reports, the family of Bobbi Kristina Brown stated she passed away yesterday in an Atlanta, Georgia hospice. Bobbi Kristina's dad, singer Bobby Brown, just welcomed a new baby daughter into the world and now sadly has to let another one go.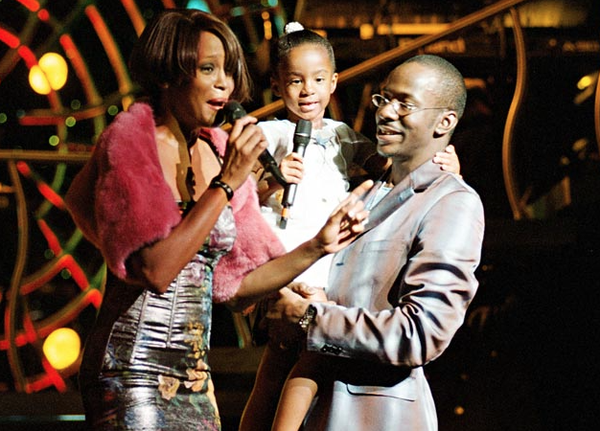 Whitney Houston, Bobbi Kristina Brown and Bobby Brown in the 1990s
In January, Bobbi Kristina was found face down unresponsive in her bathtub, suffering from drug and domestic violence injuries, such as bruising at the hands of her psychotic, lecherous boyfriend, Nick Gordon, 26. Brown's family publicly asked for an explanation of the bruising on her face and chest, but Gordon refused to respond. The two had a volatile and violent relationship, where Gordon was the aggressor, repeatedly physically and emotionally abusing the diminutive aspiring singer/actress.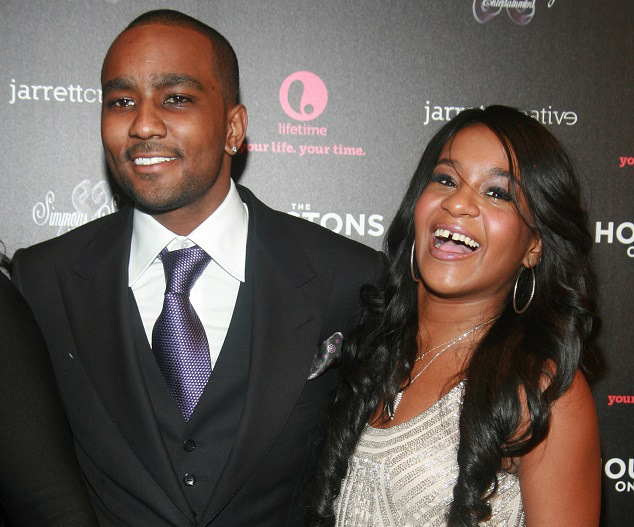 Nick Gordon and Bobbi Kristina Brown
Gordon was recently sued for $10,000,000 by the court appointed conservator to Brown, alleging abuse and theft of funds. There is an ongoing police investigation into the events surrounding Bobbi Kristina's suspicious death and Gordon is the prime suspect. Gordon has been uncooperative, hiring an attorney to stonewall the police investigation and suppress evidence in the case, such as surveillance videos. Now that Brown has died, the case will be the subject renewed interest by authorities.
RELATED ARTICLES
Whitney Houston's Daughter Bobbi Kristina Brown Moved To Hospice As Her Condition Continues To Deteriorate And Conservator Files Lawsuit Against Nick Gordon For Stealing Money And Beating Her Up Confirming Previous Site Claims
Nick Gordon Finds New Girlfriend In Florida While Attempting To Hide From The Consequences Of What He Did To Whitney Houston's Dying Daughter Bobbi Kristina Brown
Bobby Brown And Former Sister-In-Law Pat Houston Awarded Joint Guardianship Over Whitney Houston's Daughter Bobbi Kristina Brown Who Remains In A Vegetative State
Family Infighting As Bobby Brown Applies For Guardianship Of Daughter Bobbi Kristina Brown Who Is In A Persistent Vegetative State
Bobbi Kristina Brown's Boyfriend Nick Gordon Got Into A Fight With Her The Day She Ended Up In A Coma With Unexplained Injuries
Atlanta Police Confirm Criminal Investigation Into The Overdose And Drowning Of Whitney Houston's Daughter Bobbi Kristina Brown
Nick Gordon Served With $10,000,000 Lawsuit Filed On Behalf Of Whitney Houston's Daughter Bobbi Kristina Brown
Cissy Houston's Statement On Bobbi Kristina Brown Confirms Previous Site Claims Regarding Her Condition
Bobbi Kristina Brown On Life Support Due To Overdose Confirming Previous Site Statements From 2012
If Nick Gordon Marries Bobbi Kristina Brown And Something Happens To Her Will He Get Everything
Whitney Houston Is The Latest Hollywood Star To Die Under Tragic Circumstances
---
Chris Brown Released From The Philippines After Detention Due To His Manager Committing Financial Fraud
July 27. 2015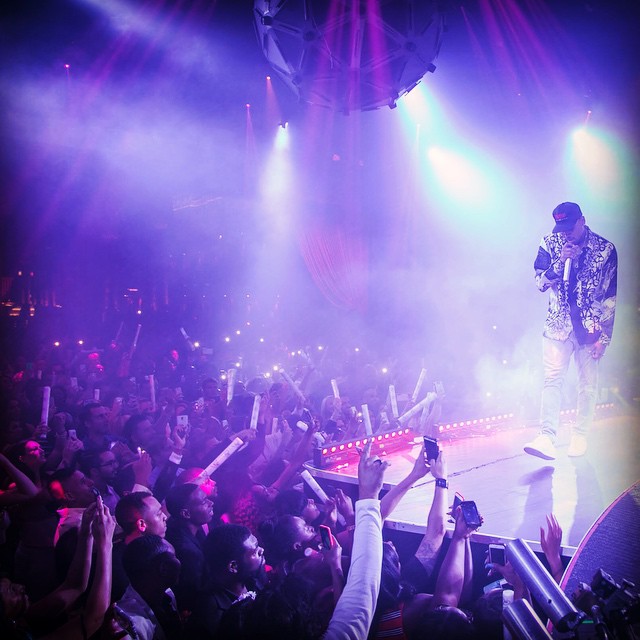 Chris Brown
R&B singer Chris Brown was recently detained in the Philippines due to his manager committing financial fraud. An influential church group in the Philippines paid to have Brown fly to their nation and perform at a 55,000 seat venue. However, due to Brown being under probation as a felon, stemming from the Rihanna domestic violence case, he was unable to obtain a passport.
Brown did not show up for the advertised show and his manager failed to return the deposit to the Filipino church group. Brown accepted another gig from a different promoter in the Philippines and performed a show in the nation last week. However, due to the church group not receiving their deposit back after Brown's no show, a complaint was filed with the Justice Department in the Philippines and he was detained in his plush hotel room until the matter was resolved.
The Judiciary Report has repeatedly stated Brown is surrounded by dangerous friends and unprofessional business associates. Thus far Brown's friends have gotten him shot at and robbed his mansion of $50,000 in cash and tens of thousands more in personal property, while holding his aunt and gunpoint then shoving her into a closet. His business associates got him detained in the Philippines after pulling a fast one on the church group, which created a worldwide scandal upon his detention. All this is creating very stressful situations in Brown's life and jeopardizing his health, life and career.
RELATED ARTICLES
Conflicting Reports Released Regarding Whether Chris Brown Has Been Released From The Philippines Or Continues To Be Detained For Financial Fraud By His Management (Video)
Chris Brown's Mom And His Daughter's Mother Slam His Gang Banger Friends After Break-In To Steal Computer, Cash And Jewelry In What They've Labeled An Inside Job
---
Chris Brown Flirting With Rihanna Singing Her Rip Off Song 'B**** Better Have My Money' On Stage
July 27. 2015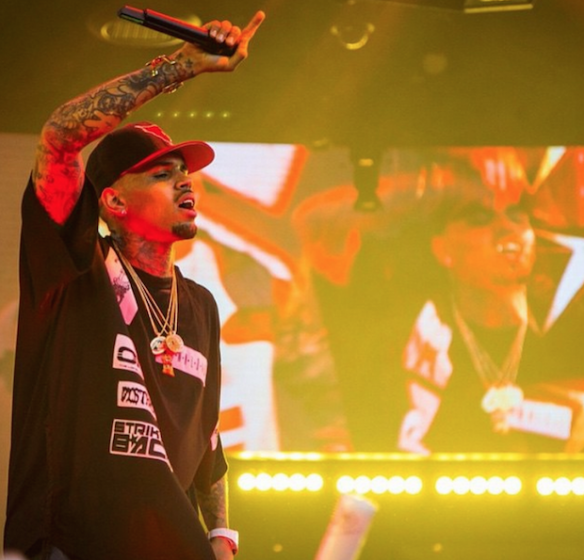 Chris Brown
During Chris Brown's recent visit to the Philippines to perform in concert, which resulted in his detention in the nation due to his manager's acts of financial fraud, he sang a particular song on stage. Brown performed the copyright infringing track, "B**** Better Have My Money" by ex-girlfriend, Rihanna, who stole it from indie rapper and Rick Ross collaborator, Just Brittany.
Rihanna's music career is firmly in the toilet, with three flopped singles in a row and a stalled album with no buzz. The vile music video for "B*** Better Have My Money" is also being heavily criticized and rejected (as was her video for "American Oxygen" and "Four Five Seconds"). Rihanna is no longer a designer favorite, now receiving far less free clothes from labels, as her fashion sense has been slammed on social networking for the past year). Rihanna was also cheated on by boyfriend Karim Benezema, who began hooking up with a Miami model, Analicia Chaves.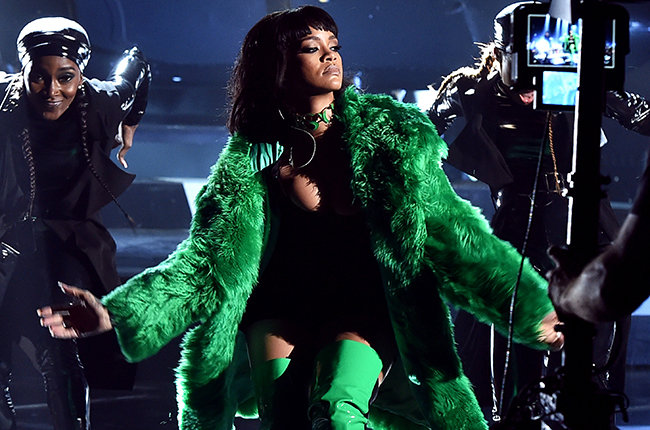 Rihanna
Brown's career is doing better than Rihanna's with the success of his singles "Loyal" and "Ayo." So he performed Rihanna's "B*** Better Have My Money" on stage to help her out. However, Rihanna did not experience a sales increase or any renewed interest in the dead project. Her label is at wit's end with the project, as every single and video she released has flopped and failed.
It's also no secret that Rihanna wants Chris Brown back. Brown singing "B*** Better Have My Money" is being interpreted as flirtation and the attention she desperately seeks from him. However, the love of his life has become ex-girlfriend, Karrueche Tran, whose modeling and acting career has been garnering attention, leading to new jobs. As the song lyric states, "Ain't it funny how tables turn." Just a year ago Rihanna and her fans were mocking Tran as broke with no job. Now Rihanna career is in trouble, with website and people branding her over. That's why it is better to be humble.
RELATED ARTICLES
Jay Z Is A Pimp (Rihanna And Rita Ora
Rihanna Jealous Over Chris Brown's Daughter Royalty
Karrueche Tran Does Interview About Chris Brown And Rihanna
Rihanna's Met Gala Dress Mocked In China And All Over Social Networking
Eminem Confirms This Site's Previous Claims That He Had Sex With Rihanna
Boxer Adrien Broner Says F**k Jay Z, Rihanna And Her P***y After The Rapper Pimps Her Out Again (Video)
Rihanna And Rita Ora Slammed Again As Music Industry Mattresses In ASAP Rocky's New Song 'Better Things'
Rihanna Caught Snorting Cocaine Which Prompts The Singer To Slam People On Social Networking Over Comments On Her Drug Addiction (Video)
Record Label Sends Rihanna Back Into The Recording Studio Over Failed Singles From Forthcoming Album And She Is Slammed By Famous Producer
Rumors Swirl That Lebron James Is Having An Extramarital Affair With Rihanna Due To Her Brazen Behavior Courtside And Outside The Cavaliers Locker Room Before And After Boarding His Private Jet
---
The Woman Karim Benzema Dumped Rihanna For Is An Escort (Analicia Chaves)
July 27. 2015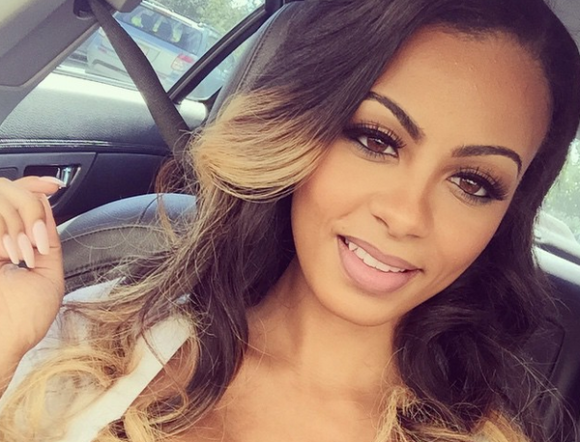 Analicia Chaves
Miami resident and alleged model, Analicia Chaves, made the news last week when she leaked intimate photos and videos of herself with Real Madrid football player Karim Benzema. The main problem is Benzema has been dating promiscuous singer, Rihanna. The other problem is pretty Chaves is the ex-girlfriend of Belgium football player, Alex Witsel. The third problem is news leaked that Chaves is an escort.

Analicia Chaves' escort ad hints at prostitution (Photos redacted by the Judiciary Report)
This all makes sense, as Chaves has posted items from her Miami condo and it is not cheap. She has not done enough modeling work or of the caliber to afford such a place on her own. However, escorts make enough money to pay for expensive condos. For her part, Chaves denied she is an escort. However, the photos on the escort service ads are definitely her. So are the ones on a website often used by escorts as a means to engage in prostitution.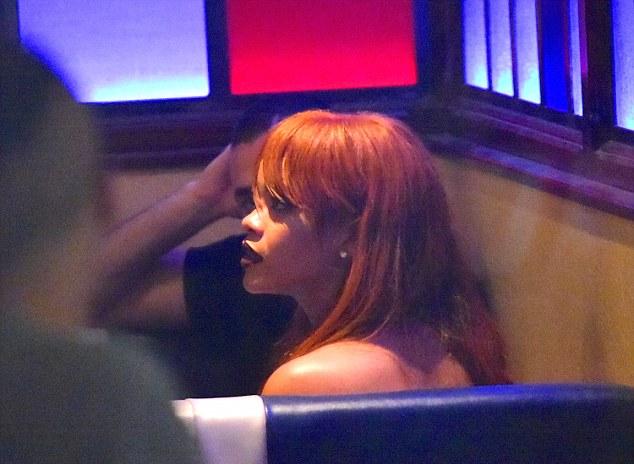 Rihanna and Benzema on a date
The incident has created a scandal in Benzema's native France. He is also a Muslim and his conduct is being criticized on social networking, as not only was he bedding promiscuous Rihanna, he is now dating and having sex with an escort, Chaves, neither of whom he is married to under the law. These distractions are also not good for his football career. It can create concentration problems and stress.
RELATED ARTICLES
Jay Z Is A Pimp (Rihanna And Rita Ora
Rihanna Jealous Over Chris Brown's Daughter Royalty
Karrueche Tran Does Interview About Chris Brown And Rihanna
Rihanna's Met Gala Dress Mocked In China And All Over Social Networking
Eminem Confirms This Site's Previous Claims That He Had Sex With Rihanna
Boxer Adrien Broner Says F**k Jay Z, Rihanna And Her P***y After The Rapper Pimps Her Out Again (Video)
Rihanna And Rita Ora Slammed Again As Music Industry Mattresses In ASAP Rocky's New Song 'Better Things'
Rihanna Caught Snorting Cocaine Which Prompts The Singer To Slam People On Social Networking Over Comments On Her Drug Addiction (Video)
Record Label Sends Rihanna Back Into The Recording Studio Over Failed Singles From Forthcoming Album And She Is Slammed By Famous Producer
Rumors Swirl That Lebron James Is Having An Extramarital Affair With Rihanna Due To Her Brazen Behavior Courtside And Outside The Cavaliers Locker Room Before And After Boarding His Private Jet
---
Football Player Karim Benzema Cheating On Rihanna (Photos)
July 24. 2015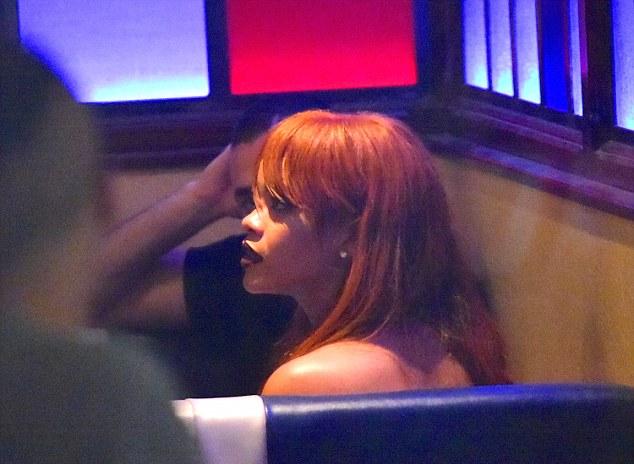 Rihanna and Benzema on a date a few weeks ago
Non-singing singer, Rihanna, has been dating Real Madrid football player Karim Benzema. The two made appearances together beginning in June. However, he has been cheating on her with a girl from Instagram, Analicia Chaves and now they've gone public with the relationship. Chaves posted intimate photos of Benzema on her Instagram page and apparently without his knowledge. Chaves is the ex-girlfriend of Belgian football player Alex Witsel.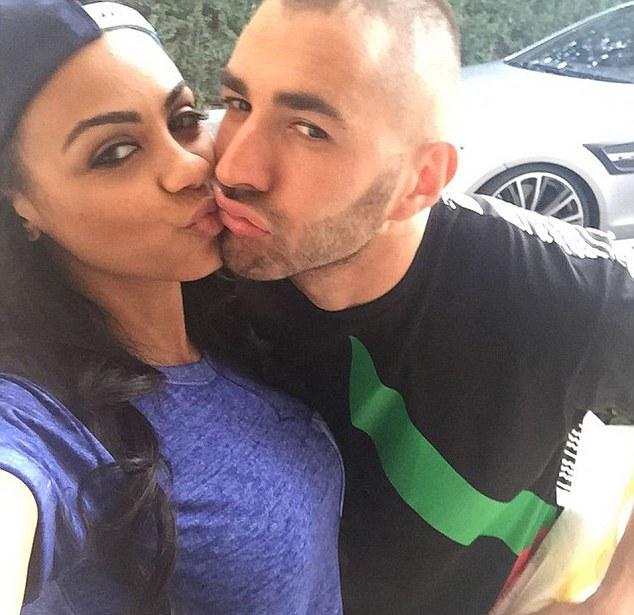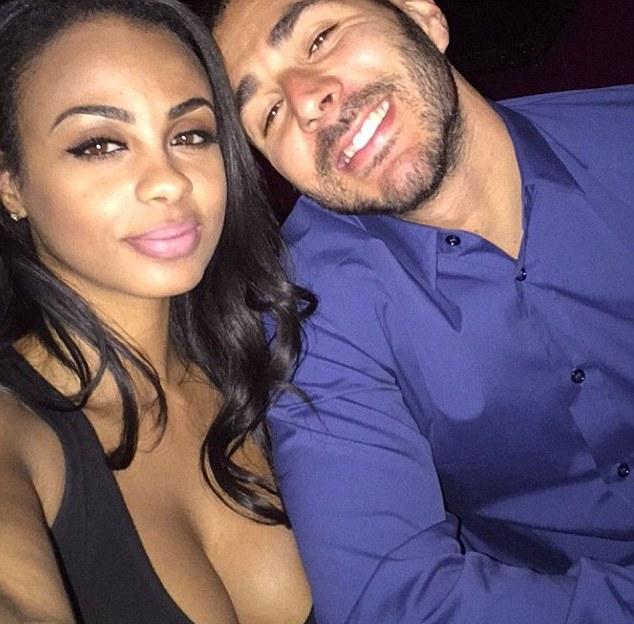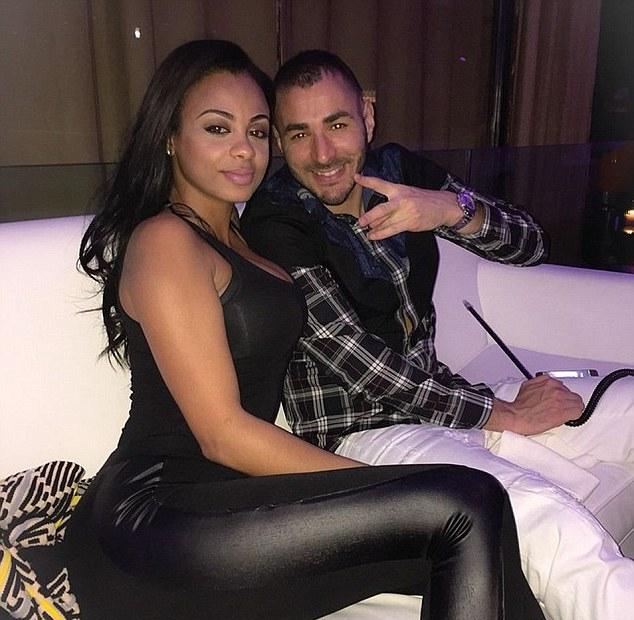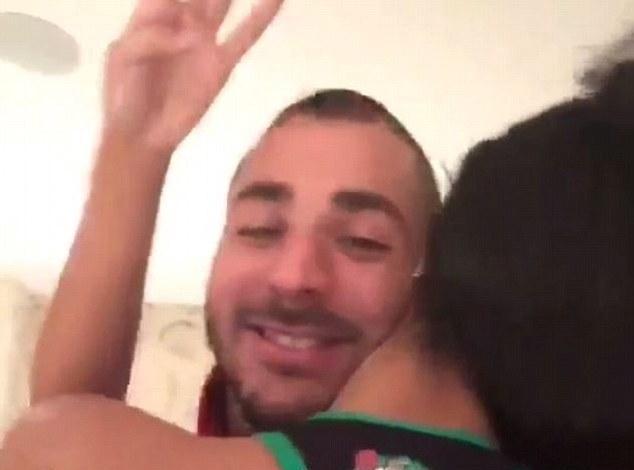 New private photos Analicia Chaves released of herself and Benezma
Rihanna will not be happy at the photos Chaves uploaded with Benzema's hands all over her. It's clear Chaves is sending Rihanna a message and it couldn't come at a worse time. Rihanna's career is in the toilet with three flopped singles, copyright infringement claims and music videos being wholly rejected by the public. Designers are not sending her free clothes as they did before, deeming she has lost her edge with the public who have moved on to others.
Side Bar: Why can't bisexual Rihanna hold any of these men. She has been dumped by so many men.
RELATED ARTICLE
Rumors Swirl That Lebron James Is Having An Extramarital Affair With Rihanna Due To Her Brazen Behavior Courtside And Outside The Cavaliers Locker Room Before And After Boarding His Private Jet
---
Man Opens Fire In A Louisiana Movie Theatre During 'Trainwreck' Movie Killing 2 And Injuring 9 Before Fatally Turning The Gun On Himself (Video)
July 24. 2015
On the eve of the anniversary of the Aurora, Colorado movie theatre mass murder, perpetrated by James Holmes, another man has opened fire in a Lafayette, Louisiana moving theatre killing two people and injuring 9. He then turned the gun on himself. The incident occurred during a showing of the movie "Trainwreck" starring Amy Schumer and basketball star, Lebron James.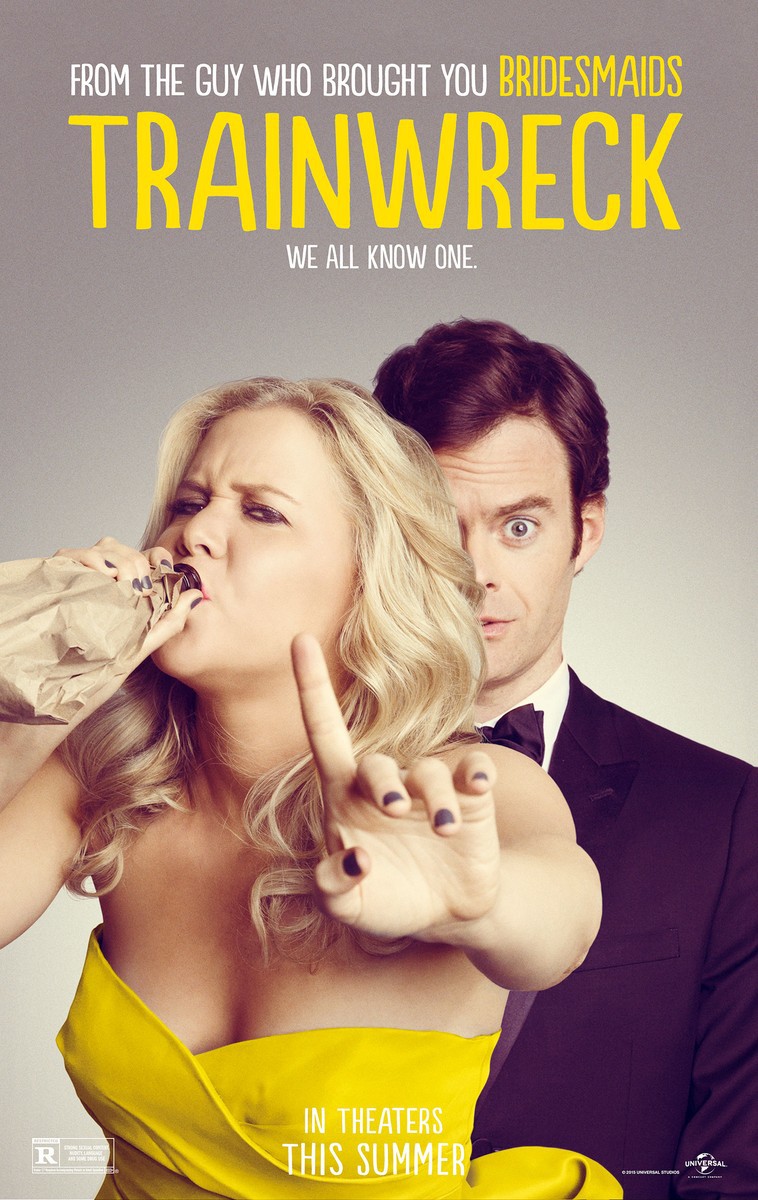 Trainwreck
Police are working to piece together what transpired leading to the deadly shooting. Thus far police have stated the shooter is a 58-year-old man, who has a criminal history. He purchased a ticket to "Trainwreck" and opened fire during the movie. Police are going through the crime scene as well as he killer's home.
RELATED ARTICLES
Batman 'The Dark Knight Rises' Comes In With Lower Box Office Due To Mass Murder
Victims Of 'The Dark Knight Rises' Theater Shooting Face Mass Murderer In Court For The First Time
An Episode Of The Big Bang Theory Featured A Similar Movie Theater Plot To The Batman ' Dark Knight Rises' Killings In Colorado
Mass Murderer Who Opened Fire During Batman 'The Dark Knight Rises' Sequel Screening Demands To Know How Movie Ends
Similarities Between Batman 'The Dark Knight Rises' Cinema Killer James Holmes And Character Sheldon Cooper On 'The Big Bang Theory'
Hollywood Is Being Condemned By The Public Over Violence In Films Due To 'The Dark Knight Rises' Mass Murders In Colorado
Man Mimics Batman Comic Opening Fire In Movie Theatre Killing 13 People And Injuring 50 During Batman's 'The Dark Knight Rises'
Rush Limbaugh Says Hollywood Based A Character In Batman's 'The Dark Knight Rises' On Mitt Romney
Is Hollywood Giving Terrorists Ideas
---
Report Indicates Obama Is Disguising Bad Economic Numbers
July 24. 2015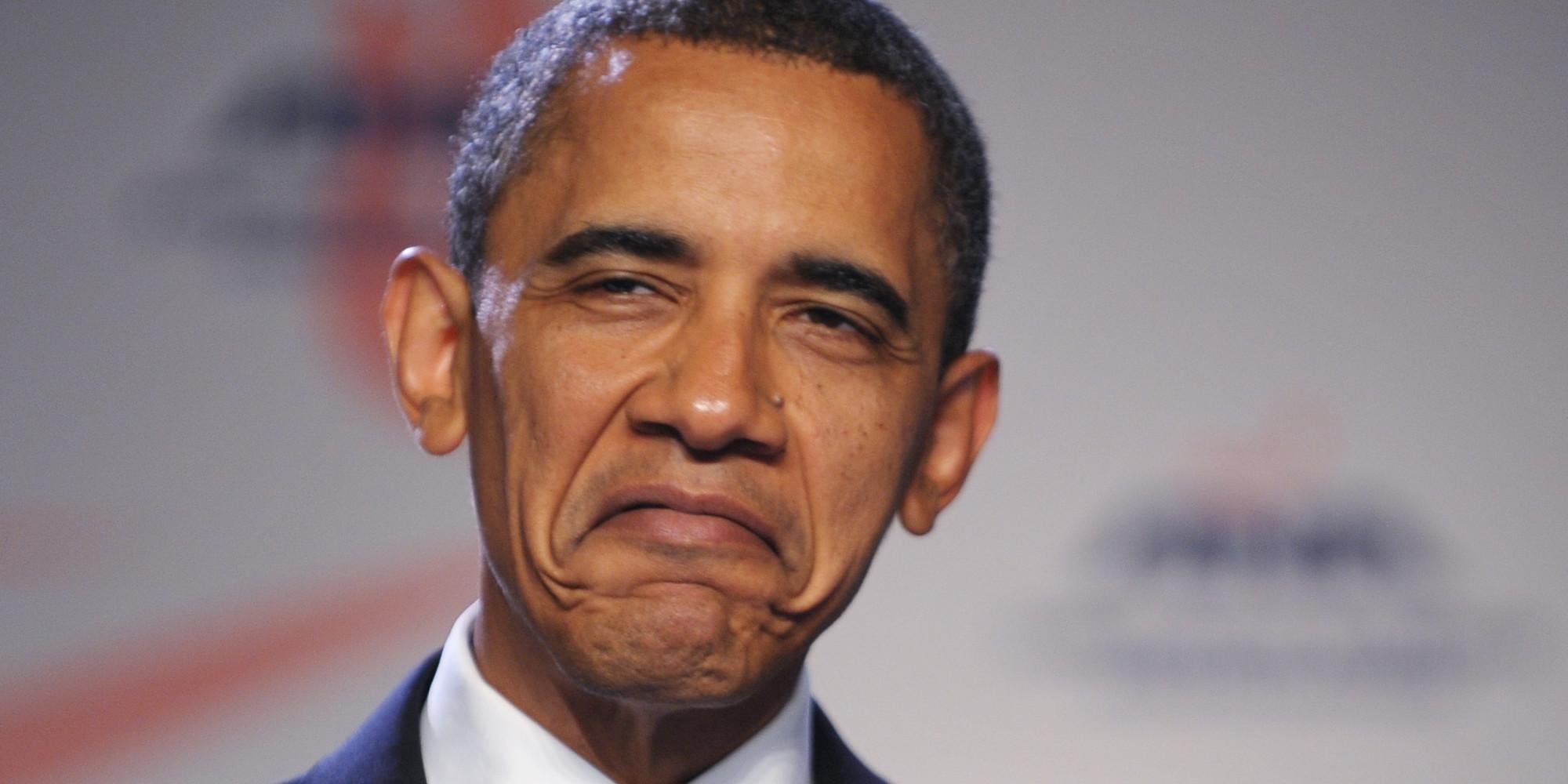 Barack Obama
A recent report indicated U.S. President Barack Obama is engaging in deceptive conduct to hide the bad economic numbers in America. Obama has stated he fixed the U.S. economy, but according to experts he has not and serious financial problems still linger damaging any potential recovery.
The fact of the matter is austerity is the only thing that is proven to work in correcting any nation's financial problems. The "you have to spend money to make money" philosophy espoused by Hollywood and Obama does not work. It only creates more debt. And for 7-years Obama has been spending money to great degrees, sending the national debt to record heights.
STORY SOURCE
Obama's contracting economy
Thursday, June 25, 2015 - You'd think it would be big news when the economy is shrinking, demand for durable, big-ticket manufactured goods is plunging and wages are virtually flat. But here in the corridors of power of the nation's capital it's being shrugged off as yesterday's old complaints. The liberal network news shows are ignoring it altogether. And President Obama, well, he's focusing on climate change and other issues that don't even make the top 10 list of the voters' chief concerns.
This week, Mr. Obama's Commerce Department issued its second estimate of how the economy performed in the first three months of this year, announcing again that it had not just stopped growing, but was declining. After tinkering with its numbers with what they said was fresh economic data, the government changed its original assessment of the nation's gross domestic product (GDP) — the broadest measure of our economy.
The economy did a little better than its first calculation of minus 0.7 percent. Instead, it had only shrunk by minus 0.2 percent. Why? People were spending less. Exports were down. Businesses were reluctant to invest in expansion. Retail sales were lackluster. The U.S. economy wasn't just anemic, it was contracting. Did you see any comprehensive reports about this on Scott Pelley's CBS News broadcast? Or NBC? Or ABC? I didn't think so...
http://www.washingtontimes.com
RELATED ARTICLE
U.S. Foreclosures Spike Again Indicating Trouble In The Financial Sector
---
Meek Mill Calls Drake A Fake (Video)
Drake's Ghostwriter Comes Forward Damaging His Career With New Scandal
July 24. 2015
A feud has erupted between rappers Meek Mill and Drake. Meek Mill, who has collaborated with Drake in the past, has accused the rapper of not writing his own lyrics, which is a big no no in rap music. Meek Mill slammed Drake on Twitter, labeling him a fake, in deeds that has greatly damaged the latter's career.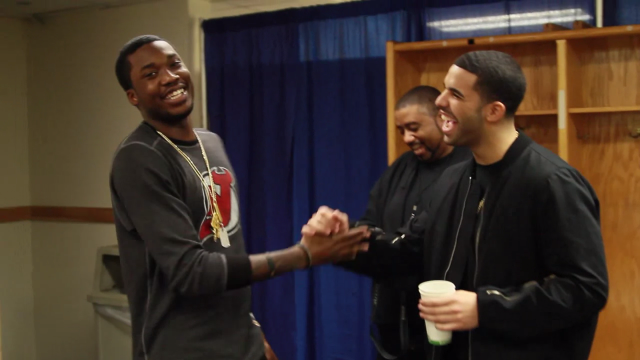 Meek Mill and Drake before their friendship soured
One day later, a man comes forward by the name of Quentin Miller, who reveals he is Drake's ghostwriter. He posts his version of Drake's "101 Bands" and it is aired on the Hot 97 radio station in New York. Thus far, Drake has not denied the allegations that has social networking questioning his career.
STORY SOURCE
Drake vs. Meek Mill Drake 'Ghostwriter' Track Leaks, Eerily Similar
7/22/2015 6:28 PM - Drake and Meek Mill's beef just went way beyond a silly Twitter war -- because an alternate version of a Drake hit was just leaked ... and it features the alleged ghostwriter's vocals and verses. The song is "10 Bands" ... and Quentin Miller's version is damn near identical to Drake's. Funkmaster Flex first played it late Wednesday on NYC's Hot 97 ... throwing gasoline on the fire Meek started by accusing Drake of not writing his own raps -- a HUGE insult in hip-hop.
Meek and a few other rappers are claiming Drake used Quentin's take as a reference to record his final version. For what it's worth ... Miller does have credits on several Drake tracks, including "10 Bands." Drake's remained silent about the allegation -- except for a comment to a friend on social media ... "I signed up for greatness. This comes with it." We're reaching out for Drake's response to the Miller track.
---
Chief Keef Fan Page Running An Investment Scam On Instagram
July 24. 2015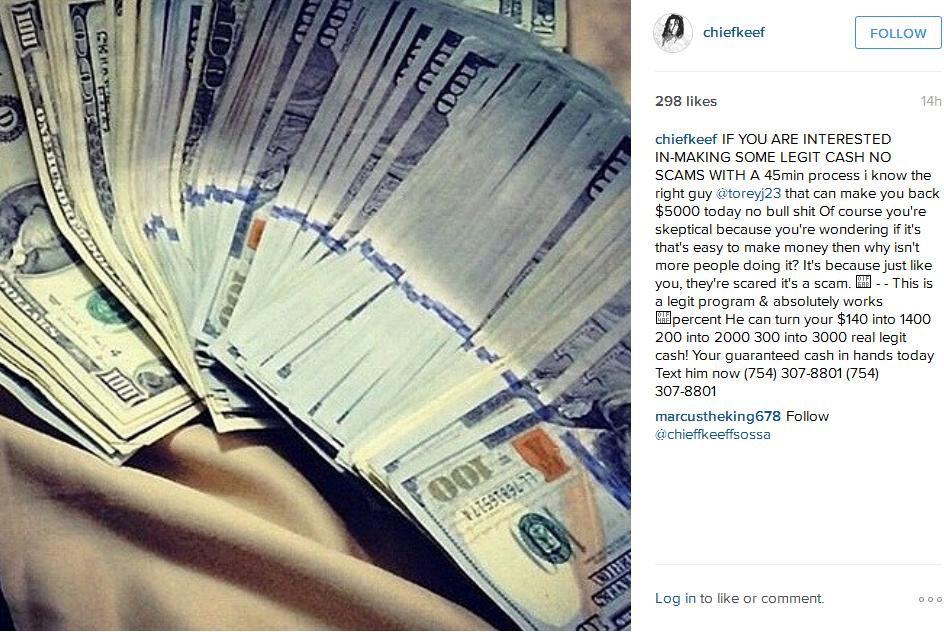 Chief Keef Instagram post
Chicago rapper and gang member, Chief Keef, real name Keith Cozart, is being impersonated on Instagram by a fan site telling its 142,000 followers they can make money fast by sending him their cash. Some have been duped into thinking it is Chief Keef. The promised rate of return for one's investment is highly suspect. It has the appearance of an investment scam.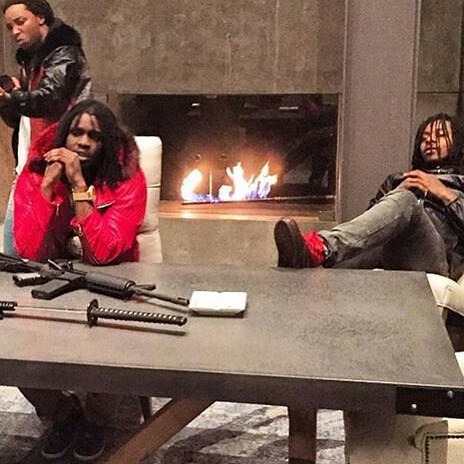 Chief Keef (seated left) and fellow rapper Capo (seated right). Capo was recently shot to death in an act of gang violence that also left a 1-year-old baby dead.
Said page needs to be careful regarding this behavior, because in the event people send money and do not receive the promised returns on their investment, they will report it to the authorities and that could lead to serious legal trouble, including prison time for all involved in not delivering what was promised. And these things can be traced over the internet.
RELATED ARTICLES
Chief Keef's Rapper Capo And A 1-Year-Old Baby Killed In Chicago
Beware Of Investment Scammers Who Prey On The Public
---
Boycott First Guaranty Mortgage Corporation And Coester VMS Who Are Scammers And Con Artists Engaging In Discrimination While Ripping Off People Seeking Mortgages
July 24. 2015

First Guaranty Mortgage Corporation
Beware of the companies First Guaranty Mortgage Corporation and Coester VMS, as they are discriminating against minorities, people with disabilities and immigrants, who apply for mortgages. This is illegal in America and violates federal and state laws. However, they are doing this. First Guaranty Mortgage Corporation uses the faulty appraisal company, Coester VMS, who collects hefty fees, then undervalues properties, destroying good real estate deals. This also allows others affiliated with them to swoop in on equity laden properties, such as those under foreclosure that are up for sale, despite the fact mortgage applicants found the properties fair and square.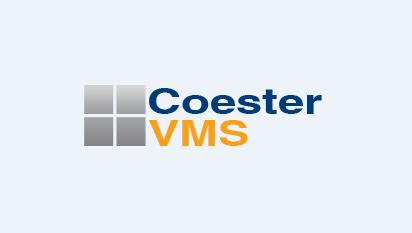 Coester VMS (Value Management Services)
First Guaranty Mortgage Corporation leaves the appraisal process for last, running up thousands in fees that mortgage applicants must pay in order to obtain a loan. By the time mortgage applicants are thousands of dollars into the process, thinking their loan will close on the date issued, within a couple days of closing, First Guaranty Mortgage Corporation calls the entire thing off.

First Guaranty Mortgage Corporation
This costs mortgage applicants thousands of dollars in real estate fees. Then, First Guaranty Mortgage Corporation will encourage mortgage applicants to find another property to start the paperwork heavy process all over again, running up thousands of dollars in additional fees. Buyer beware. Avoid First Guaranty Mortgage and Coester VMS. Seek your loan and appraisal needs elsewhere, lest you lose thousands of dollars and waste valuable time.
RELATED ARTICLE
U.S. Foreclosures Spike Again Indicating Trouble In The Financial Sector
---
PINNED ARTICLE:
One Of Madonna's Kabbalah Center Hackers Revealed Via Court Subpoena (Photo And Name)
Hacker's Name, Address, Telephone Number and IP Address Revealed
Corruption From Judge Gisela Cardonne Ely And Google Lawyer Edward Mullins
June 23. 2015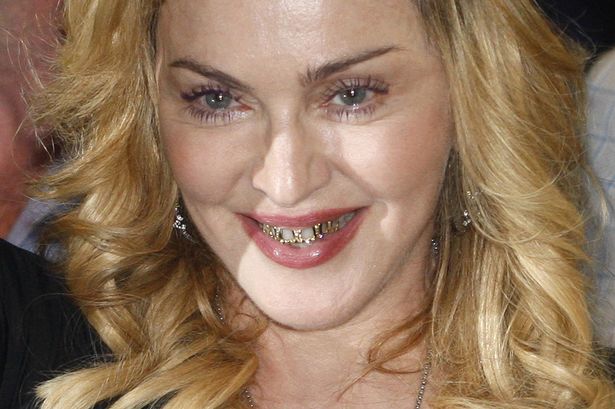 Madonna
This is a follow up to the News Corp/News International phone hacking story, which I broke first, via filing a police complaint in 2005 with the Metropolitan Police in London. I was alerted to the criminal activity, due to the misconduct of pop singer Madonna and her business associate Rupert Murdoch, who owns News Corp/News International. The case resulted in a guilty verdict (Andy Coulson Found Guilty In The Phone Hacking Case Confirming Previous Claims I Made About Him On The Site). I also filed a complaint with the FBI, regarding Madonna and her private investigator, Anthony Pellicano, for invasion of privacy and criminal copyright infringement. That case later resulted in a guilty verdict against Anthony Pellicano (who also had 4 hackers on staff breaking the law hacking into computers, emails and phones to spy and steal).
Due to Madonna's ongoing criminal misconduct, I had to file a lawsuit against tech company Google. One of Madonna's hackers hacked my Ad Sense advertising account with Google and removed my most lucrative site, The Judiciary Report, from the lists of sites allowed to run ads using my ad account. The hacker exploited a design flaw and software fault in Google's software feature to do so. As a result Google grossed over $500,000 in ad revenue from the Judiciary Report and I was not paid my contractual portion of the funds. Madonna also pressured Google into removing the Judiciary Report from Google News, as it brought in more readers to my website and she demanded Ad Sense ads be stripped from the Judiciary Report as well, after they had been restored.
I am the sole author of a very valuable, voluminous copyrighted catalog of intellectual property works that contains over 15,000 songs, 1000 movie scripts, movie treatments and short stories, 30 book manuscripts, 300 music video treatments, 500 photographs, 100 photo treatments, perfume, clothing lines, nano-technology, a solar cell phone, car line and thousands of other items. I began copyrighting at age 14 and over the course of 24 years, I've registered thousands of pages worth of the aforementioned intellectual property in paper and digital formats (CD-ROM, DVD-ROM).
Madonna, who has ties to Sony and Warner Bros via their copyright/intellectual property lawyer, Manatt, Phelps & Phillips, hired a hacker to illegally hack into my business computers and copy the contents of the copyrighted catalog and has been criminally using it without permission, selling items from it at reduced prices to others in Hollywood such as Jay Z (married to Sony's Beyonce), Beyonce (Sony), Rihanna (signed to Jay-Z's Roc Nation), Rita Ora (signed to Jay-Z's Roc Nation), Jessie J (music publishing deal with Sony), Mariah Carey (Sony), Britney Spears (Sony) Simon Cowell (Sony), Simon Fuller (Sony) and others, who know it is stolen. The illegal funds Madonna has made from this felonious criminal activity is stored in offshore banks, such as in the Cayman Islands, as well as select banking institutions in America. Hollywood is a sick, depraved industry of thieves. They're criminals. Michael Jackson's family states he was murdered for his copyrighted catalog. Cooke's family states the same of his murder.
I traced one of Madonna's hackers back to a Google G-Mail email account, after he sent me a violent, racist death threat to my site. When brought into court via the lawsuit I filed, Google quickly began hiding evidence, while destroying some evidence as well, which is illegal. Madonna's hacker wrote something in the emailed death threat that gave away the fact he is one of the Kabbalah Center's hackers, who has been repeatedly breaking into my computers.

An excerpt from the death threat sent to my website from "Quinten Brantley." The rest of the email is being saved for court. He stated something in the email that gave away the fact he is one of Madonna's hackers working with the Kabbalah Center. As you can see, the email was sent to me on Valentine's Day. Psychologists state stalkers, particularly those suffering from Erotomania (Clerambault's Syndrome) increase misconduct against victims on holidays and birthdays, which I have found to be true in this case. One several of my birthdays, Madonna's Kabbalah Center does something foul and vile regarding me.
The Kabbalah Center's perverse hackers also erected a sick, pedophilic website called NatashaMusica.blogspot.com on Google's Blog Spot blogging site and told the public it is one of my sites, when I never owned it or had anything to do with it at any point in time. Google took 18-days to remove the offending site after admitting in email exchanges it is not my website. It was a fraudulent, illegal website put online by the Kabbalah Center in a sick bid to destroy my name and reputation, while endangering my life, by not only posting nude images of young teenage girls who appeared to be 14-15 years old, but also posting incendiary articles I did not author about Al Qaeda's Boko Haram terrorist group, who have killed thousands of people. Al Qaeda have also killed writers and cartoonists they felt disrespected their religion.
I found out about the fraudulent NatashaMusica.blogspot.com site when doing routine online searches to see where my articles were being used or referenced on other unrelated sites, as not all items contain a link back to the original source, which is an everyday problem for bloggers. That's when I noticed Google's search engine was bringing up my www.JudiciaryReport.com, www.SoundOffColumn.com, www.CelluloidFilmReview.com and www.AishaMusic.blogspot.com articles on an unauthorized site called NatashaMusica.blogspot.com. I was appalled when I clicked the link to view the site and saw the sick content on it (child porn and items about Al Qaeda and Boko Haram).
After emailing Google various items to prove NatashaMusica.blogspot.com was not my site and is criminally breaking the law via claiming it belongs to me, they removed it after nearly three weeks of being alerted to the problem, which is woefully slow and well below the national and international standard for internet service providers. After a court hearing one of Google's lawyers, Edward Mullins, inappropriately and arrogantly got in my face and growled that there's "an AOL case" where a pedophilic "image of a 10-year-old boy" was left online for years and "the judge in the case" left it online on AOL's servers. This was his justification for Google inexcusably leaving that sick NatashaMusica.blogspot.com site online for weeks after being notified by me in writing of the sick impersonation, fraud and copyright infringement in using my actual wholesome articles and mixing them in with such filth and disgusting content.
Google's lawyer Edward Mullins also keeps violating my private space by getting in my face and yelling at and bullying me after hearings, stating completely inappropriate things, while exploding in rage like he's bipolar, making a scene in the courthouse with lawyers and other litigants looking on in shock. Before the hearing Google's lawyer is smiling and polite, then after the hearings, without any provocation he storms out of the courtroom, angrily pacing and acting like a madman with anger management issues. Prior to Mullins by assigned the case, a soft-spoken woman, Regan Kruze was Google's lawyer, but she left the firm after I asked in writing why she was wearing a Kabbalah Center red string bracelet to court and kept flicking her arm back in front of me to flash it in my face while she spoke to me about the case. It's quite telling that Google hired a lawyer who is in Kabbalah.
Google released one item in the case regarding one of Madonna's hackers, but scrubbed much of the data from it, leaving a fake email address (dropsiesboy@gmail.com), a fake name "Quinten Brantley" and many I.P. addresses they thought would pose too much of a problem for me to sort through, ultimately leading to a dead end. After I sifted through all the I.P. addresses, the first batch led nowhere, as internet service provider Verizon responded to the subpoena I sent by stating "file not found" which made the Google lawyer, Edward Mullins, laugh over the phone.
However, I began tracing a second batch of I.P. addresses as well, which turned up something, much to Google's chagrin. I independently obtained a court subpoena listing internet service provider AT&T as the recipient, in reference to the death threat that was emailed to my website by Madonna's hacker, using the fake name "Quinten Brantley" via dropsiesboy@gmail.com.
Google wouldn't provide the real name and address behind alias "Quinten Brantley" registered at their G-Mail service, which was used to send the threat. However, tracing it backwards, led me to AT&T, who under a subpoena released the name, address, telephone number and I.P. address of Madonna's hacker using the alias "Quinten Brantley" revealing his name is Randy Vaughn of Greenville, South Carolina.
One of the documents AT&T released to me under the subpoena identifying Randy Vaughn as the user being the "Quinten Brantley" alias and the corresponding I.P. address that was previously hidden (I have redacted Randy Vaughn's home address, telephone number, account number and I.P. address as a courtesy which he really does not deserve):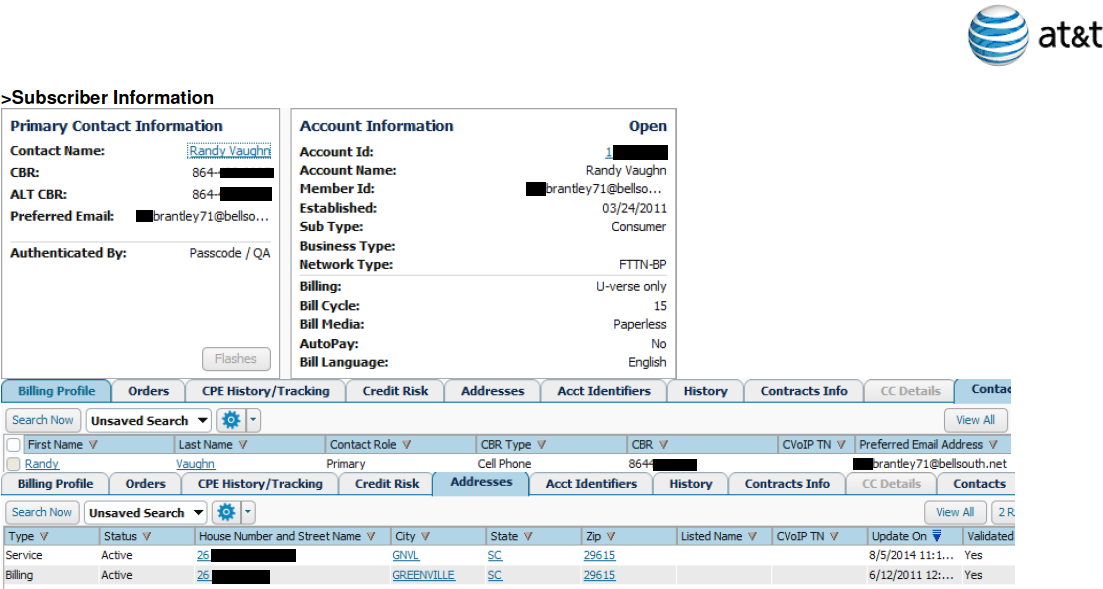 I did some searches online and found a profile for Randy Vaughn of Greenville, South Carolina on the Linked In website. Randy Vaughn is a computer specialist and electrical engineer, who works for government contractor, Fluor. This explains so much. Previously, I nearly sued the light company Florida Power And Light (FPL), servicing Miami, Florida, where I have been living, but they settled with me before I filed the lawsuit.
Florida Power And Light (FPL) Claim settlement documents (redacted for privacy and so as not to violate the terms of the settlement):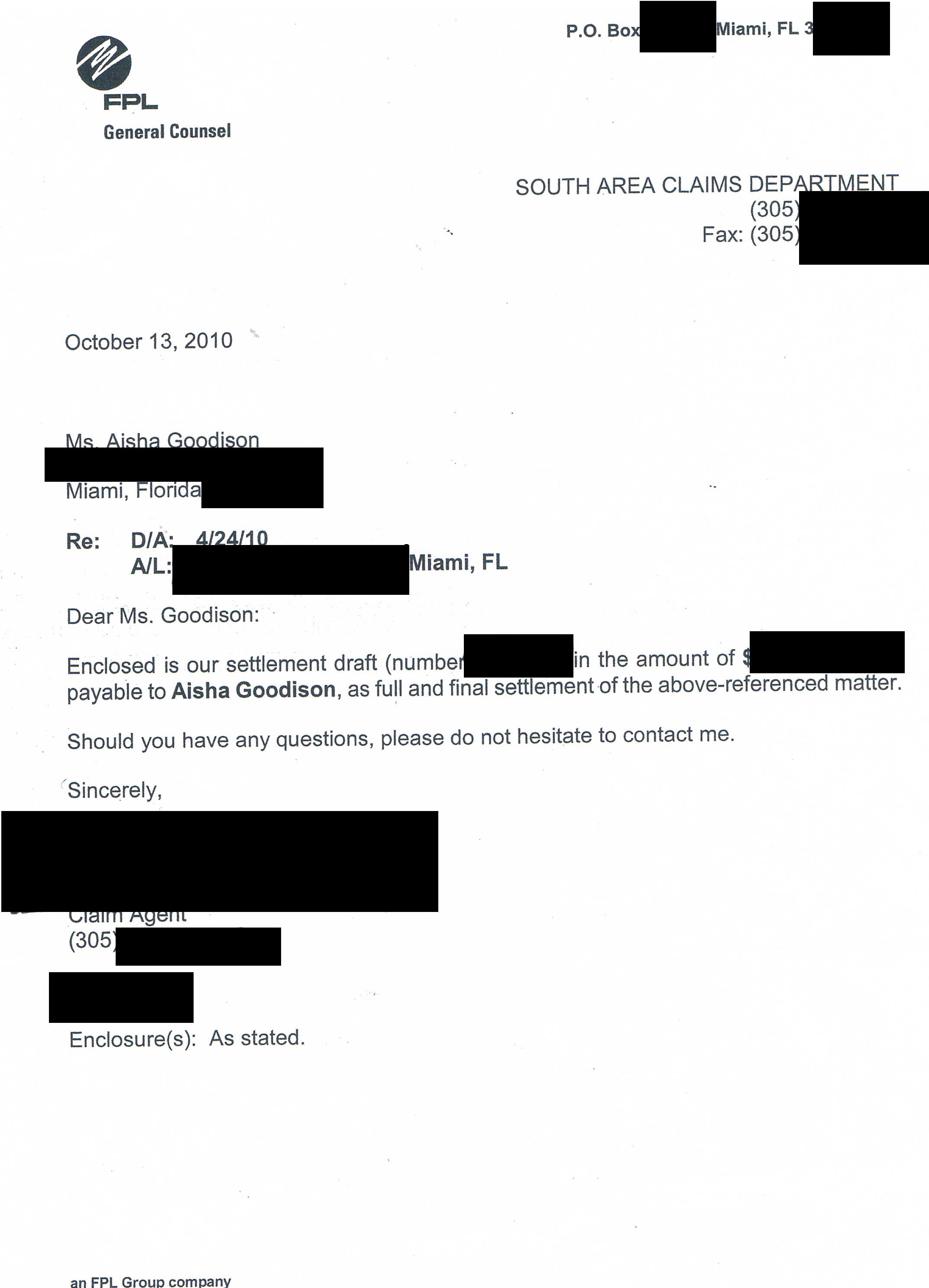 Legal settlement with Florida Power And Light before I had it notarized, but it bears my name: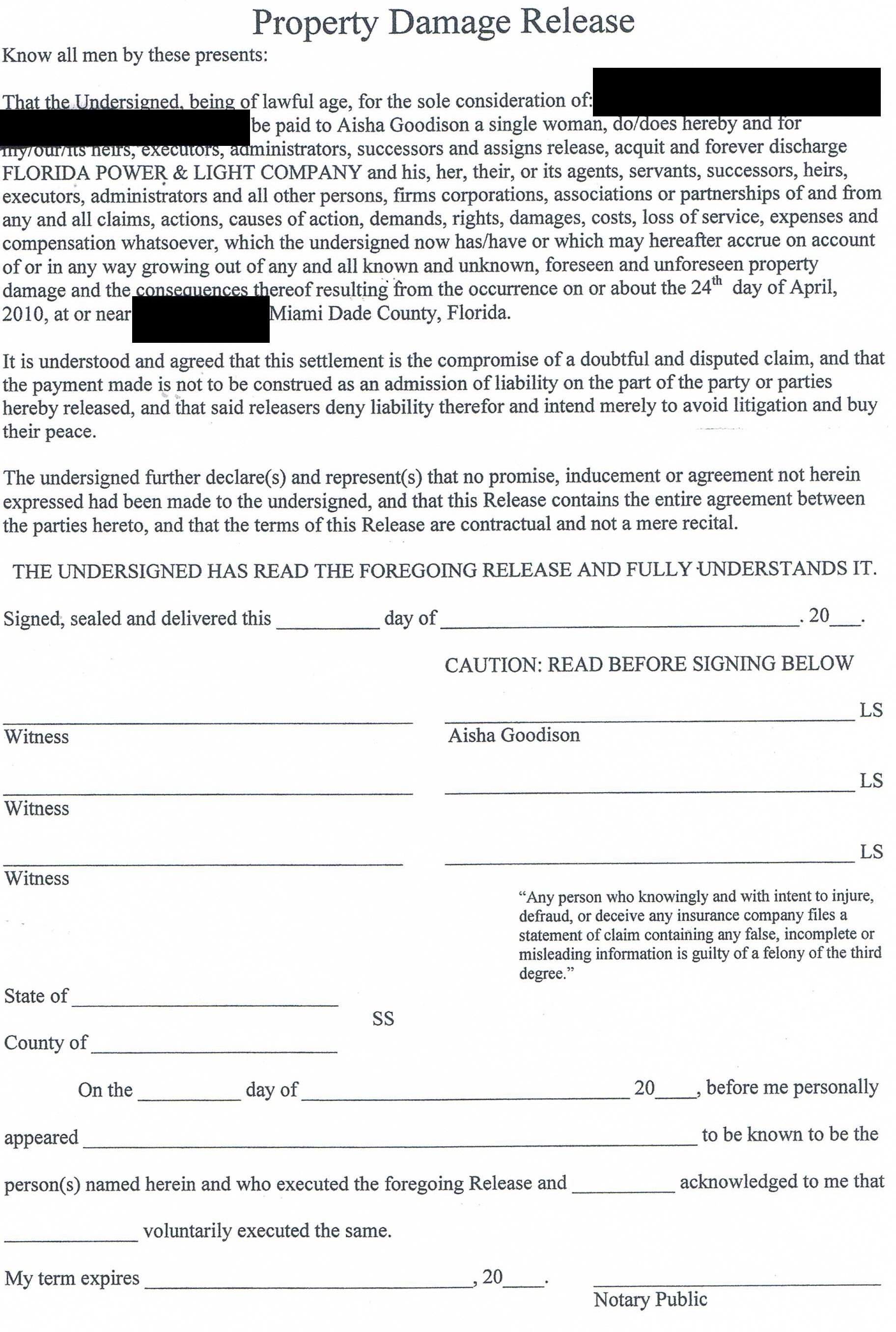 Said hacker hacked into Florida Power And Light's grid and sent a massive amount of electricity into my home that caused computers and appliances to overheat, smoke and give off sparks. It could have caught the house on fire (which is ironic as Madonna's hacker Randy Vaughn, who emailed me a death threat under the fake name "Quinten Brantley" threatened to kill me in a house fire).
This wasn't your standard power surge. It is what is known as "electronic harassment" in legal and government circles. Florida Power And Light's grid was criminally hacked to target the transformer outside my home on several occasions, but that one particular time the hacker went overboard and it caused a catastrophe. Once again, the house could have caught on fire. We had to quickly plug everything out with the way the electronics were smoking and giving off sparks all over the house.
As his Linked In bio reveals, some of Randy Vaughn's specialties include, "Power generation and distribution systems, short circuit and load flow studies...grounding, lighting, programmable controllers, uninterruptible power supply, emergency power generation..." Translation, he is a computer specialist with the ability to tap into light companies' power grids and cause serious damage.
This is the "Quinten Brantley" who is a hacker Madonna employed. He has a Linked In profile and his real name is Randy Vaughn, a computer specialist and electrical engineer: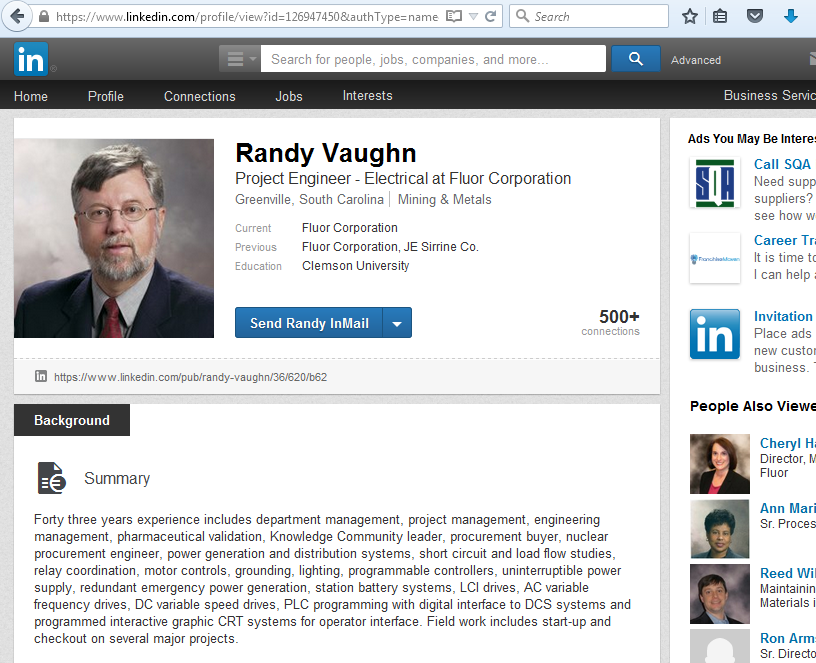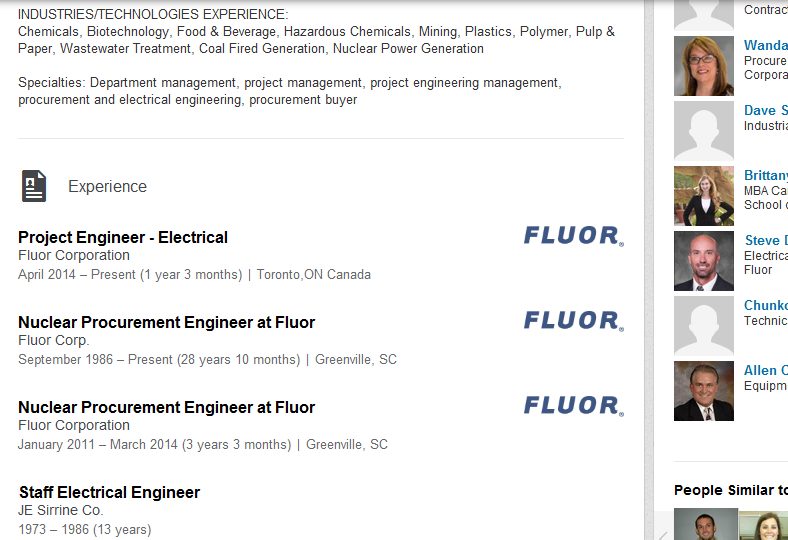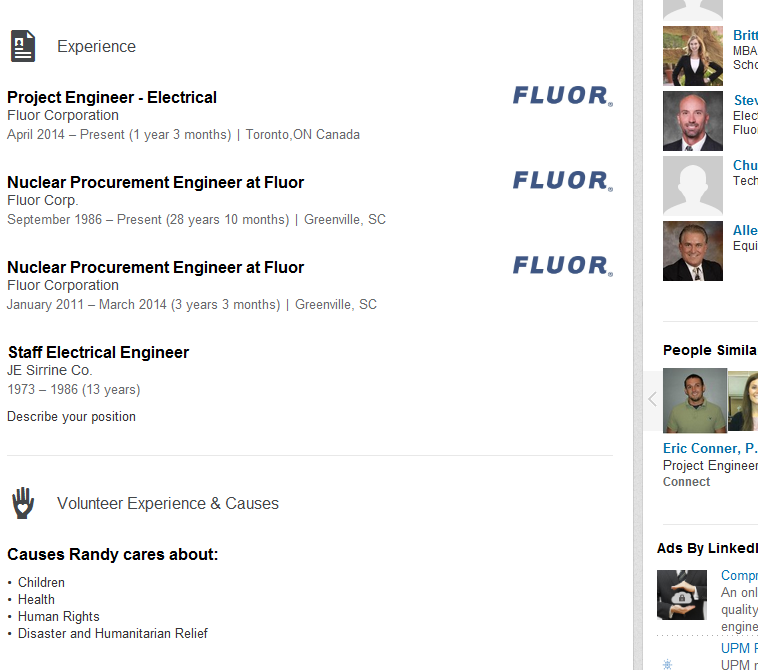 How ironic that Randy Vaughn lists one of his causes as "children" when the Kabbalah Center cult he is involved in erected the website NatashaMusica.BlogSpot.com with pedophilic images and copied my wholesome website banner, slogans and preexisting copyrighted Judiciary Report articles that are not pornographic or inappropriate, to make the public think the sick site was mine. Security experts have stated this is a sick technique used by hackers to defame and set up innocent people they criminally target.
My house was the only one in the entire neighbor this happened to, as the hacker targeted my property, causing thousands of dollars in damage, such as destroying a $5,000 air conditioning unit, a $700 refrigerator, a $500 built computer, a $1,000 Toshiba laptop, music studio recording equipment and 4 televisions, among other things. Ironically, when this occurred with the catastrophic power surges targeting my home via hacking, I was online on the computer the Kabbalah Center kept hacking, reading about "electronic harassment" after typing in the strange surges that had been happening in my home. Some of the surges were so powerful you could hear them (buzzing noise), smell the electronics burning up, see smoke coming from the electronics and appliances and the walls of the house would vibrate. The whole thing was so sick.
Recently released items by computer security experts revealed hackers are targeting the batteries of laptops in trying to cause them to overheat, rendering them burned out and unusable. In doing so, some cause the batteries to explode. I have been online when computer hacks occurred that resulted in the computer issuing error messages about dangerous "power surges" being sent to the unit.
Previously, a Kabbalah Center member, who kept stalking me and trespassing on my property, checking door handles in trying to get into my home, had also tampered with a $9.99 per month energy saving apparatus Florida Power & Light attached to my meter, under a program they implemented. The Kabbalah Center member removed it and it caused my electric bills to go from $200 per month to $450 per month, which led to a field visit from a Florida Power & Light technician, who confirmed someone had tampered with the meter and removed the energy saving box as well.
Stalking, Harassment And Attempted Kidnapping
My life is in danger. After I mailed a letter about this case and legal documents as proof to both houses of the U.S. Congress, regarding Madonna and Kabbalah's criminal behavior which constitutes human rights violations, the Kabbalah Center, who had hacked my computer and seen the print out of the letter, sent a deranged man to stalk and confront me right after I left the post office. He roughly grabbed me by the arm and started dragging me off to who knows where he was headed. I started screaming and yelling, which caught people's attention and he let me go.
Yesterday, another attempt was made on my life, where once again, I nearly got run over by a vehicle, a harassment technique that was later revealed in court as one belonging to Madonna's mafia affiliated private investigator, Anthony Pellicano, who according to documents online is apart of the Colombo family (Italian mafia). Madonna is also connected to the mafia via a relative, who was sent to prison for extorting Steven Segall in trying to steal a big chunk of his copyrighted share of a film. Madonna is also connected to the mafia via ex-boyfriend and current business partner, Chris Pacello, a Miami resident, who went to prison for robbery and murder in New York.
Corruption in the Aisha v. Google case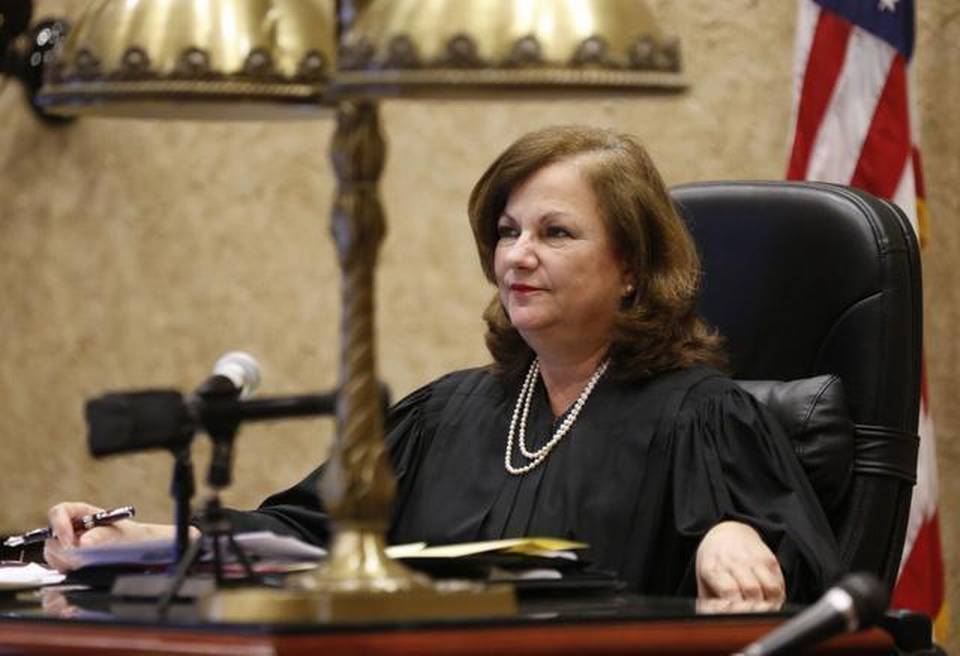 Judge Gisela Cardonne Ely
When Google discovered I had obtained the name of one of Madonna's hackers (Randy Vaughn) and entered it into the court record, the next day their lawyer committed perjury in court. The Aisha v. Google case has been presided over by Judge Gisela Cardonne Ely, a woman many have branded the worst judge in Miami. She is unquestionably corrupt and untrustworthy. Another case that I filed which was assigned to Judge Cardonne Ely, was the subject of corruption at her hands, as she illegally held a hearing ex-parte hearing and closed the case without ever informing me of the hearing or that she had dismissed the lawsuit. It is a horrible reflection on the U.S. judicial system. I cannot begin to tell you how appalled I am at her behavior.
She engaged in corruption again in the Aisha v. Google case. When I entered the name "Randy Vaughn" in the court record as one of the culprits Madonna and the Kabbalah Center hired to engage in criminal activity, they panicked and broke the law. Google's lawyer Edward Mullins colluded with Judge Cardonne Ely stating I "did not file the second amended complaint" she ordered me to file within the 20-days that Mullins agreed to (when nothing was wrong with the previous version of the complaint that met national pleading standards for lawsuits). If you do not file a requested document in the time frame a judge allots, the judge is permitted to throw out the case.
Mullins swore in court, as did Judge Cardonne Ely that I "did not file the second amended complaint" and he never received his copy by mail, which was perjury and fraud on their part. Mullins arrogantly presented me with a copy of the case's court docket showing no "second amended complaint." Someone had not only illegally removed it from the file but the court's computer system as well, in an effort to get the case dismissed. However, I had retained a copy of the "second amended complaint" I filed and it bears the red stamp from the clerk of the court with the date I filed it, revealing I did indeed file the item and well within the deadline Judge Cardonne Ely issued. She issued me 20-days to file the "second amended complaint." I filed it within 4-days.
The first page of the "second amended complaint" I filed bearing the court's red stamp from the clerk of the court dated May 6, 2014. However, someone criminally removed the "second amended complaint" from the file and deleted from the court docket on the court's computer, not realizing I had a second official copy stamped by the court clerk: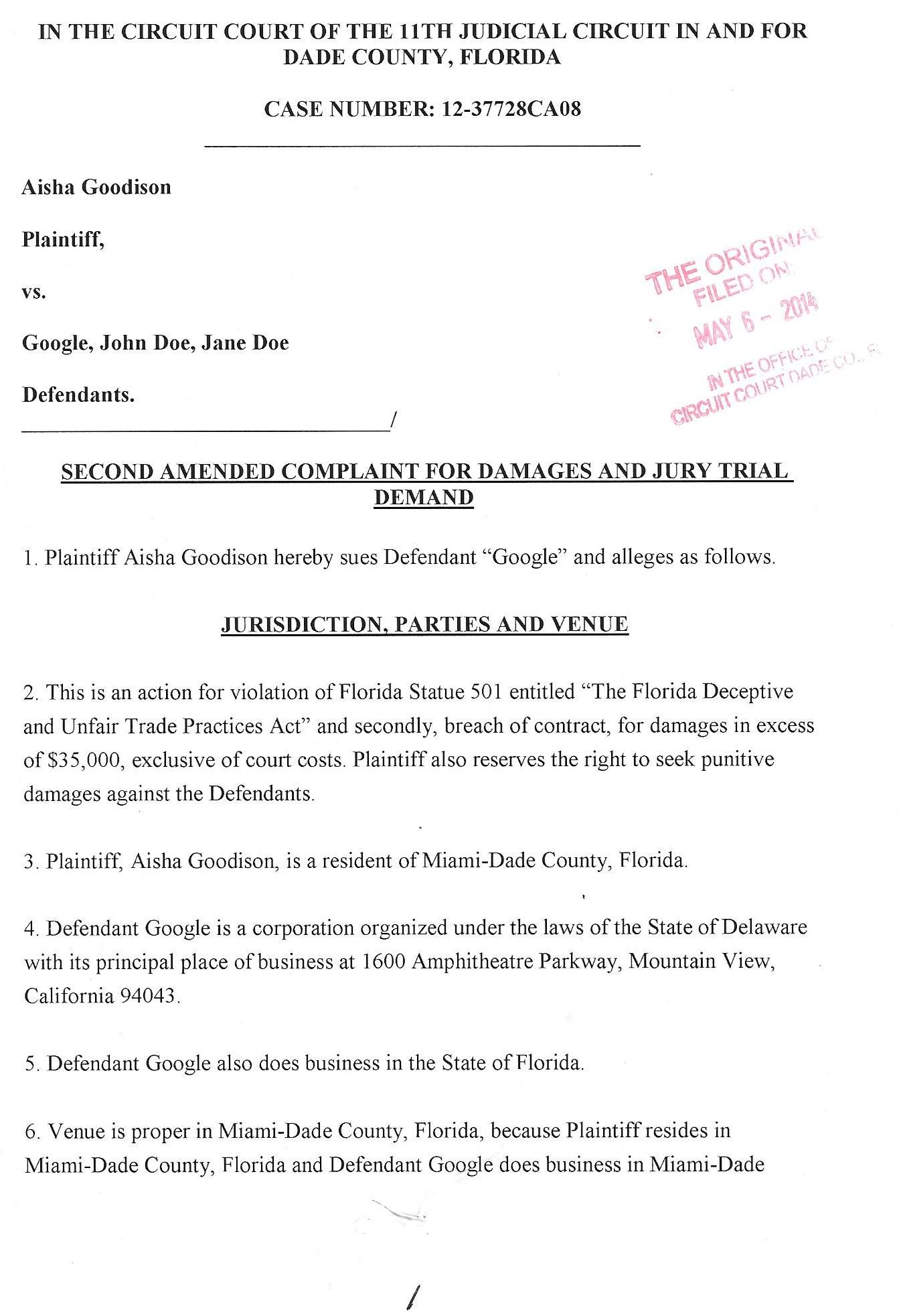 Here is a copy of the court docket Google's lawyer arrogantly presented in court a few days ago, which shows my "second amended complaint" was criminally removed from the court case file and the entry that occurred on May 6, 2014 having been criminally deleted (however, I retained the aforementioned proof I filed it):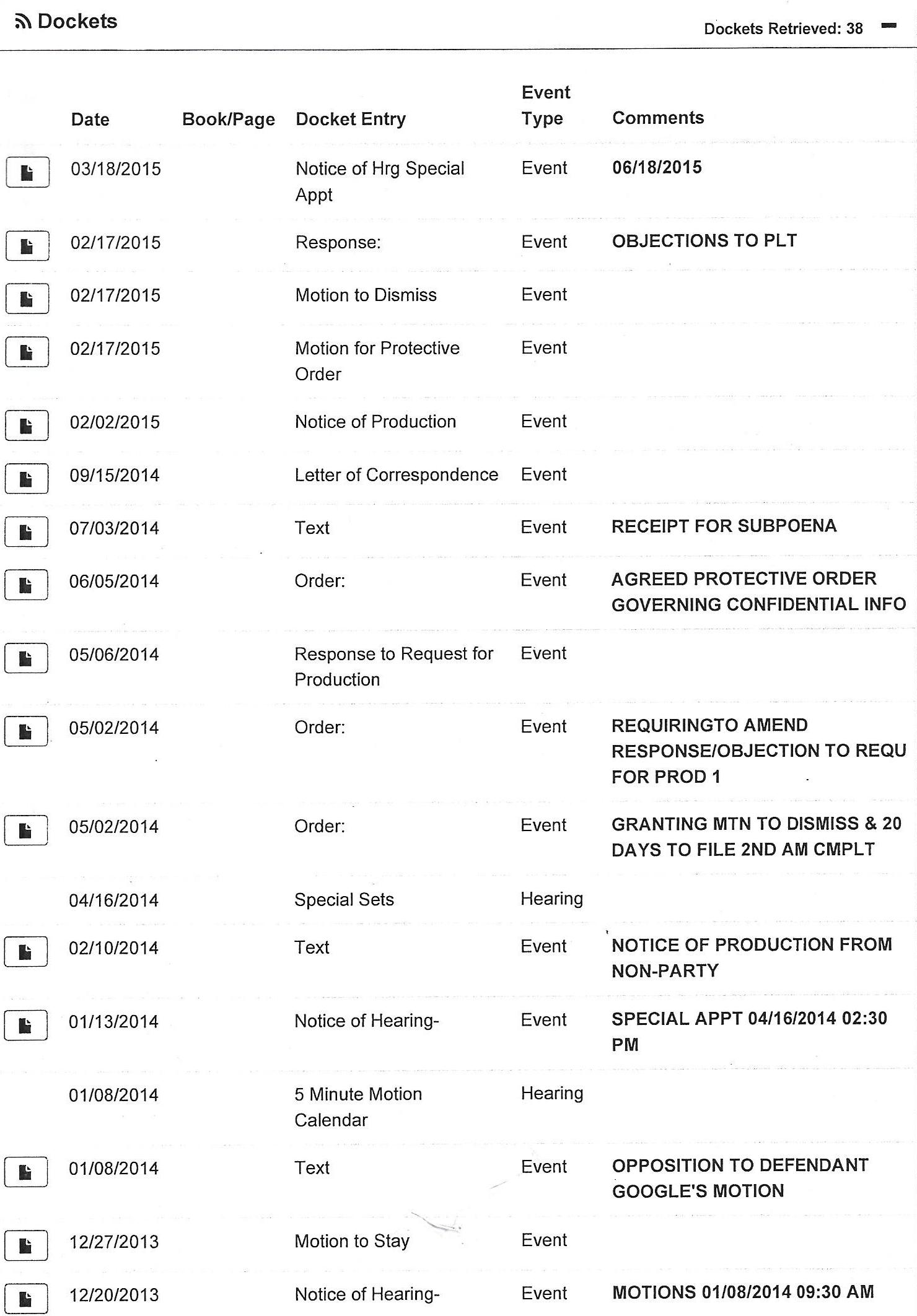 As such, I have filed a motion for Judge Gisele Cardonne Ely reopen the case she corruptly closed and recuse herself from the case as well. I have just submitted a formal complaint to the Florida Judicial Qualifications Commission regarding Judge Cardonne Ely's questionable conduct in not one, but two cases concerning me. I have also sent a copy of the entire file, complaint and evidence of fraud to the United States Senate Committee on the Judiciary. Judges in America should not be engaging in such conduct. It is flat-out corruption. What's particularly alarming is there is a threat to life and safety and Judge Cardonne Ely, Google and their lawyer, Ed Mullins, did something so wicked.
I respectfully asked Judge Cardonne Ely during the hearing if she dismissed the case "with prejudice" (meaning it can't be reopened) and she arrogantly refused to answer, while pursing her lips and haughtily stating, "This case is closed." Judge Cardonne Ely is known for being an exceedingly rude, highly disrespectful and mean-spirited judge, who routinely violates the judicial cannons.
In the Miami state court, lawyers and litigants often wait in a courtroom to have their hearings conducted before the judge. During this process, one ends up hearing other people's hearings in the courtroom while waiting your turn. While waiting for hearings called by Google's lawyer, I have watched as Judge Cardonne Ely verbally abused many lawyers and litigants, speaking to them like dogs, while rolling her eyes and or sighing like a drama queen in a very mean spirited and arrogant manner. It is appalling. She is in there talking to grown men and women like dogs. Who does she think she is, especially in light of the fact the judicial cannons indicates this type of low class, ill-mannered behavior is prohibited.
Another frequent complaint regarding Judge Cardonne Ely is she does not read her cases. She is always out of the loop, asking what cases are about and getting items severely wrong. Judge Cardonne Ely just throws out most of the cases, not wanting to do any real work while taking huge sums of taxpayer money in salary. She once complained in my hearing about her "3,000 case" workload. No judge should have "3,000 cases" especially one so incompetent, rude and negligent.
The $35,000 and counting Google owes me is a debt they need to pay. They are a multi-billion dollar corporation, who abused and ripped off an independent writer. It's not a good look on them at all. While the $35,000 is not going to make or break me, it's the principle of the matter. You don't rip off people and engage in corruption in trying to get away with it.
In light of these facts, I am asking the public in Florida not to reelect Judge Cardonne Ely to the bench. You will need justice one day and you will not get it from her (she presides over cases such as foreclosure, domestic violence, contract disputes ect). If you need any more proof, take a look at some of the many complaints lawyers and litigants have posted online regarding her vile behavior that Congress needs to address, as it is criminal and fraudulent: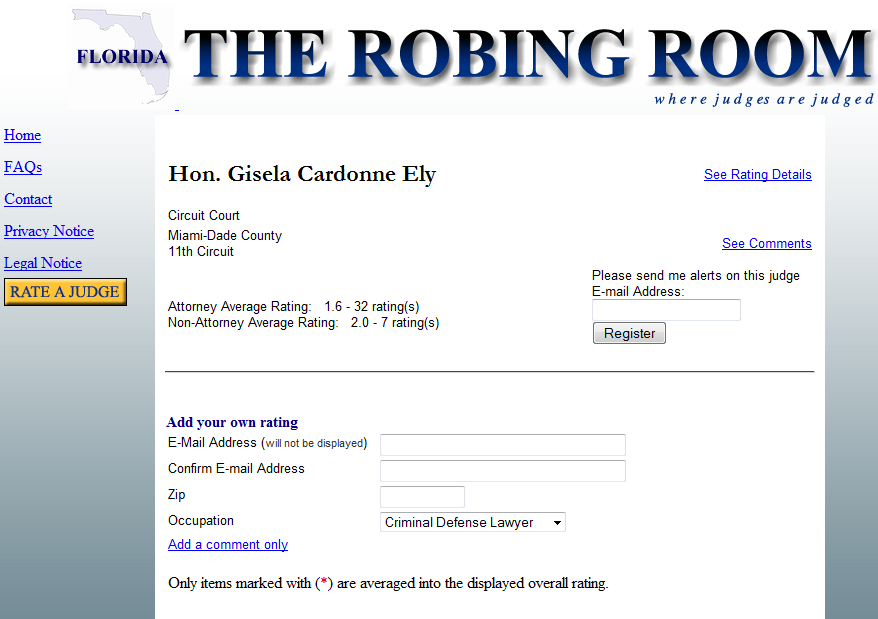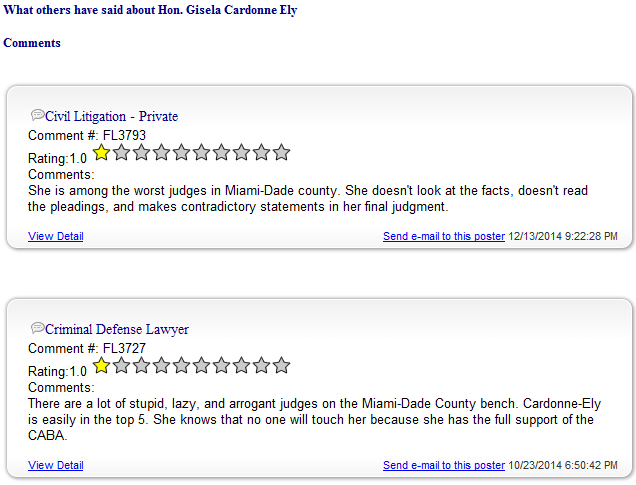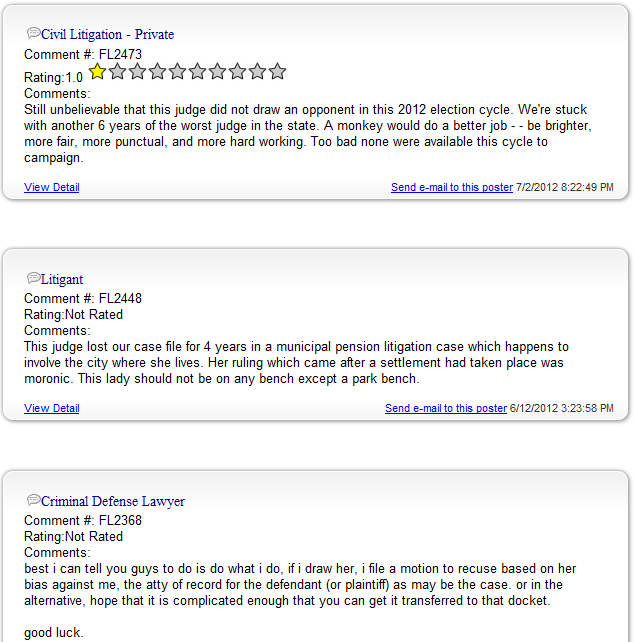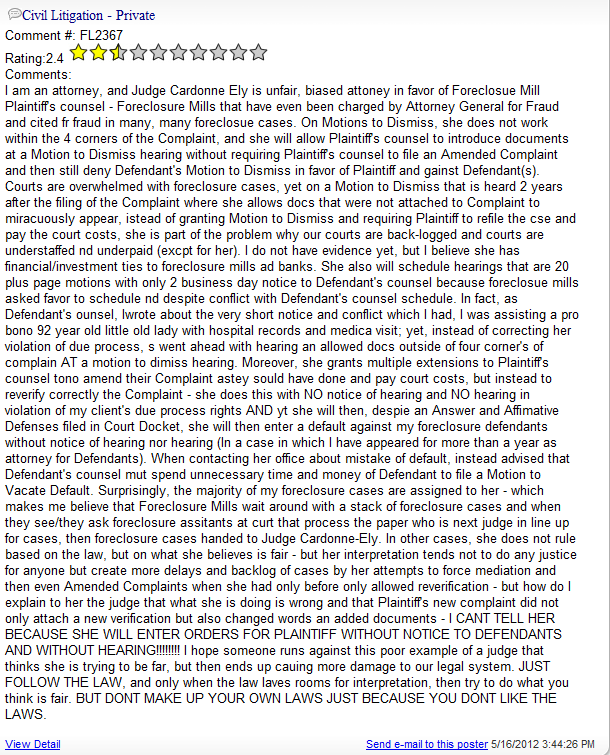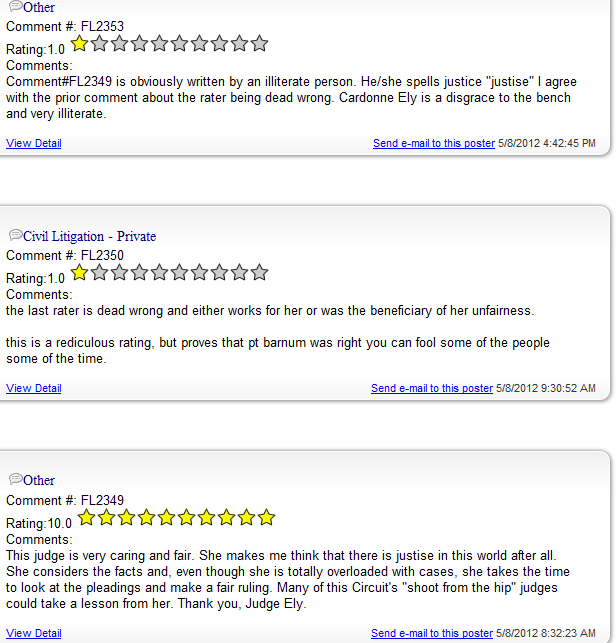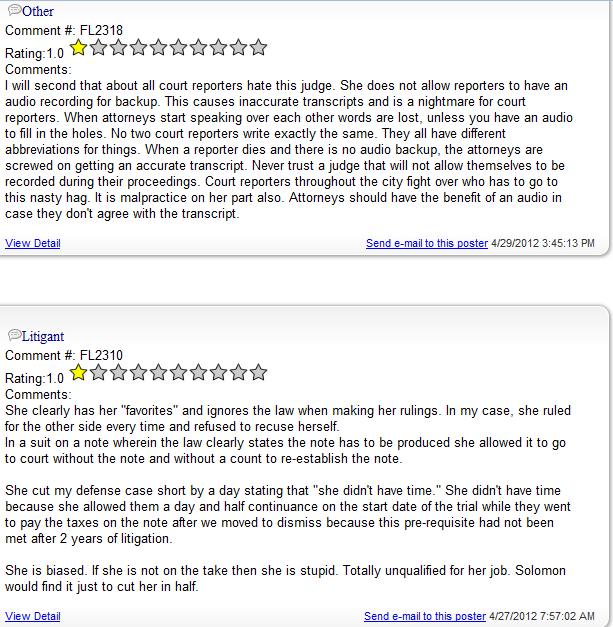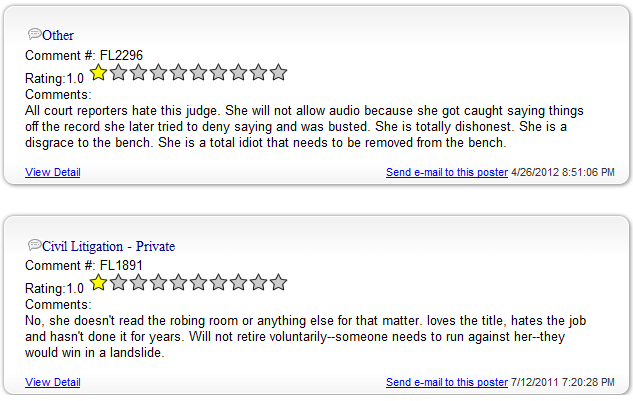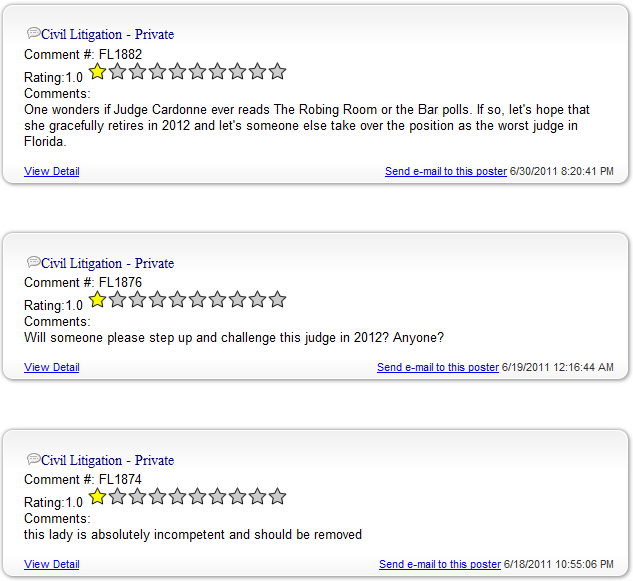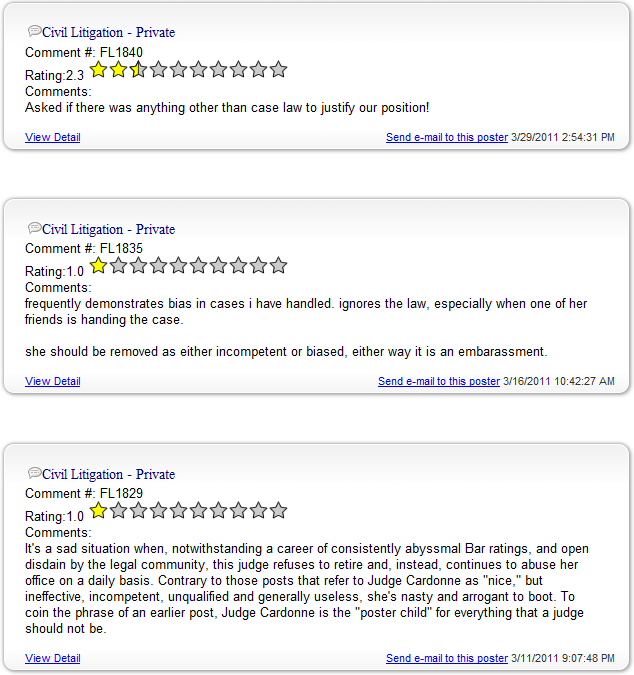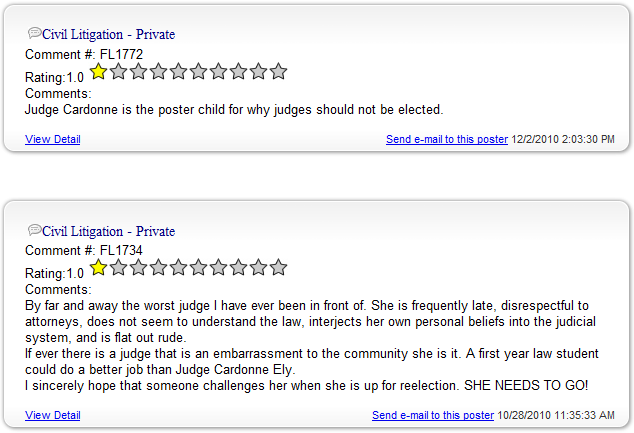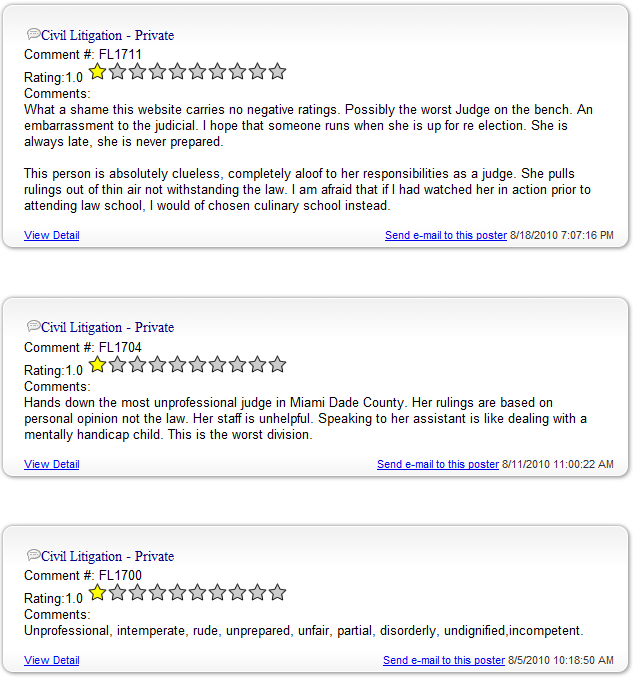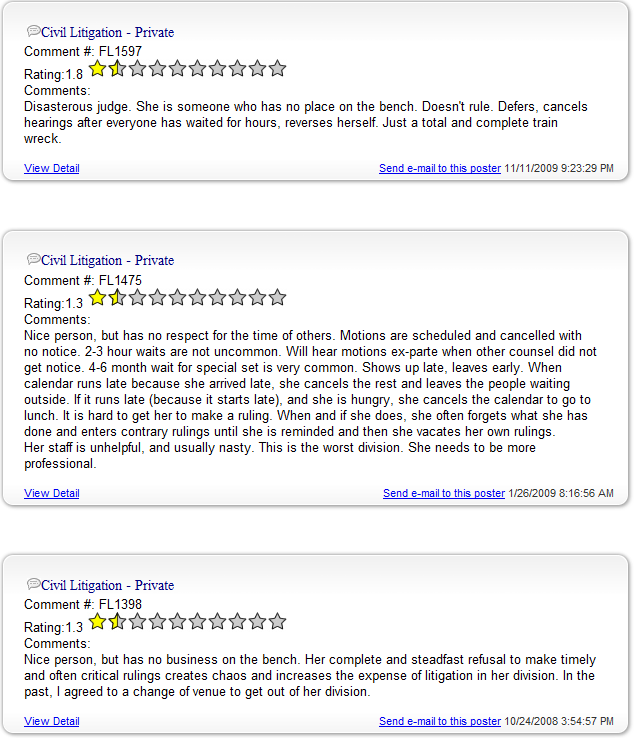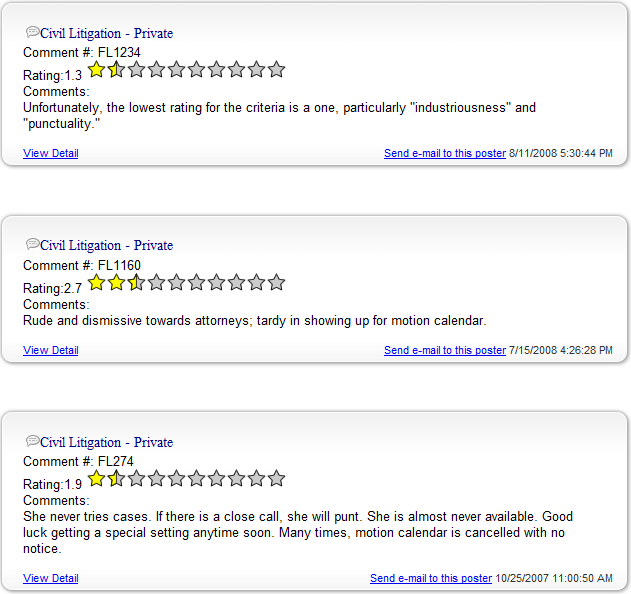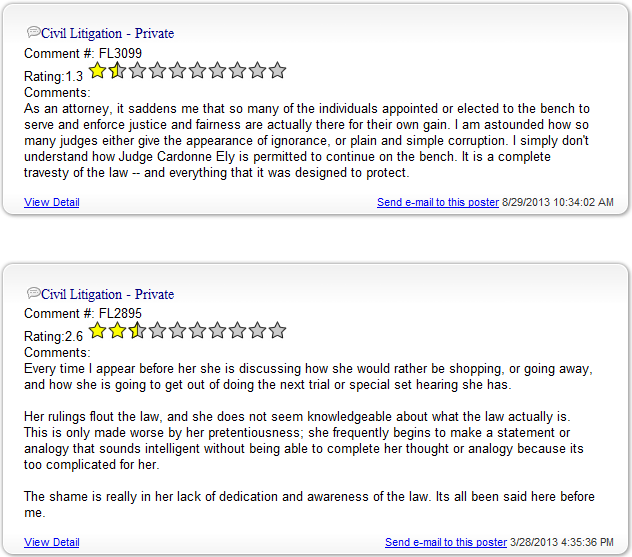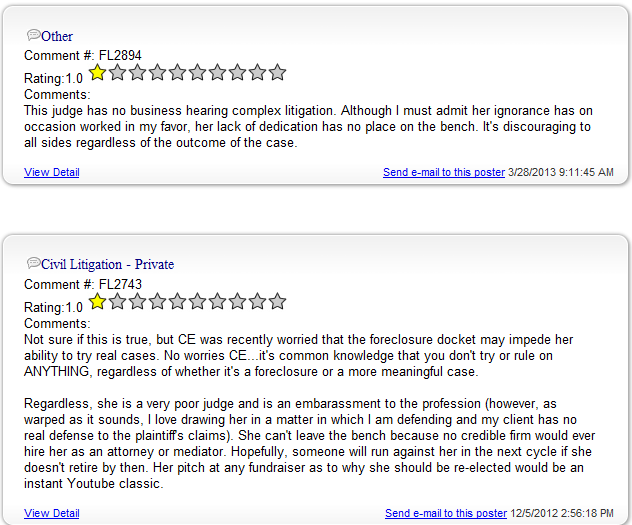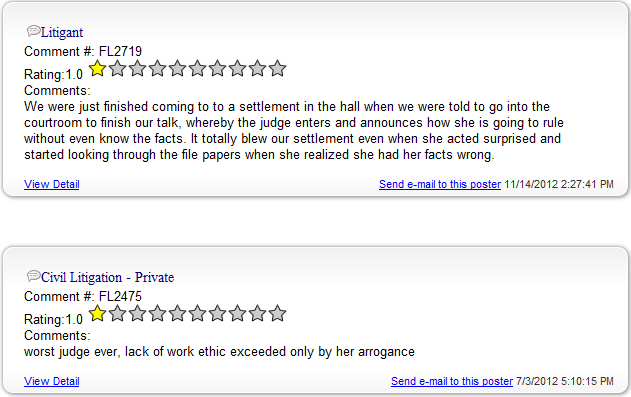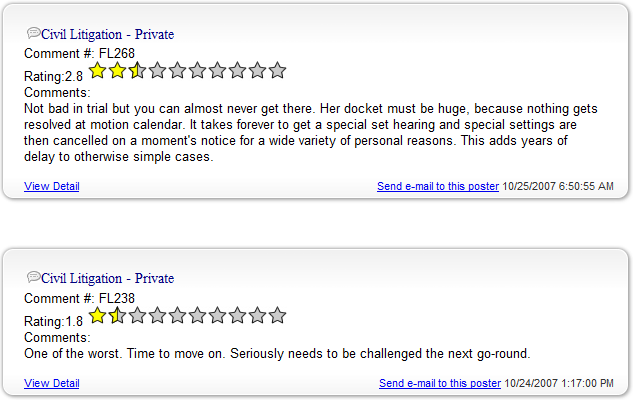 http://www.therobingroom.com/florida/Judge.aspx?ID=1316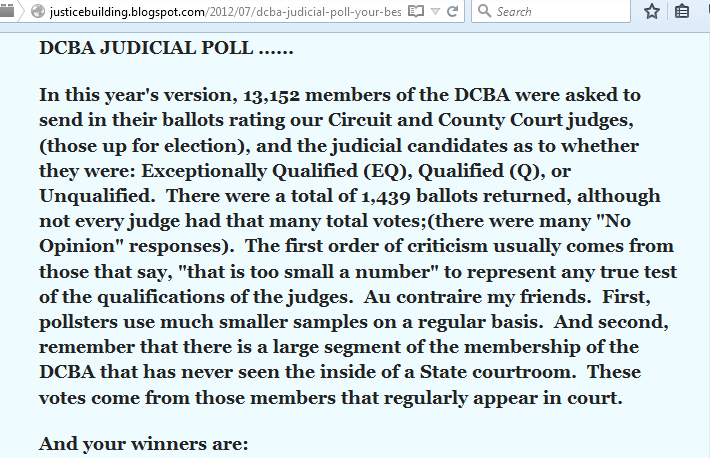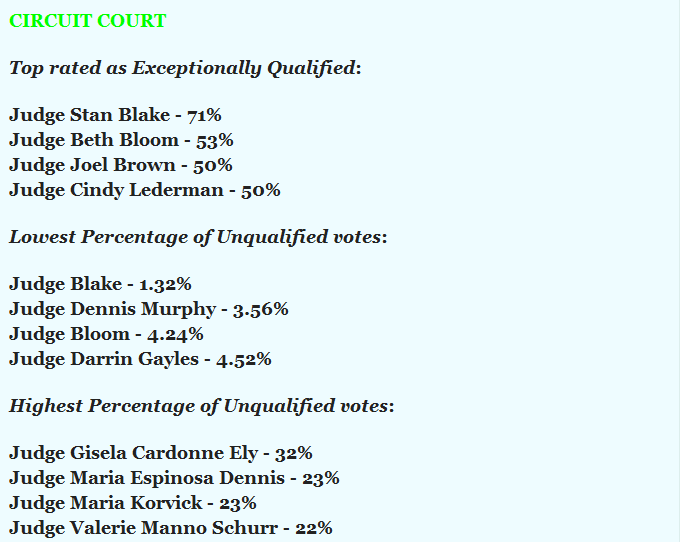 13,152 jurists voted and voted Judge Caronne Ely the worst judge in Miami
RELATED ARTICLES
Madonna's Many Acts Of Copyright Infringement
Madonna's Rabbi At The Kabbalah Center Threatened To Beat And Kill A Student He Drugged And Tried To Rape
Congress Reintroduces Songwriters Equity Act Legislation But Will It Stem The Wave Of Copyright Infringement In Hollywood
Pharrell Williams Is A Chronic Copyright Thief But Is Protesting $7,300,000 'Blurred Lines' Verdict Obtained By Marvin Gaye Estate
---
PERMALINKS
Madonna's Pedophilic Kabbalah Center
Madonna's Many Acts Of Copyright Infringement
Madonna's Rabbi At The Kabbalah Center Threatened To Beat And Kill A Student He Drugged And Tried To Rape
Congress Reintroduces Songwriters Equity Act Legislation But Will It Stem The Wave Of Copyright Infringement In Hollywood
Pharrell Williams Is A Chronic Copyright Thief But Is Protesting $7,300,000 'Blurred Lines' Verdict Obtained By Marvin Gaye Estate
NSA Workers Admit To Reading The Emails And Listening To The Calls Of Americans In Violation Of The Law
Judge Rules The NSA Illegally Spied On Americans Confirming The Site's Previous Claims (Video)
NSA Admits Employees Illegally Spied On Love Interests And Significant Others Confirming Site's Previous Claims
New Scandal Erupts Regarding The FBI And Justice Department Monitoring Calls Of AP Reporters Confirming Previous Site Claims
IRS Says Sorry For Targeting Conservatives As Obama Denies All Knowledge Of Misconduct
President Obama Fires The Head Of The IRS For Targeting Conservatives (Video)
News Report: The IRS Targeted Christians
FBI Agent Arrested For Accepting A $200,000 Bribe To Derail A Criminal Case The FBI Was Supposed To Be Investigating
Another FBI Agent Caught Taking Bribes To Derail Serious Cases (Video)