Joseline Hernandez Sued For Smoking Crack Cocaine Then Beating Up And Scratching Althea At 'Love And Hip Hop Atlanta' Reunion Show
It's Raining Ratchet
August 29. 2014
Just when you thought "Love And Hip Hop Atlanta" couldn't get any more violent, it does and it was caught on camera. Aspiring rapper, Joseline Hernandez, has been accused of smoking crack cocaine from a pipe (this explains so much) and attacking co-star, Althea Eaton, who she is jealous of for a number of reasons.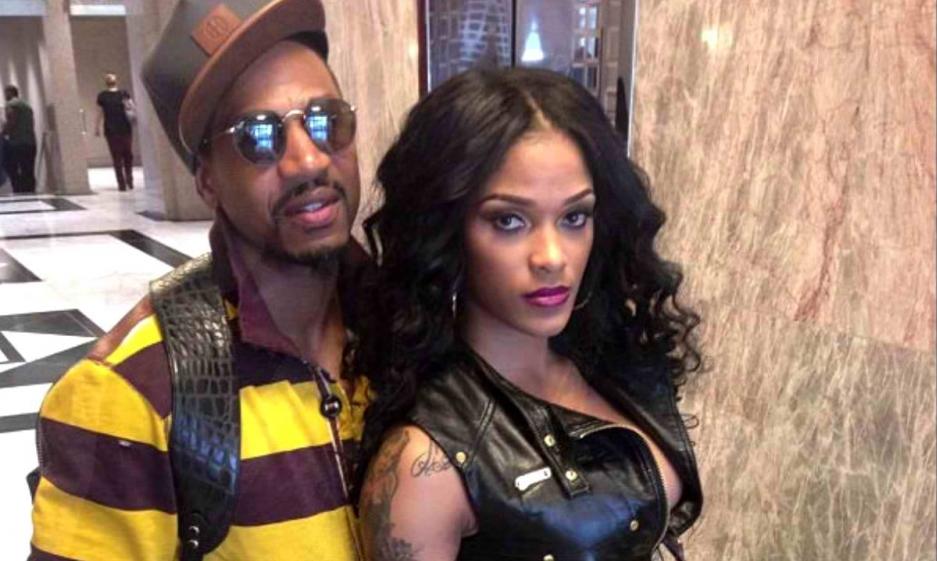 Stevie J and Joseline Hernandez
Eaton has sued Joseline for getting high, then wildly punching and scratching her during the reunion show. Joseline is jealous of Althea, who is feminine (don't pretend you don't know why I stated that) and had sex with the rapper's fiance, music producer Stevie J, before they had met. The two claim to be married. However, no solid proof has been presented indicating the couple actually wed.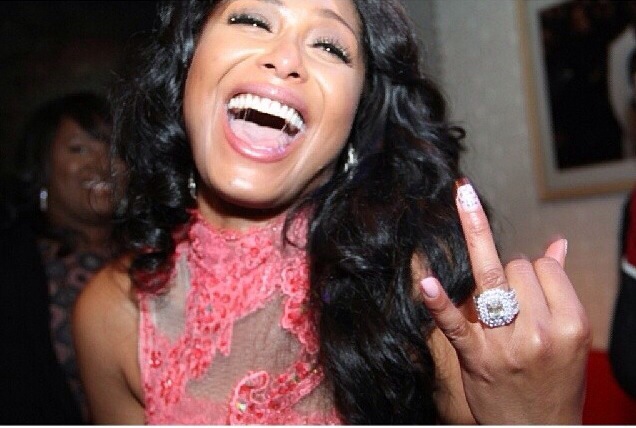 Althea Eaton
Joseline's behavior has been very violent and erratic throughout the series. There have been moments on the reality show, during press interviews, videos and photo shoots, where Joseline's eyes looked glazed over and her pupils dilated, indicating drug use. Joseline has been sexually indiscriminate as well, sleeping with a number of men and women, in situations that has endangered her health and others. In short, you have to be high as a kite to do the things Joseline does on a regular basis.
RELATED ARTICLE
Lies Exposed About The Lives And Sextape Of 'Love And Hip Hop Atlanta' Reality Stars Mimi And Nikko
---
The Husband Of Whitney Houston's Daughter Bobbi Kristina Brown Flips His Car And Is Arrested For DUI
August 29. 2014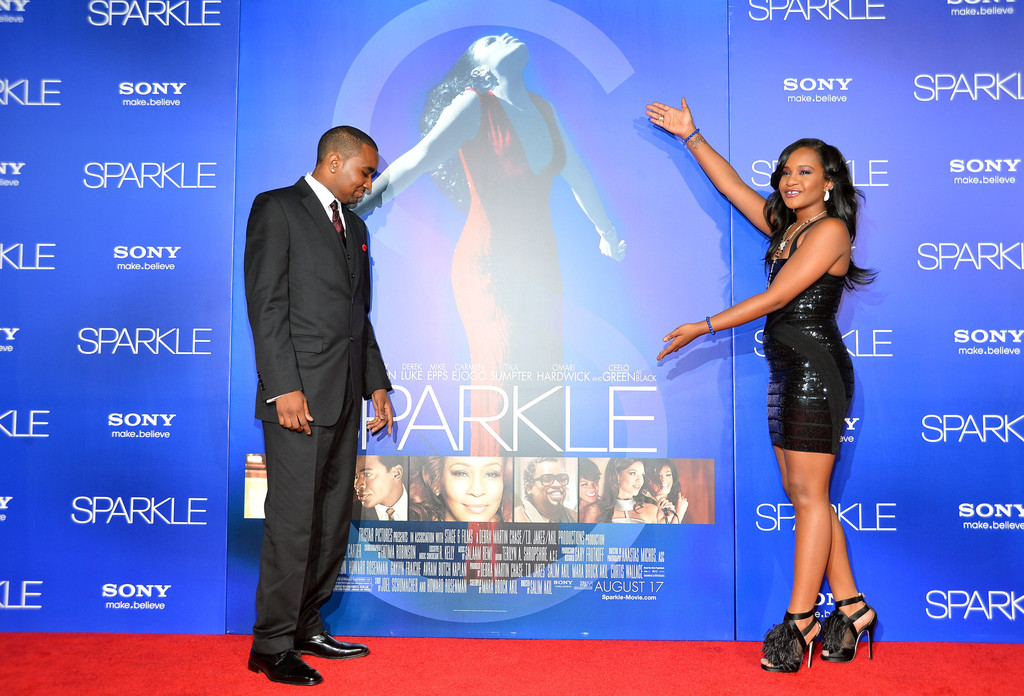 Nick Gordon and Bobbi Kristina Brown
History has repeated itself. In the 1990s, Bobby Brown, the husband of the late singer, Whitney Houston, flipped her expensive sports car in South Florida, after driving under the influence. Fast forward two decades and Nick Gordon, the husband of Houston's daughter, Bobbi Kristina Brown, flipped a BMW she bought him, while driving under the influence, according to police.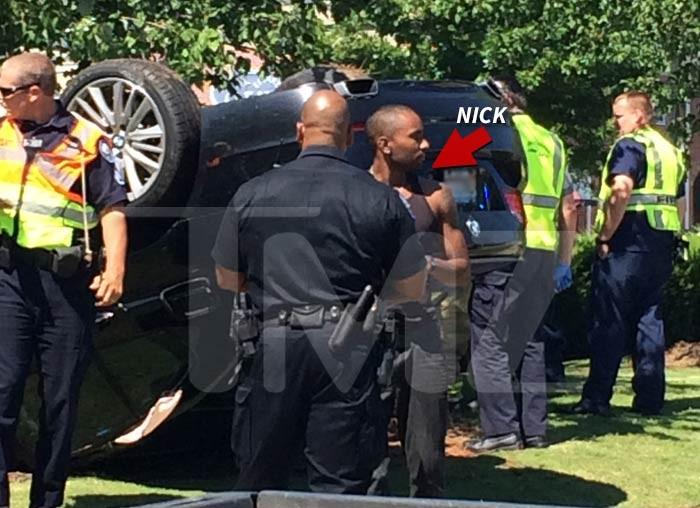 Nick Gordon at the scene of the accident (Photo credit: TMZ)
Brown and Gordon are in a bad place, struggling with the death of the legendary superstar. Friends of Houston have been reaching out to Brown regarding the dangers of drugs, with the hope she and Gordon will enter rehab, to avoid history repeating itself, via another tragic overdose in their family. It's sad that this is happening, as they have so much potential.
RELATED ARTICLE
Whitney Houston's Mother Cissy Houston Slams Offensive Lifetime Biopic
---
Warren Buffett Joins Floyd Mayweather's The Money Team And Challenges Him To A Fight
Somebody's About To Get Their Butt Kicked
August 29. 2014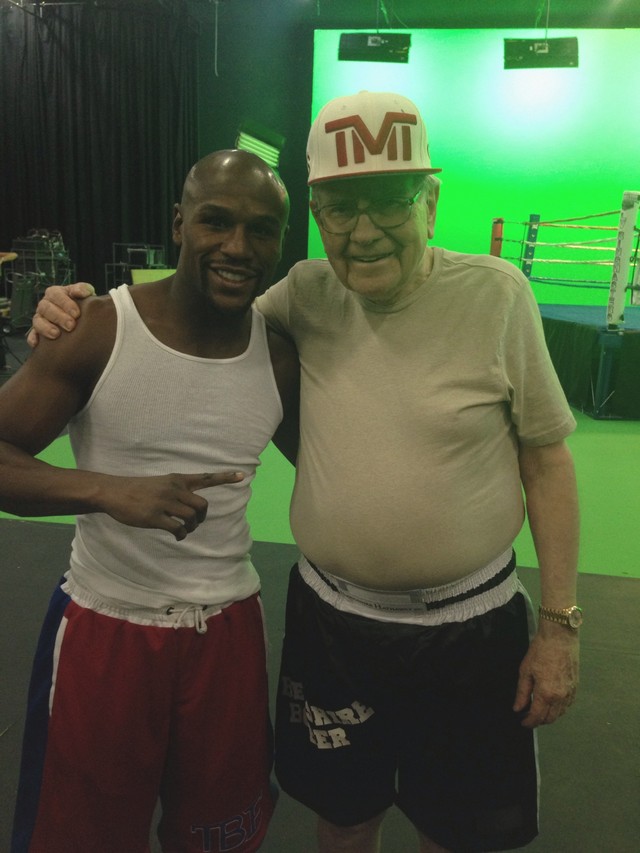 Floyd Mayweather and Warren Buffett
Multi-billionaire financier, Warren Buffett, known in finance circles as the Oracle of Omaha, has joined world champion boxer, Floyd Mayweather's Money Team collective. Buffett visited Mayweather's famous Las Vegas boxing gym recently and posed for humorous photos with the champ that appeared on his social networking pages and also serves as apart of an item in the Business Insider.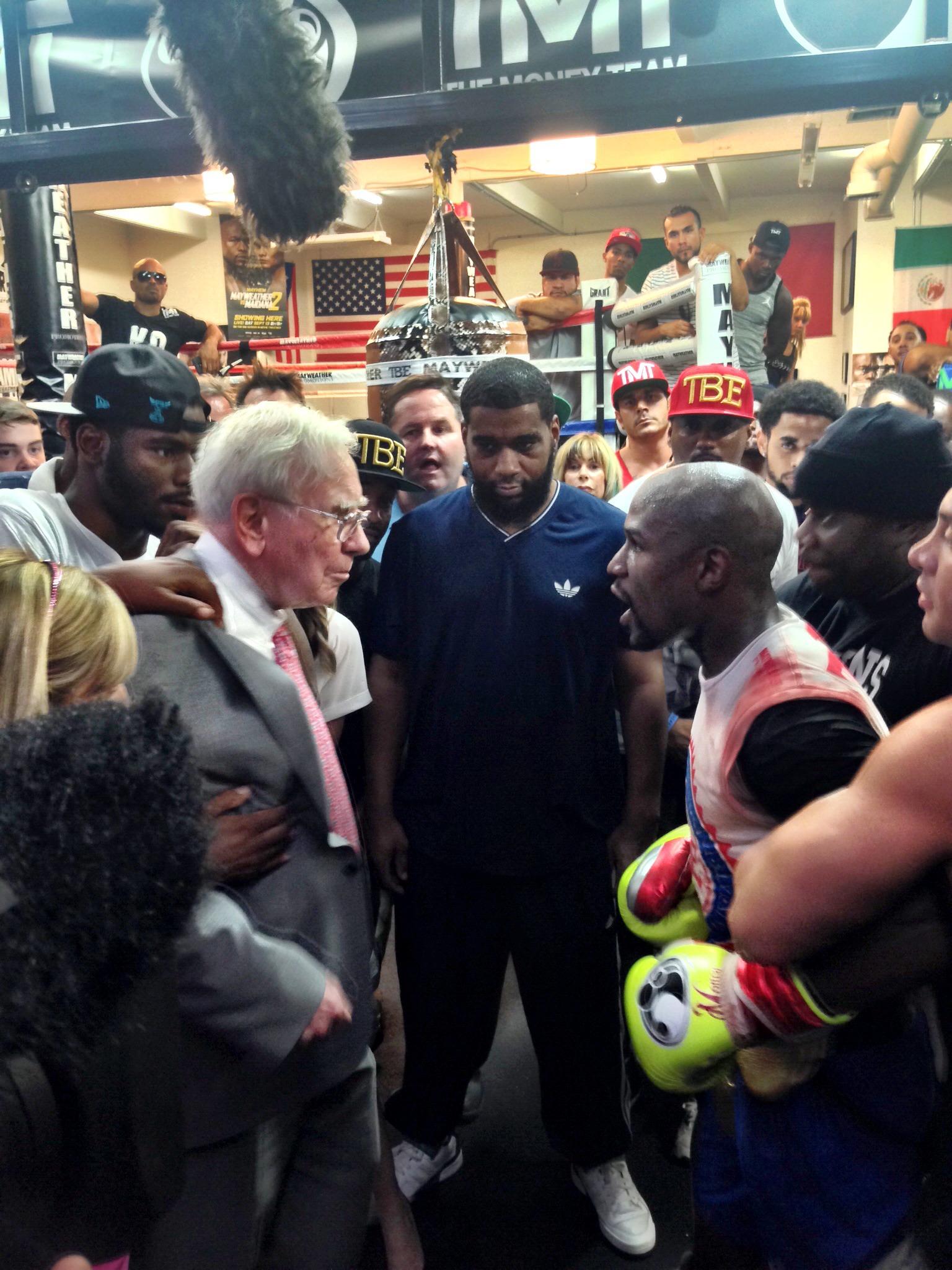 They're ready to rumble!
Buffett does his best badboy pose, jokingly challenging Mayweather to a fight. The fight would last all of two seconds. The Judiciary Report places its vote of confidence with Buffett…that Floyd would kick his butt (just teasing). People, there are a few things I've learned in life: 1.) I once heard a comedian on TV say, "Never fry chicken naked" (haha cause when the oil starts popping...) and 2.) And this is my personal view, never challenge a boxer to a fight (LOL).
RELATED ARTICLE
---
50 Cent Mocks Floyd Mayweather's Reading Abilities Again With A Poorly Written Note To Rapper TI's Wife Tiny
August 29. 2014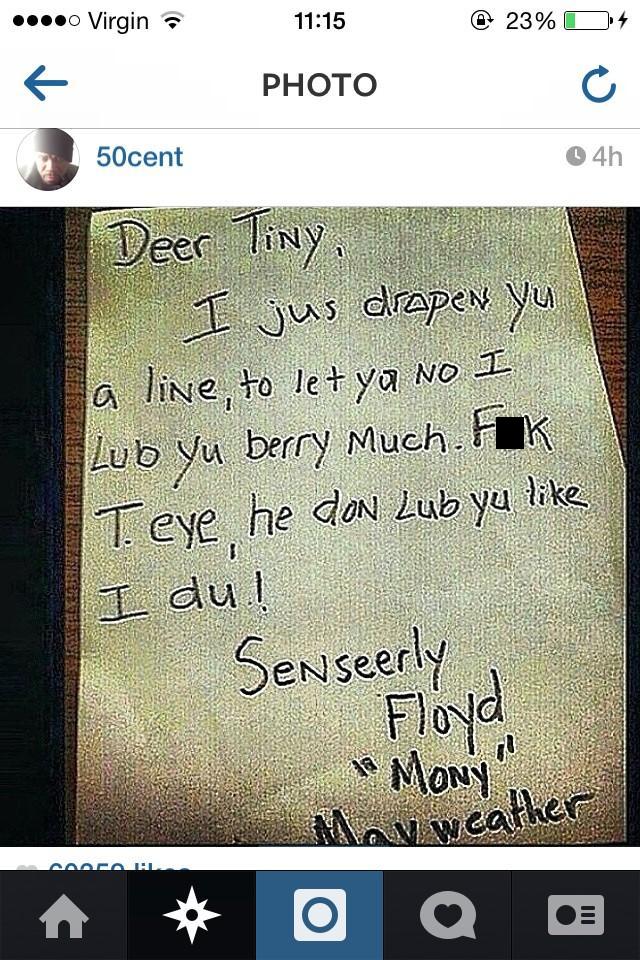 50 Cent's post on Instagram
Rapper 50 Cent is at it again. After he mocked the world's richest boxer, Floyd Mayweather, regarding reading difficulties he exhibited during a radio show, provoking a response advising 50 Cent to read how much money the pugilist makes via two posted checks totaling over $72,000,000, the rapper decided to target the champ again (50 Cent Cruelly Mocks Floyd Mayweather's Reading Abilities When Many People Struggle With Illiteracy).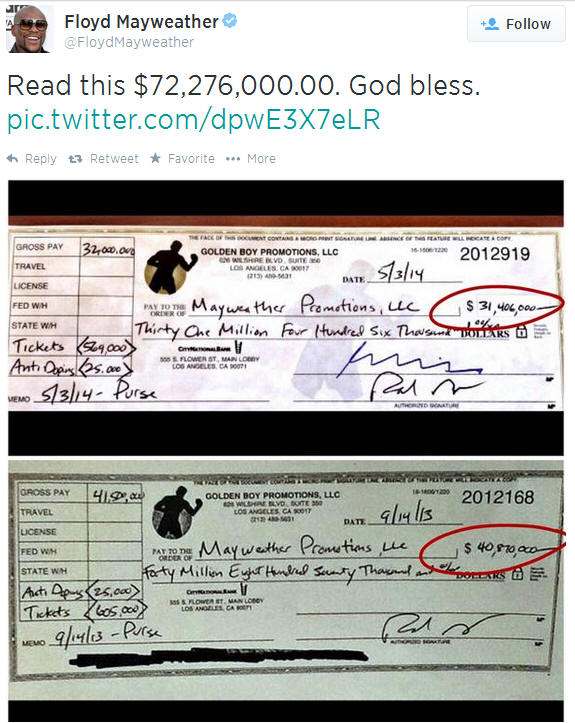 Floyd Mayweather's tweet addressing 50 Cent's insults
50 Cent posted an item to his Instagram mocking Mayweather. The caption on 50 Cent's post read, "You put up a check. That must be for a blogger. You know I got money." The question is, which blogger is 50 Cent talking about. You trying to say bloggers are broke? We're not. I've got $10 in the bank and I resent that comment (I'm kidding about the $10).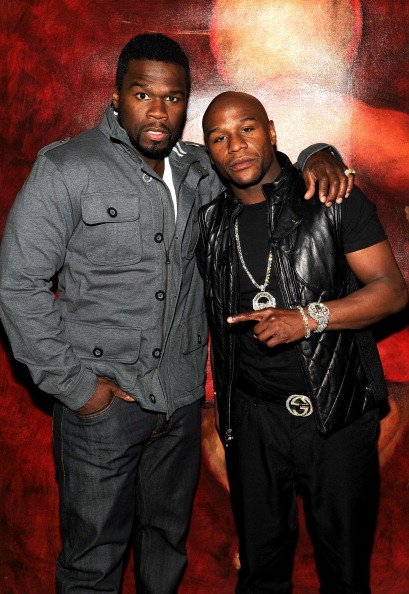 50 Cent and Floyd Mayweather
The fake note 50 Cent wrote and posted on Instagram, was poorly written and contained many spelling errors, under the pretense it was authored by the champ and addressed to reality star, Tiny, wife of gun-toting rapper TI. There is bad blood between TI and Mayweather, as the rapper is of the belief the boxer had sex with his wife Tiny. Mayweather denies the allegation.
STORY SOURCE
Floyd Mayweather Responds to 50 Cent After (Pseudo) Ice Bucket Challenge—See the Photo!
Sat., Aug. 23, 2014 3:13 PM PDT - Floyd Mayweather's response to rapper 50 Cent is so money. The hip-hop star had on Thursday shared a video showing himself forgoing the now-viral ALS Ice Bucket Challenge, taken by scores of celebrities, and issuing a new one—he said if the boxing champion would read one page from a Harry Potter book, he would donate $750,000 to charity.
On Saturday, Mayweather posted a photo of two checks that would probably not be accepted as a mobile deposit. "Read this $72,276,000.00. God bless," he said. "I guess you want people to see your math is better then your reading," 50 Cent tweeted in response to the photo.
He also posted an expletive-filled video posted on his Instagram page (warning: strong language). "You put up a check. That must be for a blogger. You know I got money," he said...
RELATED ARTICLES
Floyd Mayweather's Ex-Fiancée Shantel Jackson And Rapper Nelly Are Filming A Tell All Reality Show
Will Shantel Jackson Do A Tell All On Floyd Mayweather Now That She's Lost The Luxury Lifestyle She Had With Him
Floyd Mayweather's Ex-Fiancé Shantel Jackson Threatens To Tell All Such As...
---
BET Apologizes To Karrueche Tran Over Teleprompter Joke About Beyonce And Jay Z's Daughter Blue Ivy's Hair That Led To Crazy Death Threats
Unbelievable! Beyonce's Fans Want Karrueche Tran Dead Over A Joke!
August 28. 2014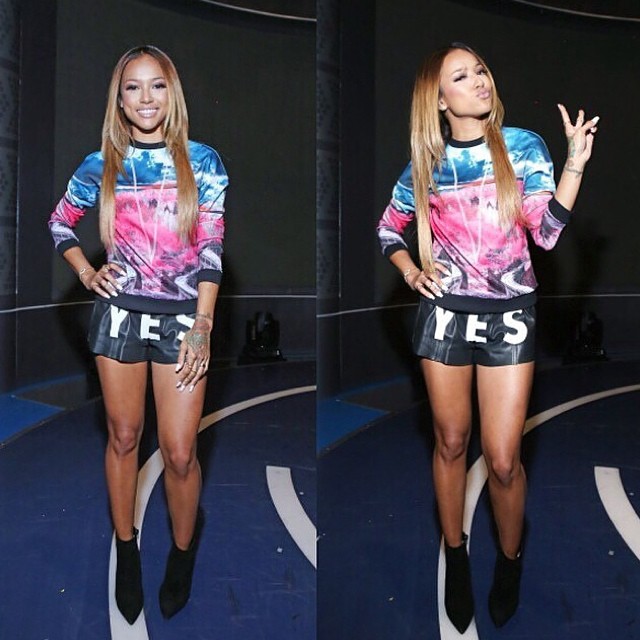 Karrueche Tran at the BET network's "106 & Park" show on Monday
Karrueche Tran, the girlfriend of singer Chris Brown, made an appearance on the BET network's "106 & Park" show on Monday and it turned controversial when she read a joke off a teleprompter. The comment centered on social networking jokes, regarding singer Beyonce and rapper Jay Z, not combing their daughter Blue Ivy's hair.
Fanatics apart of Beyonce's fan base known as the "Beyhive" began sending Tran death threats. They also sent BET violent threats and complaints. Someone even started a xenophobic petition to have mixed race, half Vietnamese, half black Tran deported (with some ordering her back to the illicit sex trade abroad, a slur on her Vietnamese heritage), though she was born and raised in America.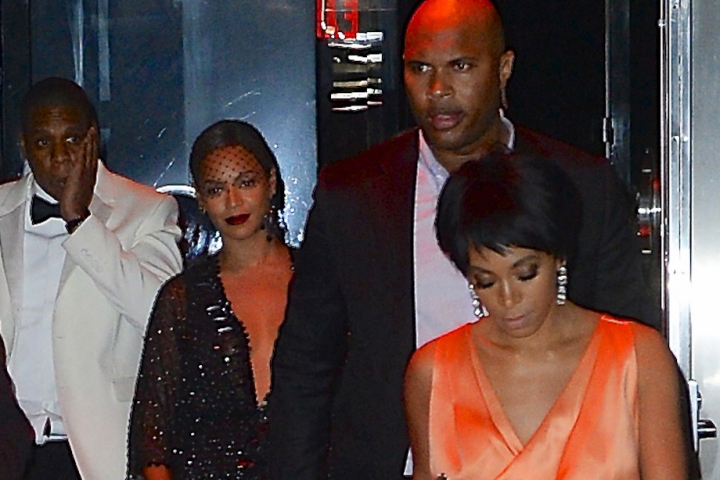 Jay Z, Beyonce, her bodyguard Julius and her sister Solange, who had just beat up the rapper over cheating with singer Rihanna
For the record, sending someone a death threat is a crime and anyone who does that is unbalanced and needs to be jailed. You need to reevaluate your life and priorities and get your act together when you reach the point that you want someone dead over an innocuous joke, which is free speech covered by the Constitution.
Tran apologized for the joke on social networking, but also appropriately expressed her offense at death threats that were sent to her, "Past two days have been extremely draining.. As I geared up for a big day for myself - hosting a live show.. I never expected things to turn out this way.. I apologize to any and everyone who felt offended in any way by the comments made by BET executed through me.. I would never disrespect anyone's child in any way and anyone who knows me knows that I LOVE Beyoncé. My comments have been in complete shambles.. yes I am human too and yes I do make mistakes.. But all this negativity and death wishes are quite a lot.. Definitely a lesson learned from here forth.. Again, on behalf of MYSELF, my sincerest apologies #BeyHive."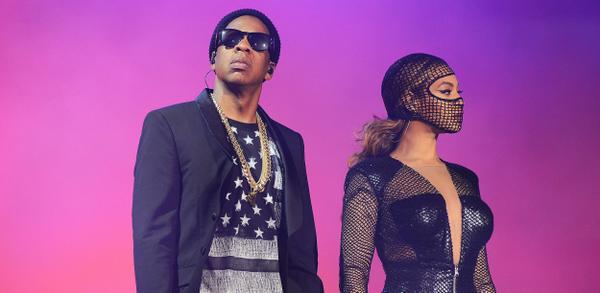 Jay Z and Beyonce
BET's Stephen Hill also apologized stating on Twitter, "Last night on 106 & Park their was a stupid, unthoughtful joke made about a young child. We apologize publicly to the child's parents (and have done so privately) and we have taken punitive actions with those responsible. It was very bad judgment and we will serve you much better in the future. And please don't hate on Karrueche; it was not her fault. We also apologize to her for putting her in that position."
"106 & Park" has been suspended for 5-days, which is uncalled for on every level. It was done in a bid to assuage the massive egos of Jay Z and Beyonce. The couple has repeatedly attempted to foster fanaticism in people, which is idolatrous and ungodly, in trying to elevate themselves to the positions of gods.
The couple's PR team has even placed articles in the press and blogosphere, elevating them above the President of the United States, Barack Obama and his wife, Michelle Obama, which is disrespectful. I really shouldn't have to ask this, but how crazy do you have to be to think being a singer or rapper is greater and more important than being the head of state of a nation. Fame really fools people.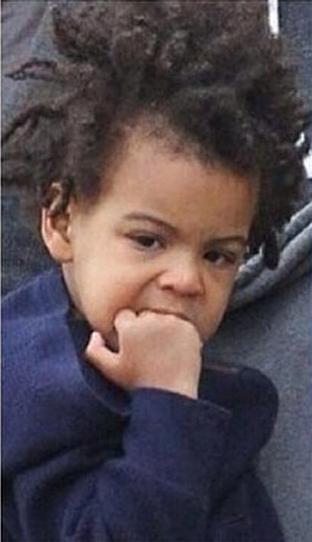 Blue Ivy
Think about it, in this bad economy, people are going to lose their paychecks for the week over a constitutional joke, because a hateful, brainwashed group of fans spammed BET, regarding two unintelligent stars, who consistently set a bad example (always in court on credible cases of copyright theft and trademark theft regarding vulgar and profane projects promoting the occult and Satanism via widely disseminated via photos, music and videos). It does not set a good precedent.
At the end of the day, people need to be fair and balanced and get a grip on reality. In a democracy, people are entitled to express themselves. Freedom of expression is a guaranteed right. I've read people say worse about the children of the President of the United States and no one lost their paycheck.
The mere fact someone made a small, truthful joke and some want to murder the person for it, says is negative and hateful - not to mention, far worse than any hair joke. You think about that, while you neglect your own families to behave like fanatics over two stars who only want your money. To Beyonce and Jay Z, take a good, hard look, because this is what you represent.
RELATED ARTICLES
The Internet Slams Jay Z And Beyonce Over Not Combing Daughter Blue Ivy's Hair Resulting In A Petition Against The Couple
Rihanna Sued Again For Stealing Copyrights Accused Of Theft Of 'Rockstar 101' Video
Jay-Z, Beyonce, Rihanna And The Occult - Part 2
Jay-Z, Beyonce, Rihanna And The Occult - Part 1
PHOTO LINKS
Rihanna's Rockstar 101 Symbols & Illuminati Explanation
Beyonce to Sasha Fierce: Symbolic Occult Rebirth
---
Suge Knight Shuts Up When Police Question Him About Who Shot Him In Attempted Murder Bid Meant For Chris Brown
August 27. 2014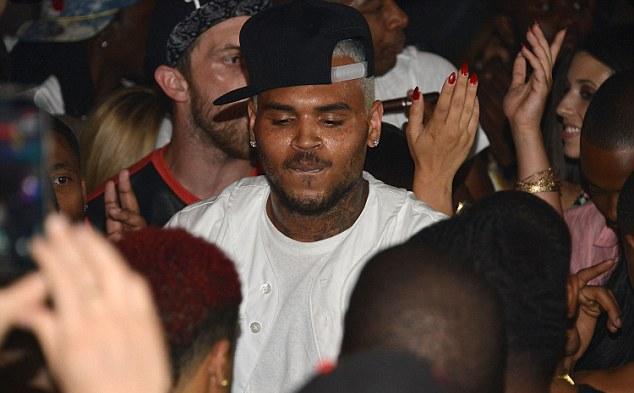 Chris Brown
The shooting of music mogul, Suge Knight at a VMA party being hosted by singer, Chris Brown, has brought many questions to the forefront, regarding the intended target of the shooting and motive. Police have been trying to speak to Knight, but he is refusing to cooperate. For nearly a year the Judiciary Report warned Chris Brown is in danger and needs to lay low, but he has not. He's 25 and wants to go out and have fun, but when you are a target, it's a risk.
There are secret societies in Hollywood, with the main one being the Kabbalah Center, who refers to themselves as the Illuminati. They are an insane, psychotic controlling cult, promising members fame and fortune, but what they get it notoriety, schizophrenia and a government file. The cult's principle's are founded on the teachings of insane people, who believe in breaking the law.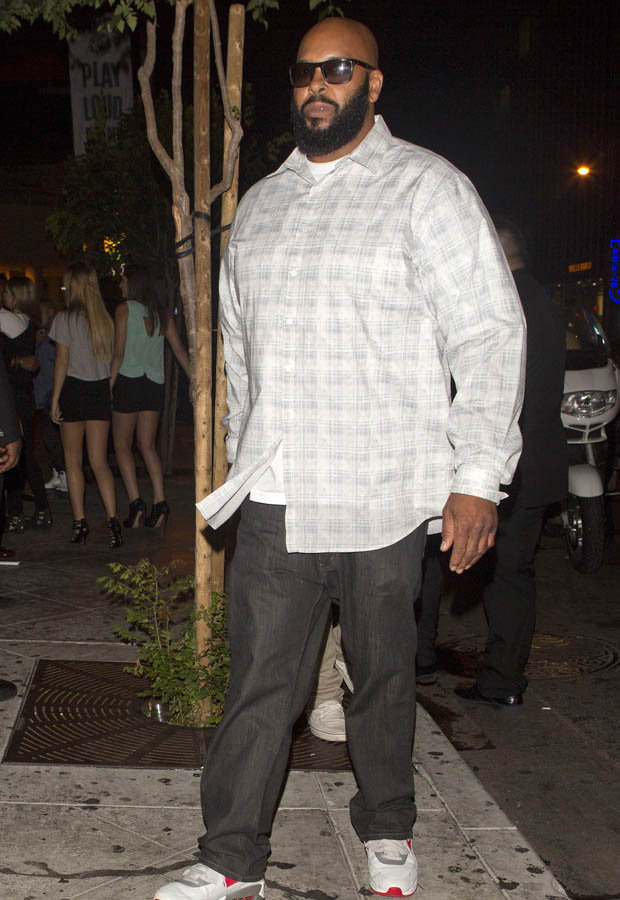 Suge Knight
Kabbalah/Illuminati also has another sick component to their twisted group - they believe in human sacrifices, also known as killing people, as espoused by one of their cult figures, Aleister Crowley. Under the sick sect's teachings, several members of Kabbalah have committed murder in high profile cases in America, Britain and Israel and ended up in prison for it. A number of people who joined Kabbalah, such as Michael Jackson, Whitney Houston and Tupac, among others, are also now dead under very strange circumstances.
Michael Jackson, who had joined Kabbalah and was wearing the red string bracelet given to him by fellow member, Elizabeth Taylor, identifying members of the group, was deliberately overdosed by his doctor in a strange and reckless case of malpractice and criminal negligence. Members of the Jackson family have publicly stated Jackson was killed off over the copyrighted catalog Sony co-owned with him, as they wanted full ownership and Jackson fought against it for years in well documented court disputes (Sony's Howard Stringer is a member of Kabbalah, as are select other employees of the company).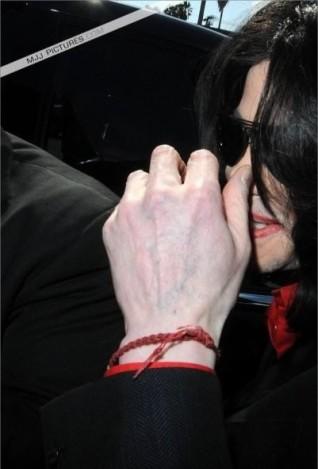 Michael Jackson wearing a Kabbalah Center red string bracelet identifying members of the sect
Whitney Houston, another Sony artist, overdosed under strange circumstances, with video footage and photo stills from surveillance cameras at the Beverly Hilton, showing two known Hollywood drug dealers entering the floor of the hotel she stayed in the same hour she died. Houston is a singer who had financial disputes with Sony (there were discrepancies regarding her having been found drowned face down, when a person bathes in a narrow tub face up - how did the body turn over). They did not want to pay her what she was owed and the renegotiation (record) deal became controversial. Houston had joined Kabbalah and was openly wearing the red string bracelet in Hollywood, believing the cult's lies that it would protect her from harm, while they brought her financial prosperity.
However, during the last years of Houston's life, she was ripped off and a fortune that was once estimated at $200,000,000 was listed at $20,000,000 when her estate was settled after her death. Houston grossed a fortune in record sales, touring, movie roles, residuals, film producing and merchandising. Houston, who was being controlled and manipulated while on drugs, was not living the high life to have spent off $200,000,000 in roughly 8-years. Where did the money go (rhetorical question). Who stole it (rhetorical question).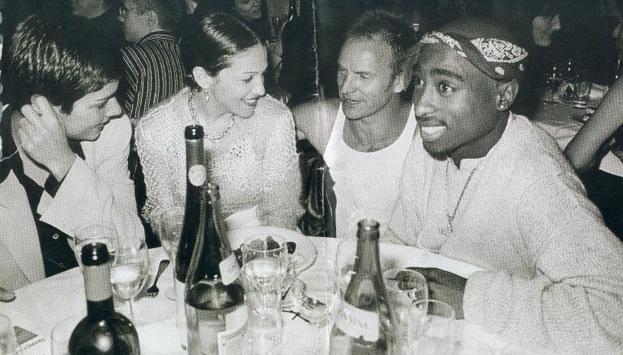 Madonna's lesbian girlfriend, Ingrid Caseres, Madonna, Sting and rapper Tupac. He embraced the occult, when approached by Madonna and it brought him nothing but misery and problems.
Not long after Tupac joined Kabbalah, due to Madonna's urging, she asked him to sample her music and he did. Madonna was also having sex with Tupac, but he was in love with someone else. He spoke of her like a groupie he had sex with (he dumped her for someone else). During the time Tupac worked with Madonna, she was teaching the rapper the insane Kabbalah/Illuminati principles that he made an entire CD about right before his death ("Makaveli The Don Killuminati").
However, Tupac got tired of the whole thing. They were financially ripping him off, harassing and threatening him at every turn. They were following him everywhere, illegally wiretapping his phones and telling him what to do. Tupac, a proud man, resented being manipulated and controlled and wanted out of Kabbalah. He was murdered not long after in a mysterious situation, where Suge Knight was present (a drive-by shooting).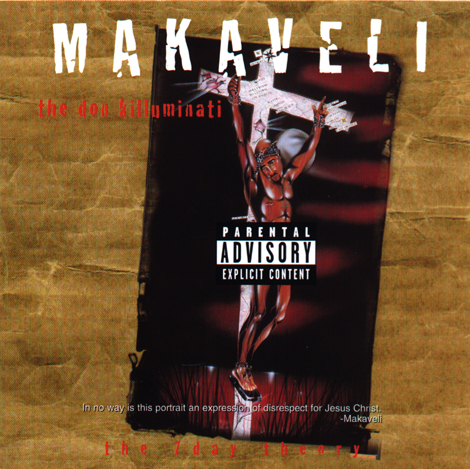 Tupac's last CD made before his death "Makaveli The Don Killuminati" was about the Illuminati in Hollywood. Tupac wrote on the CD that the project was "not meant as an expression of disrespect to Jesus Christ" but it's plainly written in the Bible "you can't serve two masters" (two masters meaning God and the devil) and "light and dark have no place together" meaning good and evil don't mix. The symbolism, statements and beliefs associated with the Illuminati is Satanism and the occult. God has no part in the Illuminati. Neither should anyone claiming to be a Christian, as all it will do is bring darkness, negativity, trouble, misfortune and evil into your life.
Fast-forward to this month, another Sony music artist, Chris Brown, is the target of an attempted murder bid, via drive-by shooting. Witnesses who attended the VMA party Brown hosted reported Brown was the target of the shooting, but Knight, who was in close proximity to him and bigger in size, was struck by six bullets instead. Two other people were reportedly shot as well.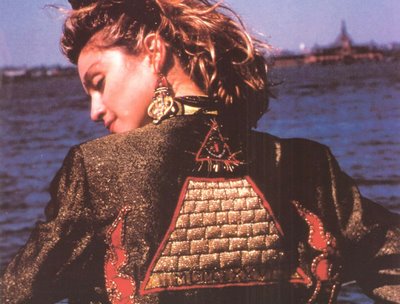 Madonna wearing custom made Italian "Illuminati" jacket, a reference to the cult, who prides itself the self-described New World Order. Madonna's songs and music videos are full of references to the Illuminati.
Brown, who had joined Kabbalah at ex-girlfriend Rihanna's urging, is currently having financial disputes with his label and former management, who is also connected to his label Sony. Music release dates have been repeatedly set and scrapped with a number of changes to projects he has at the Sony. Kabbalah is also angry with Brown, who was supposed to work with Madonna, but backed out of the project. Brown has been doing his own thing and not following their orders to the extent he once did.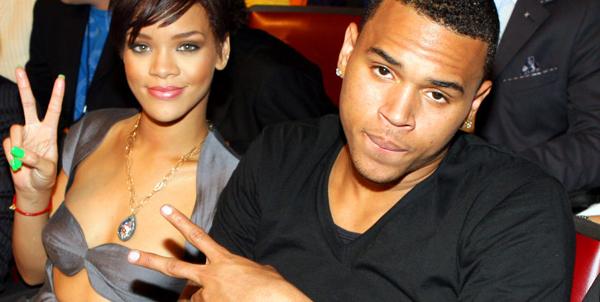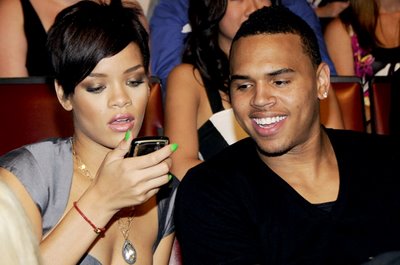 Rihanna's wearing the cult's red string bracelet in photo above, pictured with Chris Brown
Not to mention, months ago there was a report on the Sandra Rose blog that Knight had physically assaulted Brown at his former manager's request, over a financial dispute, which also involves Sony (February 26, 2014 Judiciary Report article Chris Brown's Former Manager Tina Davis Vindictively Holding On To His New Music In Violation Of The Law Because He Left Her). Yes, the same Suge Knight who was accused of robbing Tupac of $20,000,000 in royalties. The same Suge Knight who was present when Tupac was killed, having been hit by a bullet as well, right before the rapper tried to leave Death Row and Kabbalah, sending out feelers to file a lawsuit to get back the money they'd stolen from him. Tupac's mother later sued after his death, to recover the stolen money and won some of it back.
Side Bar: the federal government has an ever growing file on Kabbalah and its members, which contains thousands of pages of criminal activity by the cult, as well as wiretaps, emails and witness statements. You would do well to stay away from Kabbalah. They are getting very brazen and sloppy with their misconduct and it is going to land them in serious legal trouble.
RELATED ARTICLE
Madonna's Rabbi At The Kabbalah Center Threatened To Beat And Kill A Student He Drugged And Tried To Rape
---
A Second Aaliyah Movie In The Works
August 27. 2014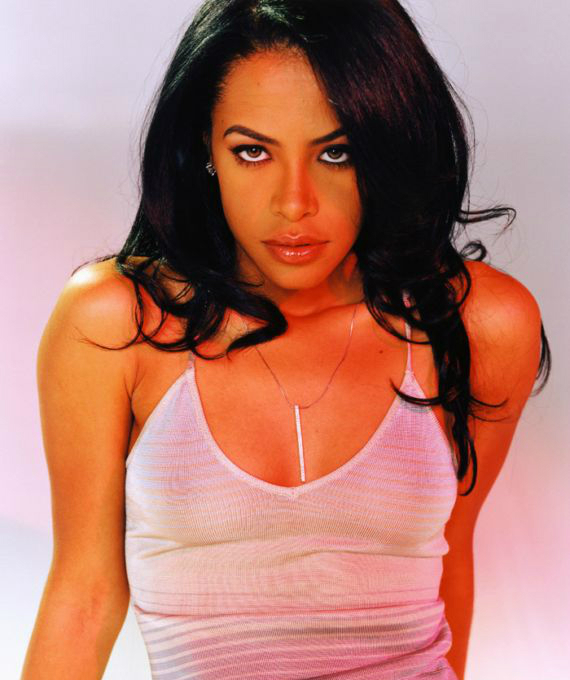 Aaliyah
A second movie on the life of the late R&B singer Aaliyah is in the works. Previously, singer B. Simone was earmarked to play Aaliyah in a film, but the project never came together. However, there's new talk about the Simone project and Aaliyah's family is said to be involved at this juncture.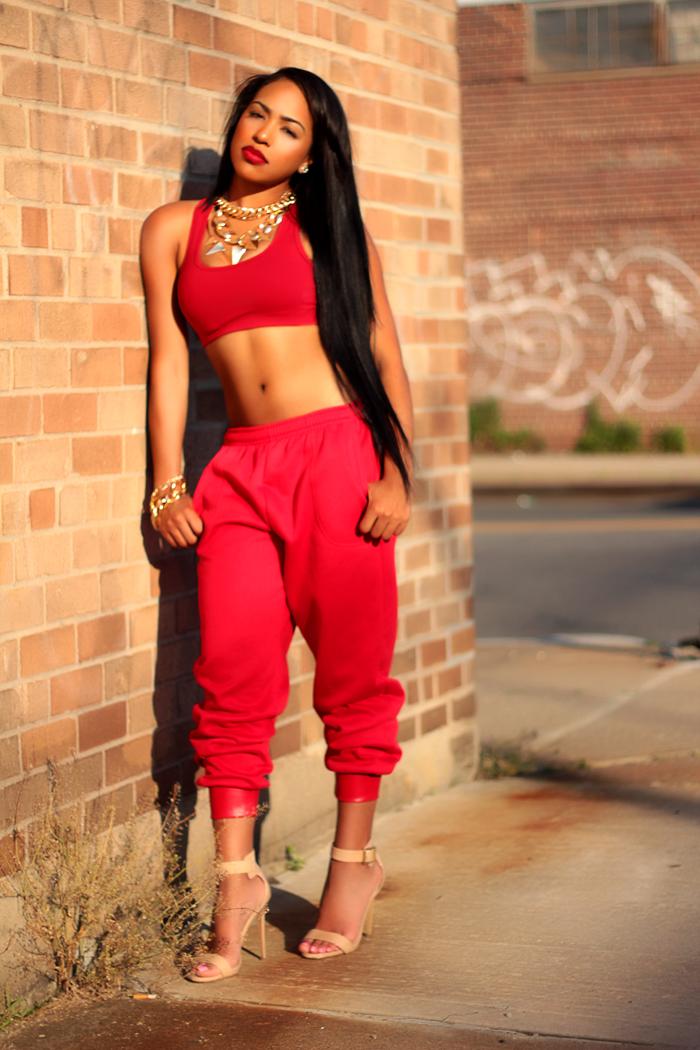 B. Simone
Recently the Lifetime network announced they are making an unauthorized Aaliyah biopic, angering the singer's family. The Judiciary Report warned the Lifetime biopic sounds like a disaster in the making, not to mention, the network is known for producing less than stellar biographical films. Then casting items were released and the public responded very negatively to the incorrectly chosen actors and actresses given parts in the movie, creating mini-scandal after mini-scandal online.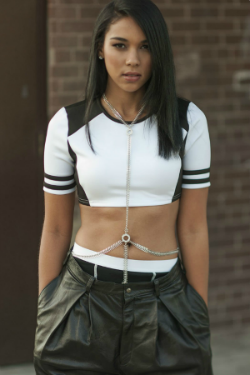 Alexandra Shipp has replaced Zendaya Coleman in the Lifetime unauthorized Aaliyah biopic
The Judiciary Report is not endorsing either Aaliyah biopic, but of the actresses chosen thus far, B. Simone bears the strongest resemblance to the late star. If you don't look closely enough, you'll think Simone is Aaliyah. Still, there's more to a picture than casting. The script and many other elements must be right.
RELATED ARTICLES
Rihanna Wants To Play Aaliyah In Biopic After Zendaya Coleman Quits The Unauthorized Movie
Casting For Lifetime's Unauthorized Aaliyah Biopic Goes Terribly Wrong Again
---
Nick Cannon Left Mariah Carey Because He Says She Is Mentally Ill
August 27. 2014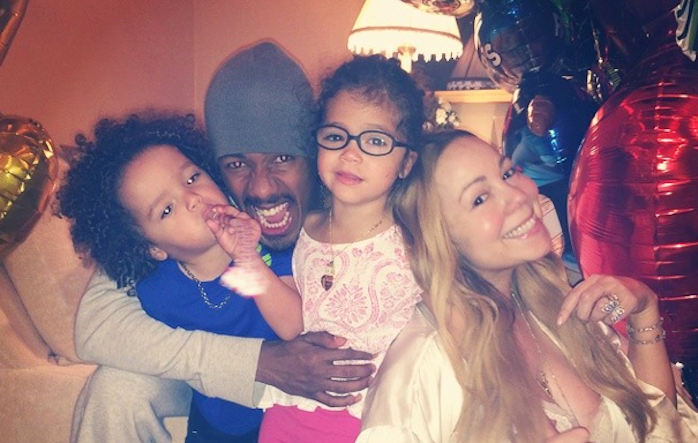 Nick Cannon, Mariah Carey and their kids Moroccan and Monroe
According to online reports from sites such as TMZ, comedian, Nick Cannon, 33, left his wife of 6-years, singer Mariah Carey, 45 and their 3-year-old twin kids, allegedly claiming she is mentally ill. The question is, did he not know this before. Years ago Mariah Carey was involuntarily institutionalized in the psychiatric ward of a hospital, after making psychotic claims and trying to kill herself. She was heard making incoherent statements and unbalanced claims, leading authorities to believe she had become mentally ill.
For years, Carey's behavior has been very schizophrenic and cause for concern among those in her circle and at record labels. Yet that didn't stop womanizer Cannon from marrying Carey and impregnating her. Now he wants to complain. Marriage is supposed to be for better or worse. Though the two were never a good match. Not because of the age difference, as very successful famous women such as Tina Turner and Joan Collins, among others, have been in loving, long-term relationships with men significantly younger than they are.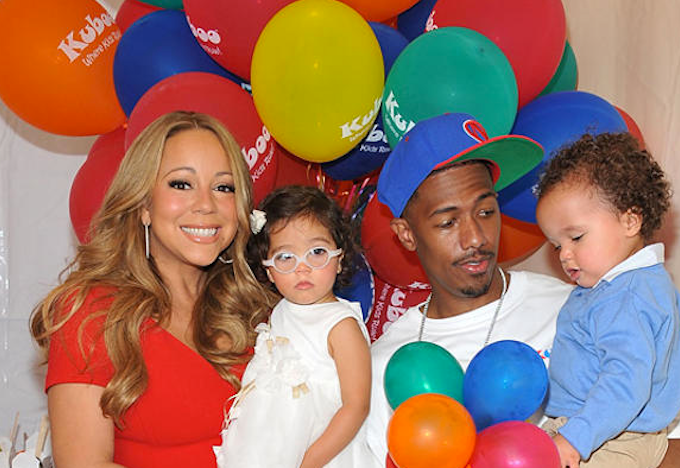 Nick Cannon, Mariah Carey and their kids Moroccan and Monroe
Cannon used Carey for career advancement, much like she used former Sony CEO, Tommy Mottola, who was 20-years her senior, in an adulterous affair, then loveless marriage to become rich and famous when she was a teen. Now that Cannon's gotten what he wanted and her career has hit the skids, she is no longer useful to him and he has bailed on Carey and their two kids. What goes around comes around (for Carey) but Cannon is wrong to have done this.
Cannon says Carey is mentally ill and his kids aren't safe, yet he's walked out on his family, partying his butt off, messing with other women and not making any legal effort to secure a safe environment for his offspring. I don't doubt Carey is mentally ill and capable of fully self-destructing and even irrationally trying to take others with her in a moment of despair, but what court recognized steps have been taken to protect the children.
RELATED ARTICLE
Mariah Carey And Nick Cannon Headed For Divorce After He Does Interview About His Sexual Conquests
---
Beyonce Fans Attack Chris Brown's Girlfriend Karrueche Tran For Reading Blue Ivy Joke Off Teleprompter On BET's 106 & Park
August 26. 2014
Karrueche Tran, the girlfriend of singer Chris Brown, found herself in hot water today, after co-hosting an episode of BET's "106 & Park." Tran read a joke off a teleprompter written by BET staff about toddler Blue Ivy, the daughter of singer Beyonce's and rapper, Jay Z, who the child looks a lot like in many ways.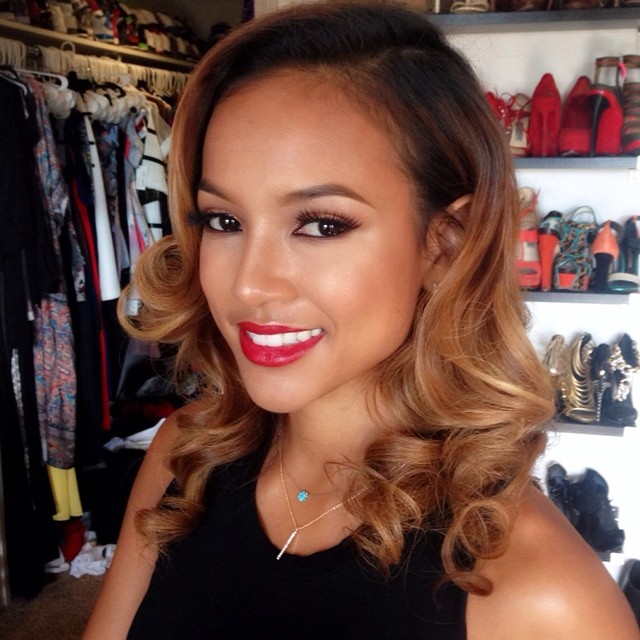 Karrueche Tran
BET has apologized, but it does not change the fact people online (save for Beyonce fans) hold this view. There was even a petition for Beyonce to comb Blue Ivy's hair (The Internet Slams Jay Z And Beyonce Over Not Combing Daughter Blue Ivy's Hair Resulting In A Petition Against The Couple).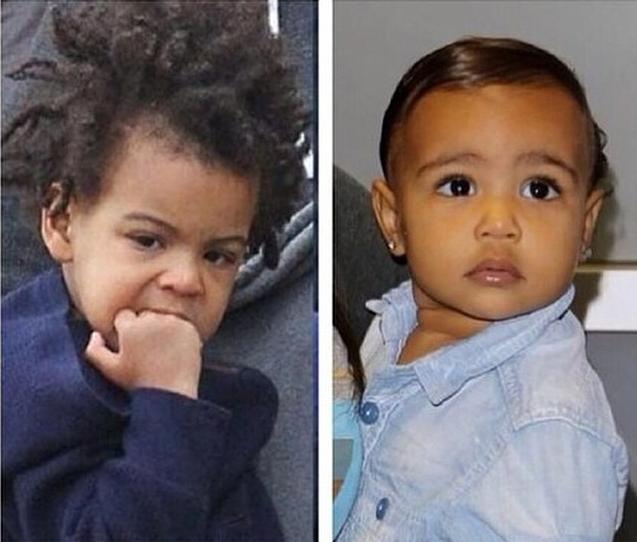 Blue Ivy (left) and Kim Kardashian's North (right). Blue Ivy is constantly unfavorably compared to other celebrity children due to her parents refusal to groom her hair.
The BET joke was a reflection of many comments on social networking, stating Blue Ivy's parents don't comb her hair (see video above). First of all, let's be real, little Blue Ivy deserves more from her parents regarding hair grooming. Blue Ivy is not responsible for her grooming. That's her parents job. Blue Ivy is routinely seen in public looking like she had just been doing handstands on the carpet. Her hair is not being combed, evidenced by the fact it is matted and has lint in it.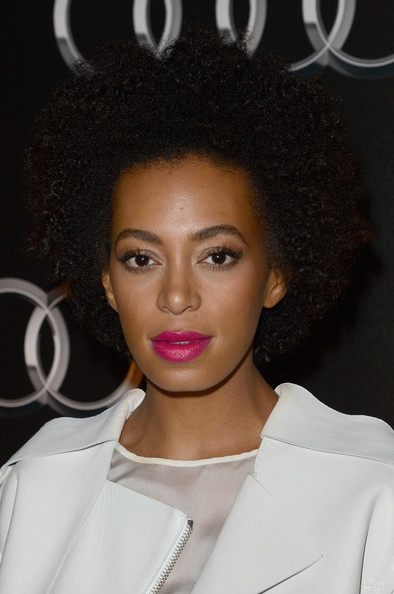 Solange Knowles' well groomed afro style would be good for Blue Ivy
This is so unnecessary and opening the poor child up to unnecessary scrutiny. She is being unfavorably compared to other celebrity babies and is often the butt of jokes on social networking. This is Beyonce and Jay Z's fault. Blue Ivy's aunty, Solange, has a nice, neat, well groomed afro. There's no excuse for Beyonce and Jay Z to do anything less for Blue Ivy. They can give Blue Ivy a nice, neat, even little fro, groomed with a little aloe.
RELATED ARTICLE
The Internet Slams Jay Z And Beyonce Over Not Combing Daughter Blue Ivy's Hair Resulting In A Petition Against The Couple
---
NOTE: Sorry for the delay in publishing the site tonight. It was hacked again by Madonna's Kabbalah Center.
Witnesses State Chris Brown Was Shot At During VMA Party That Left Suge Knight With 6 Gunshot Wounds
August 25. 2014
On Saturday, August 23, 2014, R&B singer, Chris Brown, held a pre-VMA party at Los Angeles' 1Oak night club on the Sunset Strip. Many stars were in attendance, such as singer Justin Bieber, model Jessica White, rapper The Game and former music mogul, Marion "Suge" Knight.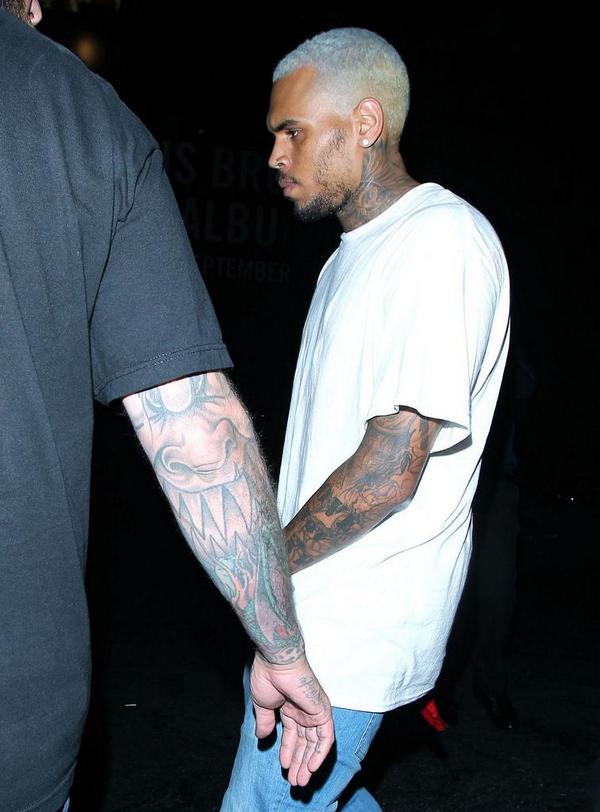 Chris Brown leaving the party angered by the senseless violence
The Game and Suge Knight are members of the Bloods street gang, who are under constant surveillance by the FBI and ATF. Brown also went to a faction of the Bloods gang for protection, after the music industry cult the Kabbalah Center, who bills themselves "The Illuminati" began threatening and harassing him (see: Madonna and Jay-Z). Rihanna got him involved with Kabbalah and it has turned into a nightmare for him (and others).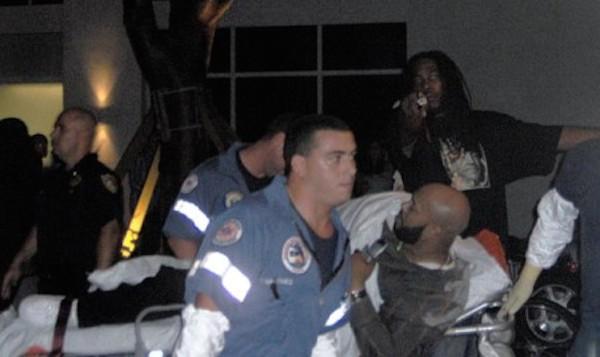 Suge Knight being wheeled to the ambulance after being shot six times. 4 bullets were lodged in his stomach and 2 went through his body exiting. Two other people were reportedly shot as well.
In past articles the Judiciary Report stated certain industry people are out to get Chris Brown and that he needs to be careful (Chris Brown Hit And Run Motorist Said She Was Scared Of Him As He Was Covered In Tattoos But...) and get out of Los Angeles.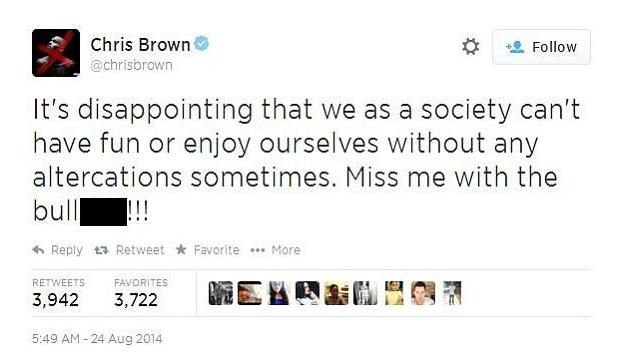 Screencaps by the Rhymes With Snitch blog (Link 1 | Link 2)
Witnesses who attended the party have made statements that concur with what others have stated, indicating Chris Brown was the intended target of the shooting. Brown took to Twitter to express his displeasure at what had transpired.
RELATED ARTICLES
Chris Brown Rep Confirms Site Claims That Emotional Trauma Triggered The Singer's Seizure
Chris Brown Arrested In Rehab On Probation Violation (Confirmed: Likes Someone In Rehab)
Chris Brown Had A Seizure But Refused To Go To The Hospital For Treatment
Rihanna Visits Chris Brown In Rehab Just As The Site Previously Stated
---
Drake Disses Chris Brown On Stage (Video)
August 25. 2014
A few months ago, pictures surfaced of R&B singer Chris Brown and rapper Drake working together in the studio, after squashing their feud regarding manipulative music model Rihanna. Both men dated her and neither stayed with her. Brown and Rihanna got into a famous fight in 2009, after she started hitting him over another woman when she herself was cheating on him too, he snapped and the rest is history.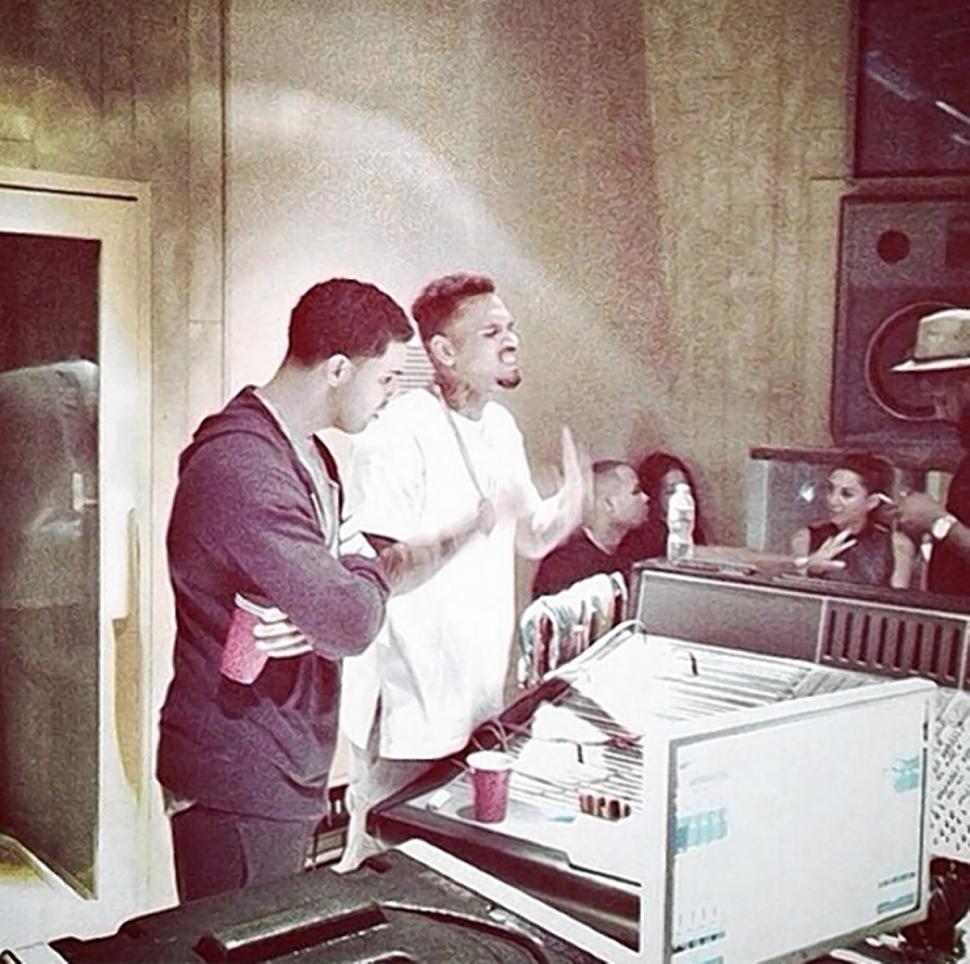 Drake and Chris Brown in the studio a few weeks ago
Last week Drake hit the stage and mockingly sang the hook from Brown's song "Loyal" then said "get the f*** out of here with that s***." It gives the appearance the feud has been reignited and amazingly just after Rihanna began using Drake again to make Brown jealous for stating he wants to impregnate girlfriend, Karrueche Tran.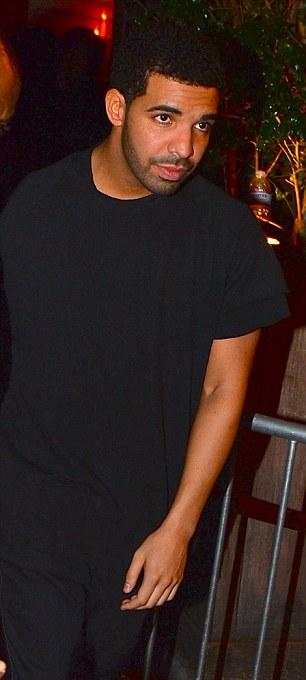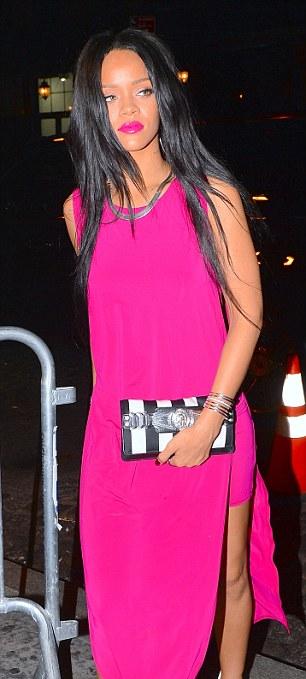 Drake and Rihanna at New York night club
Rihanna dated Drake on and off for a time, but he found she had a number of problems, ranging from mental issues brought on by her membership in the Kabbalah Center cult (who label themselves "The Illuminati") to raging substance abuse issues (smoking weed laced with cocaine among other things, popping Ecstasy pills and getting blackout drunk on alcohol).
RELATED ARTICLES
Rihanna Gets Back With Drake To Get Back At Chris Brown For Reuniting With Karrueche Tran After Their Reunion
Rihanna Buys House In Chris Brown's Neighborhood To Be Close To Him (Confirming This Site's Previous Claim)
---
Rihanna Throws Chris Brown Death Stares At Charity Basketball Game For Stating He Wants To Impregnate Karrueche Tran
August 25. 2014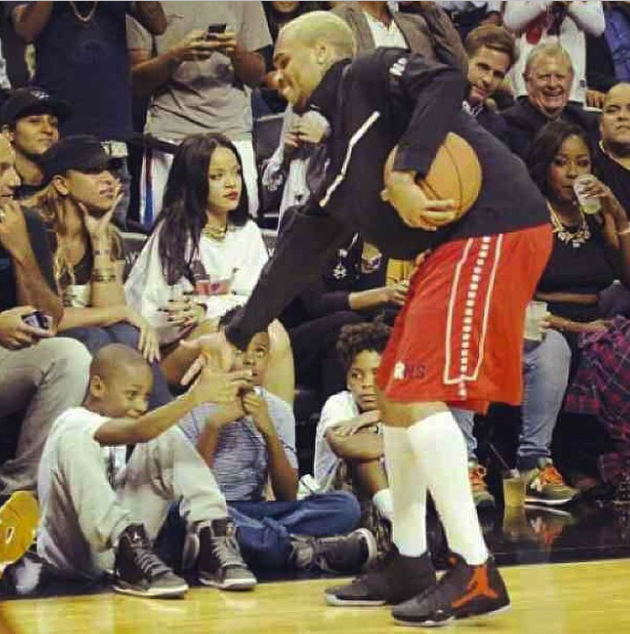 Rihanna began glaring when she saw Chris Brown
Attended a Roc Nation charity basketball game in Los Angeles, California. Brown played in the charity game, indicating he was scheduled to be there. In the stands was ex-girlfriend, Rihanna, who attended the game as a spectator and was giving him death stares.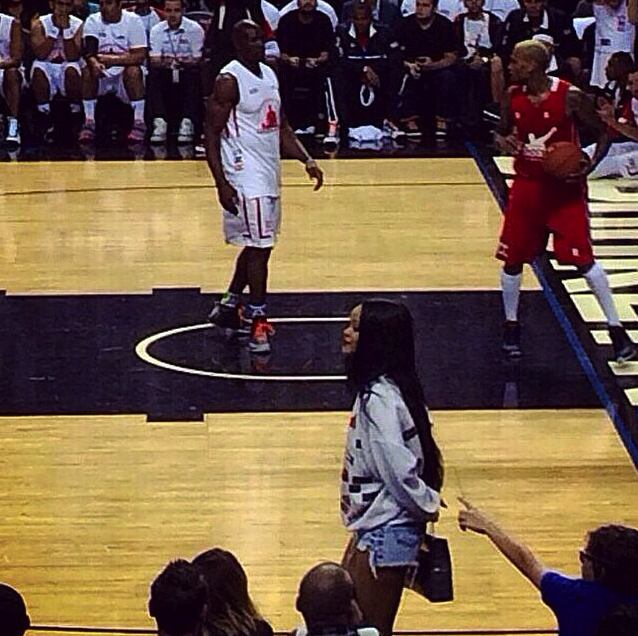 Rihanna (center) walking courtside trying to get the attention of Chris Brown (right)
Rihanna's rage is due to the fact days prior, Brown pledged his love for girlfriend Karrueche on social networking, stating he wants her to have his baby. This infuriated Rihanna, sending her right back into the arms of rapper, Drake, in a desperate bid at making the singer jealous again. Anytime Brown publicly pledges his love for Karrueche Tran, Rihanna publicly goes out with Drake or makes some affectionate public statement towards the rapper like clockwork.
RELATED ARTICLES
Rihanna Gets Back With Drake To Get Back At Chris Brown For Reuniting With Karrueche Tran After Their Reunion
Rihanna Buys House In Chris Brown's Neighborhood To Be Close To Him (Confirming This Site's Previous Claim)
---
Shantel Jackson Reacts To 50 Cent's Claims That Nelly Had Sex With One Of The Mothers Of Floyd Mayweather's Children (Video)
August 25. 2014
50 Cent went on another of his mocking rants, taking shots at champion boxer, Floyd Mayweather, claiming the pugilist is consistently being thrown over for rapper Nelly. 50 Cent stated Nelly had sex with Melissa Brim, the mother of Mayweather's first child and later stole the champ's fiancée, Shantel Jackson.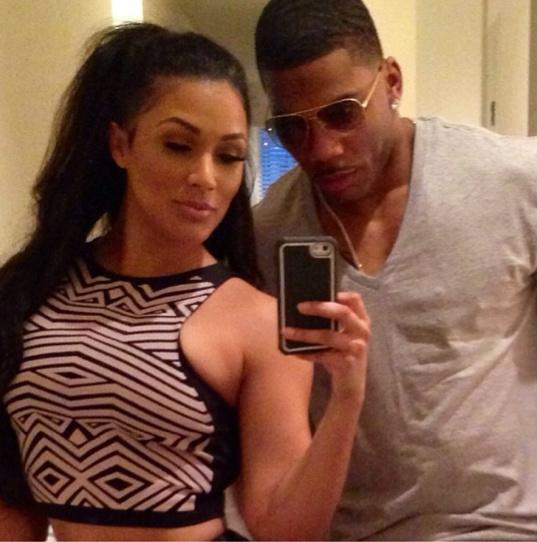 Shantel Jackson and Nelly
Brim has not responded to 50 Cent's claims. Mayweather and Jackson broke up over her lying about aborting his unborn twin babies and deceitfully telling him she had a miscarriage because he stressed her out. So in essence, Nelly did not steal Jackson. The Judiciary Report stated Jackson would do a tell all on Mayweather and was only dating Nelly for his fame and because she wrongly thinks he has money.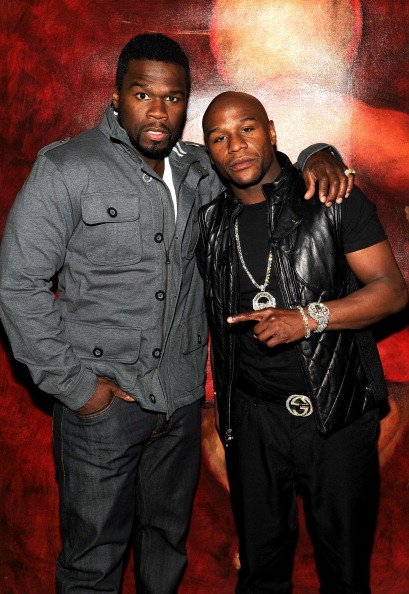 50 Cent and Floyd Mayweather
Months later it was announced Nelly brokered a deal with BET for a tell all styled reality show which also stars Jackson. Nelly is being used, just like Mayweather was by Jackson, but he'll see for himself when the truth comes out. The Judiciary Report said it from the beginning that Jackson is a gold digger and months later Mayweather found out when she lied to and betrayed him, then scraped together everything he bought her that she could get her hands on before she left.
RELATED ARTICLES
Floyd Mayweather's Ex-Fiancée Shantel Jackson And Rapper Nelly Are Filming A Tell All Reality Show
Will Shantel Jackson Do A Tell All On Floyd Mayweather Now That She's Lost The Luxury Lifestyle She Had With Him
Floyd Mayweather's Ex-Fiancé Shantel Jackson Threatens To Tell All Such As...
---
50 Cent Cruelly Mocks Floyd Mayweather's Reading Abilities When Many People Struggle With Illiteracy (Video)
August 25. 2014
Rapper 50 Cent, former friend of world champion lightweight boxer, Floyd Mayweather, constantly attacks the pugilist on social networking and in interviews out of pure jealousy. 50 Cent has been lusting after Mayweather's fiancée, turned ex-fiancée, Shantel Jackson, for years. 50 Cent, not a boxing expert, even started a boxing promotions company modeled after Floyd's successful, multi-million dollar grossing Mayweather Promotions.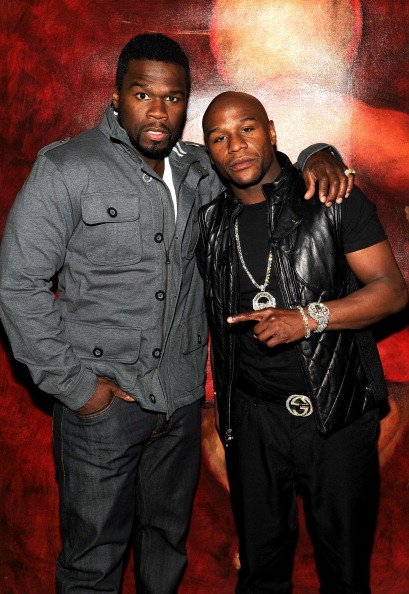 50 Cent and Floyd Mayweather
Mayweather, the highest grossing athlete in the world, with an estimated fortune of $400,000,000, has largely ignored 50 Cent's attacks, but they've become quite personal, provoking a response (see Mayweather's tweet below stating "Read this. God bless" and a copy of two of his checks totaling $72,000,000). 50 Cent went on the radio and aided radio personality Charlemagne in mocking Mayweather's reading abilities.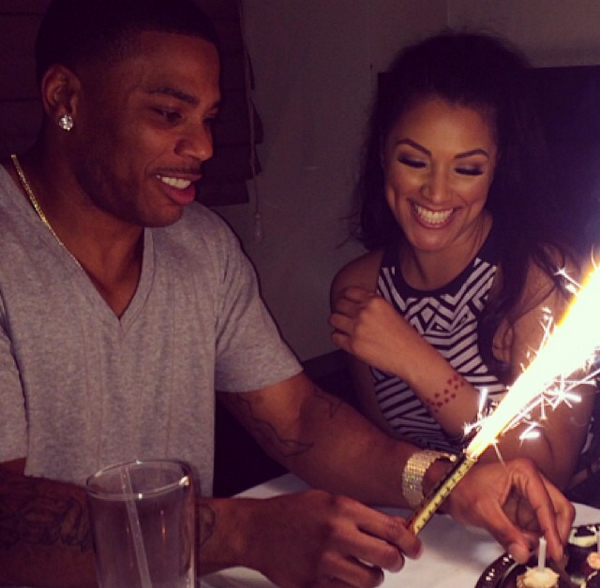 Nelly and Shantel Jackson
It was cruel and inappropriate. The thing that's most harmful about the taunting is it will discourage others with reading difficulties from getting tutoring or going back to school. I have friends and family who've tutored people who've struggled with reading and mathematics. The tutoring makes a difference. Going back to school has also proven helpful to many who cannot read or do mathematics.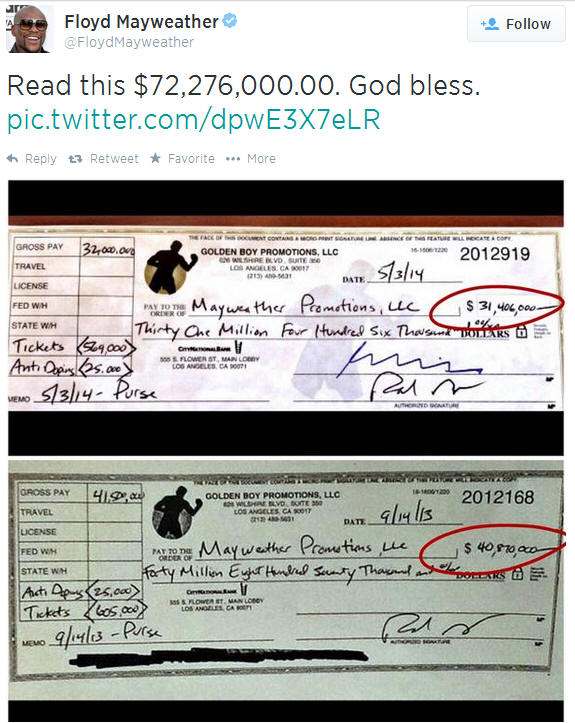 Floyd Mayweather's tweet addressing 50 Cent's insults
Months prior to this incident, the Judiciary Report sincerely stated Mayweather's protégé, Adrien Broner, should spend some of his winnings on education. No matter who you are in life, you can always learn something new. Let it be an ongoing process.
RELATED ARTICLES
Boxer Adrien Broner Apologizes For Mexican Comment (Video)
Boxer Adrien Broner Has Been Suspended By The WBC For Racist Remarks About Fellow Pugilist Carlos Molina
Adrien Broner Wants To Fight Manny Pacquiao In Floyd Mayweather's Stead
---
James Foley's Murder By Terrorist Group ISIS Offends And Appalls The World
August 22. 2014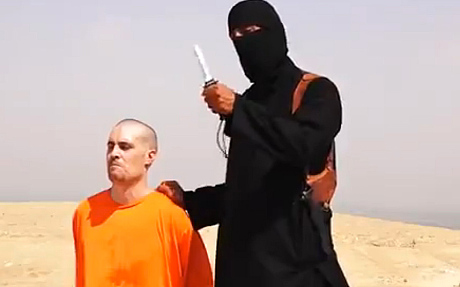 James Foley being executed by Isis member John
Brave journalist, James Foley, was executed in Syria by a member of the terrorist organization ISIS (also known as ISL). For years 40-year-old Foley had covered many stories in the Middle East, traveling to dangerous places in attempting to shed light on what has been transpiring in the region.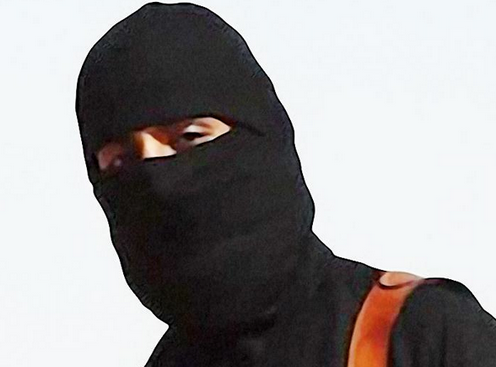 Isis member John
Over the past few weeks, the journalist's parents, Diane and John Foley, were sent death threats, which indicated the terrorist group who abducted James two years ago, intended to kill him shortly. Tragically they did in gruesome fashion, then released a video of the execution to the internet.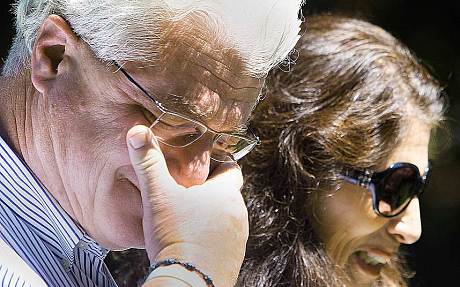 John and Diane Foley
Foley's story is reminiscent of brave, innocent 38-year-old journalist, Daniel Pearl, who was murdered by terrorists in the Pakistan in 2002. Foley was an innocent conveying the news through his eyes. The Judiciary Report sends its condolences to Foley's family and friends.
---
Look Away Rihanna Chris Brown Says He Wants To Give Karrueche Tran A Baby
August 22. 2014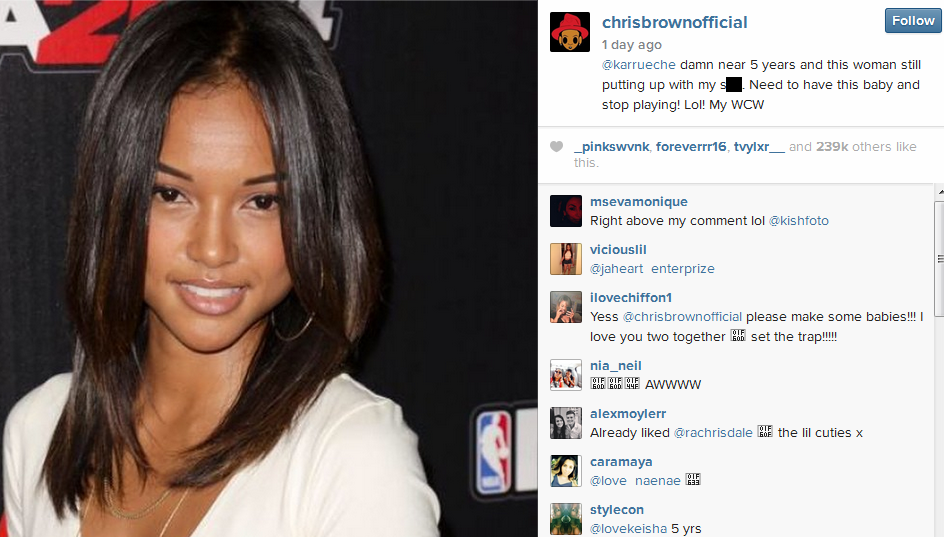 Chris Brown's Instagram page
R&B singer, Chris Brown, posted a comment on the social networking site Instagram, telling his girlfriend of 5--years, Karrueche Tran, that he wants her to have his baby. Brown stated, "Damn near 5 years and this woman still putting up with my s***. Need to have this baby and stop playing! Lol! My WCW." He should marry her first.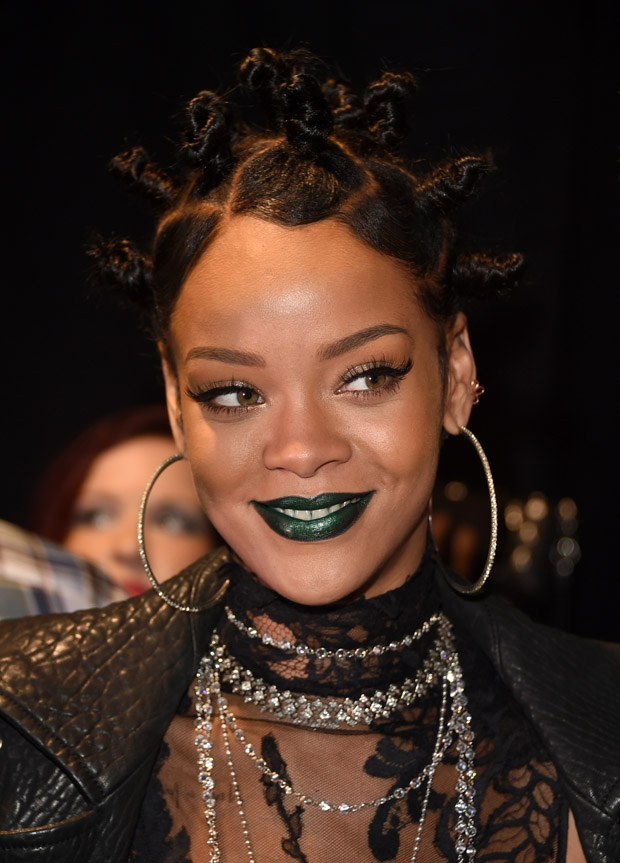 Rihanna
On and off again girlfriend, singer, Rihanna is going to be angry when she reads it, as she is still harboring dreams of a long term relationship with Brown in the future that includes marriage and kids. She famously proclaimed Brown the love of her life during an interview with Oprah Winfrey. During their last reconciliation, Rihanna wanted to marry Brown, but he was not ready. Reading his statement to Tran is going to hit her hard.
RELATED ARTICLE
Rihanna Gets Back With Drake To Get Back At Chris Brown For Reuniting With Karrueche Tran After Their Reunion
---
Mariah Carey And Nick Cannon Headed For Divorce After He Does Interview About His Sexual Conquests
August 22. 2014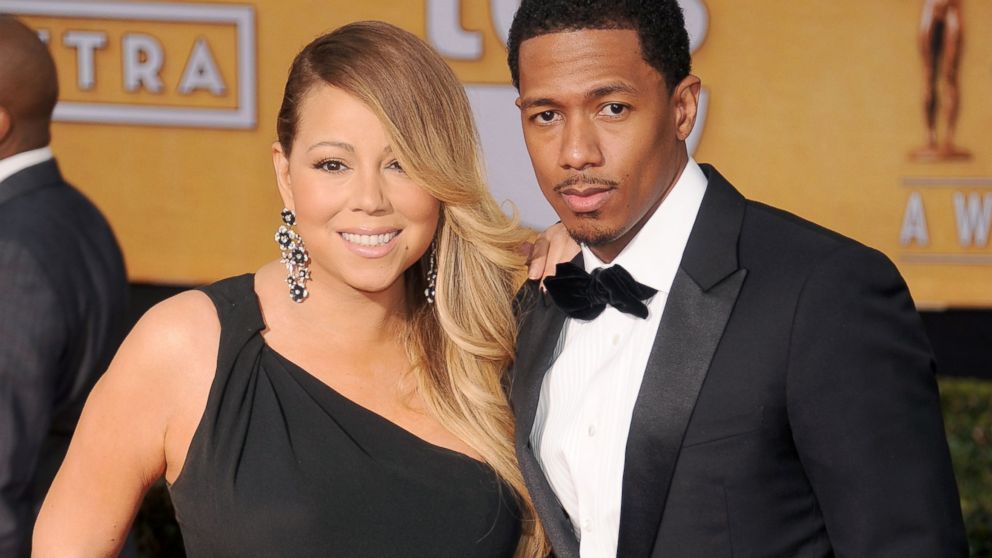 Mariah Carey and Nick Cannon
For weeks reports abounded that singer Mariah Carey, 45 and her husband, comedian Nick Cannon, 33, are headed for divorce after 6-years of marriage. This week Nick Cannon confirmed it by stating, "There is trouble in paradise. We have been living in separate house for a few months." The couple have been living apart and Cannon is being blamed. Cannon is being accused of infidelity, which he denies.
However, according to reports, what torpedoed his marriage was Cannon running his mouth in an interview, regarding his past sexual conquests, such as Christina Milian, Nicole Scherzinger, Selita Ebanks and Kim Kardashian (among others) which "humiliated his wife." Carey is said to be appalled at Cannon's foolish statements during an interview, arrogantly bragging he has bedded many women. Cannon stated during the interview with debauched shock jock Howard Stern, "Are you kidding me this is L.A.? That's the whole purpose of it, you have sex with actresses, singers, models."
Things have not been going well for Carey this year either. Carey's latest CD entitled, "Me. I Am Mariah. The Elusive Chanteuse" (LOL what a haughty and pretentious name for a CD) bombed as well, becoming the worst selling CD of her career, after the Judiciary Report enacted a boycott against it. Some hateful, unbalanced Mariah Carey fans known as "lambs" crazily attacked me on Twitter, spamming me with threats, for asking a simple question in an article about claims by singer Kelly Price that Carey's voice is very damaged and others are helping her sing on CDs.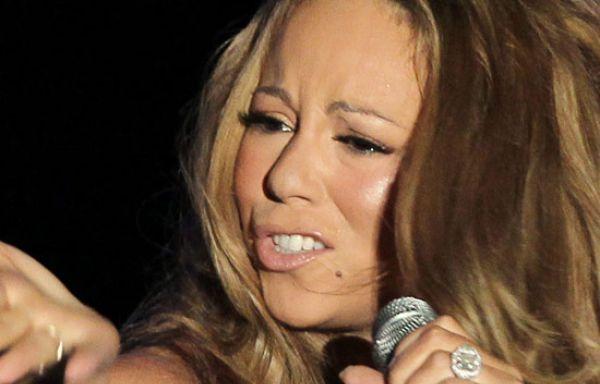 Mariah Carey: shut up Nick!
Carey encourages this craziness from her "lambs" knowing full well they are going around the internet attacking people engaging in the right to free speech, who state anything less than glowing about her. On September 6, 2013, I warned them to stop clogging up my notifications on Twitter with their madness or I'd write a string of articles about her that would create a sales decline for her then forthcoming CD "Me. I Am Mariah. The Elusive Chanteuse."
On September 6, 2013 I wrote on the Judiciary Report, "I promised on Twitter as long as the spam continues, so will articles on Carey and I will stick to my word (and trust she won't thank them for it). Carey encourages this unbalanced fanaticism in the 'lambs' - who routinely parlay it into attacking different people online that criticize her. They break the law with threats of violence and death. The last singer I went on a writing spree about, with exclusives, saw a major, sustained sales decline. Her name is Madonna. I also asked the public to boycott Warner's stock over her and their copyright thefts and during that time said stock price dropped from $27 to $5 per share. My sites reach 5 million readers through main pages, blogs and feeds...".
One year later after the boycott warning, Carey's new CD has bombed in a major way, selling only 103,000 copies after nearly two months of release, which is very bad for a major label artist. I don't know why anyone in their right mind would think provoking unflattering coverage on a website or blog read by millions would help them or their cause in the sales department.
RELATED ARTICLE
Did Kelly Price Sign A Confidentiality Agreement With Mariah Carey And Sony Regarding Her Vocal Work For The Singer
---
Men Who Make The Mistake Of Publicly Bragging About The Number Of Women They've Had Sex With
August 22. 2014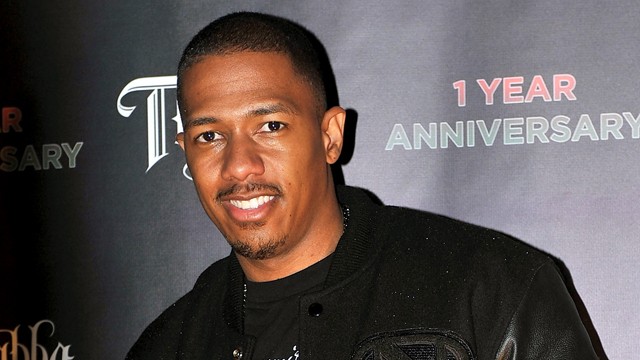 Nick Cannon
After watching comedian/actor Nick Cannon mess up his marriage by going on the Howard Stern Show and running his mouth about his many sexual conquests, I feel compelled to inform the male public about how terrible of an idea such a thing is to any relationship or potential one.
Here's a tip for men out there, for the record, no woman is impressed with a man bragging about the number of women he has bedded. It's a massive turn off. Men would be surprised to learn, women who would date them, change their minds when they hear or read of them bragging about the number of chicks they've had sex with. Women don't want to hear that mess.
At the end of the day, a woman wants to believe a man is decent, values sex and respects women. Any man boasting about the number of women he's had sex with or debauched sexual behavior such as orgies or threesomes, sends women the message he does not respect women or value sex and sees women as meat. Real women will pick up on that from your words and run from you like the plague. The only type of women who won't care about you bragging about your sexual conquests are prostitutes who want your money or if you are famous groupies who want your fame - neither of which are loyal or girlfriend/marriage material.
I don't know why men get on social networking and or do interviews bragging about their sexual conquests, as it pertains to people other than their spouse. When you brag about your spouse, people think that's decent. When you brag about sexing half the planet, people will think you have no morals and are a bad role model. It inevitably leads to trouble.
---
Moldy Food And Cancer
August 21. 2014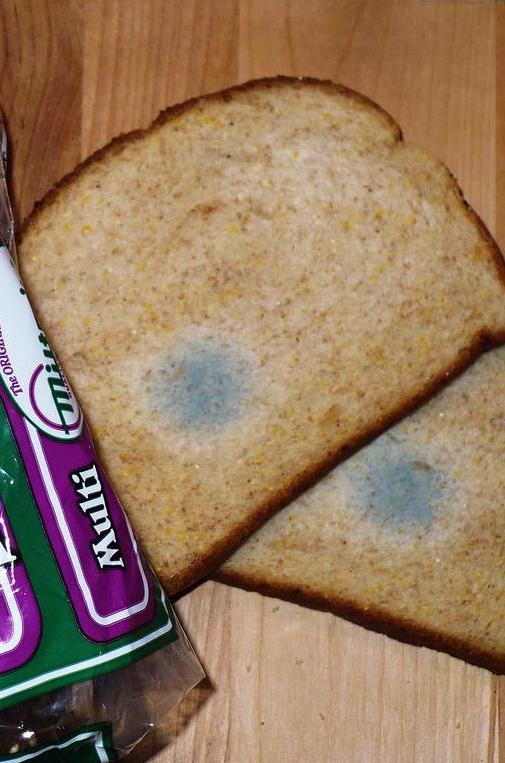 Bread with mold on it
Cancer is caused by a number of things. The more you limit risk factors the better. Certain foods people put into their bodies increase their risk of cancer. The fresher the food the better. I've seen people cut around or remove green moldy spots from foods such as bread and eat the rest. This is not a healthy practice.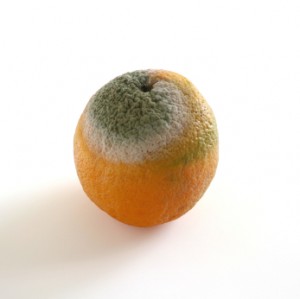 An orange with mold on it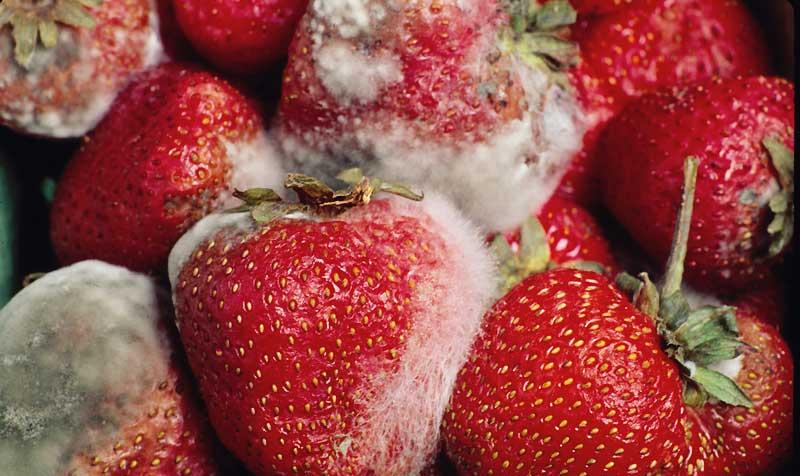 Strawberries with mold on them
Free radicals via the mold have permeated the food. Cutting around it does not remove all traces of the mold and make it good and healthy. If you maintain this negative practice, it will have a negative impact on your health. Do not eat foods that have traces of mold on them. Throw it away.
RELATED ARTICLES
Hollywood Actor Robin Williams Kills Himself In Regrettable Suicide
Congress Rips The CDC For Lax Safety Procedures That Led To Anthrax Exposure Confirming This Site's Previous Claims (Video)
Study Claims People With Vitiligo Have Skin Cancer Protection
Scientists: TSA Airport Radiation Doses Are Inaccurate
---
Karrueche Tran And Chris Brown Don't Care About What People Think About Their Relationship Including Rihanna
August 21. 2014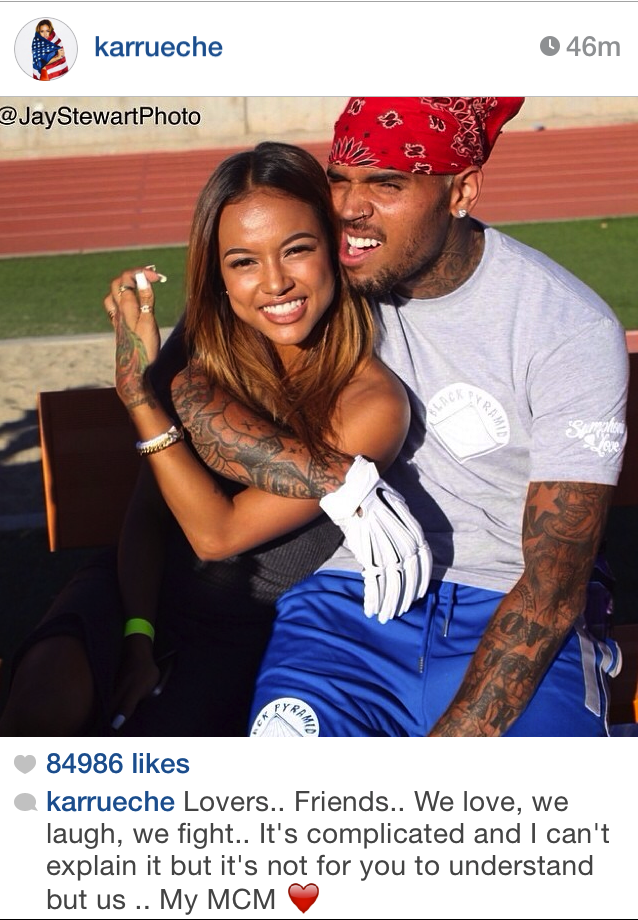 Karrueche Tran's post on Instagram about Chris Brown
Model and aspiring fashion designer, Karrueche Tran, the girlfriend of singer Chris Brown, responded to public criticism of her and and off again relationship with the star. The couple have broken up a number of times, as revealed by social networking posts that left the public asking questions.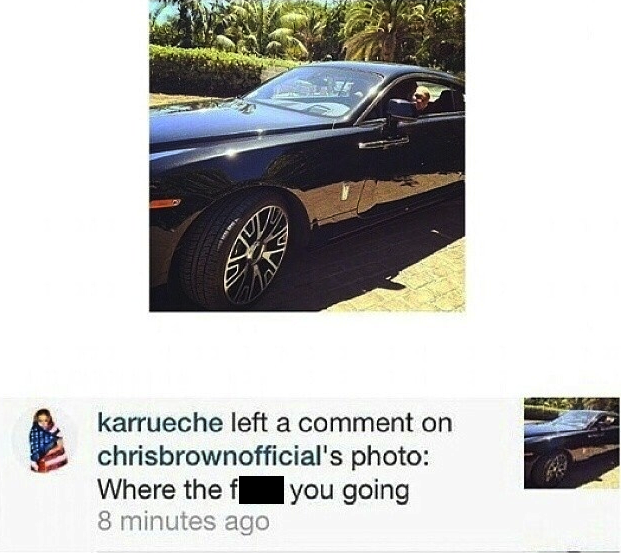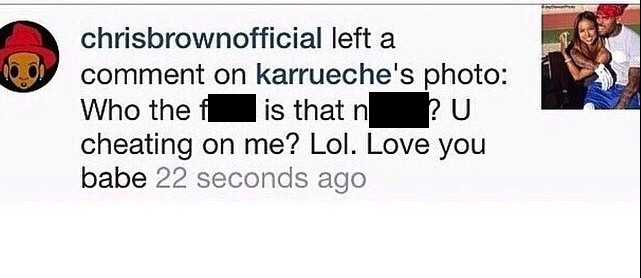 Karrueche Tran and Chris Brown's posts on Instagram about each other
In response to the public's questions, Tran wrote on Instagram "Lovers.. Friends.. We love, we laugh, we fight.. It's complicated and I can't explain it but it's not for you to understand but us.. My MCM." Tran referring to Brown as her "MCM" is short for Man Crush Monday on Instagram and Twitter.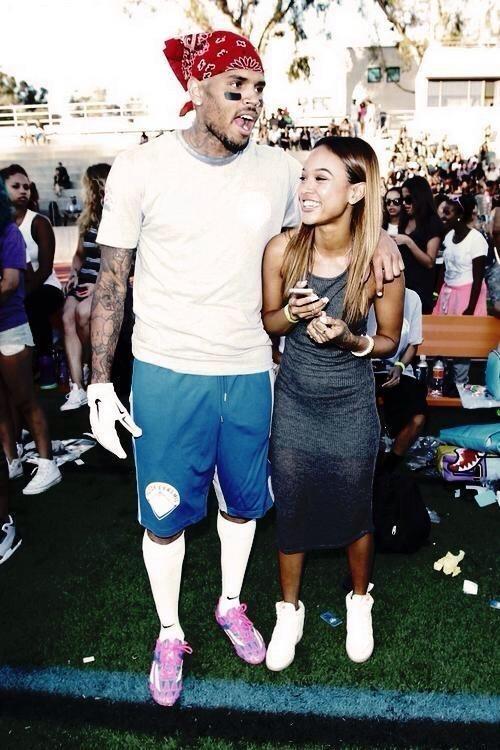 Chris Brown and Karrueche Tran at flag football game
Tran and Brown have broken up several times and each time Rihanna was involved. Though Rihanna and Brown have had two high profile break ups, she continues to contact him via text messages and ask about what he is doing. Each time Brown makes a public declaration about his feelings for Tran, Rihanna contacts him and or tries to make him jealous with another man (usually rapper Drake).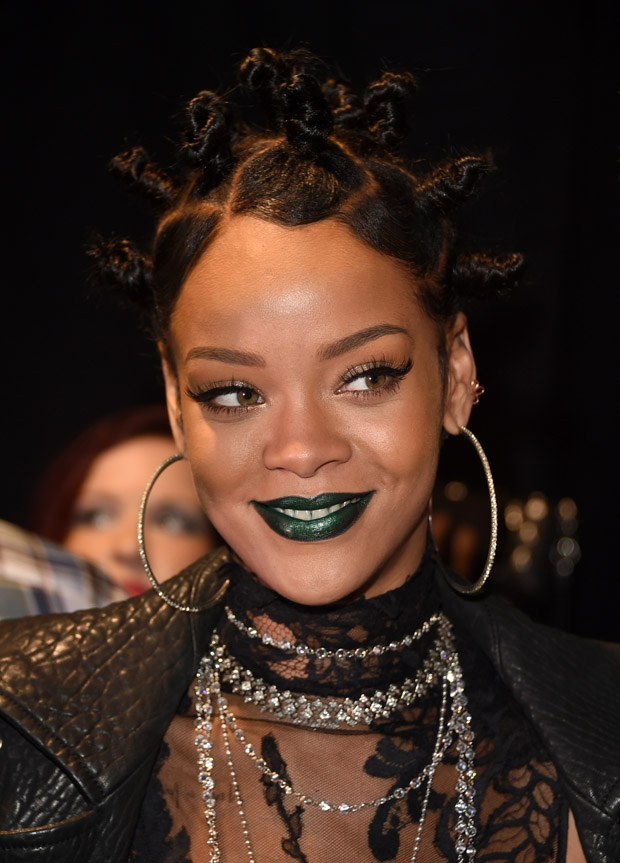 Rihanna
Rihanna has caused problems in Tran and Brown's relationship, creating an emotionally unhealthy cycle of break-ups that is not good for any of them. I don't know how their hearts can take it. A commitment would be better between Brown and Tran. Rehab would be best for Rihanna to address her drug, alcohol and mental illness issues (bipolar, PTSD, among other things).
RELATED ARTICLE
Rihanna Gets Back With Drake To Get Back At Chris Brown For Reuniting With Karrueche Tran After Their Reunion
---
CNN Reports The National Guard In Ferguson Threw Gasoline On The Fire Of Racial Tensions During Mike Brown Protests By Calling Black Protesters N*ggers
August 21. 2014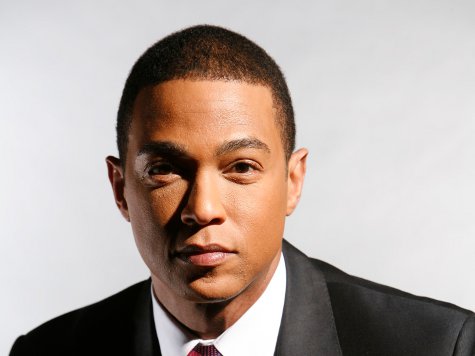 Don Lemon
CNN television news reporter Don Lemon is reporting, while attending protests in Ferguson, Missouri, regarding the police murder of 18-year-old unarmed, university bound student, Michael Brown, he and his television producer heard the National Guard refer to protestors as "n*ggers." The National Guard attempting to corral peaceful protestors, exercising their constitutional right to assemble (freedom of assembly) called the crowd "n*ggers" when they would not disburse and go home.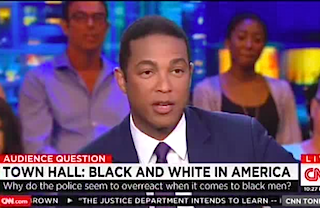 What was that? Was that really necessary calling people n*ggers? And some wonder why people believe Brown's murder was racial profiling and racially motivated. Explain that! The National Guard brought race into it confirming people's worst suspicions. Some want the case to quickly go away, but there are issues that need to be discussed to prevent this from happening again. It needs to be formally brought out in the open in appropriate venues, so there can be peaceful dialogue with meaningful answers and effective solutions. Racial unity is needed.
STORY SOURCE
CNN's Don Lemon: National Guard Used 'N-Word' to Describe Ferguson Protesters
10:55 pm, August 19th, 2014 - CNN's Don Lemon was back in the CNN studio Tuesday night after several days on the ground in Ferguson, Missouri. The anchor was hosting a town hall called "Black and White in America," when one questioner asked what "safeguards" police departments could put in place to prevent shootings like the one that killed Michael Brown in the future.
When one of Lemon's panelists brought up the idea of putting cameras on officers to make them more accountable, Lemon said that measure might also affect the types of people who decide to become cops...He then shared this story from his time in Ferguson last night:
"I'm just going to be honest with you. Last night, one of my producers said that they — I won't say if it's a he or she, because I don't want to give anyone away — said they came in contact with one of the members of the National Guard and that they said, 'You want to get out of here because you're white, because these n-words, you never know what they're going to do.' True story. I kid you not. 2014, a member of the National Guard. And my producer doesn't lie. It is a true story." Watch video below, via CNN...
RELATED ARTICLE
Teen Who Had His Hands Raised In Surrender And Submission Shot Multiple Times By Police Officer And Killed Leading To Riots
---
Top Forensic Pathologist Michael Baden States There Was No Evidence Of A Struggle Between Mike Brown And Police And He Should Not Have Been Shot So Many Times
August 20. 2014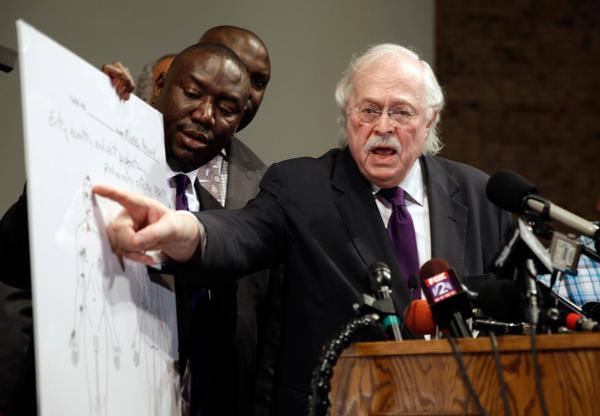 Civil right attorney Benjamin Krump (left) and Dr. Michael Baden (right)
World renown forensic pathologist, Dr. Michael Baden, autopsied the body of 18-year-old Michael Brown, who was executed by Ferguson, Missouri police officer, Darren Wilson, in a case of excessive force meets extrajudicial killing. Dr. Baden, who oversaw the autopsies of the late great civil rights leader Martin Luther King Jr. and former U.S. President John F. Kennedy, was very clear in his pronouncement on the case, waiving his standard $10,000 fee, it was unjustifiable.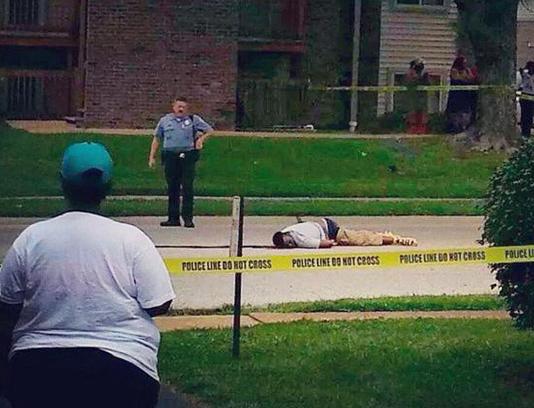 Michael Brown was left in the street dead for almost 5 hours, as no ambulance arrived at the scene, in what necessitates a criminal investigation. Ambulances usually arrive within a few short minutes.
Police officials in Ferguson, who are not forthcoming with information, prompting understandable cries of a cover-up from the public, will try to paint the case as justifiable homicide. However, Dr. Baden, who has performed over 20,000 autopsies stated, "In my capacity as the forensic examiner for the New York State Police, I would say, 'You're not supposed to shoot so many times.'" Thank you very much. This should be basic common sense. The average officer is not shooting people that many times, especially an unarmed person.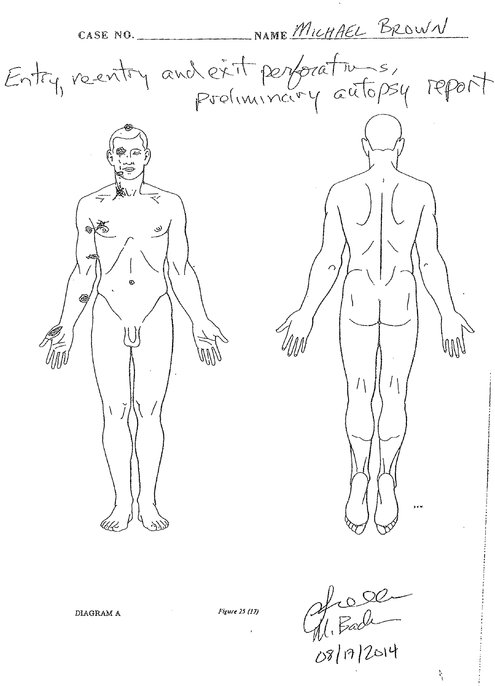 Michael Brown autopsy
Wilson shooting Brown SIX times, twice in the head and four times to the torso, was not a warning shot, with shot being singular, it was an outright execution. Wilson claims Brown attacked him, though a witness states it was the other way around. However, Dr. Baden stated the autopsy reveals there was "no evidence of a struggle" on Brown's part. Dr. Baden also stated Brown was shot after he surrendered, as his hands were in the air, judging by the entry points and locations of the four bullets that pierced and lined his right arm. Who shoots a man who has surrendered? A murderer that's who, not a law abiding police officer.
STORY SOURCE
Autopsy Shows Michael Brown Was Struck at Least 6 Times
AUG. 17, 2014 - "In my capacity as the forensic examiner for the New York State Police, I would say, 'You're not supposed to shoot so many times,' " said Dr. Baden, who retired from the state police in 2011. "Right now there is too little information to forensically reconstruct the shooting."
---
'Love And Hip Hop Atlanta' Season Finale Reveals Joseline Hernandez Will Sleep With Anyone
August 20. 2014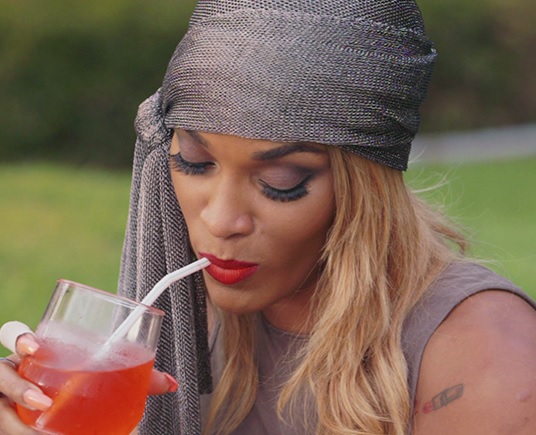 Joseline Hernandez
"Love And Hip Hop Atlanta" reality star Joseline Hernandez is proving she is the Rihanna of the rap world, willing to sleep with anyone. This week's season finale saw aspiring rapper Joseline, exposed as having slept with her driver over the course of three months and other men, even a bisexual man, while engaged to music producer Stevie J.
This did not set a good example. It gives impressionable girls and women the idea they must have sex with men to advance their careers, rather than using their talents and hard work to become entertainers. Stevie J is to blame for this in part, as he took Joseline from the strip club, where her second job was prostitution and tried to make her a housewife. She sees sex as nothing, rather than something very important not meant to be used and abused for money and career advancement.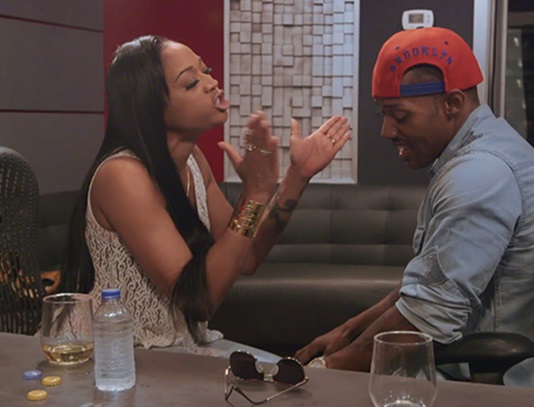 Mimi and Nikko
Mimi, Stevie's ex-girlfriend and the mother of one of his children, told off her boyfriend, Nikko for allegedly exploiting her via filming their sexual encounter and deliberately leaking it to an adult video company, then selling it for $400,000 (that money won't last with the way they live). Once again, making a sex tape is a bad idea. They inevitably end up leaked or stolen by some unscrupulous, unethical person.
If Nikko loved Mimi he would have made her his wife, not his stepping stone to money and fame. This too sets a bad example for impressionable audiences. Do not follow their examples. It will wreck your life and launch you into depression. They aren't happy. Behind the scenes and smiles, the cast is dealing with serious issues and unhappiness.
RELATED ARTICLE
'Love And Hip Hop Atlanta" Reality Star Joseline Hernandez Is About To Need Police Protection (Photo)
---
PERMALINKS
Madonna's Pedophilic Kabbalah Center
Madonna's Rabbi At The Kabbalah Center Threatened To Beat And Kill A Student He Drugged And Tried To Rape
NSA Workers Admit To Reading The Emails And Listening To The Calls Of Americans In Violation Of The Law
Judge Rules The NSA Illegally Spied On Americans Confirming The Site's Previous Claims (Video)
NSA Admits Employees Illegally Spied On Love Interests And Significant Others Confirming Site's Previous Claims
New Scandal Erupts Regarding The FBI And Justice Department Monitoring Calls Of AP Reporters Confirming Previous Site Claims
IRS Says Sorry For Targeting Conservatives As Obama Denies All Knowledge Of Misconduct
President Obama Fires The Head Of The IRS For Targeting Conservatives (Video)
News Report: The IRS Targeted Christians
FBI Agent Arrested For Accepting A $200,000 Bribe To Derail A Criminal Case The FBI Was Supposed To Be Investigating
Another FBI Agent Caught Taking Bribes To Derail Serious Cases (Video)
Boycott Aventura Mall For Racial Profiling And Negligence