.
Head Of State Muammar Gadhafi Assassinated In Libya
Obama Gives Speech Indicating He Is Pleased
October 20. 2011
Libya's head of state, Muammar Gadhafi, was brutally killed in his nation, after months of trying to evade an onslaught commissioned by U.S. President Barack Obama. Gadhafi spoke affectionately of Obama as a "son" and a "brother." He shook his hand at the 2009 G8 Summit in Italy. He was pleased Obama was elected President of the United States, referring to him as a fellow Muslim.
Little did he know, Obama would be the one to commission his brutal assassination, via military maneuvers, which spooled in members of the notorious terrorist group, Al Qaeda, to oust him from power, seize control of his nation and kill two of his children and grandchildren. Al Qaeda is now in charge of Libya (Al Qaeda Gaining Foothold In Libya As Obama Lies About The Invasion).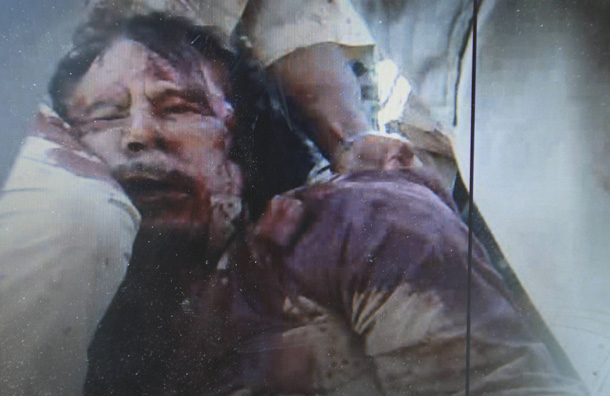 Muammar Gadhafi today

The Judiciary Report warned all along that the plan was to kill Gadhafi, not imprison him. In the March 23, 2011 Judiciary Report article Obama Says He Is Not Giving Up His Nobel Peace Prize, the site stated the goal of the invasion is to kill Gadhafi and secure Libya's oil fields.

One month later, on April 25, 2011, the nation of Libya accused NATO, which is the U.S. government, of trying to kill Gadhafi (Libya leaders accuse NATO of trying to assassinate Gadhafi). Six months later, Gadhafi was captured alive, then murdered. His last words were "Don't shoot."

This article is not in defense of Gadhafi, as the Judiciary Report does not agree with his politics, policies or the bloody conduct he is accused of that deprived others of their lives. What the site dislikes is murder and assassination. Once again, the government invaded another nation, killed its leader and is trying to steal their nation's wealth via oil (just like in Iraq). How can this be the way. It is completely illegal and inhumane. Not to mention, thievery. Is this what humanity stands for now, kill a man and take what he has. I was hoping the world was past that.