Mainstream Publications Rip Jay Z And Tidal Streaming Service To Shreds Implying He Is Suffering From Delusions Of Grandeur
June 2. 2015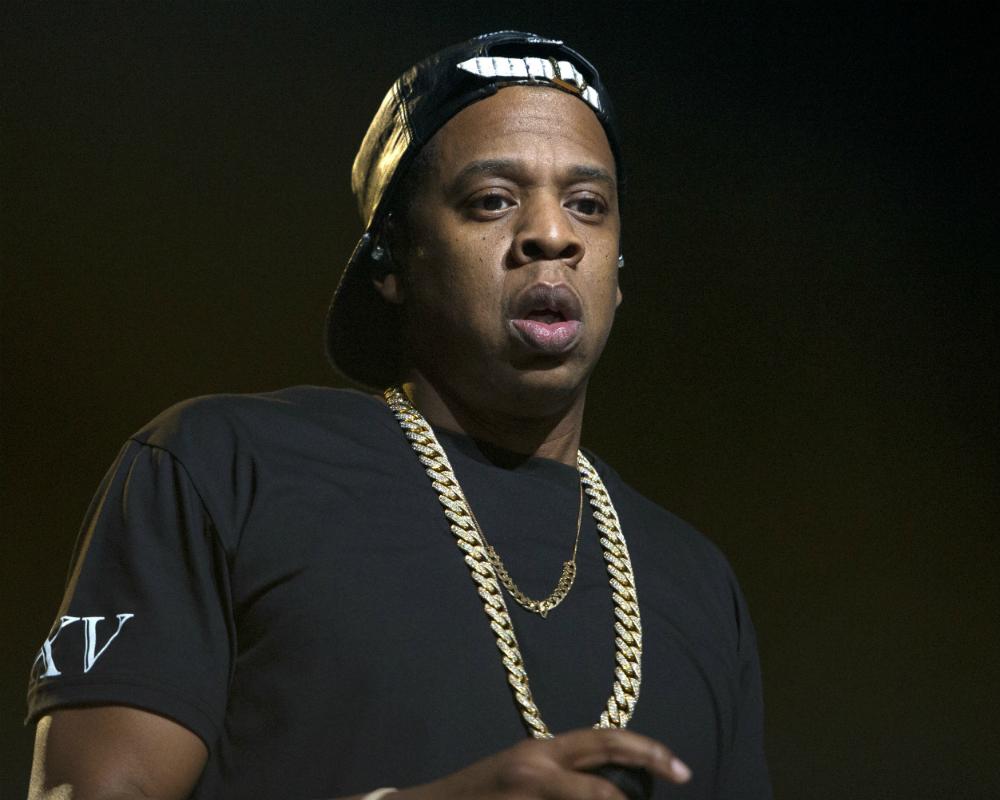 Jay-Z
Mainstream business newspaper Bloomberg has published a scathing, sarcastic and cutting piece on rapper Jay Z and his delusions of grandeur via his and Madonna's online music streaming service Tidal. The company has been branded a "failure" "fiasco" and "bad investment" by real business professionals. Bloomberg joins Complex, Rolling Stone and a host of other mainstream publications, who have been highly critical of subpar Tidal, which is a greedy money grab by Jay Z and company, who ripped off the music streaming service Spotify.
When a terrible public backlash ensued and their $55,000,000 investment in Tidal began going up in smoke, money that came courtesy of loans, Jay Z began to publicly lash out. He even pulled the race card, invoking slavery claims, when he routinely steals preexisting copyrights from black singers, songwriters, producers, musicians, authors and filmmakers, for undue and illegal enrichment. Twitter also slammed Jay Z's slavery claims, publicly noting in tweets that Tidal has no black employees.
The article sarcastically makes reference to Jay Z's delusions of grandeur, "Jay Z also aspires to be one of the world's great businessmen. 'I affiliate with Billy Gates, that's my peer,' he once rapped. And: 'You looking at the black Warren Buffett.'" The fact of the matter is Jay Z is out of his mind to think he is in the same class as Gates or Buffett, two billionaires, who are intelligent and well educated.
Jay Z is a mentally deficient Hollywood thief, who has racked up many copyright infringement and trademark infringement lawsuits, filed by people domestically and all over the world, for criminally stealing people's preexisting intellectual property, which all comprise his career and the contents of his bank accounts.
Jay Z is an unintelligent fraud, who relies on ripping off people to get money, which is criminal. He is not a legitimate achiever. Everything he has is stolen from others. He further lacks the mental capacity to be a great businessman, as evidenced by his speech (and that of his wife Beyonce) and their appalling track record for theft. Publicists and lawyers prepare items for the couple to recite, but catch them flatfooted asking either a serious and intelligent question and you will get a dumb answer or them reciting something someone else wrote or stated (there exists evidence of them having done this).
The ironic thing about the thief Jay Z is you steal from him (or even bootleg his music) and he will stab you (as he did to Lance "Un" Rivera) or have someone inflict grievous bodily injury to you (as his thuggish bodyguards have done to people in America, with one incident caught on camera). Real businessmen do not behave in this ignorant manner. Thugs and criminals do. Jay Z calls himself a genius, when he is illiterate and couldn't obtain a high score on a properly administered aptitude test (that his publicist or lawyer didn't give him all the answers to in advance).
Everything about Jay Z has been one big scam, from his marriage to Beyonce (which her uncle and others in the industry are stating is a fake and business arrangement) to his record sales (he has fraudulently added 30,000,000 copies to his album sales tally and ran Soundscan scams he was caught red-handed perpetrating) to the value of Rockafella (he claimed it was worth $125,000,000 when business magazines stated it is worth $25,000,000).
STORY SOURCE
That's Business, Man: Why Jay Z's Tidal Is a Complete Disaster
Like many rappers, Jay Z writes songs that have a paranoid streak. He lashes out against conservative cable news anchors, overzealous cops, lazy music critics, and less talented lyricists, all of whom, he insists, are out to get him because he's famous. On May 16, Jay Z uncorked one of these bilious anthems, Say Hello, from his 10th studio album, American Gangster, at an exclusive performance for people who've signed up for Tidal, his subscription-only streaming-music service. Stalking the stage at New York's Terminal 5, Jay Z addressed critics of his new venture, who have savaged it as tone-deaf, unimpressive, and—perhaps most wounding for a celebrity who famously boasted "I'm a business, man"—a lousy investment...
Jay Z unveiled Tidal at a press conference in late March, flanked by 15 of the biggest acts in the music business, including his wife, Beyoncé, Madonna, Nicki Minaj, Rihanna, Jack White, and Kanye West, all of whom were introduced as equity shareholders. Many seemed awkward and unprepared. Another owner, Alicia Keys, quoted Nietzsche and gushed about Tidal's cultural significance: "We're gathered?…?with one voice, in unity, in the hopes that today will be another one of those moments in time, a moment that will forever change the course of music history." There was a lot of utopian rhetoric about restoring the value of music in the digital age. Less time was spent on new features, technology, or other reasons for listeners to try—and pay for—a Tidal subscription.
The backlash was immediate. Tidal's detractors weren't just the predictably vexatious music bloggers, who described the service as little more than a vehicle for musical plutocrats to line their pockets. The haters also included some of Jay Z's peers. "They totally blew it by bringing out a bunch of millionaires and billionaires and propping them up onstage and then having them all complain about not being paid," said Ben Gibbard, lead singer of the indie rock group Death Cab for Cutie. The habitually caustic Noel Gallagher of Oasis told Rolling Stone, "Do these people think they are the f---in' Avengers? They are going to save the f---in' [world]?" In late May Tidal hovered at No.?9 on the iTunes list of top-grossing music apps, trailing Slacker Radio...
RELATED ARTICLES
Madonna's Pedophilic Kabbalah Center (Google Case)
Jay Z And Madonna's Tidal Officially Branded A Bad Business Move And Flop By The Mainstream Press
Jay Z And Madonna's Failing Tidal Music Service Is Hemorrhaging Money While Inadvertently Increasing Rival Spotify's Revenues