Prince Harry Makes First Appearance Since Nude Photo Scandal In Las Vegas
September 4. 2012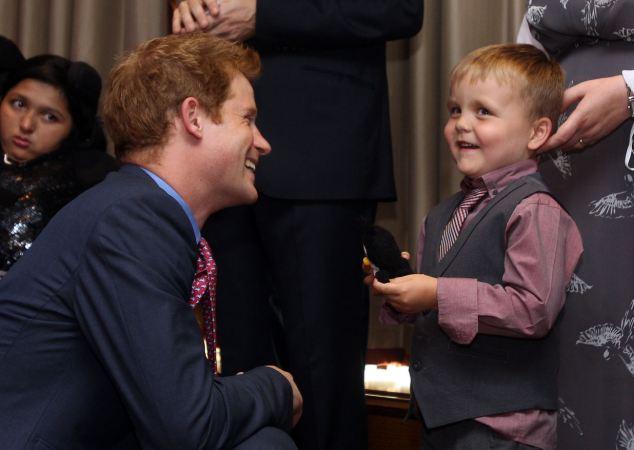 Little boy to Prince Harry: wait a minute, aren't you the one whose bum (butt) is all over the internet!
Britain's Prince Harry, third in line to the royal throne in the house of Windsor, made his first public appearance yesterday, after a terrible scandal in Las Vegas, propagated by website TMZ, who splashed invasive photos of the prince stark naked in a room with nude women, playing strip billiards.
It's safe to say the Queen, his grandmother, probably kicked his bum (butt) over the scandal. It was a criminal invasion of his privacy, but one that could have been avoided. However, Harry shook off his problems and made an appearance yesterday in London at the WellChild Awards, in honor of terminally ill kids in Britain.
RELATED ARTICLES
Prince Harry Accused Of Taking Cocaine At Nude Party In Las Vegas
Prince Harry Nude Photos Shows The Lows Hollywood Will Stoop To At Others Expense
TMZ And The People That Sold The Prince Harry Nude Photos Should Be Prosecuted
Prince Harry Nude Photo Scandal Is A Wake Up Call
Gold Medalist Swimmers Ryan Lochte And Michael Phelps Say They Pee In The Pool
Madonna Booed In London At The Premiere Of Her Copyright Infringing Film "We"
Critics Savage Madonna's "WE" Movie As Garbage
Boycott Madonna's Rip-Off "We" Movie
Boycott Madonna's Rip-Off "We" Movie - Part 2
Rupert Murdoch Finally Admits His Company's Phone Hacking And Wiretapping Crimes
Madonna's Connection To Phone Hacking And Wiretapping Scandal
8 Of Rupert Murdoch's Top Executives Charged In Phone Hacking Scandal