Chris Brown Caught Kissing Nicole Scherzinger Upsetting Rihanna
September 27. 2012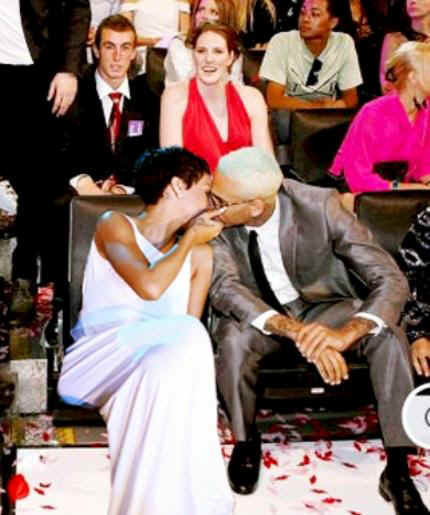 Rihanna kissing Chris Brown at the MTV Awards a few weeks ago (well, don't you feel special now that he's been busted kissing Nicole Scherzinger this week)
Woman beater Chris Brown, 22, was caught kissing singer, Nicole Scherzinger, 34, at the Supperclub in Los Angeles. People also reported seeing them making out at the club. For many months, the Judiciary Report has insisted, Brown has been messing with a number of women in Florida, California, Virginia and New York (I had and have no reason to lie about it). Dude is also a stalker.
However, that has not stopped his most high profile beating victim, one of his girlfriends, Rihanna, from fawning over him in public, repeatedly embarrassing herself. even this very week, in spite of the fact he beat her to a pulp in 2009 and is currently messing up his probation in connection with the case.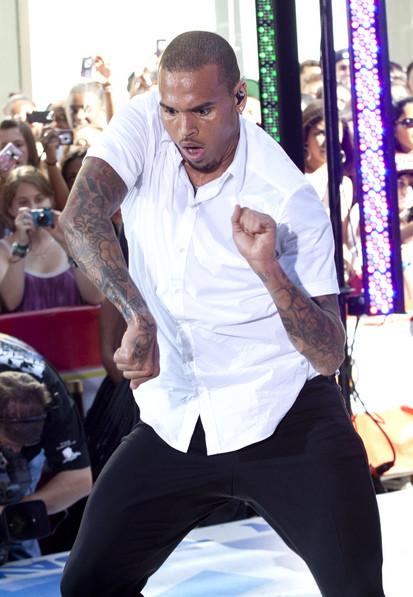 Chris Brown
Scherzinger is going to have a lot of explaining to do as well, as she has been engaged to multi-millionaire British race car driver, Lewis Hamilton. Let me get this straight. Scherzinger is engaged to Hamilton, who has kept out of trouble thus far, is good looking, has a good job and based on her own words, treated her well.
Yet she is cheating on him with a dude known to put his fist through women's faces and sadistically enjoys terrorizing innocent elderly people just trying to do their jobs. I have no words for this. On second thought, I do. When people make such poor choices they have no one to blame when things turn disastrous.
RELATED ARTICLES
Rihanna Tweeting Chris Brown Pandering To Her Cheating Woman Beating Abuser
How Long Before Chris Brown Starts Beating Rihanna Again Now That They Are Trying To Publicly Get Back Together
Rihanna Given False Hope Over Claims Chris Brown Publicly Dumped Girlfriend Karrueche Tran Which He Denies
Chris Brown Refusing To Dump Karrueche Tran Despite Rihanna's Begging And Bawling
Chris Brown And Drake Being Sued For Millions Due To Rihanna Fight She Instigated
Rihanna Is Really Full Of Herself To Curse At Drake, Lil Wayne And Nicki Minaj At The MTV Awards
Rihanna Trying To Use Sex To Get Chris Brown Back
Chris Brown Is His Own Worst Enemy With Controversial Beaten Woman Tattoo
Rihanna Is Really Full Of Herself To Curse At Drake, Lil Wayne And Nicki Minaj At The MTV Awards
Chris Brown Slams Rihanna As A Woman Everyone In The Industry Has Had Sex With
Rihanna Cutting Up Cocaine On Her Bodyguard's Head In Public And Lying About It Is Disgraceful
Rihanna And Madonna's Kabbalah Committed Copyright Infringement In Stealing The Film Battleship
Rihanna Had Sex With Ashton Kutcher And Was Spotted At His House Late Last Night
Rihanna Fans Are Threatening To Kill Chris Brown's Girlfriend Karrueche Tran
Rihanna Uses Mean Racial Slur In Reference To Chris Brown's Girlfriend Karrueche Tran (Photo)
Chris Brown Showed Up In My Neighborhood