Madonna And Kabbalah Close Their Corrupt Charity Due To Criminal Investigation
May 23. 2011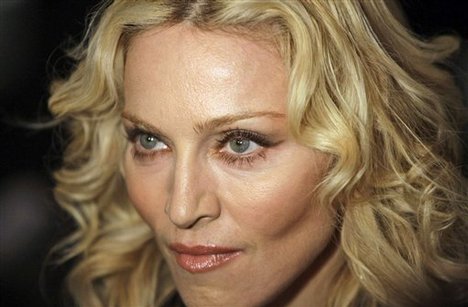 Madonna
According to reports coming out of California, the insane Kabbalah Center, which is a cult, is closing its charity, after becoming the subject of a highly publicized federal probe, by the IRS and the FBI. They are only closing shop in America. Therefore, other nations they have been operating out of, such as Britain, need to open criminal probes as well to shut those fraudsters down. The schizophrenic cult, whose members have murdered people in cold blood, caused an international incident this year, involving the impoverished nation of Malawi in Africa.
After using the country's name to raise tens of millions of dollars, Kabbalah and its thieving frontwoman Madonna, pocketed most of the money, rather than giving it to the people of Malawi. Madwoman Madonna, running her vile mouth, told the world she is opening a school for girls in Malawi, in attempts at mimicking the widespread publicity talk show host Oprah Winfrey received for doing so.
However, it was a complete scam on Madonna's part, as years went by, millions were spent and not even one permit was pulled to build the school, after the phony groundbreaking the weird, crazy singer staged for publicity. What is most infuriating about Madonna's self-serving, publicity seeking conduct is, she bulldozed an entire village of poor people's homes with no compensation given to them, vowing to build this school and years later nothing. She is so evil. She has a sick obsession with fraudulently putting people out of their homes (see: Florida Foreclosure Law Firms Under Investigation).
Malawi is a struggling nation, where significant segments of the population are infirmed and hungry, due to poverty. They grow small amounts of vegetables in their back gardens to sell and survive. Yet this wicked woman and her sick cult, went out there for publicity and money, using poor people's suffering as a charity cash cow.
For years on this website, I kept warning the government of Malawi to have nothing to do with Madonna and Kabbalah, as they are thieves, liars and violent criminals. What's almost as bad is the FBI has known all along what that terrible cult have been up to and allowed them to inflict so much damage on a small nation struggling with poverty.
RELATED ARTICLES
Confirmed: Kabbalah Is Under Criminal Investigation
Newsweek Outs Madonna As The Criminal Behind Kabbalah
The FBI Corruptly Granted "Sovereign Immunity" In The Aisha v. FBI Case
Madonna's Connection To Phone Hacking And Wiretapping Scandal
Rupert Murdoch Finally Admits His Company's Phone Hacking And Wiretapping Crimes
Madonna: FBI And IRS Are Not Investigating Me
Report: Kabbalah Cult Under Grand Jury Investigation
Madonna Fraudulent Charity For Africa Squanders Millions On Big Salaries & Luxury Items For Greedy Kabbalah Members