Rupert Murdoch Hypocritically Launches Whistleblower Site
May 26. 2011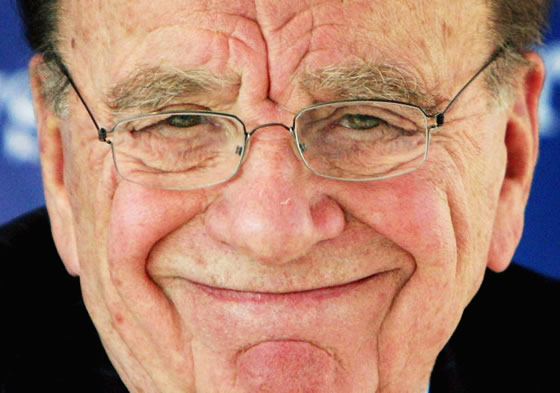 Rupert Murdoch
In an act of pure hypocrisy and arrogance, Rupert Murdoch, owner of News Corp, has launched a whistleblower site called Safehouse. Wherever did you get that name from for the site (he knows exactly what I mean by that jab, which will be revealed shortly).
There's nothing wrong with whistleblowing, but when it is a man that has criminally commissioned the hacking and wiretapping of thousands of innocent people, then illegally printed the contents of their personal lives in his newspapers and streamed it on TV, as scoops and exclusives, all for greedy profit, there is something very disturbing about it.
Murdoch has a penchant for breaking the law and should not be hosting a whistleblower site…unless it's to tell on himself, regarding the laundry list of crimes he has committed in numerous countries of the world. He has already confessed to illegal wiretapping and hacking, attempting to pay settlements on criminal misconduct that deserves imprisonment (Rupert Murdoch Finally Admits His Company's Phone Hacking And Wiretapping Crimes). However, that's just the tip of the iceberg and it's about to get really cold.
RELATED ARTICLES
Rupert Murdoch Finally Admits His Company's Phone Hacking And Wiretapping Crimes
Madonna's Connection To Phone Hacking And Wiretapping Scandal
The FBI Corruptly Granted "Sovereign Immunity" In The Aisha v. FBI Case
Rupert Murdoch Compromised National Security With Illegal Phone Hacking And Wiretapping
iPhone Tracking Scandal Gives Insight To Rupert Murdoch Phone Hacking And Wiretapping
Rupert Murdoch Has Proven He Cannot Be Trusted
Another Rupert Murdoch Journalist Arrested For Wiretapping And Hacking
Has Rupert Murdoch Ever Spied On A World Government For Another
Report: Rupert Murdoch Blackmailed The British Prime Minister
Mr. Murdoch, Your Viagra Prescription Is Ready
London Mayor Urges Newspapers To Come Forward In Phone Hacking And Wiretapping Scandal
Phone Hacking And Wiretapping Scandal Runs Way Deeper Than They Are Admitting