Toni Braxton's Family Sad Upon Learning Of Her Potentially Fatal Illness
May 6. 2011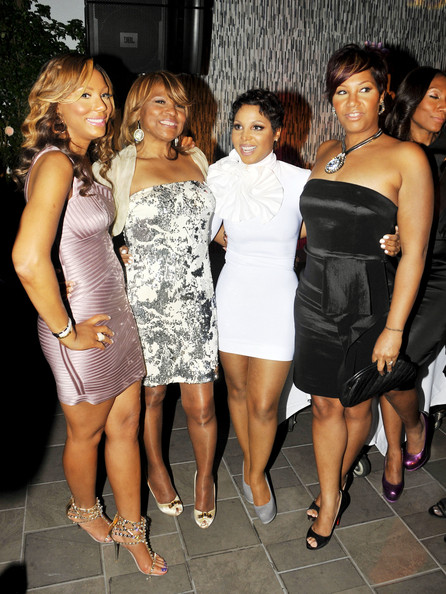 "Braxton Family Values"
This week's episode of "Braxton Family Values" features Toni Braxton revealing a number of problems, from illness to money issues, both evoking tears from her sisters. Over a dinner in Los Angeles, Braxton broke it to her family that she has the potentially fatal disease Lupus.
Some of her family members were not aware of her diagnosis, namely sister Tamar Braxton, who began crying. The life expectancy of Lupus sufferers is 10-20 years after the initial diagnosis, if detected early. However, due to medical advances, some are living beyond that time frame.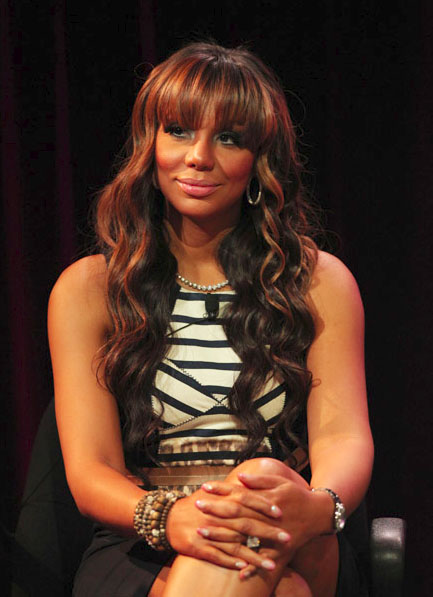 Tamar Braxton
Ironically, a week ago, the Judiciary Report stated "Physically Ill Toni Braxton Antagonized By Her Jealous Sister On Reality Show." This week Tamar said she felt "selfish" about having nagged a sick person to go places, now that she knows Toni's lupus and angina diagnosis.
Another issue that brought tears on the reality show had to do with finances. Toni and Tamar, confronted Trina, over a champagne lunch, regarding her charging the Grammy Award winning singer to do background vocals for her on stage. Toni broke down crying, insisting Trina is the only sister doing this to her and she doesn't enjoy fighting with them. Trina started crying as well. Braxton has experienced a host of financial problems, leading to her filing bankruptcy twice in ten years.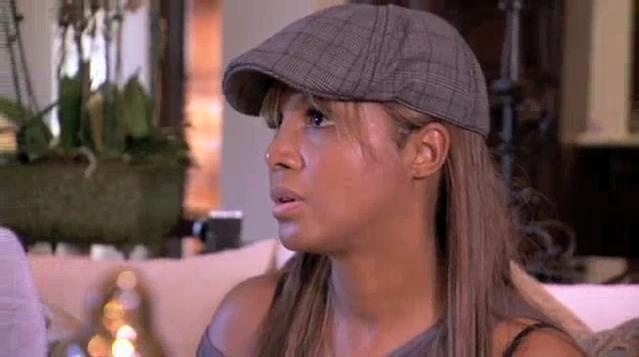 Toni Braxton upon hearing Tamar's house rules
Tamar's unusual behavior was out in full force again, as she invited the family to her home in Los Angeles that she shares with record executive, Vincent Herbert, who signed Lady Gaga to a record deal. Her house rules were strange, childish and unkind, ordering her sisters to bathe and wash their hands before sitting on her furniture that Herbert bought. Not very hospitable and very nouveau riche.
On this week's episode, Tamar, took her mom Evelyn to get Botox shots, when the woman didn't need them. The Judiciary Report also stated a week ago that Tamar Braxton had cosmetic work done ("Physically Ill Toni Braxton Antagonized By Her Jealous Sister On Reality Show). This week she admitted she loves plastic surgery. I still think her old nose looked better.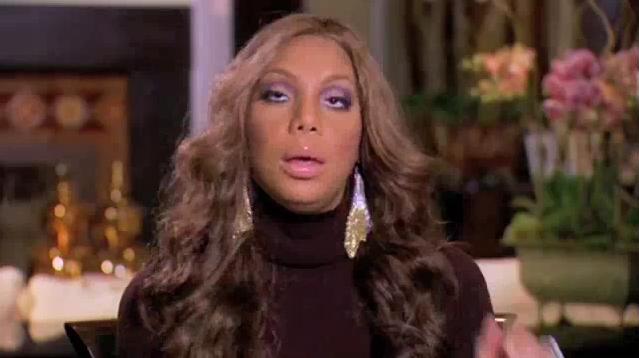 Plastic surgery addict, Tamar, demanding Traci get a makeover, her mom Botox and Toni a spray tan. Ok, then.
Tamar even called her sister Traci ghetto and in need of a makeover and finishing school (when Tamar needed it the most). She stated her sister Traci acts like, "She was raised by a pack of rats...hoodrats."
However, what took the cake is Tamar taking Toni tanning. Yes, black people tanning. How redundant. The white people that run the tanning salon were trying to be polite, but clearly had a collective brain freeze at this development. As a result, Toni's beautiful brown skin was turned orange like a Tropicana orange juice box. Orange skin does not flatter anyone, black or white.
RELATED ARTICLES
Will Toni Braxton's Sister Tamar Braxtonís CD Be A Hit Or Miss
Physically Ill Toni Braxton Antagonized By Her Jealous Sister On Reality Show
Toni Braxton Says She Is More Popular In Europe
Toni Braxton Takes A Dig At Evelyn Lozada
Braxton Family Values Hits A Sour Note
Toni Braxton Files For Bankruptcy Again