Usherís Ex-Wife Files Appeal In Custody Case Citing Judicial Corruption
September 3. 2012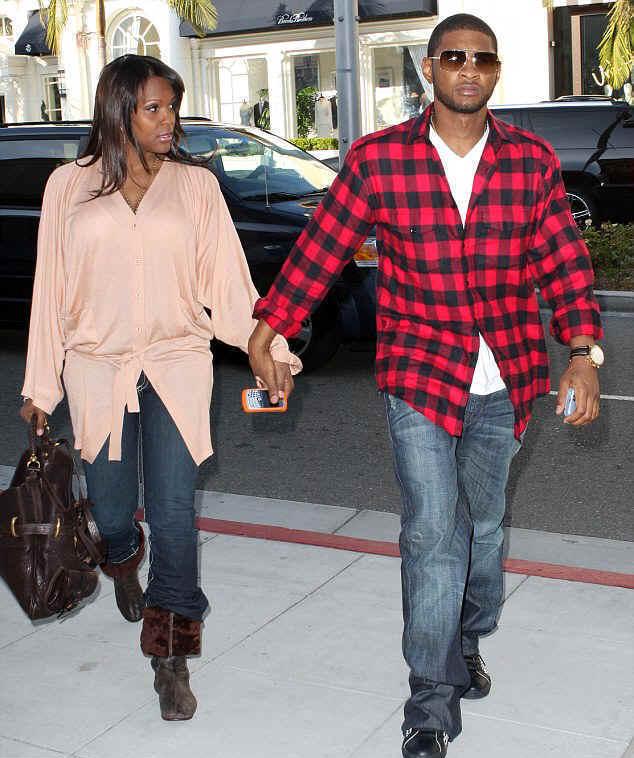 Tameka Foster and Usher Raymond before their divorce
Tameka Foster, the ex-wife of singer Usher, has filed an appeal in her custody case, citing judicial corruption, which led to the judge, Bensonetta Tipton Lane, awarding the star custody of the former coupleís two young children. Foster was devastated.
As stated previously, Foster has cited the fact Raymondís lawyers contributed and raised $25,000 towards the judgeís reelection campaign. This, she now states, is a conflict of interests, especially given the outcome of the case. The Judiciary Report has experience in this area, as in two separate cases to do with the same matter, judges completely corrupted the judicial system in favor of celebrities they were finically attached to or worked for in past employment.
Under such circumstances, judges should automatically recuse themselves, to avoid the appearance of corruption and save taxpayer money. In Fosterís case, the judge did show her some mercy in reinstating the luxury Saks Fifth Avenue credit card on Usher's account that she so coveted, reimbursement of nanny fees and other related expenses, as well as most importantly granting her some visitation rights. However, she awarded primary custody to Usher.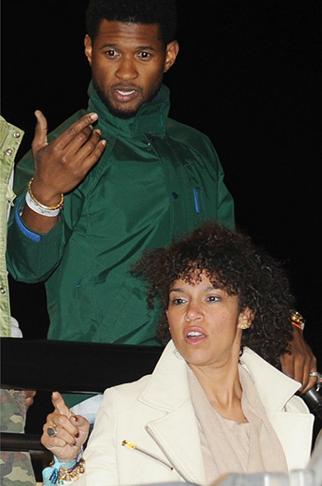 Usher and girlfriend Grace Miguel
The Judiciary Report prides itself on being fair. Yes, the judge should have recused herself due to the conflict of interest, but under the circumstances, the judge was fair to Foster. The problem is Fosterís mental instability and open acts of violence and threats of grievous bodily injury.
Personally, Iím not a fan of Usher or Foster. Frankly, Iím even less fond of Usher, due to his corrupt business dealings in the music industry that warrant a formal federal inquiry. But Fosterís issues regarding the marriage are far more serious than Usherís due to her violent temperament.
At the end of the day, Foster has the right to not want her kids around Usherís adulteress girlfriend, who she sees as her nemesis, Gracie Miguel. But Foster has to realize, being violent will alarm anyone and work against her, especially if she is to be responsible for the welfare of minor children. She wasnít thinking when she started acting out in rage.
RELATED ARTICLES
Tameka Foster Had Plastic Surgery That Nearly Killed Her To Compete With Usher's Mistresses And Groupies
Singer Usher Beats His Ex-Wife Tameka Foster In Court
What Has Tameka Foster Done To Her Ex-Husband Singer Usher (Photos)
Usher's Bitter Child Custody And Alimony Court Case Wrapping Up
Justin Bieber Wants Creative Control Of His Career From Mentor Usher Raymond
Reports Indicate Singer Usher Neglected His 11-Year-Old Stepson Who Recently Died
Singer Usher Was Noticeably Absent From His Stepson's Funeral Fueling Rumors He Was Not Wanted There
The Funeral Of Singer Usher's 11-Year-Old Stepson Took Place In Atlanta
Usherís 11-Year-Old Stepson Has Died After Being Taken Off Life Support
Insurance Company Will Not Pay Long Term Bills To Keep Usher's Stepson On Life Support Beyond Two Months
New Information Regarding Usher's Stepson Being Pronounced Brain Dead After Tragic Incident
Usher Pulls Out Of ESPYs Over Stepson Being Declared Brain Dead Due To Jet Ski Mishap
Usher's 11-Year-Old Stepson Is Brain Dead After Jet Ski Accident On Lake Lanier In Georgia
Usher's Ex-Wife Terrified Of His Stalker And Wants Court Protection For Their Kids