Does Rebekah Brooks Have A Crush On Prime Minister David Cameron
May 12. 2012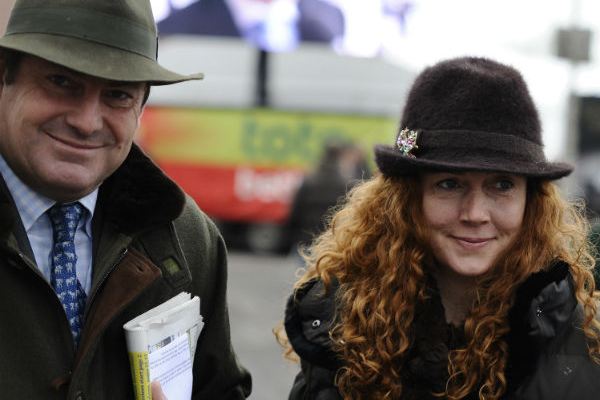 Rebekah Brooks (right) and husband Charlie Brooks (left)
During the Leveson hearing yesterday into phone hacking at companies such as News International/News Corp, a corporate den of corruption headed up by Rupert Murdoch, his former top executive, who he is just waiting to rehire, Rebekah Brooks, positivity gushed and glowed when speaking about British Prime Minister, David Cameron.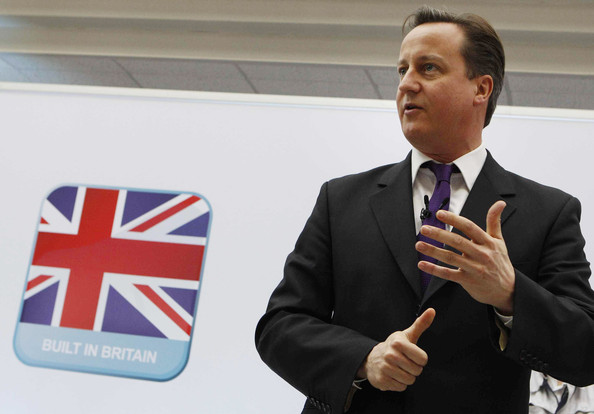 David Cameron
I think Rebekah has a crush on Cameron. Her countenance changed when speaking about him. Her eyes lit up and a girlish smile came across her stone cold face. In light of the fact many British celebrities consider her a coldblooded meanie that terrorized them day after day, seeing her melt like that when speaking about Cameron, gave away the fact that she has a thing for him. Trust me, I have caused many men to get that same look on their faces when they talk about me, so I know (LOL).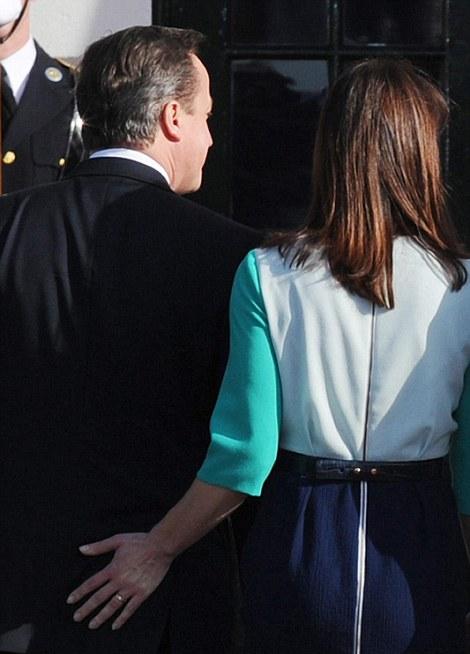 David Cameron and wife Samantha Cameron
As previously stated, all that pretty curly red hair Brooks has would be quite popular in prison. It also has another use. If she gets too flirty with the Prime Minister, Mrs. Cameron can grab her by the hair during a fight, while espousing the dangers of chatting up her husband. Over to you Brooksy.
RELATED ARTICLES
News Corp's Andy Coulson From The Phone Hacking Scandal Is Struggling With Mental Illness
Rupert Murdoch's Former Top Executives Rebekah Brooks And Andy Coulson Subpoenaed To The News Corp Phone Hacking Parliamentary Hearing Next Week
Rupert Murdoch Betrayed Andy Coulson By Offering To Sacrifice Him In The Phone Hacking Scandal
News Corp Continued To Pay Andy Coulson After He Quit To Spy On British Government
Rupert Murdoch Lying His Puckered Butt Off In Parliament Again
Phone Hacking Lawsuits Against Rupert Murdoch's News Corp Hit U.S. Shores
The Greedy Murdoch Family At News Corp Hired A Hacker To Sabotage Rival Channel ITV Digital Causing It To Collapse
The News Corp Phone Hacking Scandal Broke Up Families In More Ways Than One
Rupert Murdoch's News Corp Spied On Priest To Get Confessions Of A Famous Singer To Print In Their Newspapers
Rupert Murdoch's News Corp Considering Paying Big Financial Settlement To Child Murderer In Phone Hacking Scandal
The British Police Arrest Members Of Rupert Murdoch's Staff At News Corp's Sun Newspaper During A Raid!
Rupert Murdoch Is A Liar And A Coward To Let His Employees Take The Fall For Him
News Corp Continued To Pay Andy Coulson After He Quit To Spy On British Government
Blogger Hacked In The News Corp Phone Hacking Scandal
The Assistant Of News Corp Executive Arrested For Deleting Incriminating Emails During The Phone Hacking Scandal
Rupert Murdoch's News Corp Criminally Accessed Sir Alex Ferguson's Medical Records And Blackmailed Him With It
The Daily Mail Is Actively Engaging In Hacking, Phone Hacking And Wiretapping
Hacker Arrested Again In The News Corp Phone Hacking Scandal
The FBI Corruptly Granted "Sovereign Immunity" In The Aisha v. FBI Case
Rupert Murdoch Is Being Investigated By The Government For Using 'Mafia Tactics' On Rivals
Senator Demands FBI Investigate Rupert Murdoch For Hacking Rival & Stealing Their Copyrights
Rupert Murdoch Finally Admits His Company's Phone Hacking And Wiretapping Crimes
Renewed Outrage In Britain Over Rupert Murdoch's News Corp Phone Hacking Mom Of Murdered Missing Girl
Fox News Has A Secret Phone Hacking Department In The Building Says Former Employee
Madonna's Connection To Phone Hacking And Wiretapping Scandal
Rupert Murdoch Finally Admits His Company's Phone Hacking And Wiretapping Crimes