Rupert Murdoch Betrayed Andy Coulson By Offering To Sacrifice Him In The Phone Hacking Scandal
May 1. 2012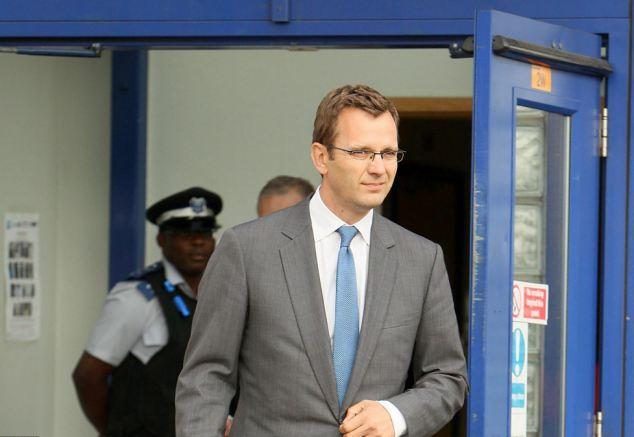 Andy Coulson
[
Article background: this is another in the series of phone hacking articles the Judiciary Report has published, regarding a scandal I broke first in October 2005, via a police complaint I filed with the Metropolitan Police in London, England. 30 people have been arrested by the Metropolitan Police since the time I filed the complaint. However, the Murdochs and other key conspirators remain free and the FBI has not arrested anyone, though the crimes began and continue in News Corp's New York headquarters].
On July 20, 2011 the Judiciary Report published the article Rupert Murdoch Is A Liar And A Coward To Let His Employees Take The Fall For Him. Two weeks ago, on April 20, 2012, British Member of Parliament, (MP) Tom Watson, stated in his book "Dial M For Murdoch" that a representative sent on behalf of ruthless Rupert Murdoch, CEO of News International, a subsidiary of his evil media empire, News Corp, tried to sacrifice editor and public relations executive, Andy Coulson, in the phone hacking scandal (News Corp's Andy Coulson From The Phone Hacking Scandal Is Struggling With Mental Illness).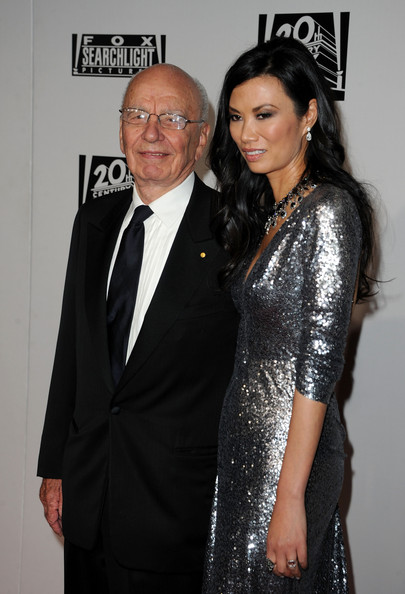 Rupert Murdoch and wife Wendi Murdoch
Never mind Murdoch and his treacherous little family ordered the News Corp staff to engage in phone hacking and computer hacking, among other forms of illegal surveillance, to unlawfully gain profitable scoops for his newspapers and television channels, he tried to throw Coulson to the wolves to save his crooked clan from facing the legal consequences of their crimes.
The News Corp staff needs to wake up and smell the coffee. The Murdochs are willing to betray anyone to stay out of prison, even if it means his staff goes to prison. The Murdochs do not care about any of you. Stop breaking the law and covering for them, before you end up found guilty in an international court of law for a worse scandal the public will never forget.
STORY SOURCE
Watson claims News Corp offered to sacrifice Coulson
20 April 2012 - Labour MP Watson has alleged that he was approached last June by an "intermediary" from News International offering a deal that would have seen David Cameron's ex-spin doctor Andy Coulson sacrificed.
The book Dial M For Murdoch, co-written with journalist Martin Hickman and launched yesterday, says: "One told Watson the company would 'give him' Andy Coulson, but Rebekah Brooks was 'sacred', which Watson took to mean that the company would hand over incriminating evidence on Coulson if he laid off Brooks...
RELATED ARTICLES
News Corp Continued To Pay Andy Coulson After He Quit To Spy On British Government
Rupert Murdoch Lying His Puckered Butt Off In Parliament Again
Phone Hacking Lawsuits Against Rupert Murdoch's News Corp Hit U.S. Shores
The Greedy Murdoch Family At News Corp Hired A Hacker To Sabotage Rival Channel ITV Digital Causing It To Collapse
The News Corp Phone Hacking Scandal Broke Up Families In More Ways Than One
Rupert Murdoch's News Corp Spied On Priest To Get Confessions Of A Famous Singer To Print In Their Newspapers
Rupert Murdoch's Son Resigns As Head Of News Corp's Besieged Newspaper Company News International
Rupert Murdoch's News Corp Considering Paying Big Financial Settlement To Child Murderer In Phone Hacking Scandal
Journalists At News Corp's News International Angry With CEO Rupert Murdoch After Being Arrested
The British Police Arrest Members Of Rupert Murdoch's Staff At News Corp's Sun Newspaper During A Raid!
The FBI Lies About Properly Investigating News Corp For Phone Hacking, Hacking And Police Bribery
James Murdoch To Be Recalled To The British Parliament In November 2011 Over Lying In Previous Hearing
Will Parliament Legally Compel The Law Firm Harbottle & Lewis To Disclose News Corp Evidence
MP: James Murdoch Lying Under Oath In Parliament Will Be Referred To The Police For Criminal Investigation
Rupert Murdoch Is A Liar And A Coward To Let His Employees Take The Fall For Him
News Corp Continued To Pay Andy Coulson After He Quit To Spy On British Government
Rupert Murdoch's Smug Mug Hit With A Pie During Parliamentary Hearing
Blogger Hacked In The News Corp Phone Hacking Scandal
The Assistant Of News Corp Executive Arrested For Deleting Incriminating Emails During The Phone Hacking Scandal
Rupert Murdoch Slams Brits As Lazy People Who Take Too Many Holidays
Rupert Murdoch's News Corp Criminally Accessed Sir Alex Ferguson's Medical Records And Blackmailed Him With It
The Daily Mail Is Actively Engaging In Hacking, Phone Hacking And Wiretapping
Madonna And Kabbalah Close Their Corrupt Charity Due To Criminal Investigation
Hacker Arrested Again In The News Corp Phone Hacking Scandal
The FBI Corruptly Granted "Sovereign Immunity" In The Aisha v. FBI Case
Rupert Murdoch Is Being Investigated By The Government For Using 'Mafia Tactics' On Rivals
Rupert Murdoch Finally Admits His Company's Phone Hacking And Wiretapping Crimes
Renewed Outrage In Britain Over Rupert Murdoch's News Corp Phone Hacking Mom Of Murdered Missing Girl
Fox News Has A Secret Phone Hacking Department In The Building Says Former Employee
Senator Demands FBI Investigate Rupert Murdoch For Hacking Rival & Stealing Their Copyrights
Madonna's Connection To Phone Hacking And Wiretapping Scandal
Rupert Murdoch Finally Admits His Company's Phone Hacking And Wiretapping Crimes
Madonna Fraudulent Charity For Africa Squanders Millions On Big Salaries & Luxury Items For Greedy Kabbalah Members
Report: Kabbalah Cult Under Grand Jury Investigation
As Rupert Murdoch And Family Try To Pin Their Phone Hacking Crimes On Others Their Private Investigator Points The Finger At Them