Rupert Murdoch Defames Australia's Prime Minister Then Retracts It After Legal Threat
I Told You He Was Going To Do That
September 2. 2011
Rupert Murdoch and Wendi Murdoch
Several weeks ago, the Judiciary Report warned that News International/News Corp CEO, Rupert Murdoch, would attack, Julia Gillard, the prime minister of his homeland Australia, for publicly and correctly stating his company's conduct in the phone hacking scandal is wrong.
On July 22, 2011, in the article Australian Prime Minister Slams Rupert Murdoch And News Corp
the Judiciary Report wrote of Murdoch, "Of course, now Murdoch will lie about and smear Gillard in his papers, online and on television, with estimates placing his share of the newspaper market in Australia at 73 percent."

Well, this week Murdoch's done just that - viciously and vindictively attacked Gillard in one of his newspapers, via a defamatory, baseless article, he could not prove, as it was fabricated to malign her out of revenge for denouncing his unlawful conduct.
As a result of the defamatory piece, Gillard, took the unprecedented step of threatening to sue Murdoch in court for making up a damaging story about her and publishing it in his newspaper. This scared Murdoch, which forced him to issue a public retraction and an apology to Gillard in the newspaper.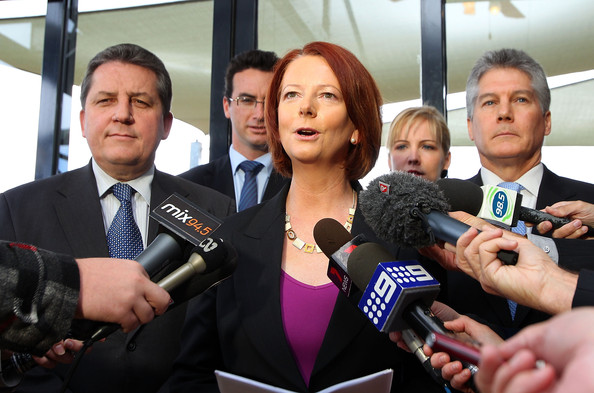 Julia Gillard
Yea, he should be tired of court cases against him by now and if he has any brain cells left, view it as an indication the public is tired of his foolishness that continues to greatly damage News International/News Corp. Things have arrived at a point that the general public ceases to believe him anymore. How can you after what he's done.
Murdoch is mental. I've warned on website that he is bipolar. The levels of mental illness he is carrying, makes him a danger to the public, as he has exhibited a penchant for unlawful behavior, undertaking harmful activities, such as obstruction of justice via phone hacking murdered minors, contracting violent private investigators to stalk and threaten people he crazily deems enemies, due to their hard earned business and personal assets he wants to pillage.
Not to mention, Murdoch has destroyed countless marriages via unlawful spying, then for profit illegally divulging to the world, the contents of his staff's criminal invasion of privacy, in violation of the law. The man is a public menace with mental problems, which is made worse by the fact he has access to billions to commission terrible crimes against the public.
RELATED ARTICLES
Rupert Murdoch's News Corp Broke British Law
Another Prominent Journalist Exposes Rupert Murdoch And News Corp For Stalking
Rupert Murdoch Finally Admits His Company's Phone Hacking And Wiretapping Crimes
The FBI Corruptly Granted "Sovereign Immunity" In The Aisha v. FBI Case
Madonna's Connection To Phone Hacking And Wiretapping Scandal
A Second News Corp Whistleblower Died
STORY SOURCE