Usher Kicking Ex-Wife Tameka Foster Out Of His $3,000,000 Georgia Mansion
October 1. 2012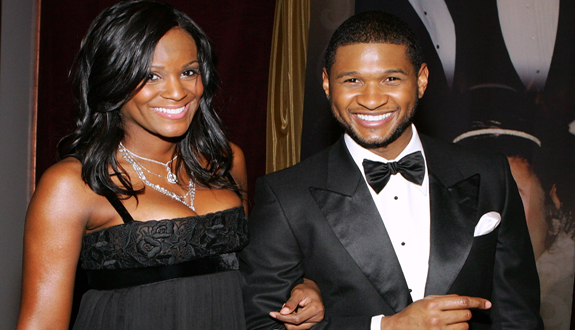 Tameka Foster and Usher Raymond before their divorce
Usher Raymond's already strained relationship with his ex-wife, Tameka Foster, has just become worse. The singer invoked a clause in his prenup and divorce from Foster stating he can sell at anytime, the $3,000,000 Roswell, Georgia mansion he owns and has allowed her to live in for the past three years. Foster's children from a previous marriage, along with her two kids from her union with Usher also live in the property.
Raymond has given Foster the stipulated 60-day notice, regarding selling the property. Foster collects sizeable alimony and child support checks from Raymond that he expects her to use some to find and maintain a new home. However, Foster does not want to move. Roswell is one of Georgia's most expensive and luxurious neighborhoods and she will not be able to live in that level of luxury using the aforementioned payments from Raymond.
Raymond is still fuming over Foster's conduct in court, exposing his dirty secrets during their alimony/child support hearings and accusing him of bribing the judge to get a favorable outcome in the case. Kicking her out is being viewed as revenge on Raymond's part. Some agree with him, while others don't, citing the recent passing of Foster's 11-year-old son Kile Glover.
RELATED ARTICLES
Usher's Ex-Wife's Greedy Demands During Custody And Alimony Case Exposed
Usher's Ex-Wife Files Appeal In Custody Case Citing Judicial Corruption
Tameka Foster Had Plastic Surgery That Nearly Killed Her To Compete With Usher's Mistresses And Groupies
Singer Usher Beats His Ex-Wife Tameka Foster In Court
What Has Tameka Foster Done To Her Ex-Husband Singer Usher (Photos)
Usher's Bitter Child Custody And Alimony Court Case Wrapping Up
Justin Bieber Wants Creative Control Of His Career From Mentor Usher Raymond
Reports Indicate Singer Usher Neglected His 11-Year-Old Stepson Who Recently Died
Singer Usher Was Noticeably Absent From His Stepson's Funeral Fueling Rumors He Was Not Wanted There
The Funeral Of Singer Usher's 11-Year-Old Stepson Took Place In Atlanta
Usher's 11-Year-Old Stepson Has Died After Being Taken Off Life Support
Insurance Company Will Not Pay Long Term Bills To Keep Usher's Stepson On Life Support Beyond Two Months
New Information Regarding Usher's Stepson Being Pronounced Brain Dead After Tragic Incident
Usher Pulls Out Of ESPYs Over Stepson Being Declared Brain Dead Due To Jet Ski Mishap
Usher's 11-Year-Old Stepson Is Brain Dead After Jet Ski Accident On Lake Lanier In Georgia
Usher's Ex-Wife Terrified Of His Stalker And Wants Court Protection For Their Kids