Rupert Murdoch Is Protecting

Rebekah Brooks Because

She Could Bring Him Down

July 11. 2011

Background on this article: This is a follow up, regarding the October 17, 2005, formal complaint I filed with the Metropolitan Police in London, England, against pop singer Madonna and News Group Newspapers, also known as News International, owned by Rupert Murdoch's News Corp (in a story I broke first). Six months later, in 2006, the Metropolitan Police arrested several people at News Group Newspapers for hacking and wiretapping, proving my claims correct. Murdoch finally admitted this misconduct three months ago on April 9, 2011 (Rupert Murdoch Finally Admits His Company's Phone Hacking And Wiretapping Crimes).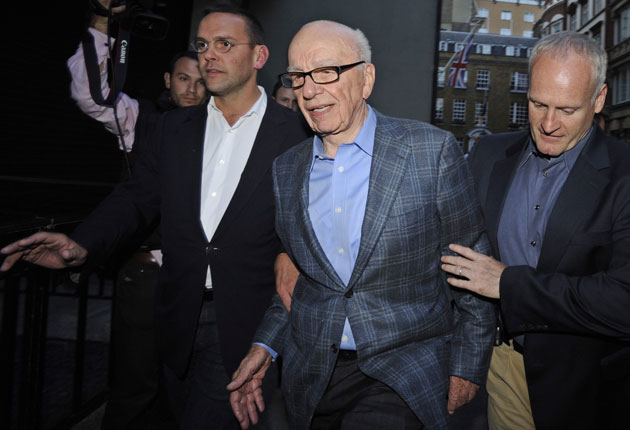 James Murdoch and his dad Rupert Murdoch. The apple doesn't fall far from the tree.
It is being said in the press this month that Rebekah Brooks, the former editor of the News of the World, is "like a daughter to" Rupert Murdoch, the owner of the newspaper's parent company, News Corp. However, she's more like a Monica Lewinsky to him, with a twist, because as the phrase goes, she knows where all the bodies are buried.
Rupert Murdoch and Rebekah Brooks, who can barely muster a smile. You know, you really shouldn't spy on prime ministers and presidents, as it is not a very nice or legal thing to do (Photo credit: PA)
Some are wondering out loud in the press and blogosphere, why Murdoch is protecting Brooks at all costs, at the expense of other people in his corporation, even risking very lucrative deals, such as his attempted takeover of the multi-billion dollar valued, Sky network in Britain.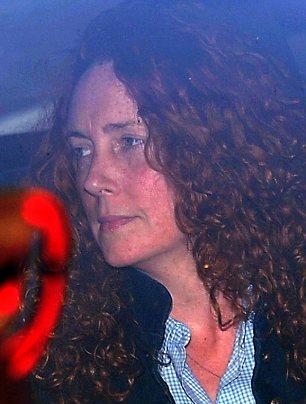 Rebekah Brooks looking very strained and stressed (Photo credit: PA)
It's very simple, Brooks has enough dirt on Murdoch to bring him and his grown kids down. Coincidentally, so do I, but unlike Brooks, there's not enough money or favors in the world to buy my silence. Murdoch and company, in tandem with Madonna, maliciously maligned and defamed me for going to the police, regarding their illegal, invasive conduct, then years later had to publicly admit guilt in the very things I formally accused them of in writing online and to the authorities (Rupert Murdoch Finally Admits His Company's Phone Hacking And Wiretapping Crimes).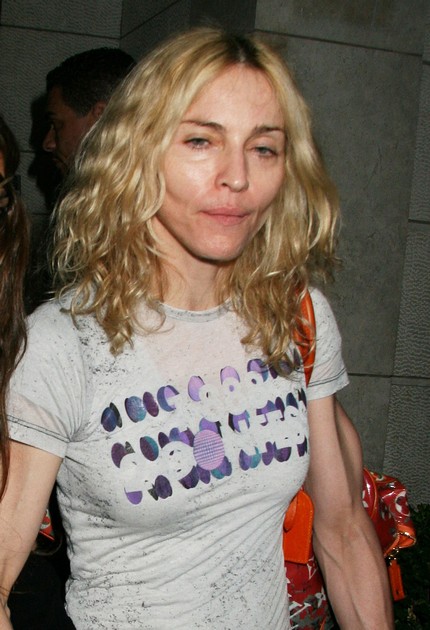 Madonna
These degenerates have put my family and I through a terrible ordeal that literally made us sick and I shall not stop until they are all legally held accountable for their crimes. Therefore, Murdoch, hold on to your diapers (nappies), Madonna, hold on to your Adam's apple and Rebekah, hold on to your corporate ladder climbing thong, as there will be more written revelations to come of a very publicly painful order.
RELATED ARTICLES
Rupert Murdoch's News Corp In Trouble As More Employees Are Arrested And News Of The World Closes
The FBI Corruptly Granted "Sovereign Immunity" In The Aisha v. FBI Case
Rupert Murdoch Hypocritically Launches Whistleblower Site
Rupert Murdoch Finally Admits His Company's Phone Hacking And Wiretapping Crimes
Madonna's Connection To Phone Hacking And Wiretapping Scandal
Rupert Murdoch Compromised National Security With Illegal Phone Hacking And Wiretapping
iPhone Tracking Scandal Gives Insight To Rupert Murdoch Phone Hacking And Wiretapping
Rupert Murdoch Has Proven He Cannot Be Trusted
Another Rupert Murdoch Journalist Arrested For Wiretapping And Hacking
Has Rupert Murdoch Ever Spied On A World Government For Another
Report: Rupert Murdoch Blackmailed The British Prime Minister
Mr. Murdoch, Your Viagra Prescription Is Ready
London Mayor Urges Newspapers To Come Forward In Phone Hacking And Wiretapping Scandal
Phone Hacking And Wiretapping Scandal Runs Way Deeper Than They Are Admitting
Newsweek Outs Madonna As The Criminal Behind Kabbalah
Confirmed: Kabbalah Is Under Criminal Investigation