Crazy Madonna Has Tour Dressing Rooms Sanitized To Remove Her DNA That Some Think She Is Too Old To Leave
June 26. 2012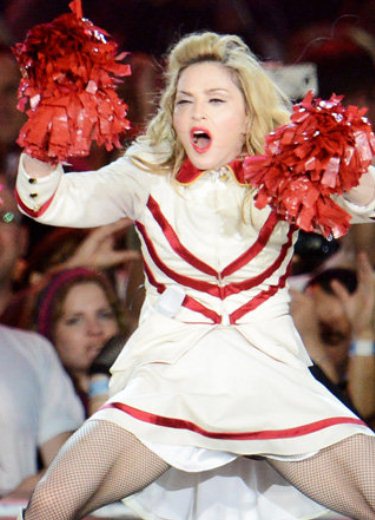 And she wonders why bloggers and audiences make fun of her. She looks disgusting and vulgar.
Lunatic pop star, Madonna, who Joan Rivers stated is "about 108" years-old, crazily has a team of people wipe and sanitize dressing rooms after she is through with them on her current faltering concert tour (does she even leave DNA anymore). That's funny, because one of my relatives always says Rivers is "about 100" years-old.
Rivers stated, "Madonna, stop it already, you're 108. Madonna as a cheerleader? What school does she go to? Our Lady of Osteoporosis? She looks like she flunked 10th grade 48 times." Ouch! Madonna refuses to dress in a dignified manner and looks 15-years-old than her 54-years. She's nuts to think dressing and behaving like that would not provoke ridicule and laughter.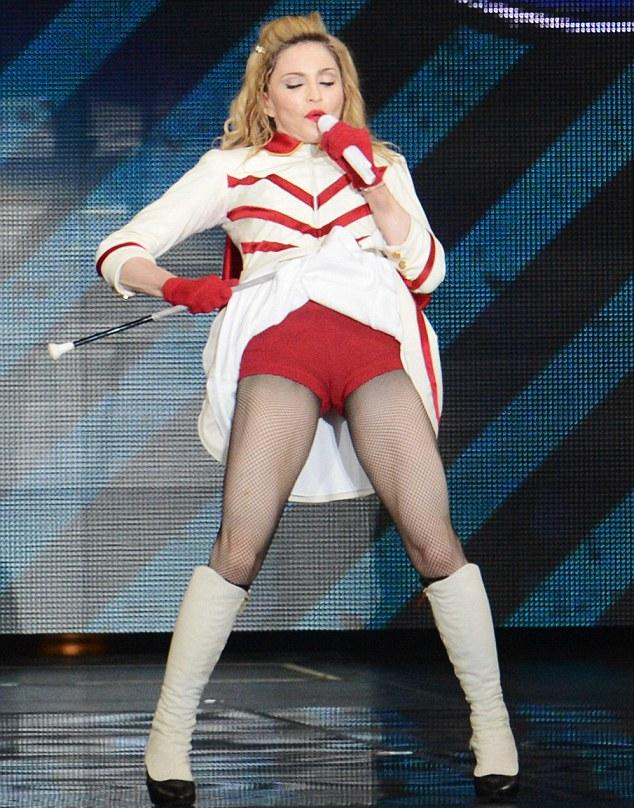 She is embarrassing herself, but insanely doesn't see it. You'd have to be crazy to dress like that, with the end result being what you see in that photo.
She is also absolutely insane to do a DNA wipe. She clearly thinks a lot of herself, why I don't know. Really, who in their right mind would want Madonna's corrupt, deranged DNA. She is nothing but a promiscuous, untalented, unattractive, overrated thief. She can't sing like Whitney Houston, act like Meryl Streep nor does she look like Halle Berry or Megan Fox, so who would really want her DNA.
Furthermore, the amount of STDs that have probably embedded themselves in her genetic code, due to a high level of infection that occurred from sleeping with so many people, should be enough to alarm the Center for Disease Control.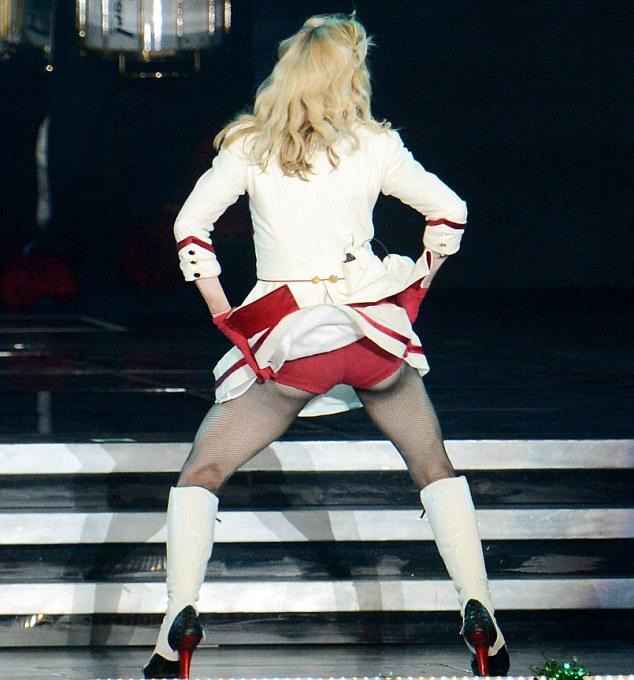 Hahahaha! Major fail. She needs to cover it up already, before it involuntarily hits the floor. She's certainly no J-Lo.
As mentioned above, Madonna is being mocked for dressing up like a cheerleader and constantly exposing her unattractive, manly flesh. Pop star Kylie Minogue, who has aged more gracefully, stated of Madonna's terrible dress sense, "No - just no."
Madonna looks crazy and creepy dressed as a cheerleader. She thinks it's hot, but it's not. It's one of the weirdest, most unnatural things to hit a concert stage - a grandmother looking cheerleader trying to shake and expose her butt.