Public Hatred For Madonna At An All Time High As She Is Booed For Bring Up Barack Obama In New Orleans
October 29. 2012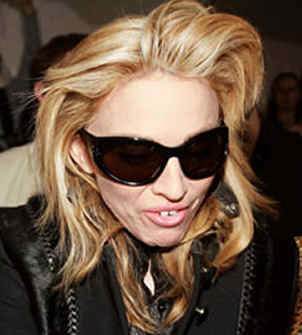 Madonna
Madonna has been booed once again with public hatred for her through the roof. New Orleans has a lot of black people and was considered a stronghold for Obama in the 2008 election. However, Madonna brought up Barack Obama at a New Orleans concert a this past weekend, telling the audience to vote for him and people booed and some walked out.
Madonna's criminal conduct millions around the world have and continue to read about, which the Obama Administration turned a blind eye to for corrupt reasons, namely campaign donations and a bribe to the head of the FBI, hasn't help the president's cause. Millions know of the Obama Administration's deliberately poor handling of the matter, which is a law and order matter, not a mere civil case.
To this day Madonna and her cult Kabbalah have not stopped their unlawful conduct regarding me, which is another black eye on his administration, who continues to come up in this website's statistics as visitors, yet they have the gall to complain about the articles on the Judiciary Report not being helpful to his election campaign. The site would not have published the TRUTHFUL articles in question, had the administration done its job regarding the aforementioned case.
Madonna has been getting booed a lot this year, which is not normal for any entertainer. Something is clearly wrong. She just can't seem to do anything right regarding the public and it's because people hate her. Madonna was booed in Britain, France and Russia this summer. The French people, who are wise, even shouted the word "slut" at her in their native language. Madonna was even booed in America during a show in Colorado this month for being an insensitive, publicity seeking witch. She is also having to charge more and more money for concert tickets, as less and less people are buying from her, while other artists have been selling well.
STORY SOURCE
Madonna booed after touting Obama in La. Concert
Oct 28, 4:26 AM EDT - (AP) -- Madonna drew boos and triggered a walkout by several concertgoers after she touted President Barack Obama on her "MDNA Tour" in New Orleans. The Material Girl asked during Saturday night's performance: "Who's registered to vote?" She added: "I don't care who you vote for as long as you vote for Obama." Drawing boos in touting Obama over Republican Mitt Romney, Madonna followed: "Seriously, I don't care who you vote for ... Do not take this privilege for granted. Go vote." ...
RELATED ARTICLES
Crazy Madonna Turns Guns On Audience In Denver Angering People After The Batman 'Dark Knight Rises' Shooting Massacre
Madonna Loudly Booed At Her Concert And Called A Slut And Whore By The Audience
Madonna Slammed By Russian Deputy Prime Minister As A Moralizing Slut And Ex-Prostitute
Madonna Sued By The Russian Government For $10 Million Dollars
A French Politician Calls Madonna An Old Has Been Seeking Attention From Young People
Flopped Albums And Failed Tours Indicate Madonna's Fanbase Is Gone
Madonna Branded Too Old To Endorse And Sell Products Being Sold To Youthful Audiences
Madonna's New Single "Give Me All Your Luvin" Flops And Crashes Out Of The Charts Early
The Body Language Of Madonna's Boyfriend Says He Is Not In Love With Her At All
Madonna's Boyfriend Brahim Zaibat Has Cheated On Her
From The Anthony Pellicano Wiretap Scandal To The News Corp Phone Hacking Case Hollywood Is Out Of Control
Why Are Federal Judges Allowed To Throw Out Cases In Acts That Are Being Abused For Profit