Rupert Murdoch Contemplating Splitting News Corp In Two Due To The Phone Hacking Scandal
June 27. 2012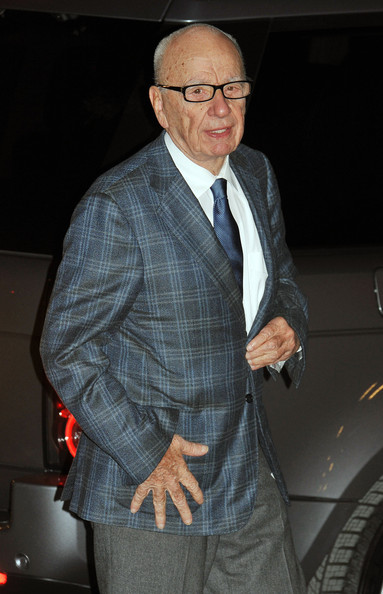 Rupert Murdoch
Corporate villain and all around pervert, Rupert Murdoch, who has been battered by the phone hacking scandal gripping his company News Corp, is mulling splitting the vile corporate entity into two corporations.
I know a lot of people that would like to split Murdochís butt in two with their feet, but thatís another story. When News Corp floated news of a possible split, it artificially elevated its stock, with absolutely nothing of merit to show for the spike. Typical Murdoch - always playing games.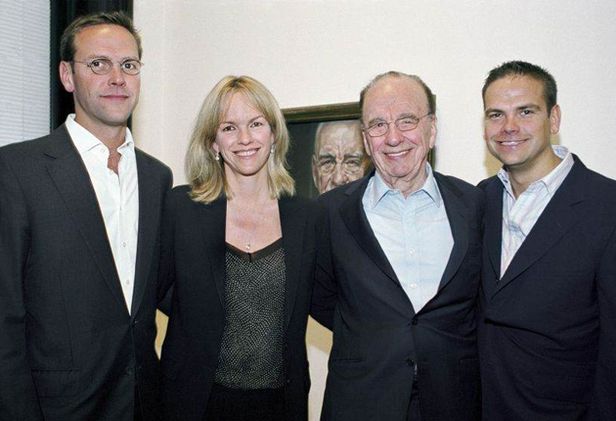 The greedy, lawbreaking Murdoch family: James Murdoch, Elisabeth Murdoch, Rupert Murdoch and Lachlan Murdoch
Murdoch has been complaining about the negative publicity encompassing his family and company, referring to it as a "pile on" (Iíd like to pile a load of bird doodoo on himÖdo I sound bitter?) but his grievances in this regard are quite superficial.
Murdoch is the king of piling bad publicity, libel and defamation on people he attempts to destroy for financial gain. Man up Murdoch, your nightmare has just begun. Why donít you ask your daughter for some advice on being manly, since she looks like a dude in drag.
Rupert Murdoch's Right Hand Man Andy Coulson Arrested For Perjury In The Phone Hacking Scandal
A Teary Eyed Rebekah Brooks And Her Coconspirators In The Phone Hacking Scandal Face First Court Hearing On Bail
Rupert Murdoch's News Corp And Madonna Are Still Phone Hacking And With The Support Of The FBI
Madonna Sets Up Photo Op With Paparazzi To Take Pics Of Her 14-Year-Old Daughter Smoking Cigarettes
Rihanna And Kabbalah's Rip Off Movie Battleship Bombs Badly As Judiciary Report Boycott Is Successful
News Corp's Executive Rebekah Brooks Arrested Again In The Phone Hacking Scandal
Rebekah Brooks Dangerously Tampered With National Security On Behalf Of Rupert Murdoch And News Corp
Renewed Outrage In Britain Over Rupert Murdoch's News Corp Phone Hacking Mom Of Murdered Missing Girl
The British Police Arrest Members Of Rupert Murdoch's Staff At News Corp's Sun Newspaper During A Raid!
Madonna's Kabbalah Center Sends Racist Expletive Filled Email With The N-Word And Death Threats
Madonna's New Single "Give Me All Your Luvin" Flops And Crashes Out Of The Charts Early
Madonna's Connection To Phone Hacking And Wiretapping Scandal
The Daily Mail Is Actively Engaging In Hacking, Phone Hacking And Wiretapping
The FBI Corruptly Granted "Sovereign Immunity" In The Aisha v. FBI Case
Madonna And Kabbalah Close Their Corrupt Charity Due To Criminal Investigation
Rupert Murdoch Finally Admits His Company's Phone Hacking And Wiretapping Crimes
The Kabbalah Center Viciously Harassing And Threatening Jamaicans
Report: Kabbalah Cult Under Grand Jury Investigation
Madonna Fraudulent Charity For Africa Squanders Millions On Big Salaries & Luxury Items For Greedy Kabbalah Members
Fox News Has A Secret Phone Hacking Department In The Building Says Former Employee