Rupert Murdoch's News Corp Exposed For Burglaries Into High Profile People's Homes To Steal Information For Profit
September 20. 2012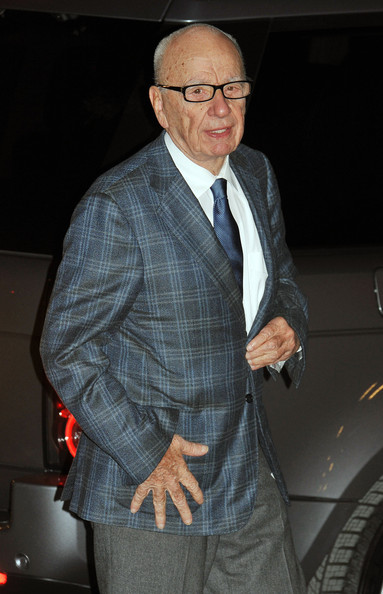 Rupert Murdoch
[Article background: this is another in the series of phone hacking articles the Judiciary Report has published, regarding a scandal I broke first in October 2005, via a police complaint I filed with the Metropolitan Police in London, England. 70 people have been arrested by the Metropolitan Police since the time I filed the complaint. However, the Murdochs and other key conspirators remain free and the FBI has not arrested anyone, though the crimes began and continue in News Corp's New York headquarters]
The Metropolitan Police is investigating evidence that indicates Rupert Murdoch's News Corp has been commissioning break-ins into the homes of politicians and celebrities, seeking "salacious information." The break-ins were done by private investigators hired by Murdoch's News Corp.
Beginning in 2005, when I first broke the story on phone hacking, via the aforementioned police complaint to the Metropolitan Police and separately one to the crooked and corrupt FBI, I formally accused Kabbalah members Madonna and Rupert Murdoch and their associates of commissioning break-ins to my former home in Miami, to steal information in my home office/recording studio/film editing studio, stored on back-up copies of DVD-ROMs and CD-ROMs, containing my preexisting copyrights.
There were several break-ins that necessitated I call the police and file a complaint for the corresponding burglaries that all centered on stealing copies of DVD-ROMs and CD-ROMs containing copyrights I burned to discs as back-ups, known as intangible assets. The commissioned burglaries never resulted in tangible assets being stolen, such as televisions, DVD players or jewelry. The thieves always went for store bought blank discs (DVD-ROMs and CD-ROMs) I had burned copies of my copyrights on and labeled "copyrights" in my handwriting, which were contained in my former home office/recording studio/film editing studio.
During one incident, in addition to stealing court case items and unpublished DVD-ROMs and CD-ROMs containing my very valuable, private, preexisting Library of Congress copyrights I was authoring on an offline computer to block Kabbalah's chronic computer hacking efforts, Madonna and Murdoch's private investigator also stole medicine and some of my baby pictures from my former home to be nasty, foul and spiteful, as I had called the police and began writing about their criminal commissioned burglaries online. These are the kind of deranged and desperate people they are and they should not be free.
After the break-ins, the contents of the private DVD-ROMs and CD-ROMs discs I made, which were once only available in my (former) home, bag and the Library of Congress in Washington D.C., began surfacing as Madonna and News Corp's new projects (and that of their associates), with my name erased as author, despite the fact I had written and copyrighted the items over a year before they were illegal stolen and criminally used (I still have other back-up copies of the DVD-ROMs and CD-ROMs in my bag).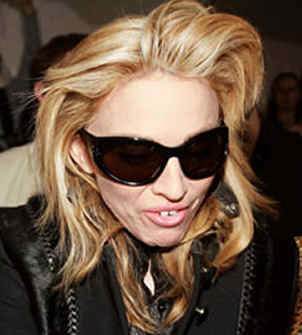 Madonna is a sick, disgraceful, untalented animal
After one break-in, I even found an illegally planted hidden camera in the house (bathroom), which is sick, demonic and perverted beyond comprehension. What kind of animals and savages spy on people in their home. Kabbalah are the sickest, nastiest people on earth to do something so incomprehensibly evil, perverted, voyeuristic and depraved.
Ironically, Kabbalah also believes in extensive levels of numerology, astrology and the occult. Madonna has crazily and publicly referred to herself as a "high priestess." She is deeply immersed in sick occult practices. There were incidents after commissioned break-ins to my home, where I found small occult symbols and statutes on my former property, hidden under leaves at the base of trees in the yard that were not there before. I know this because I used to do all the gardening, which included removing weeds, mowing the lawn, sweeping up leaves and planting roses.
I always left under the trees free of debris, but all of a sudden piles of leaves started rapidly appearing and when I went to rake them up, strange silver and metal statues and items associated with the occult were under the leaves. It was sick. I am a Christian. I don't mess with or dabble in any form of the occult/witchcraft, as the Bible labels it sin. So I promptly threw that stuff in the garbage. But Kabbalah is a sick cult that believes in witchcraft, spells, chanting and elaborate forms of numerology among other things. Some of this misconduct was revealed in a BBC expose on Kabbalah. One of my sources also told me Madonna has been the butt of jokes in certain entertainment industry circles for keeping voodoo dolls of people she becomes obsessed with.
In another incident, the day after I began exposing online their criminal behavior and acts of bribery regarding FBI Director, Robert S. Mueller, as communicated to me by a well-connected international source that has never been wrong with any of information he has given me, Madonna and Murdoch's Kabbalah commissioned another break-in, but took it further that time in trying to get back at me for disclosing their criminal behavior.
Where the usual mode of entry during the break-ins, as discovered by local police, was tampering with the backdoor locks on my former Miami home (and in one incident removing it altogether) they smashed a large back window of my former home office/recording studio/film editing studio with a rock to cause maximum damage and with the intent of creating fear and distress.
These invasive acts have made my family sick, literally, resulting in hospitalizations. My elderly mother now suffers from heart problems as a result of the constant terrorization, harassment, stalking, copyright thefts and death threats against me from Kabbalah. I even had an aneurysm in 2008, due to the extensive human rights abuses. To this day, the criminal misconduct has not desisted, as they continue to steal from me, spy on me and stalk me everywhere I go.
Ladies and gentlemen, News Corp, Rupert Murdoch, Madonna, Kabbalah and their associates are not upstanding business people and entertainers, they are filthy, gutter criminals, thugs, animals and savages, who have illegally made money from criminally robbing and spying on other people. They belong in prison.
STORY SOURCE
Exclusive: News of the World 'ordered burglary'
Police probe link to break-ins at homes of MPs and stars - Detectives have evidence which suggests that a notorious private detective agency carried out a burglary while working for the News of the World. In the latest twist to the phone-hacking scandal, a police intelligence report indicates that Southern Investigations, based in south London, targeted the home of a newsworthy individual in an attempt to dig up salacious information.
The Independent has established that the material – the first suggested link between the News of the World and burglary – is being held by Operation Tuleta, the police inquiry into illegal newsgathering techniques other than phone hacking and corruption. It refers to a "sortie" carried out into a woman's home in Ascot, Berkshire, and mentions the name of Alex Marunchak – a long-serving executive on the News of the World.
A police assessment indicated that Southern Investigations or an associate had "gained unauthorised access into a private domestic premises with a view to gaining information on the resident".
Separately, a former undercover policeman who infiltrated Southern Investigations said that it burgled MPs' homes in an attempt to obtain embarrassing information for the newspaper. All those involved in Southern Investigations, and Mr Marunchak, deny any involvement in break-ins or knowledge of any illegal acts.
Tom Watson, the Labour politician who campaigned against phone hacking, said that, if proven to be evidence of burglary, the material showed further serious wrongdoing at the News of the World. There have long been concerns that, as well as phone hacking and police corruption, burglaries took place in an attempt to land stories.
Several public figures whose voicemail messages were hacked by the newspaper, including the actor Hugh Grant, the Football Association executive David Davies, and Paul Stretford, Wayne Rooney's former agent, fell victim to break-ins where nothing was stolen. The Labour frontbencher Chris Bryant and other MPs are thought to have been similarly targeted...
RELATED ARTICLES
Rupert Murdoch's Lawyer And Another Of His Journalists Arrested In The News Corp Phone Hacking Scandal
News Corp Hemorrhaging Money As Profits Drop By 55% Due To The Phone Hacking Scandal
From The Anthony Pellicano Wiretap Scandal To The News Corp Phone Hacking Case Hollywood Is Out Of Control
Is The FBI Living Up To Its Congressional Mandate In The Area Of Copyrights And Their Enforcement
Rebekah Brooks Formally Charged With Phone Hacking While Rupert Murdoch Remains Silent
8 Of Rupert Murdoch's Top Executives Charged In Phone Hacking Scandal
News Corp Hid Important Incriminating Email In The Phone Hacking Case That Has Now Been Subpoenaed
One Of Rupert Murdoch's Hackers Arrested In The Phone Hacking Case
News Corp Subsidiary NDS Hacked Into Direct TV And Echo Star To Spy On Customers In Their Homes
Rupert Murdoch's News Corp Is Under Investigation For Computer Hacking And Corporate Theft
Police Widen Rupert Murdoch News Corp Criminal Probe To Include Computer Hacking
Senator Demands FBI Investigate Rupert Murdoch For Hacking Rival & Stealing Their Copyrights
Rupert Murdoch's Trusted Confidant Rebekah Brooks, Her Husband And Four Other News Corp Employees Charged In The Phone Hacking Scandal
Rupert Murdoch's Right Hand Man Andy Coulson Arrested For Perjury In The Phone Hacking Scandal
3 More People Arrested And Rupert Murdoch's Private Investigator Ordered To Reveal Who Gave Him The Orders In The News Corp Phone Hacking Scandal
Rupert Murdoch Unconvincingly Denies News Corp Split Is Due To Phone Hacking Scandal
Illegal Surveillance Tactics Used By News Corp And Kabbalah In The Phone Hacking Scandal
The Sick Behavior Of News Corp And Kabbalah In The Phone Hacking Case
Alex Salmond Gave Evidence That News Corp Accessed His Bank Account In The Phone Hacking Case
A Teary Eyed Rebekah Brooks And Her Coconspirators In The Phone Hacking Scandal Face First Court Hearing On Bail
Rupert Murdoch's News Corp And Madonna Are Still Phone Hacking And With The Support Of The FBI