The Public Walks Out On Madonna's Show In London Branding It The 'Worst Concert Ever'
July 19. 2012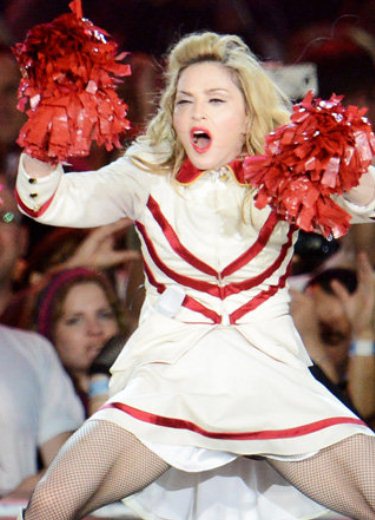 Madonna looks disgusting
Most performers have been receiving good reviews for their shows in Hyde Park (London), in the run up to the Olympics, but not Madonna. Her set was trashed by audiences as the "worst concert ever" with many people leaving the show early.
The wretched madwoman deserves the diss for being such an evil human being, who slurs black people and steals charity money from poor and hungry Africans. She should be banned from stage and television as a criminal. Speaking of that. Her concert tour is not doing well either.
Madonna's had to cancel dates in Britain, due to low ticket sales and no demand. This week she was forced to cancel her tour of Australia, because they don't want to see her either. With so many talented musicians in the world to choose from, who can actually sing, why would they want to see Frankenstein lip-sync to music she stole from other people.
STORY SOURCE
Madonna shoots wide of the mark as bored fans head home early branding it 'worst concert ever' ...
RELATED ARTICLES
Madonna Sets Up Photo Op With Paparazzi To Take Pics Of Her 14-Year-Old Daughter Smoking Cigarettes
Madonna Jealous Whitney Houston's Daughter Is Getting More Attention Than Hers
Flopped Albums And Failed Tours Indicate Madonna's Fanbase Is Gone
Madonna's Connection To Phone Hacking And Wiretapping Scandal
Rupert Murdoch's News Corp And Madonna Are Still Phone Hacking And With The Support Of The FBI
Rihanna's Rip Off Movie Battleship Bombs Badly As Judiciary Report Boycott Is Successful
The Kabbalah C
enter Viciously Harassing And Threatening Jamaicans
Madonna Fraudulent Charity For Africa Squanders Millions On Big Salaries & Luxury Items For Greedy Kabbalah Members
Senator Demands FBI Investigate Rupert Murdoch For Hacking Rival & Stealing Their Copyrights