Rumor: Tamar Braxton Is A Victim Of Domestic Violence
July 16. 2011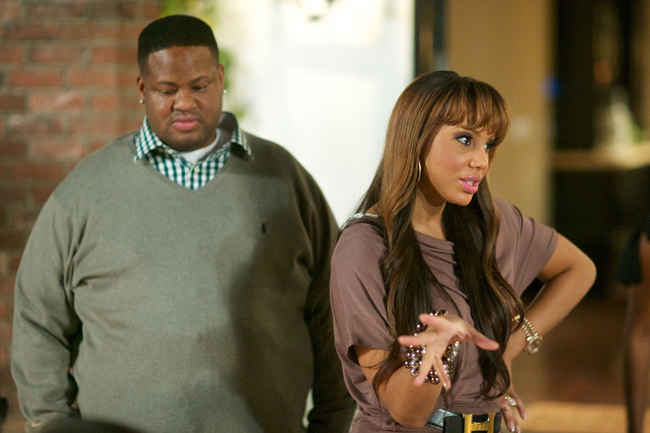 Vincent Herbert and Tamar Braxton
I read a rumor on the internet stating singer and reality star, Tamar Braxton, who is featured on the show "Braxton Family Values" along with her sister, Grammy Award winner, Toni Braxton, is a victim of domestic violence. Someone posted claims on Yahoo stating Tamar frequents their business and came in one day with a black eye, hidden by shades, which they attributed to her husband, Lady GaGa producer, Vincent Herbert.
On a separate note, during an episode of "Braxton Family Values" Tamar sarcastically insults her sister, Toni, for turning up late to her party at a restaurant and Herbert is seen hitting her on the right leg, in a manner that shook her up on camera. Therefore, is there truth to the rumors. I hope not.
STORY SOURCE
Is it true that Tamar Braxton husband Vincent Herbert beats her?
Answer: I have heard that as well. I live in Los Angeles and used to work in one of the places that Tamar Braxton visits often (place shall remain nameless because I still have friends that work there). I have seen her come in with a black eye before when she took the big shades off (why the world did she come outside like that being as vain as she is, I will never know).
Also, some of my co-workers actually waited on her another time while she was on the phone with him and heard them arguing and heard her say that she was going to call the cops if he hit her again. After the phone call she was very upset and scared to go home so they actually ended up calling one of her sisters and a friend to come get her. It is obvious that she married this man for his money. I love money too, but I love me much more. Tamar needs to get it together.com. I'm praying for her.
Its really sad to hear this. I was wondering and actually suspected that. She always clams up like a battered woman whenever he walls into a room on the show. Looks like they fight a lot. He is wayyyy bigger than her and im sure that it doesn't tale much to get your point across when your that huge.
Although I DO NOT CONDONE DOMESTIC VIOLENCE, I will say that Tamar's mouth probably makes it hard for him not to shut her up.......with any means necessary. She talks too da** much and she not real cute if you ask me. She will probably leave the guy as soon as her short-lived career takes off though.
http://wiki.answers.com/Q/Is_it_true_that_Tamar_Braxton_husband_Vincent_Herbert_beats_her
RELATED ARTICLES
Braxton Family Values Finale Explodes Into Fight
Will Reality Show Clear Up Toni Braxton's Debts And Financial Troubles
Tamar Braxton Defends Her Plastic Surgery
Friction Between Toni Braxtonís Parents Leaves Her In Tears
Toni Braxton Led Astray By Playboy
Tamar Using Her Husband's Wealth To Make Sisters Feel Bad On Braxton Family Values
Beyonce Keeps Stealing From The Braxton Family
Toni Braxton's Sister Continues Competing With Her For The Spotlight
Toni Braxton's Family Sad Upon Learning Of Her Potentially Fatal Illness
Will Toni Braxton's Sister Tamar Braxtonís CD Be A Hit Or Miss
Physically Ill Toni Braxton Antagonized By Her Jealous Sister On Reality Show
Toni Braxton Takes A Dig At Evelyn Lozada
Toni Braxton Says She Is More Popular In Europe
Toni Braxton Files For Bankruptcy Again
Toni Braxton Fails To Refute Spendthrift Claims