The Grammys Are Concerned Toni Braxton's Awards Will Be Auctioned
August 2. 2011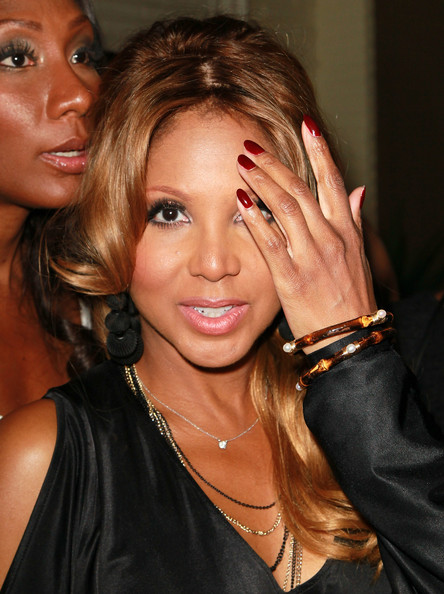 Toni Braxton
The National Academy of Recording Arts and Sciences (NARAS), which is the organization that awards singers with Grammys, has made an appearance in singer Toni Braxton's bankruptcy case, out of concern the six awards she has won during her 20-year music career could be seized and auctioned, to satisfy her many debts.
Braxton fell seriously ill with breast cancer, lupus and angina, which made her unable to work for a time. As a result, Braxton fell behind on credit card payments to high end retailers and other financial obligations. Due to the fact she did not disclose the full extent of her health problems, the insurer that underwrote her Las Vegas performance policy, did not pay the $10,000,000 guarantee in the event her stage run abruptly ended.
Braxton's financial woes grabbed unflattering headlines last year, when she filed for bankruptcy, the second time in a decade, prompting claims she is a spendthrift not in charge of her financial affairs. Braxton's latest Chapter 7 bankruptcy filing, already saw her reluctantly relinquish her million dollar mansion in Atlanta, Georgia's Sugarloaf Country Club. The legal documents also list her Grammy awards among her possessions.
It's all good and fine that they made an appearance in the case, in an attempt to protect their brand. However, the Grammys are a complete farce now, when a screamer singer like Beyonce Knowles, among others, can criminally commit wholesale theft of valuable copyrights worth many millions and win more Grammy awards than Aretha Franklin, in one fifth the time. It says the organization's credibility is gone.
You are giving out Grammys like candy to people that did not earn them, which has taken the prestige and heft from your awards. I also have it on good authority, though you do not want the Grammy awards sold to non-recipients, the voting process can be bought to rig a desired outcome on behalf of artists that did not earn it. The aforementioned two problems, which will mushroom into a forthcoming scandal, when specific details are brought to light before the public, are the real issues the Grammys need to be focused on.
RELATED ARTICLES
Beyonce's First Two Singles From Her New Album Flop
Rumor: Tamar Braxton Is A Victim Of Domestic Violence
Braxton Family Values Finale Explodes Into Fight
Will Reality Show Clear Up Toni Braxton's Debts And Financial Troubles
Tamar Braxton Defends Her Plastic Surgery
Friction Between Toni Braxtonís Parents Leaves Her In Tears
Toni Braxton Led Astray By Playboy
Tamar Using Her Husband's Wealth To Make Sisters Feel Bad On Braxton Family Values
Beyonce Keeps Stealing From The Braxton Family
Toni Braxton's Sister Continues Competing With Her For The Spotlight
Toni Braxton's Family Sad Upon Learning Of Her Potentially Fatal Illness
Will Toni Braxton's Sister Tamar Braxtonís CD Be A Hit Or Miss
Physically Ill Toni Braxton Antagonized By Her Jealous Sister On Reality Show
Toni Braxton Takes A Dig At Evelyn Lozada
Toni Braxton Says She Is More Popular In Europe
Toni Braxton Files For Bankruptcy Again
Toni Braxton Fails To Refute Spendthrift Claims